PGA Tour
Despite promise to his girlfriend, Cameron Smith says the mullet is staying after latest win
A victory for Cameron Smith was also supposed to be a victory for his girlfriend—and potential heartbreak for mullet-lovers everywhere.
Ahead of the Zurich Classic, the 27-year-old Australian said that he'd worked out a deal with her that he would cut his hair the next time he won on the PGA Tour. Apparently, she is not as fond of the flowing locks as others have become since Smith started growing his hair out late last year.
However, that was when a win was only a hypothetical. When the title became a reality on Sunday, Smith teaming with countryman Marc Leishman to claim victory at TPC Louisiana in a playoff over Louis Oosthuizen and Charl Schwartzel, the moment sunk in for Smith, who voiced his second thought on getting a trim.
"I would have to apologize to my girlfriend, it's not going away," Smith said after Sunday's round. "I mean, it's … I feel like it's part of me now."
Indeed, the reaction from fans has been highly supportive of Smith's coiffure. And it's become part of his brand in recent months. Over the weekend, the pairing played "The Mullet Song" by Jay Powell as their walk-up music at TPC Louisiana at the encouragement of Leishman.
"He's got a cult follow now," said Leishman, who joined in on the fun on Saturday when he wore a mullet wig on the first tee. "You should hear the fans out there. They're all over it. It's awesome."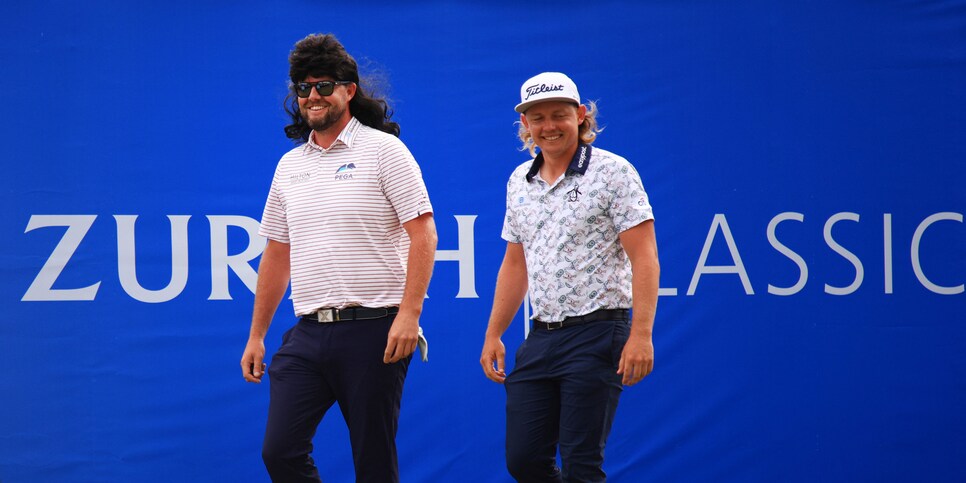 Leishman leaned in to the "mullet" craze when he walked to the first tee with Smith on Saturday wearing a wig.
Mike Ehrmann
Suffice it to say, the attention has also made an impression on Smith. "It's really cool. It gives the fans something to get behind," Smith said. "Lots of people love it and it's good fun as well. It makes people laugh. I love it."