Hall of Fame Induction Ceremony
At Hall of Fame induction, Tiger Woods reflects on a career that changed the face of golf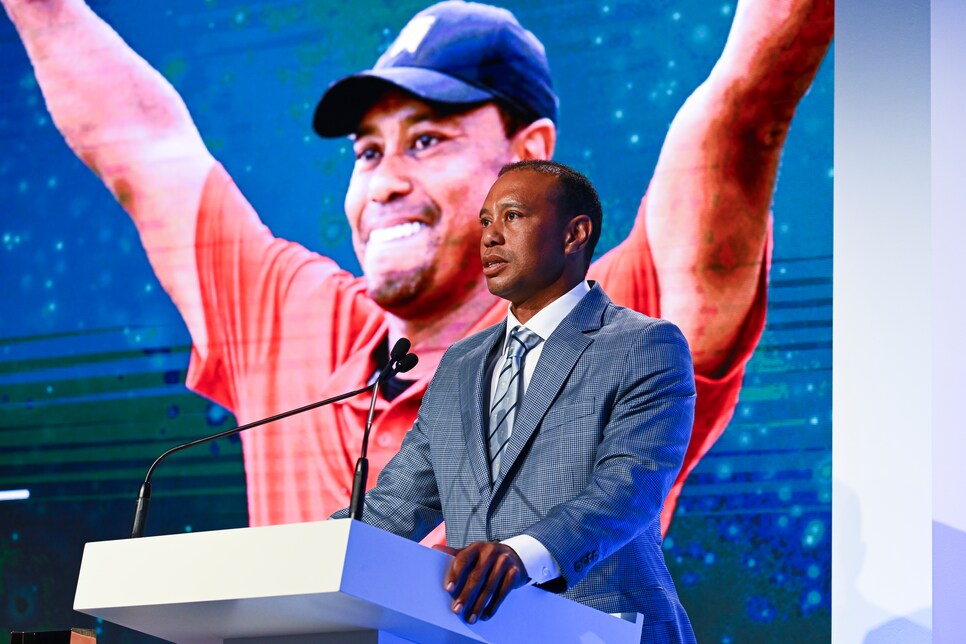 Tiger Woods during his induction ceremony into the World Golf Hall of Fame.
Chris Condon
PONTE VEDRA BEACH, Fla. — For all the praise lavished on Tiger Woods, spoken and written, tweeted and typed, Wednesday evening marked a first: a gathering dedicated solely to appreciating his immeasurable impact on golf. Not just his impact on Stanford, or Nike, or the PGA Tour, but the entirety of the sport he conquered. There was no tournament humming in the background, no fundraising, no sponsor quid pro quo. Woods' Hall of Fame induction, the most inevitable of inevitabilities, was an exercise in pure gratitude.
Golf's power brokers congregated inside the PGA Tour's glassy new headquarters to thank Woods—for the unforgettable moments he conjured, the barriers he broke and the generation he inspired. Representatives of that younger generation showed up to pay their respects. Justin Thomas, Woods' de facto little brother, sat directly behind his mentor. Jordan Spieth, Bubba Watson, Billy Horschel and Tony Finau tip-toed on a second floor balcony, looking down on a ceremony that steadily built toward its climax. Woods, true to form, would tee off last.
David Feherty opened proceedings with some good-natured (we think?) quips: "This building is big enough for both Bryson and Brooks' ego!" Judy Rankin introduced her dear friend, the first of four inductees on the night, three-time U.S. Women's Open champion Susie Maxwell Berning, who wondered if Woods might trade his three U.S. Open winners' checks for hers, which totaled $16,000. Next up was the posthumous honor of Marion Hollins, whose contributions to the game—she played integral roles in the construction of Cypress Point, Pasatiempo and Augusta National—are eclipsed only by the fact that she did so as a woman in the 1920s. Three people were also recognized for their service to the game: Renee Powell, one of the first black women to play on the LPGA Tour, received the Charlie Sifford Award; and Peter Ueberroth and the late Dick Ferris were honored for their stewardship of the Pebble Beach Company.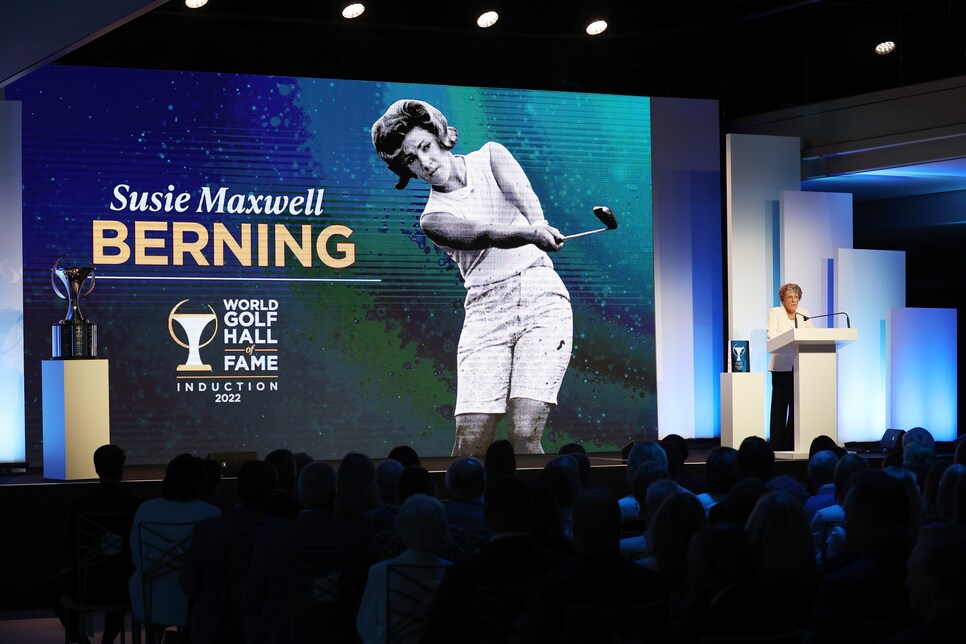 Inductee Susie Maxwell Berning speaks during the 2022 World Golf Hall of Fame induction ceremony.
Sam Greenwood
In between speeches, during TV commercial breaks, a number of video tributes were shown. Fellow GOATs Serena Williams, Michael Phelps, Jerry Rice, Jack Nicklaus and Annika Sorenstam had words for Tiger.
Davis Love III introduced Tim Finchem, a notoriously stingy gimme-giver who presided over a period of exponential growth during his 22-year reign as commissioner of the PGA Tour. With, of course, a bit of help from the man who sat next to him on Wednesday.
Stewart Cink summarized it in a video tribute: "Just that Tim was the commissioner when Tiger came out and changed the world—that was a big job."
Finchem changed the tour; Tiger changed the world. Fifteen major championships, 82 PGA Tour victories, hundreds of millions of dollars, and two children he adores. Charlie inherited the golf gene, but Sam can speak. At just 14 years old, she stood up in front of a room of major winners and business tycoons and, confidently and calmly, introduced her iconic father.
"Although I never met my dad's most influential role model—my grandfather, Earl Woods—I feel like I can hear his voice every day reminding me to 'train hard, fight easy,'" Sam said. "This is an old special forces saying that he ingrained into my dad, who now says it to Charlie and I.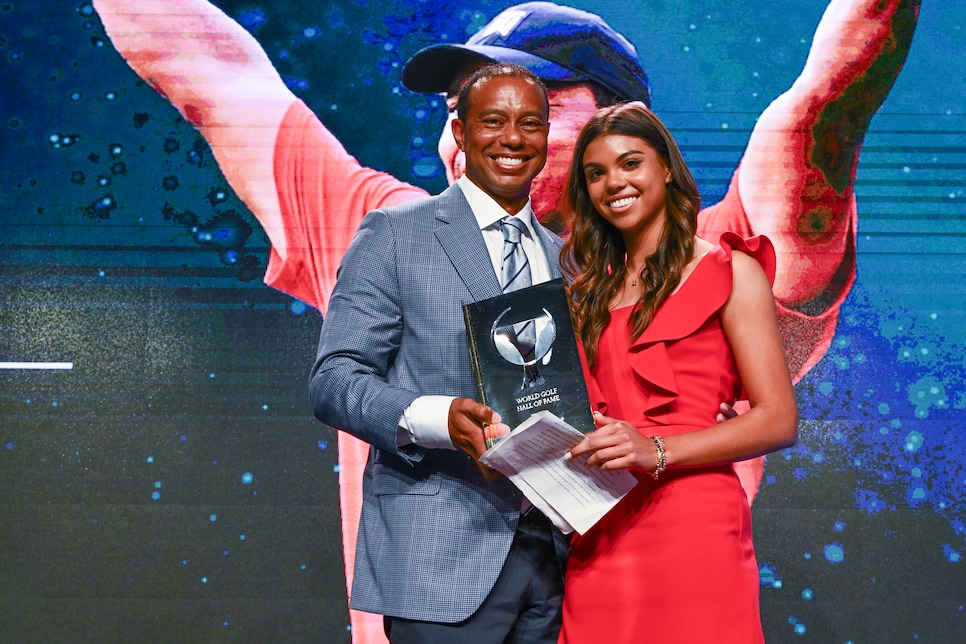 Tiger Woods and his daughter Sam, pose on stage during the World Golf Hall of Fame induction ceremony.
Chris Condon
"Recently, Dad had to train harder than ever. About a year ago you were stuck in a hospital bed at one of your ultimate lows and one of the scariest moments of your life and ours. We didn't know if you'd come home with two legs or not. Now, not only are you about to be inducted into the Hall of Fame, but you're standing here on your own two feet. This is why you deserve this, because you're a fighter."
The Tiger who took the stage, however, was more lover than fighter. In a reflective and nostalgic mood, Woods' comments, which he made without notes or a teleprompter, focused largely on his modest upbringing in Southern California. He recalled learning the game at the Heartwell par-3 course in Long Beach and smiled at the memory of coming home with a pocket full of dollars, much to his mother Kultida's chagrin. He reminisced on playing golf in the dark with his father, who would only let them stay if he found the ball, a bit of tough love that taught Tiger to feel shots without having to see them. (He once made it through 17 holes without light, but never quite got through a full round). And he spoke solemnly of the sacrifices his parents took to allow him to travel the country playing junior golf tournaments, where he faced discrimination as a biracial kid in a lily-white game.
"One of the neatest things in the world for me was to play on a golf course and it had the two letters afterward, CC. So I was going to go play a country club. We had these fresh greens, not these bouncy poa greens that's all over the place, where they're cut probably twice a week. I'm going to get a chance to play fresh greens. Well, playing at some of these golf courses, I was not allowed in the clubhouses where all the other juniors were. The color of my skin dictated that."
He'd respond with two questions that point to the fire within: Where's the first tee, and what's the course record?
"I've gone on to have a successful career," Woods said. "I've been able to play around the world, see cultures, play different places. One of the goals I had early on in my career was to win on every single continent. Well, I didn't play in the Antarctic Four-Ball. That was out. I lost in a playoff to Nick Price at Sun City in '98, and then we played the Presidents Cup in South Africa, where our captains, or my captain, Jack Nicklaus, and the international captain, Gary Player, when we went into a playoff, we thought it was in the best interest with Tim Finchem that it was in the spirit of the game to end the event on a tie. Well ... I did beat Ernie in singles earlier."
Woods, 46, did not gloat about his accomplishments or dwell on his injuries. He didn't speculate about the future or hint at a return to competition. For this was a night of gratitude, of looking around a room filled with special people and thanking them for being who they are.
"I know that golf is an individual sport," Woods said. "We do things on our own a lot for hours on end, but in my case, I didn't get here alone. I had unbelievable parents, mentors, friends, who allowed me and supported me in the toughest times, the darkest of times, and celebrated the highest of times.
"So I just want to say thank you to my mom, Sam, [girlfriend] Erica [Herman], Charlie, everyone here, all my friends that have come to be here. This is an individual award, but it's actually a team award. All of you allowed me to get here. I just want to say thank you very much from the bottom of my heart."