The Grind
Cameron Smith's claret jug chugging, Brooks and Jena's honeymoon, and the worst bad break ever
Welcome to another edition of The Grind, where we are blown away by Greg Norman and LIV Golf's pettiness. As we said last week, it's one thing to go after star golfers, but it's another to go after star announcers, especially one from another sport. But to go after a certain musical act just to mock the PGA Tour? Wow, that's some "Mean Girls" stuff right there. And yet, that's what will happen this week when The Chainsmokers play at the LIV Golf event at Trump Bedminster. Yes, the same Chainsmokers who played the day before golf—and the world—as we know it ended at the 2020 Players Championship. Insert your "Time is a flat circle" jokes:
Incredible. What's next?! A golden boy trophy?! Anyway, here's what else we're talking—and humming—about this week.
Tony Finau: And just like that, Tony Finau is a winning machine! OK, not quite considering he was a 12-to-1 favorite at the 3M Open against a lackluster field, but still, a win's a win. And Tony now has three of them on the PGA Tour. Thanks in part to an incredibly lucky bounce on 17:
A basketball player at heart, Finau joked he "called bank" after. Sure you, did Tone. Anyway, good for this guy after so many close calls. And he even got to celebrate with his family. His entire, quite large family:
Good thing Tony won $1.3 million. The food bills in his house must be massive.
Brooke Henderson: The Amundi Evian Championship produced one of the most thrilling major finishes of the year when as many as six golfers were tied late on Sunday. But the Canadian, who became the first golfer man or woman earlier in the week to open a major with consecutive sub-64 rounds, pulled through to win her second major.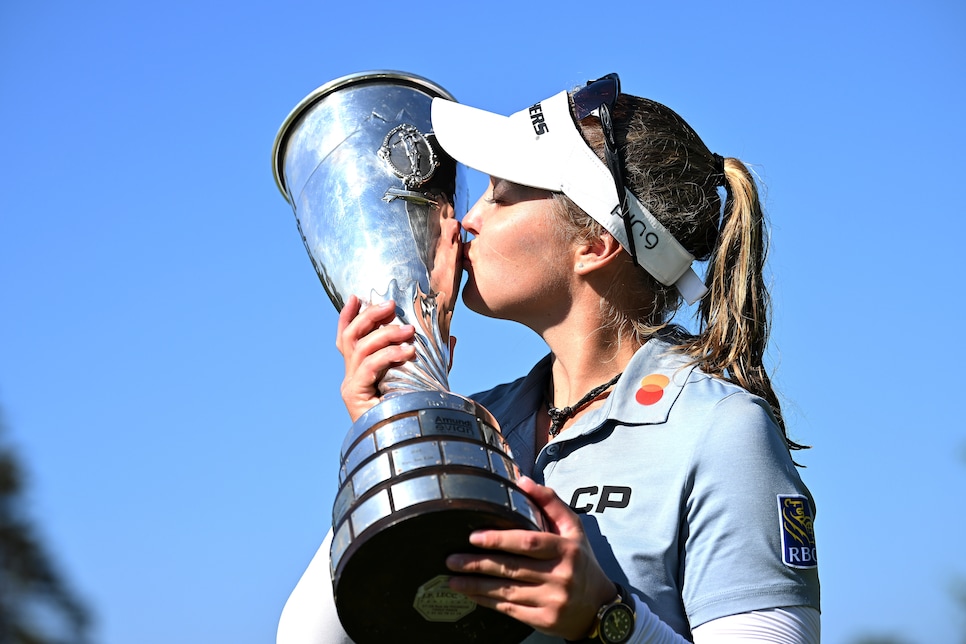 "You know, the saying is that majors are won on the back nine on Sunday," Henderson said. "So I just tried to keep that frame of mind, and knew I was still in it if I could have a solid back." I think she was looking for "The Masters doesn't begin until the back nine on Sunday," but close enough. Either way, she got the job done.
Darren Clarke: Speaking of second majors, this 2011 Open champ claimed another claret jug at the Senior Open Championship. Well, a mini-claret jug.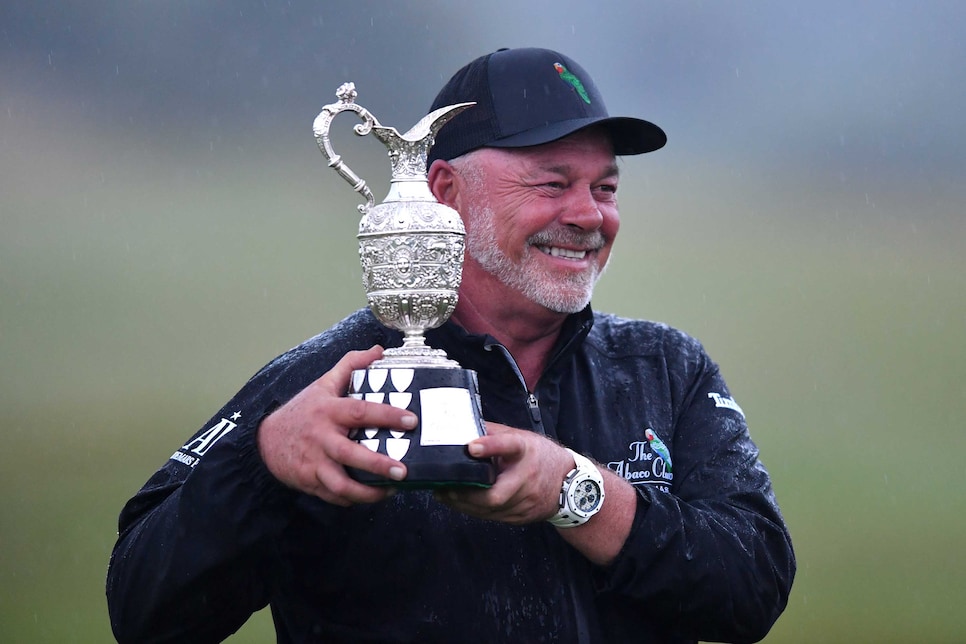 If Cameron Smith says the real one holds exactly two beers, it looks like that only holds one. But Clarke certainly isn't complaining.
This house: This backyard replica of the famed 17th hole at TPC Sawgrass is pretty amazing. And the Illinois property can be yours (and the house that comes with it) for less than half of what Tony Finau earned in Minnesota:
Not a bad deal! Of course, if you buy it, you have to factor in all the extra golf balls you're going to need to purchase as well.
This bad break: Of all the times for this to happen, Ryan Werre managed to have his approach shot get stuck up in a pine tree on the final hole of the Alberta Mid Amateur Championship. In other words, he didn't quite have Tony Finau's luck. Even worse was that Werre was holding a two-shot lead at the time and despite some impressive climbing, he wasn't able to find it.
A closing quintuple bogey dropped Werre into a tie for fourth place and all but gave the tournament to Jesse Galvon. Rough. Hey, at least there wasn't any prize money involved.
This bad travel fail: But maybe not as rough as getting to a tournament an entire week too early. That's what happened to Corbin Mills, who showed up for the Korn Ferry Tour's Utah Championship Monday qualifier on the wrong Monday:
Henrik Stenson: It's one thing to leave for LIV. It's another to do so knowing you're sacrificing something you love like participating in the Ryder Cup. And then there's Stenson, who gave up being Ryder Cup captain—what he called a "dream come true"—to not only walk away from that dream and commitment, but also cheapen the entire event. Spare me the whole "IT JUST MEANS MORE TO THE EUROS!" nonsense. It doesn't matter what nationality these guys are, they all love money.
Scott Piercy's blister: Piercy's Sunday in Minnesota was a total disaster as he blew a five-shot lead and nearly didn't finish in the top five. But it was his blister that had everyone talking early in the week. And if you're a golfer and you've ever had a blister, you feel this dude's pain:
Some are comparing it to Michael Jordan's flu game or even Tiger Woods' broken leg victory at the 2008 U.S. Open. We're not going quite that far, but it was pretty impressive that Piercy even put himself on top of the leaderboard with the bottom of his body in such agony. What a warrior.
The PGA Tour heads to Detroit for the Rocket Mortgage Classic, AKA that one where I had a 125-to-1 odds bet on Matt Wolff to win in 2020 when he took a three-shot lead thru 54 holes . . . and promptly lost to Bryson DeChambeau. Three years later, both of those guys are playing again this week—only in the LIV Golf event at Trump Bedminster. A LOT has changed in two years.
Random tournament fact: Cameron Davis defeated Joaquin Niemann and Troy Merritt in a playoff last year. And, admittedly, I don't remember that at all. But good job, Cameron! We're truly living in the Cameron Era of golf.
RANDOM PROP BETS OF THE WEEK
—A golf ball will get stuck in a tree on the final hole this week: 10,000-to-1 odds
—This week's winner will have more kids than Tony Finau: 1 MILLION-to-1 odds
—Darren Clarke found out how many drinks fit in that trophy: LOCK
TWEET OF THE WEEK (TOUR LIFE DIVISION)
How about Cameron Smith and Billy Horshcel teaming up—away from the golf course:
I'm not a fishing expert, but 29 pounds sounds like a big one.
PHOTO OF THE WEEK (FEEL-GOOD DIVISION)
Good to see people from different generations can still get along as well.
PHOTO OF THE WEEK (FEEL-BAD DIVISION)
This is a nightmare for anyone going on a golf trip:
Apparently, Cameron Smith wasn't kidding about putting that claret jug to good use:
Or is it Captain Cam now?
(ARCHIVE) VIRAL VIDEO OF THE WEEK
Incredibly, Rory McIlroy once attempted that same Road Hole putt that Cameron Smith did during this year's final round. It did not go as well for Rory:
THIS WEEK IN PUBLIC DISPLAYS OF AFFECTION
Brooks Koepka and Jena Sims finally went on their honeymoon!
Good for them. Then again, it's tough to tell this Greece trip apart from any of their other 20 tropical vacations throughout the year. So, again, good for them.
THIS WEEK IN CELEBRITY GOLFERS
First off, kudos to Mardy Fish for putting himself out there and playing in a PGA Tour event. Day 1 was rough, but the former U.S. tennis star made five birdies on Day 2 and tied or beat 40(!) guys in the field. That's impressive.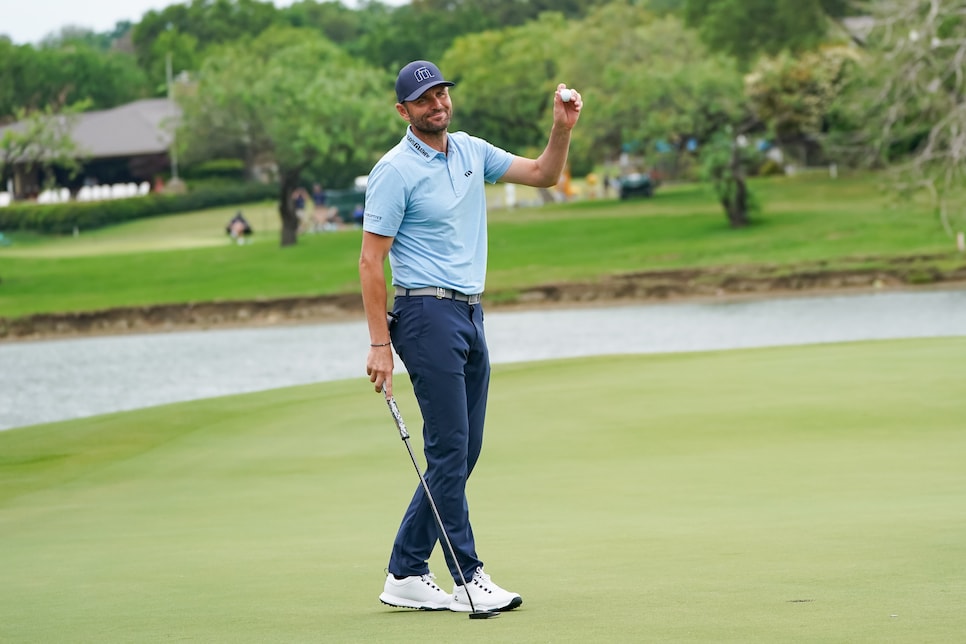 I put myself out there for a local qualifier last week, and let's just say I didn't beat that many guys or make that many birdies. I'm also not an ex-pro athlete and a plus-3 handicap like Mardy, but you get the point. OK, moving on . . .
"I've been on that side of it where you take your hat off and you just congratulate the guy that gets the job done because it takes a lot. It's tough to win out here. I mean, I think I'm about as good an example as any of how tough it is to seal the deal." —Tony Finau. Nailed it. And how about Nick Faldo nailing that Sunday prediction? At least he's going out as an announcer on top.
Congrats to Taylor Montgomery, last year's Korn Ferry Tour bubble boy on finally locking up his PGA Tour card for next season. . . . Karrie Webb held off Annika Sorestam to win the Senior LPGA Championship. And yes, the age limit is only 45 and not 50, which is why the Aussie was eligible, contrary to what Club Pro Guy thinks.
A season-high 303 golf balls found the water at the 3M Open. The Land of 10,000 Lakes living up to its billing! . . . And, finally, my green jacket tour continued with a visit with my guys at the Golf Performance Center: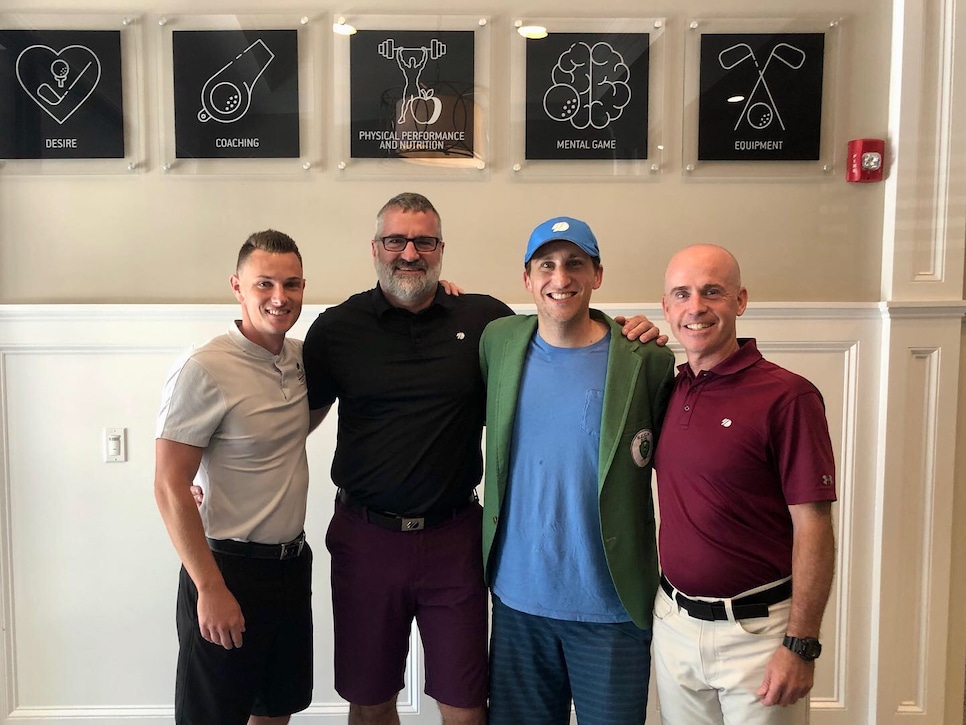 RANDOM QUESTIONS TO PONDER
Can I do that program every year before my golf trip?
Did Cam Smith and Billy Horschel eat that big fish?
Who does Sir Nick like this week?