Senior British Open
Darren Clarke gets the senior win he most desired in wet finish at Gleneagles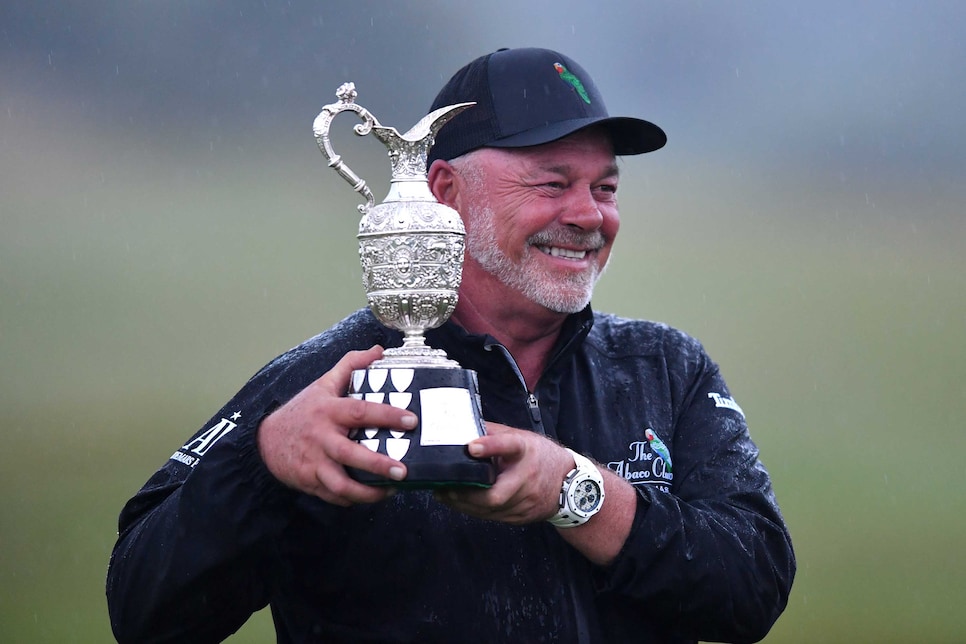 Darren Clarke understandable was smiling after becoming just the fourth golfer to win the Open and Senior Open as he wins the Senior Open at Gleneagles
Mark Runnacles
GLENEAGLES, Scotland — It remains to be seen what Darren Clarke will come up with to celebrate the year 2033. For now, though, it is enough to know that the burly Northern Irishman has added the 2022 Senior British Open title to his 2011 Open Championship victory. Closely challenged by a sizeable squad of regular and senior major winners, Clarke's closing 69 over the endlessly picturesque King's Course at Gleneagles was just enough to see off all-comers and claim the $432,080 first-place check.
Another Irishman, Padraig Harrington's 67 pushed Clarke all the way but was both one-shot shy and one-shot clear of a six-strong pack, one including Ernie Els, Steve Alker and Paul Broadhurst, in third place.
It took a bit longer to than normal to sort out all of the above though. Clarke's 72-hole aggregate of 10-under 270 was achieved only after a two-hour delay caused by torrential rain late on Sunday evening. Nine under par and standing on the 14th fairway when play was halted, Clarke (eventually) failed to birdie the almost-drivable par 4 and gave fresh hope to the pushing pack. And soon enough, they took advantage. Within minutes, Alker (at the 15th), Thongchai Jaidee (16th), Els (18th) and Harrington (17th), the recent U.S. Senior Open champion, all made birdies to advance their respective causes.
Significantly, however, only Harrington, who made a second birdie on the par-5 closing hole, did enough to get to Clarke's nine-under-par status. But it wasn't really enough. Not quite. When (as more rain poured down) the burly Northern Irishman made a 4 of his own at the 18th, two-putting from long range, he created the edge he needed to become only the fourth man after Gary Player, Bob Charles and Tom Watson to complete the Open and Senior Open double.
That fact clearly meant a lot.
"I've made no secret of the fact that I wanted to win this more than anything after I turned 50," said Clarke, which he did in August 2018. "As a kid I wanted to win the Open Championship. As a senior, this was always the one for me. This trophy will look good sitting beside the other one. I'm humbled and privileged to have my name on both alongside some legends of the game."
And the conditions? Not a problem for an Ulsterman.
"I grew up playing in stuff like this," Clarke said. "It doesn't make it any easier though. It was a battle. Pars were a bit of a prisoner out there. But I was cruising until I made a terrible swing on the 10th. All of sudden, an easy birdie became a bad bogey. I hit some good shots from there, but the putter was a bit cold. I didn't hole much of any note. but getting down in two putts from 70-odd feet on the last was obviously pleasing. It was the percentage play, even if the two-footer I had left still had to be knocked in."
One thing Clarke will not be doing is repeating the all-night celebration in the wake of his Open triumph 11 years ago, one that saw him turn up for a Monday morning press conference somewhat the worse for wear. "This trophy doesn't hold as much," he said with a smile.
Of the challengers, Harrington will have most cause for regret. The two-time Open champion struck the ball with his usual authority but missed an awful lot of makable putts, most of them for birdies. And eagles. Two in his last five holes to be precise, at the 14th and the fateful last.
Clarke though has every right to be pleased with himself. This was a performance of the highest class in trying circumstances and against a chasing pack containing, at various times in the final round, as many as seven major champions, both regular and senior.
One last thing. The winning score even had a touch of irony about it. The last time Clarke played 72-competitive holes over the King's Course was in the 1994 Scottish Open. Back then, he also shot 270, good enough for only a T-5 finish. Things in golf do change, some of them for the better.