Viral Videos
Golfer climbs tree, still loses mid amateur in crushing fashion after brutal bad break on final hole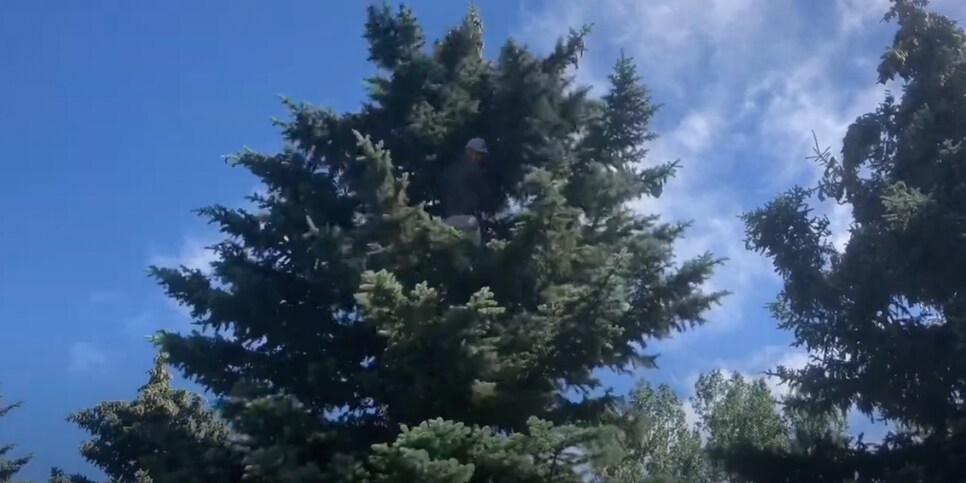 We've seen some final-hole meltdowns before, but this is one of the most bizarre and heartbreaking.
Ryan Werre held a two-shot lead at the Alberta Mid Amateur Championship on Thursday until a brutal bad break caused him to tumble down the leaderboard—and climb up a tree. All the way up.
Werre's risky second shot on the closing par 4 at Highwood Golf & Country Club bounced up into a pine tree. And stayed there.
Despite a valiant tree-climbling effort by Werre, he never found his golf ball, meaning he had to take a lost ball penalty and replay his second shot. From there, obviously a bit shaken and probably tired from climbing a freaking tree, he found a penalty area and wound up making a quintuple-bogey 9 to fall to T-4. Ouch.
That opened the door for Jesse Galvon to make par and win by two shots. Check out the video:
Galvon, who trailed by three shots with two holes left, was as shocked as anyone by how the tournament concluded.
"The craziest finish I've ever seen in person, I don't know if there's a crazier finish that people know of," Galvon told Alberta Golf after. "He literally climbed a 40-foot tree almost and he's shaking the whole tree . . . it was a whirwind, it was a very interesting last hole."
We're guessing Werre would have some different words to describe it. Poor guy.