ROCHESTER, N.Y. — He doesn't hit it as far as before, his clothes are tattooed with a skull-and-crossbones emblem and he sure as hell doesn't resemble the man who threatened to break the game, his once-beefy profile now slimmed to a sinewy figure. But you see the fidgets and mighty lashes and the guileless self-belief and deduce, yes, that's him … and boy, does he look good. Bryson DeChambeau, at least for one day at the 2023 PGA Championship, is back.
The former U.S. Open champ, who's spent most of the past 18 months in the golf wilderness in more ways than one, turned in a four-under 66 to take the lead as the afternoon wave goes off at Oak Hill.
"I mean, it's a fantastic round of golf," DeChambeau said. "It's a prestigious place. Very difficult golf course. As I was looking at it throughout the week, I'm like, 'Man, I don't know how shooting under par is even possible out here on some of the golf holes.' But, luckily, I was able to play some really good golf, hit a lot of fairways, did my job and made some putts."
In a sense we should have known this was coming. Oak Hill was designed by Donald Ross, the architect DeChambeau apologized to (despite, you know, Ross passing away in 1948) at the 2020 Rocket Mortgage Classic for beating Detroit Golf Club into submission. Moreover, a common Oak Hill comp from players this week has been Winged Foot, where DeChambeau won the U.S. Open in a style that raised the question of where golf was going that left the sport at large in dazed resignation.
"It is, right, but it is more nuanced," DeChambeau said of the Oak Hill-Winged Foot parallels. "I've said that a couple times now where you can't just run it up every single green. There's some forced carries, right. It's different, a different test and a test that I'm willing take on. If you're driving it well and hitting your irons well, you can play out here, but it can get pretty nasty pretty quick if you're not hitting it straight."
Just for context, DeChambeau is 29. Meaning, those final years would be (putting numbers into calculator) 91 years from now. That is a special type of confidence.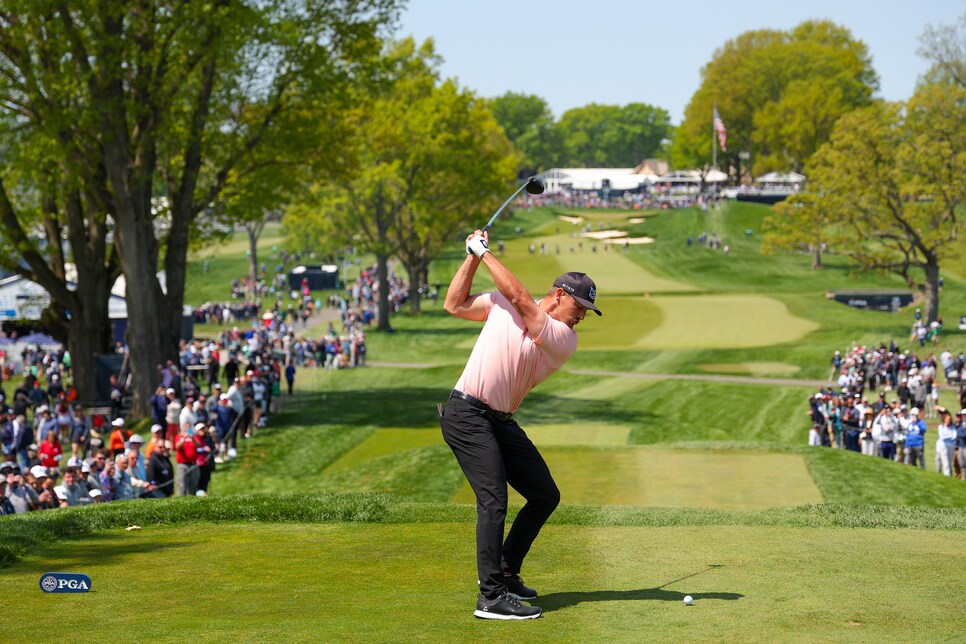 It was a confidence that was on display Thursday afternoon. With the course playing long and mean, most of the field did their best to withstand Oak Hill's punches, doing just enough to stay up and survive until Day 2. DeChambeau was the rare competitor who fought back, racking up six birdies on the round. Even without the bulk, the power endures (leading the field in SG/off-the-tee and distance), and his muscles—which remain many—helped blast out from a rough that is not so much high as it is plentiful and thick.
Conversely, a lot has happened since the days when DeChambeau was seen as a paradigm shifter and though "Bryson" and "break" remained intertwined, the connotation and context have changed.
Figuratively, he's attempting to disrupt not how the game is played but how it is run at the professional level, defecting to LIV Golf, that little upstart that has torn the game in two. As one of its marquee attractions DeChambeau has railed against the establishment, sounding off on the Official World Golf Ranking and delivering a pizza joint analogy that linguists are still trying to decipher. He also lent his name to an antitrust lawsuit against the PGA Tour and until last week was the last remaining player attached to the complaint.
But, literally speaking, DeChambeau suffered a break in his hand in the winter of 2022, a fracture so bad he played against doctor's wishes at the 2022 Masters (en route to a quick exit) with the injury ultimately sidelining him at last year's PGA Championship at Southern Hills. When he returned his performance lacked consistency and vigor, and a good weekend at the Open Championship (leading to a T-8) was the lone bright spot in a sea of darkness. The struggles have carried into 2023, missing the weekend in the only two events with cuts—the Saudi International and Masters—he's played in, and he is ranked 28th out of 48 players in LIV Golf's individual season standings halfway through its season.
Between LIV's failure to resonate with the public and his uninspiring play, the paradigm shifter had become somewhat of an afterthought.
Which, frankly, is a bummer. He may be, ahem, a divisive figure, yet DeChambeau is never vanilla, and golf is better with some color. Whatever criticisms aimed at those joining LIV, DeChambeau has not channeled the exuberant riches into early retirement, changing coaches and retooling his swing to return to the results he knows he can still achieve.
To get to where he wants to go, he had to ditch what spurred him to such heights. Deciding the weight gain had not only run its course but was being an active deterrent to his game and life, DeChambeau embraced a diet that cut down on calories and wheat and dairy, believing whatever issues would come in the short term would pay off in the long. Maybe that's why he stayed steadfast through the struggles, through the doubts, believing his direction was true.
"Each day I had always this glimmer of hope that I could get back to it," DeChambeau said. "It was never like I've got nothing, I'm done. I could have easily been like, you know what, I had a great career, I'm good. But I didn't because I knew I had it in me to do it every single day, and I worked as hard as I could every single day. There were times I doubted myself, severe doubts, but never got to a point where I was done. Maybe for like a day I was done, I'm just going to take a day off, whatever and the next day, I came back, all right. I think I got something."
Yes, the eccentricities that engulf him at all times are still here, evidenced by DeChambeau plunking a PGA club pro with an errant shot and a sponsor's name misspelled on his hat. Those oddities are part of his story, and the story is richer for them. It is only one round, and against the output of the past two years that round is the outlier. DeChambeau is well aware. "It's been a while," DeChambeau said. "So nice to come back and start to finally figure out what's going on with my golf swing. As I've told you guys before, I've struggled with my driving. You see me out there on the range. That's something I don't want to do. I don't want to be out there all night, but I've had to to figure out what I did so well in 2018 and what made me so successful then. I feel like I'm catching on and trending that direction."
Then again, DeChambeau has always been an outlier. Through 18 holes, the outlier is back in the fold.
MORE FROM GOLF DIGEST @ THE PGA CHAMPIONSHIP