Solid start
PGA Championship 2023: Why this career first in a major should have Scottie Scheffler fans excited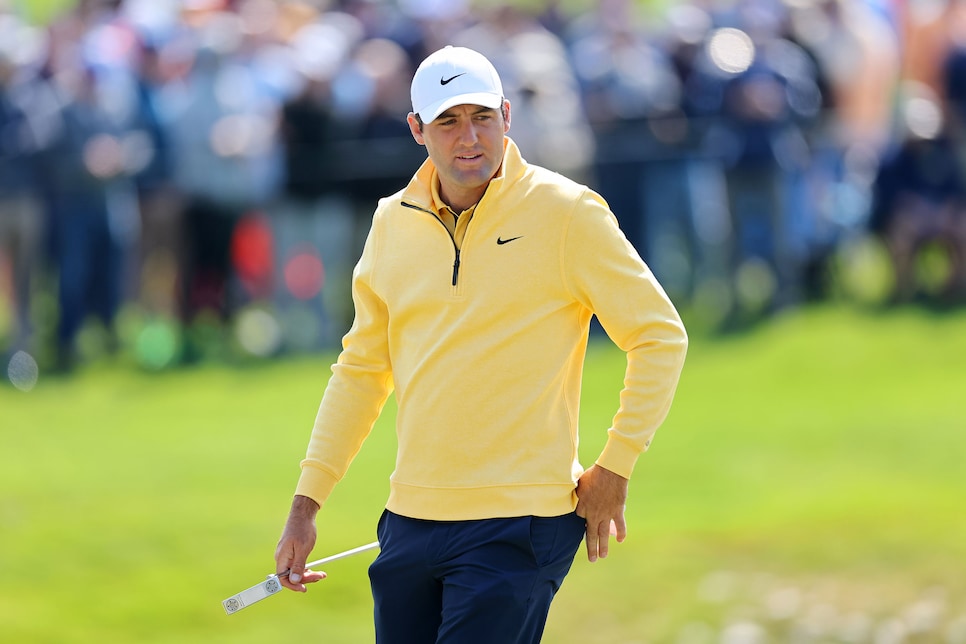 ROCHESTER, N.Y. — If you're a fan of contradictory stories, try this one: In his first round at the PGA Championship, Scottie Scheffler felt like he had to battle his way around a tough course just to stay afloat, yet he simultaneously turned in the first bogey-free round in his career at the majors.
If that doesn't seem to make sense, perhaps it's a taste of what Oak Hill has in store for the field in a week that feels poised to fall somewhere between "tough" and "brutal."
"It's just one of those places where you hit one shot maybe barely offline … and sometimes you can hit a good shot and end up in a place where it's pretty penalizing," Scheffler said after his round. "There's lots of tough holes out there."
Despite the perceived difficulty, Scheffler was as composed as any player in the field. Standing out in a yellow Nike pullover, he was characteristically expressionless as he navigated Oak Hill. The bigger picture for Scheffler was that he was very good on the green (18th in SG/putting as of 4 p.m.) and spectacular from tee to green (first). He was 7-for-7 when forced to scramble, and in the two instances when he found himself in one of the course's monstrously deep bunkers, he saved par both times.
A great example came on the fourth hole, one of two par 5s, when he yanked his drive far left, managed to get back in play from against a tree, struck a solid iron that the wind caught, depositing him in a bunker, but then hit to three feet for a hard-fought par.
"You would hate to bogey a par 5," he said, "especially when there's only two of them around this place. That was good momentum."
It was a deliberate round for Scheffler, verging on glacial in certain instances, including a second shot on 14 that appeared to take the better part of three minutes. He was similarly "focused" on nine, his last hole of the round, when he nearly buried a 22-foot putt to move to four under. That effort slid by the hole, but in all, this was a much improved putting performance for the World No. 2, who struggled so mightily in that department at the Masters. His highlight reel Thursday included two 14-foot birdie efforts on 5 and 14, and a handful of difficult par saves. When asked if there was anything different between his putting at Oak Hill versus Augusta, he drew a laugh with his response:
Scheffler, who was in contention all week at the low-scoring AT&T Byron Nelson before coming to upstate New York, thinks his game "better suited" to this particular type of test, where the top players can earn more separation from their competitors since so much more is required tee to green. Which might make it good news that he thinks it's only going to get harder.
"I felt like today there wasn't as much wind, and tomorrow it looked like the wind is going to be blowing 10 to 20," he said. "I thought I saw a lot of that over the next three days as well … no matter what position I'm in going into tomorrow, I would be grinding it out. This is one of those places where that's what you have to do. You just try and stay in position, make the important par putts and just keep the momentum going."
For a player seeking his second major, and who missed the cut at last year's PGA Championship on the heels of his Masters triumph, it's an ideal start to a tournament that could become more about surviving than thriving. He's geared up for the challenge, and if his putter is back for good, Thursday isn't too early to call him the man to beat.
MORE FROM GOLF DIGEST @ THE PGA CHAMPIONSHIP