PGA Championship
PGA Championship 2023: It appears as though Scottie Scheffler took nearly three minutes to play a 50-yard pitch shot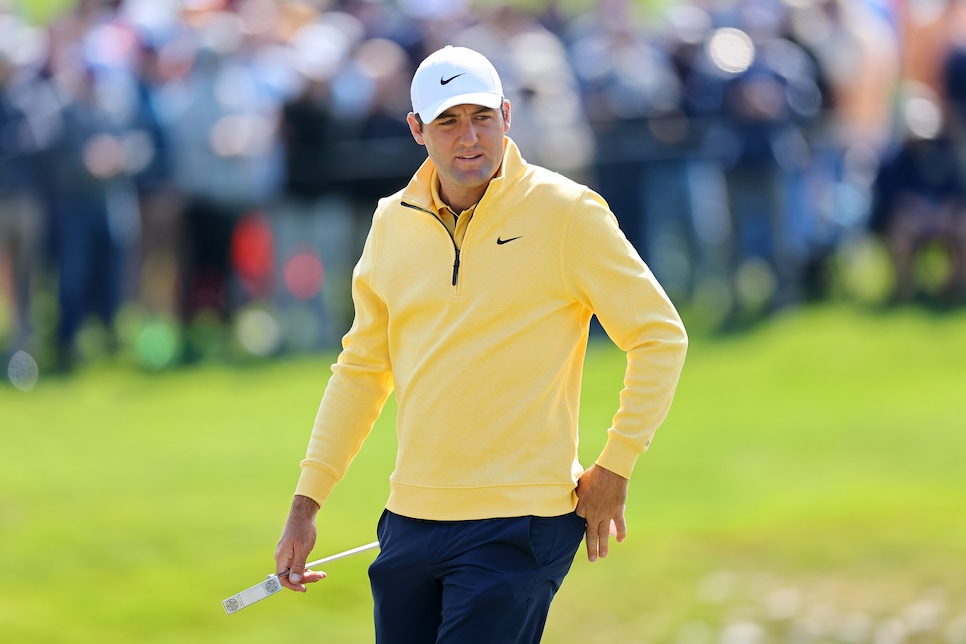 Those paying extremely close attention of late have begun to wonder if Scottie Scheffler's pace is just as, um, deliberate. The theory being that because Scheffler is so well-liked, he gets a pass. Again, this is just a theory that's been posed.
That theory gained some credence on Thursday at the PGA Championship, where the 2022 Masters champion's pre-shot routine during his second shot at the par-4 14th came under fire on social media. Some context before we get into it: the 14th is a drivable par 4 in the opening round, and drivable par 4s are guaranteed to produce logjams with the entire field taking a rip at the green. In this case, the group ahead of Scheffler, Brooks Koepka and Gary Woodland allowed them to hit up before they finished putting out. A common practice on short par 4s on the PGA Tour.
In the video you'll see below, the first two minutes will show Scheffler, Koepka and Woodland waiting on the group of Steve Holmes, Adrian Otaegui and Davis Riley to putt out. So while the clip is five minutes, Scheffler did not take five minutes to play his second shot, which was 52 yards from the hole, just left of the green.
You will notice at the two-minute and 13-second mark that the flag goes back into the hole, which is when Scheffler begins a pre-shot routine that then takes nearly three minutes, an obscene amount of time for any shot, let alone a 50-yard pitch to a large green. Of course, it is a major championship, where every shot means so much, and this is a hole players are going to want to birdie by any means necessary:
There are multiple schools of thought here, the first being: Scheffler should have gone through this process already and been ready to fire away, not after the group ahead finally walked off the green. This is a major part of the slow-play issue on the PGA Tour—players not starting their routine until it's "their turn." One could argue that being ready to hit when it's your turn would save quite a bit of time in these situations.
On the other hand, where are Scheffler, Koepka and Woodland going to go if they rush through this hole? Had Scheffler been ready to hit and did, and then Koepka and Woodland hit their shots right after, then they finish the hole quickly and they just go and wait on the next tee box anyway. You might as well use the extra time wisely on a difficult pitch shot, rather than sitting and waiting on the next tee box.
In fairness, there also appeared to be a bit of confusion on whose turn it was between Scheffler, Koepka and Woodland, another thing that could have been ironed out while they were waiting on the group ahead. At one point, you'll see Koepka making some sort of hand gesture, and finally at the four-minute and 14-second mark you'll see Scheffler give a thumbs-up to Woodland and Koepka. Whatever they said back, Scheffler threw both hands up in a confused manner before stepping out of the shot again.
Ultimately, Scheffler's process paid off in the form of the birdie, his only birdie of the day so far through 11 holes.
MORE FROM GOLF DIGEST @ THE PGA CHAMPIONSHIP