No One Out Pizzas The Tour
Joel Dahmen takes dig at Bryson DeChambeau and LIV Golf lawsuit with another pizza "analogy"
A few weeks back, at LIV Golf's Trump Bedminster exhibition, former PGA Tour pro Bryson DeChambeau sat down with political firebrand Tucker Carlson to discuss the state of the current LIV Golf-PGA Tour impasse. In that interview, DeChambeau, perhaps a little hangry ahead of a late lunch, likened the complex, potentially precedent-setting legal situation to two rival pizza parlors. One has been in town for many years, DeChambeau explained. The other just opened. But now the old slice shop is banning customers who visit the new pie joint, and suddenly a pizza war has broken out, pitting brother against brother, man against wife. Here's how he explained it.
It didn't make a ton of sense then, and it makes even less sense now. Even Carlson, whose commentary is built largely on false equivalencies, could hardly parse DeChambeau's pithy pizza metaphor ...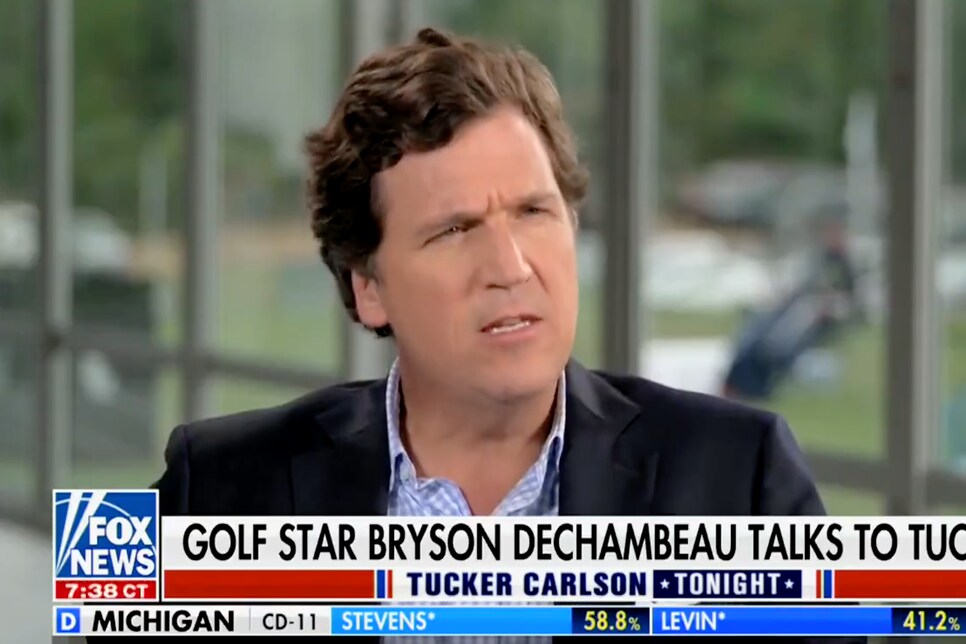 If you thought that was the end of the pizza parlance, however, you were sorely mistaken. Since DeChambeau's befuddling basic cable yarn, he and 10 other LIV Golf players filed an antitrust lawsuit against the PGA Tour, with three players—Talor Gooch, Hudson Swafford, and Matt Jones—seeking injunctions to play in this week's FedEx Cup Playoff opener. On Monday, the PGA Tour filed their response to the lawsuit, issuing a statement by attorney Elliot Peters, a member of their legal counsel, that reads as follows:
"The players' participation in the LIV league is in violation of the PGA Tour's Handbook and Tournament Regulations. For enormous sums of cash supplied by Saudi Arabia's sovereign wealth fund, Plaintiffs willfully breached their agreements with the PGA Tour. The players' purported harm is entirely self-induced. We will litigate this case vigorously to preserve the reputation of the PGA Tour and protect the benefits it offers to players.''
There's a lot of $200 words in there, but if you can't make heads or tails pepperoni or soppressata of it, don't worry. Shortly before the statement was made public on Monday, Joel Dahmen—still a card-carrying member of the PGA Tour—dropped this bite of cheesy, greasy wisdom to help clarify where things stand ...
Obviously this is a dig at DeChambeau, who left the tour partly because he was tired of guys taking digs at him, and it comes off just as clumsy and petty as well. No matter what side of the aisle you sit on (apparently everything has to have an aisle now), we can all agree that this has spiraled out of control. The stupidity has reached its rock-brained zenith, the parody has become reality, and in the crossfire somehow pizza has taken a stray bullet. Can't we leave pizza out of this? Pro golf is on the verge of collapse and now we're trying to take one of our main coping mechanisms down with it. Shouldn't pizza—even the kind with pineapple on it—serve to unite us, not divide? What's next? Beer? Big questions requiring big responses, but for now, let's just call it food for thought.