Rules
British Open 2023: Twitter swings and misses in alleging Xander Schauffele broke the rules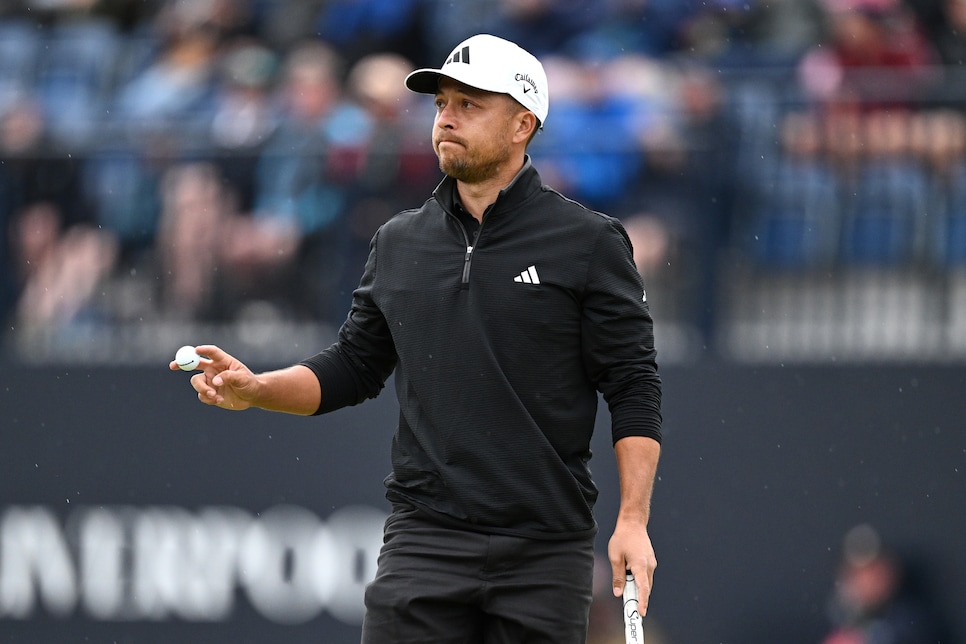 Xander Schauffele finishes up at the 18th hole during the second round of the British Open.
Oisin Keniry/R&A
There are a lot of lip readers on social media. Some may be professionals. Most are not. In the case of Xander Schauffele and what he said to reigning Open champion Cam Smith on the sixth tee Friday after he hit an excellent shot into the green on the par 3, the chatter was so, so wrong.
There was a post that alleged that as Schauffele walked away from hitting his shot that he said "six" as Smith walked up to the tee—meaning that he was supposedly telling his fellow player which iron he'd used, which is against the rules.
The Twitter conversation was extensive enough to be flagged by the R&A, because it sent the chief of staff, David Rickman, to the scoring room when Schauffele, Smith and Wyndham Clark arrived to sign their scorecards. In a video shared during the late and live Peacock stream, with no sound, Rickman was seen talking to the group, including the caddies; they appear to be offering explanations, and then there is some boisterous laughter.
Charlie Maran, an R&A rules official speaking to the broadcast, said Rickman confirmed that he talked to the players and that he was "100 percent sure" that Schauffele said "thanks," not "six," when Smith complimented him on the shot. And, of course, there's no penalty for being polite.
In addition, on-course reporter Notah Begay said on the broadcast that he was with the group and got the signal from Schauffele's caddie, Austin Kaiser, that Schauffele hit a 5-iron, not a 6. Flashing club signs to broadcasters happens all the time.
"Just goes to show you can't believe everything you see on social media," Begay said.
So, now the trio gets on with the unenviable task of battling Royal Liverpool in what's expected to be terrible conditions on the weekend. Clark, last month's U.S. Open champ, topped the group by shooting one under over the first 36 holes and is nine shots off the lead of Brian Harman. Schauffele and Smith are two over.
MORE FROM GOLF DIGEST @ THE BRITISH OPEN