"THE CHALLENGE"
British Open 2022: Tyrrell Hatton has found a major course he likes
ST. ANDREWS, Scotland — The good news for Tyrrell Hatton is the Open Championship is at the Old Course, and Tyrrell Hatton loves the Old Course. He might not have been too keen on the setup at a few of the other majors this year—Augusta National and Southern Hills specifically—but St. Andrews is definitely where it's at, as far as the 30-year Englishman is concerned.
Surely part of such reasoning is that Hatton has twice won the Dunhill Links Championship, half of which is played annually at the Home of Golf. But there is more to it than that. He's also seen the dark side of the links. In two previous Opens here, 2010 and 2015, Hatton has missed the cut and been "going home early."
Not this time though. Following his opening 70 with a bogey-free six-under-par 66, Hatton is at eight under and well in contention for what would be a maiden major victory. And a bit of a novelty. Surprisingly, the World No. 27 has had just five top-10s in 29 previous major starts. His best finish in any major did, however, come at the 2016 Open, where he pulled up in a tie for fifth. But that too is a bit of an anomaly. In nine Open appearances before this week, Hatton missed the cut six times.
"The fact that I'm here for the weekend is a nice thing," he said, a sly little smile playing across his lips. "It was nice to walk up 18 and not have to worry about that. Although I've won around here in the past, the course is very different to how we play it in October. The pin positions are certainly a lot tighter. And if you miss the fairway, which is easy to do with how firm it is, you just don't have any control."
It would be nice to say that was as close as Hatton came to any sort of criticism. But it would also be wrong, albeit his analysis was laced with good humor.
"Have you seen some of those pins out there?" he asked, presumably rhetorically. "During the Dunhill with the amateurs playing, there would be nine-hour rounds. It would be brutal. So there are some interesting ones out there. But it's all part of the challenge."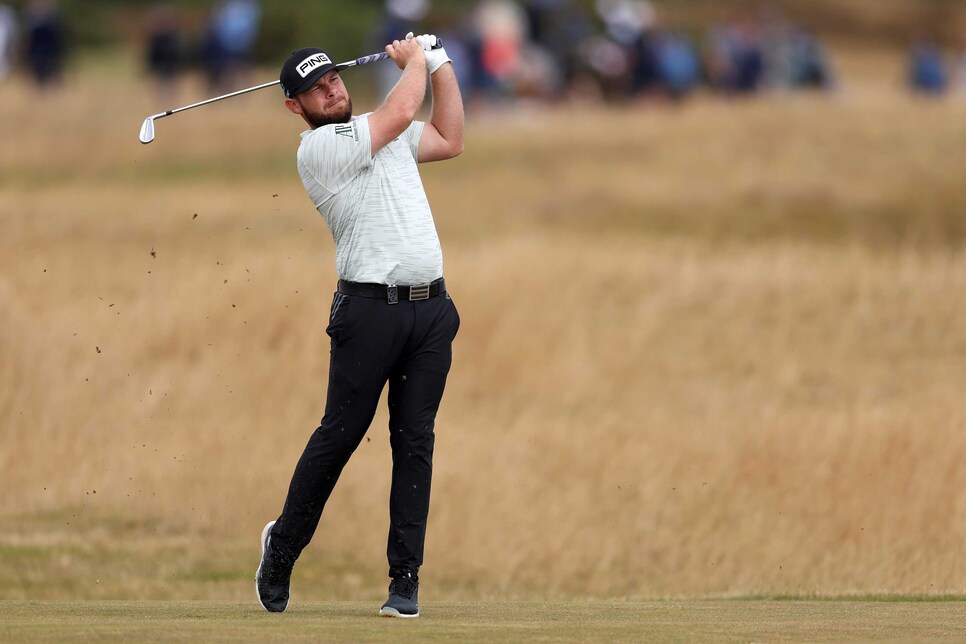 Tyrrell Hatton as won the Dunhill Links Championship, played in part at St. Andrews, twice, but says the setup in October is much different than an Open in July.
Warren Little
The sometimes temperamental Hatton did admit to a mild bout of annoyance. A missed putt for birdie on the opening hole saw the offending ball making its way into the Swilcan Burn—"it was scared of the dark"—as he made his way to the second tee.
"Even without that much wind, there are a few pins where you literally can't get within 15 feet," he said. "You need a bit of wind with some of them to get close. There was obviously a lot of talk about the scoring being ridiculously low at the start of the week. But the greens are pretty mental. They can put the pins in some crazy spots, and that slows down scoring. Although you've got shorter shots, it's still really hard to hit it close."
Finally, Hatton was asked the inevitable temper question. Does his outwardly demonstrative demeanor ever affect his performance?
"It depends," he said, the little smirk returning. "If I get too annoyed, I get in my own way. That's a problem. But if I hit a bad shot and I let it out, then it's not going to harm me. It would be worse for me if I try and act like everything's fine. That's just not my character. I don't even think about some of the stuff I say. It just flies out of the gate. It's just me. I'm not trying to offend anyone."
MORE OPEN CHAMPIONSHIP 2022 STORIES FROM GOLF DIGEST