Podcast
Brian Urlacher on his proud moment in the WMPO pro-am, an unlikely eagle at Augusta National and making his first ace on a par 4 (!)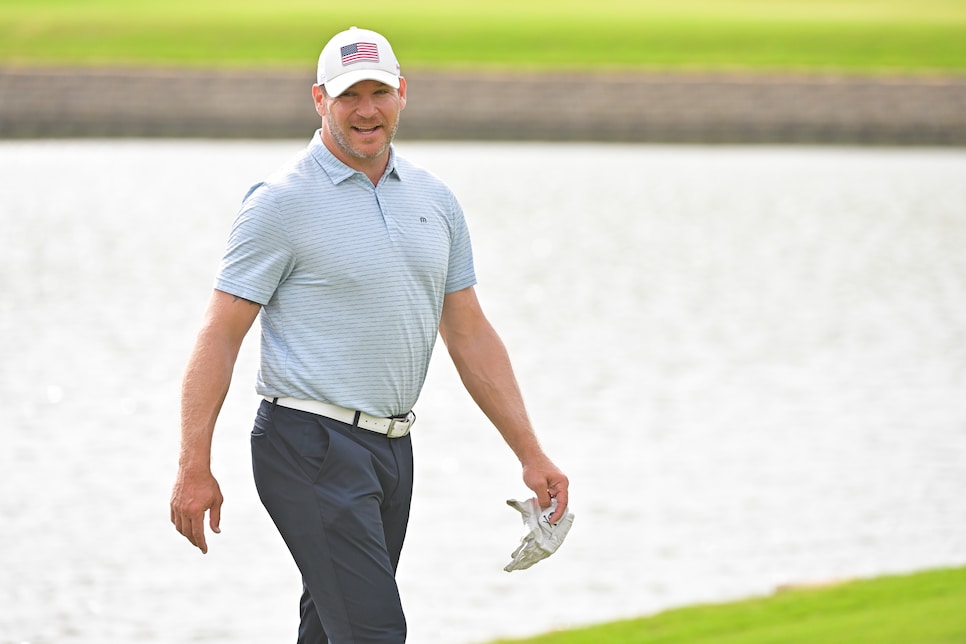 Ben Jared/Getty Images/PGA Tour
Brian Urlacher might be more equipped to handle the big stage of the pro-am at the WM Phoenix Open than most. An NFL Hall of Famer who has played on all the big stages, including a Super Bowl appearance in 2016, Urlacher wasn't as nervous as others might've been when he played in the pro-am for the third time last weekend, as he told Golf Digest on this week's Loop podcast.
The eight-time All-Pro linebacker—who's also slated to play in the PGA Tour Champions' Invited Celebrity Classic in April and has teed it up in multiple American Century Championships—described how he conquered the scene at the 16th hole at TPC Scottsdale last week.
"It is different because in football I knew what I was doing," Urlacher told us. "I loved the crowds because I knew what I had to do every play, and I knew what was gonna happen … I trusted myself. Golf, I don't know where the hell the ball is going sometimes. So I get up on that tee and there's 20,000 people surrounding you.
"But I actually like the loudness. Quiet actually makes me a little nervous because when I play at home, it's never quiet. There's people talking, there's music going. I do enjoy the hypeness of it."
Urlacher, whose pro-am group was paired with Patrick Cantlay for nine holes and Davis Riley for the other nine, described hitting his 9-iron on the iconic par 3 to eight feet, then his team rolled in the birdie putt to a rousing approval by the crowds in Phoenix.
Despite Cantlay having a reputation for being one of the more reserved pros on tour, Urlacher said the eight-time PGA Tour winner was a blast to play with.
"He's awesome—we didn't give him a choice [to be quiet]. Our group talked to him the entire time," Urlacher said. "He was fun, he was open. He told us [good shot], he gave us some great tips."
Urlacher also played with 2021 National League Cy Young Winner Corbin Burnes as one of the longest hitters he's ever seen on a golf course.
The former Chicago Bears linebacker told some other tremendous stories, including getting to play Augusta National twice, once with legendary coach Lou Holtz. He also made a very unlikely eagle on a par 4 at the home of the Masters, and his luck on par 4s doesn't stop there: He made his first hole-in-one on a par 4 at his home club outside Scottsdale a few years ago.
Urlacher will join a number of other celebrities in playing in the Invited Celebrity Classic at the end of April at Las Colinas Country Club in Irving, Texas. The event will be live on the Golf Channel, and you can obtain free tickets here.
Listen to our entire interview with Urlacher below—and make sure to subscribe to The Loop wherever you get your podcasts. In past weeks our great run of guests have included Xander Schauffele, J.R. Smith, Mike "Mad Dog" Russo and Keith Mitchell, among others!