Black Monday
Of all the dumb reasons why the Dolphins fired Brian Flores, this has to be the dumbest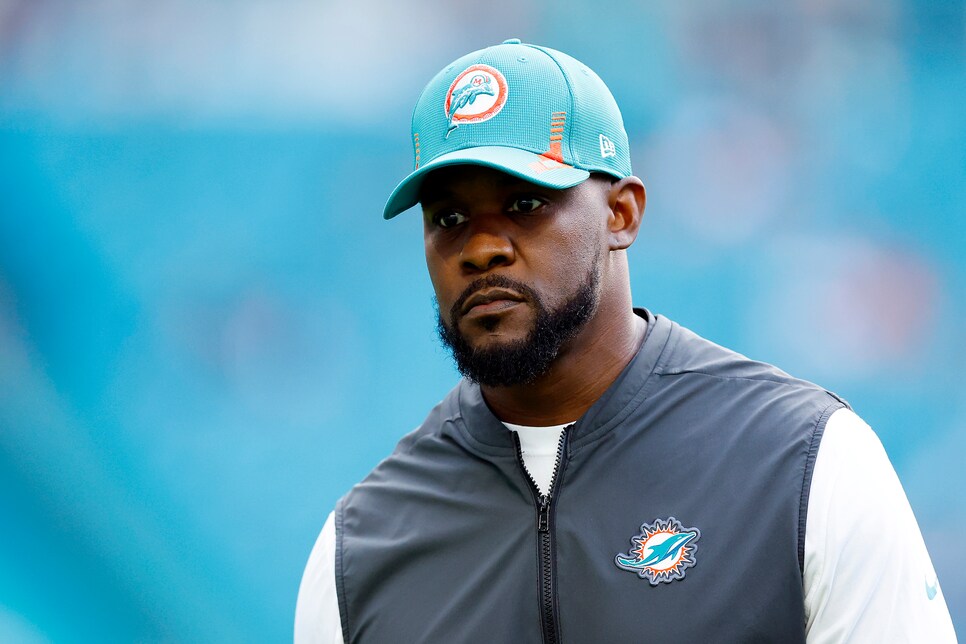 Happy Black Monday, doubters, haters, sadists, and skeptics. So far, the 2022 iteration of football's darkest day has lived up to its billing, with three coaches joining Vic Fangio and Urban Meyer on the NFL's annual casualty list. Two of those—the Bears' Matt Nagy and the Vikings' Mike Zimmer—were expected and came as part of wholesale regime changes. The third, however, put butts in seats and jaws on the floor across the NFL, with the Miami Dolphins announcing the firing of head coach Brian Flores, who had just led the Fins to their first back-to-back winning seasons since the early 2000s.
The move immediately had NFL insiders scrambling for rationale, if not answers. Jeff Darlington quickly debunked the Jim Harbaugh theory. Adam Schefter beamed into 'Get Up,' saying that Flores' "strong coaching style" didn't mesh with the organization's desired direction. Pro Football Network's Adam Beasley shed a further light on that premise, writing, "He [Flores] was incredibly difficult to work with, and his relationships with Grier, his staff, and his players went from fraught to non-existent at times ... Flores rode his players hard over making weight and speaking to reporters, embarrassing them in front of teammates, or even keeping them home from road trips over relatively trivial offenses."
Beasley also offered another interesting nugget on Flores, saying that the third-year head coach "didn't have quarterback Tua Tagovailoa's back from the first day Tua arrived on campus" and was the driving force behind the team's six-month flirtation with Deshaun Watson. Flores even allegedly benched Tagovailoa for the Dolphins' November game against the Ravens under the pretense of health when Tagovailoa believed he was good to go (ironically enough, Tua would later enter the game after an injury to Brissett). True? Quite possibly. Beasley was the Miami Herald's longtime Dolphins reporter before joining Pro Football Network. He's well connected and there are few guys you would trust more with Fins scoops than him. But this particular anecdote leads us straight to the dumbest reason for Flores' firing yet. Ear muffs, kiddos.
Sarney, who has sources in and around the Dolphins organization, reached out to clairfy that there were a lot of other issues at play beyond the f-bomb, including a pattern of terrible communication from the field to the front office and a general inability on the part Flores to work with others. If the straw that broke Flipper's back in Miami truly was a Tua f-bomb, however, it's beyond silly. This is football, not the opera. We don't care if your name is Kirk Dadgummit Cousins, an f-bomb shouldn't be indicative of anything one way or another. Sarney says those in the organization were "shocked" by their friendly all-pro human being's outburst, but wouldn't not cussing after an ugly loss that sealed your postseason fate seems like a bigger red flag?
Whatever the case may be, Sarney's story in concert with Monday morning's developments, may help to paint a more vibrant picture down in Miami. One side was Team Tua, the other side was Team Anyone Else. It shouldn't take a f—king genius to figure out which was which ... if you'll excuse our language.