It was always going to be a big deal personally for Leona Maguire to become the first Irishwoman to win an LPGA Tour event, the 27-year-old accomplishing the feat after four years as a professional at the LPGA Drive On Championship in February. And a big deal for her country, too; in the wake of her win, Maguire—among the players considered a favorite at this week's AIG Women's British Open—got a social-media shoutout from none other than the country's president, Michael Higgins.
Still, it was only recently that the bigger-picture significance of her accomplishment sunk in for Maguire. Last month, a young fan and her mom approached the golfer while she was playing in the J.P. McManus Pro-Am charity event. The girl shared with Maguire, the lone woman competing among 50 professionals, that she had selected "Leona" as her saint name for her first communion, a tradition of the Catholic church.
"Usually, you pick a Saint, but she picked Leona, which was a little different," Maguire said, a bit overwhelmed. "I've had people send me projects they've done or posters. It doesn't seem that long ago I was doing that on Padraig Harrington or Serena Williams or Annika or whomever it was growing up.
"It's a little bit full circle right now."
Stories of players inspiring a country by becoming its first tour winner are happening more and more of late. In the LPGA's 73-year history, women from 29 countries have won titles. Three of those countries saw their first winners come in the last two seasons, all from Europe: Ireland's Maguire, Finland's Matilda Castren (2021 Mediheal Championship) and Denmark's Nanna Koertz Madsen (2022 Honda LPGA Thailand).
"It's definitely trending in the right direction for the European Solheim [Cup]," Koerstz Madsen said at the JTBC Classic in March. "Now there is one and a half years before for the [next] Solheim, so we still have to continue this."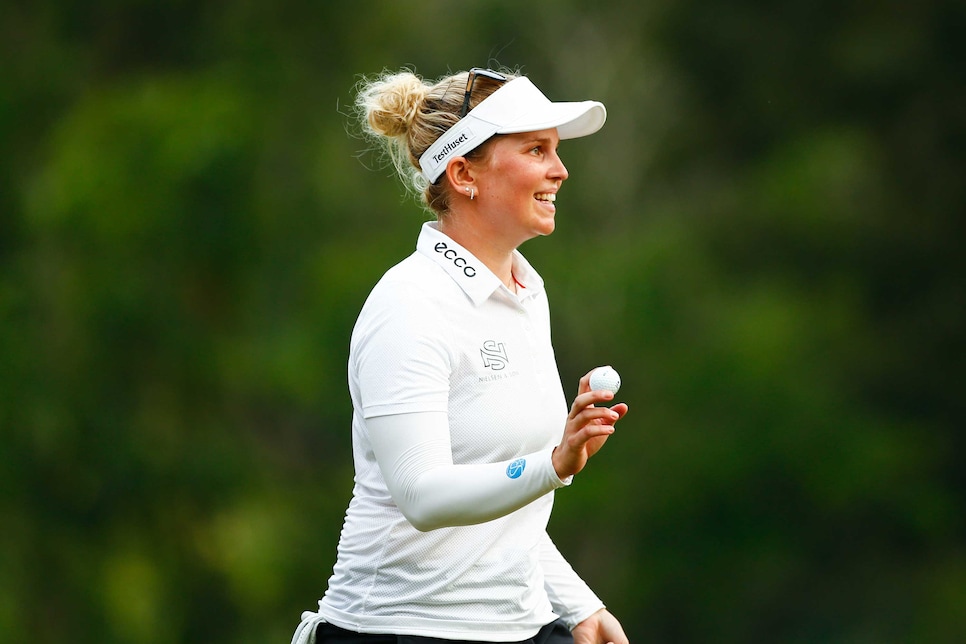 In March, Nanna Koerstz Madsen became Denmark's first LPGA champion with her victory at the Honda LPGA Thailand.
Thananuwat Srirasant
Go back a decade, and players from six countries have recorded historic maiden wins, including three players who eventually claimed the top spot in the Rolex Women's World Golf Rankings: New Zealand's Lydia Ko (2012), China's Shanshan Feng (2012) and Thailand's Ariya Jutanugarn (2015).
Given the talent of all these players, the anticipation for their maiden wins left them feeling anxious, pressure building to fulfill what seemed like their destinies. Maguire's notable amateur career—three-time NCAA player of the year at Duke, a three-time Curtis Cup participant, 135 weeks at No. 1 in the Women's World Amateur Golf Ranking—made it seem inevitable she would give Ireland its long-anticipated first win after finally reaching the LPGA Tour in 2020. Twice she claimed runner-up finishes in 2021, dueling with LPGA stalwarts.
"I suppose at the time you tend not to focus on things like that, putting too much pressure on yourself," Maguire said. "And obviously I wanted to win first and foremost for myself and for my family. I know I have an incredible amount of support from back home from Ireland, everybody sort of staying up late with the time changes and all that to support me."
Social media clamored for her success, as witnessed in the creation of a Leona Maguire Tracker account on Twitter at the start of 2022. (Yes, Maguire is aware of it and appreciates her fan's passion. No, her twin sister Lisa doesn't run the tracker, and as of now, she doesn't know who is behind it.)
"Over the last year or two I've been on social media, if I'd been in the lead or near the lead," Maguire said. "It was people tweeting or whatever saying, 'Is this going to be the week? Are we finally going to have an Irishwoman win?' or all those questions. So I guess the nice part now is, that question's kind of over, which is a nice sort of feeling to have."
Castren became Finland's first winner in June 2021 at age 26 during her second year on tour. Her victory put her in an unusual spot; she was not yet a member of the Ladies European Tour so despite being an LPGA winner she wasn't eligible to play on the European Solheim Cup team that coming September. Her only avenue to membership, given LET qualifying school wasn't until after the Cup's conclusion, was to win an LET event.
Impressively, in Castren's first opportunity, she won the Gant Ladies Open in her home country. Her spot on Team Europe was locked in, and she helped the visitors take down the Americans in the United States for the first time since 2013.
"I think last year I was just going with the flow," Castren said, "and now I kind of look back and I'm like, 'wow, how did I, how did I do all that? How did I like survive the whole year?' Because it was a long year and a lot of these very special events. I think I have a different perspective now. Obviously, last year I thought it was so cool and I was so excited and everyone around me were so excited. Now, it just feels a little bit more special, if it can."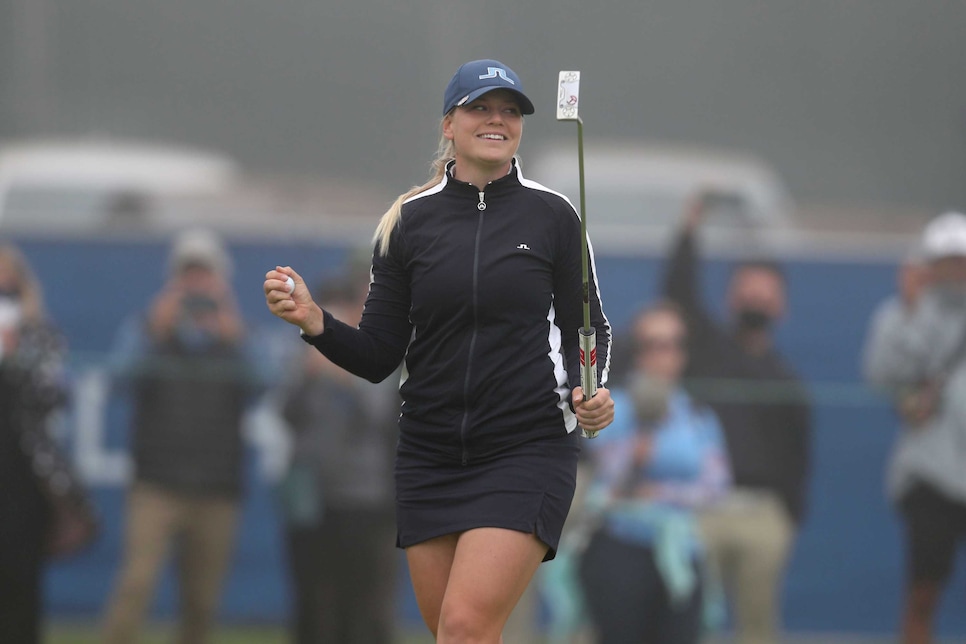 Matilda Castren made all of Finland proud with her maiden win at the 2021 LPGA Mediheal Championship.
Jed Jacobsohn
Despite some fans asking for photos and sharing she's motivated them, Castren doesn't feel like a celebrity. "I just hope that I can inspire others," Castren said. "It's always kind of hard to come over to the states to play if you haven't gone to college or like other connections. Over here, but I hope I can inspire the next generation to want to reach for the stars and try to be playing amongst the best. I'm just trying to find different ways to help the juniors."
Castren can look to fellow recent first-time winners for advice on how to help grow the game in her country. Ko partnered with New Zealand Golf in 2015 to create a scholarship program for two teen players to train with her in the U.S. Feng created a golf academy in 2017 to help more Chinese kids get into golf. Jutanugarn and her older sister Moriya partnered with Habitat for Humanity in 2018 to assist Thai families.
"So many times that I've spent time with the kids, they came up to me and said 'You're really inspiring,' " Jutanugarn said at the Dow Great Lakes Bay Invitational. "So that just makes my day and makes my life, because I feel like that's all I want to do."
So which country could be the 30th to have its first LPGA winner? India's Aditi Ashok has the potential and has already seen a substantial impact from her play within her homeland. When golf returned to the Olympics in 2016, the then 18-year-old shot back-to-back 68s to sit T-8 through the first 36 holes. Then, in November, she won the LET's Hero Women's Indian Open, taking down Brittany Lincicome to become the first Indian player to win a LET event.
"I'm just so happy that it was my first win," Ashok said, "because I didn't get to grow up looking at that trophy with an Indian girl's name on it. I feel like now, anybody who is going to play in that event or who looks at history on the European Tour, they can see an Indian girl has won there. So I think it gives you a little more belief in yourself that it is possible."
At last summer's Olympics, Ashok finished T-4, a stroke out of a playoff for a medal. Following the inspiring performance, more and more kids have taken pictures alongside the Indian golf star on the driving range at the courses she practices at, the Bangalore Golf Club and Karnataka Golf Association. She's since claimed an LPGA career-best T-3 at the 2021 Dow Great Lakes Bay Invitational.
"Before [the Olympics], I guess they would just look at me as another golfer practicing, or maybe they didn't even know who I was," Ashok said. "I think the Olympics made that different, and they'd all try and get a picture with me, because I had been at the Olympics and because I had finished fourth. That has definitely done more than my three wins on European tour."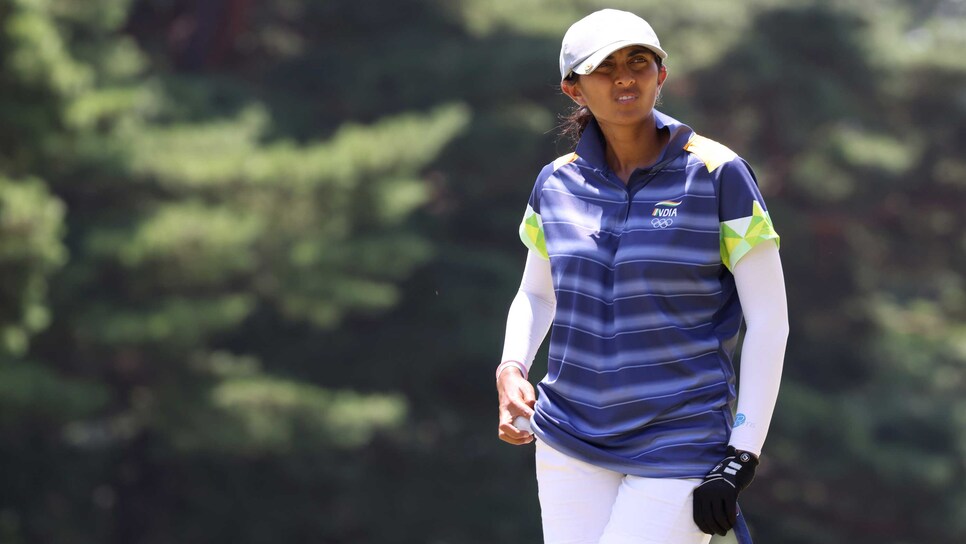 Aditi Ashok, 24, has represented India in the Olympics twice and is looking to become the country's first LPGA winner.
Chris Trotman
The inspiration from the first-time winners stretches beyond their homeland. Some players are focused on becoming their country's first LPGA members, let alone winners. For example, Epson Tour member Pilar Echeverria is working to become the first Guatemalan on tour. Those first-time winners serve as beacons that her dreams are possible.
"Even in central America," Echeverria said, "we don't have that many professional golf players. So we support each other a lot. There are some other Central American players on Epson Tour, and we're always cheering on each other.
"It's just a lot of excitement and looking forward to working hard, and hopefully make that first come true."