The plan was to play for a decade. That's what an 18-year-old Shanshan Feng thought when she qualified for the LPGA in via Q-School in December 2007, becoming the first woman from China to earn her tour membership. "I would try my best for that time and then I would do something else," Feng recalled. "I think I can do something else in my life, I don't want to just be a player all my life."
Though it came four years later than originally planned, Feng announced her formal retirement from the LPGA Tour on Monday, 13-plus months since she played her last LPGA event.
A native of Guangzhou, Feng got into golf through her father. He played, so he introduced his daughter to the game. While that might not sound unique in 2022, it certainly was in the early 2000s in China. Feng was one of only a few children, yet alone female children, who were playing golf.
"When I was little, if I went to a golf range, when they saw me they'd be so surprised, like 'Oh look at this kid, she has a good swing,' " Feng, 32, said. "Right now if you go to a golf range in China, half of the people are teenagers and kids. There are so many people that are starting to play golf. I think that's the biggest change and I'm very happy to see that."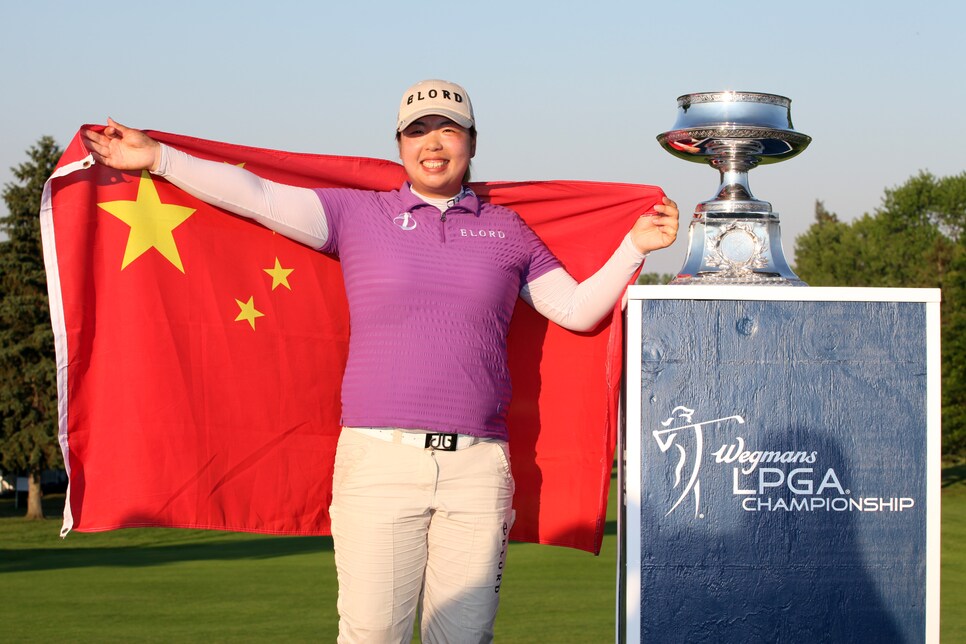 The change is something Feng deserves a lot of credit for. She wasn't just the first Chinese player on the LPGA Tour, she was also the first golfer from China, male or female, to win a major championship. The 2012 Wegmans LPGA Championship is one of 10 LPGA titles Feng collected during her time on tour. Her list of firsts also includes becoming the first World No. 1, male or female, from China.
"I always saw myself as a guinea pig," said Feng, who had 18 top-10 finishes in majors during her career, including two in 2021. "There was no one ahead of me that I could follow their path, I had to really make out the path myself. I just needed to learn everything like a beginner, but I was happy I had my family and my team supporting me. Even though I became the first, and people would think it was my success, I would say it's not. It's the whole team. The whole team made it happen."
Feng marks the moment where she became No. 1, back in November 2017, as the highlight of her career. She got the news while in the Dallas airport and celebrated with a steak at TGI Fridays.
"There can only be one World No.1. That meant I was the best player at that time in the world," Feng said. "That was the biggest compliment for my career and my team and family and all the fans who were supporting me. When I became World No. 1, I won the Blue Bay event in China so my family, team and friends were there and they could share the moment with me."
When Feng talks about her team, she includes long-time coach Gary Gilchrist. She left China as a 17-year-old to attend Gilchrist's golf academy in South Carolina. It was soon thereafter that she finished T-9 at LPGA Q-school to get her card.
Making it onto the LPGA Tour was always the goal, but for a long time, it was actually the only goal.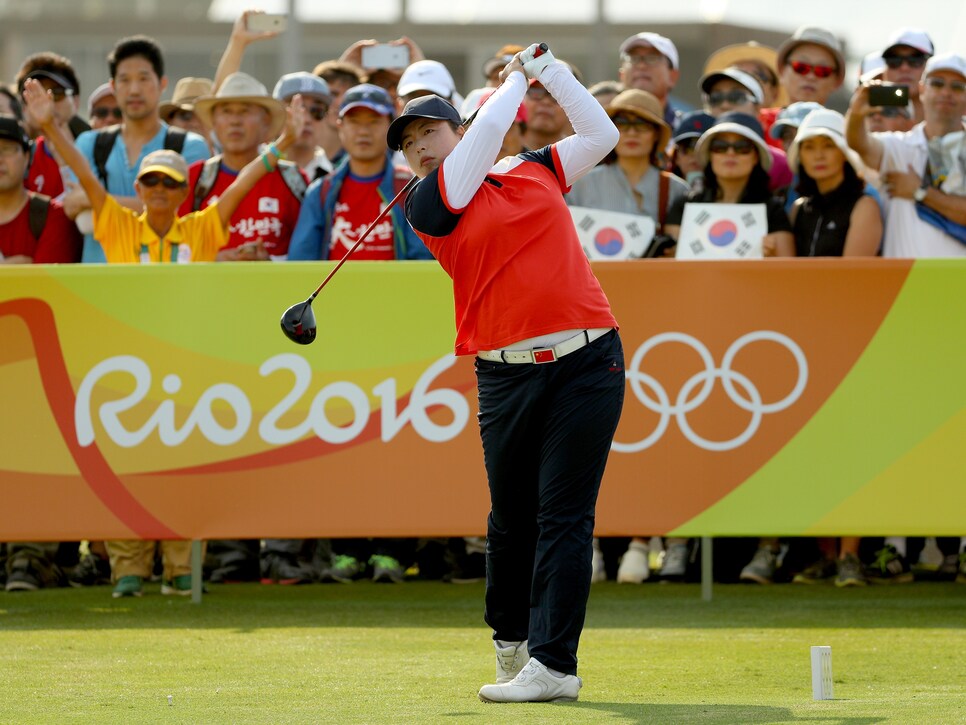 A bronze medal at the 2016 Olympics was among the highlights of Feng's career.
Scott Halleran
"When I was 12 or 13, I set a goal: I wanted to become a player on the LPGA Tour. I thought that would be my goal for my whole life. But I actually achieved that when I was 18," Feng said. "So after that, I thought I couldn't stop. I wanted to win tournaments."
While Feng achieved much in her career—beyond the tour wins there was also the bronze medal at the 2016 Olympic Games in Rio—there were things she failed to accomplish. Winning an Olympic gold medal was a big one; she tried again in Tokyo last summer, which was what pushed her to extend her career longer than expected. And she never made it into the LPGA Tour Hall of Fame. But when she looks back at what the goal was when this all started, she's reminded that the goal was just to make it to the tour.
"I've gone really far compared to that goal. I gave 100 percent. Nothing to regret," Feng said.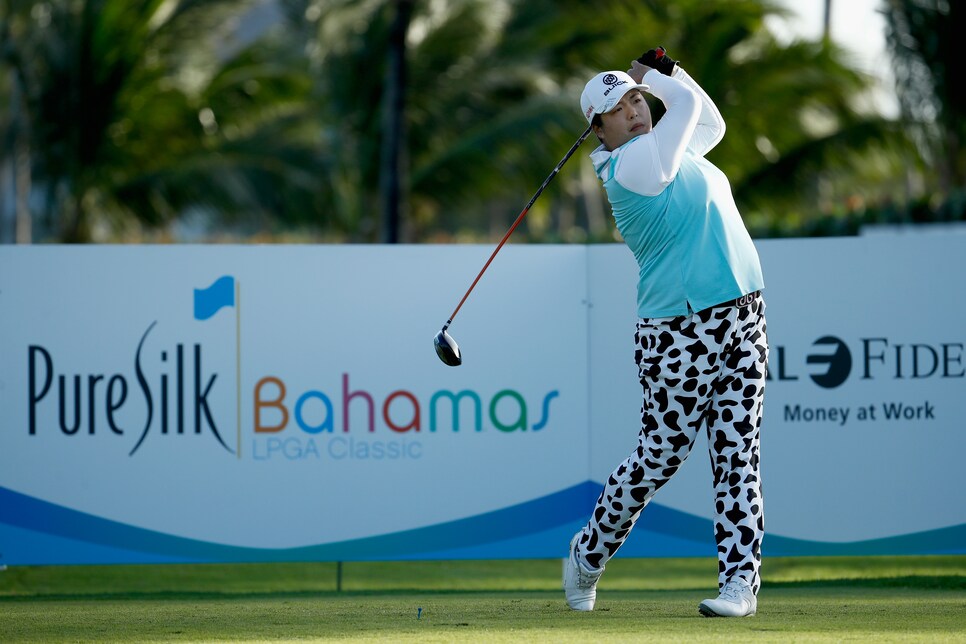 Feng was never afraid to show some personality with her style on the golf course.
Andy Lyons
Feng hasn't picked up a club since September 2021. She's happy to be living a life without alarm clocks or any real schedule. During her time on tour, she'd only get to be home in China for a month every year. Now, she's settled into life at home, getting to see friends and family whenever she wants, getting to eat at her favorite restaurants.
"The Chinese food is the thing that I missed the most," Feng said, laughing.
The one thing that is providing some structure to her days is a new coaching gig. Since December, Feng has been working for the Chinese Women's National Team.
"I thought I earned a lot from golf. This is a time I need to give back. I do think I have a lot of good experiences that I could share with the others," Feng said of the decision to join the coaching staff.
Feng is quick to admit she misses the tour, the players, the fans and media. Her humor, easy going nature and fearless fashion sense made her easy for anyone to get along with. But it's clear her happiness didn't come from winning golf tournaments. Talking to the media over Zoom about her retirement, a smile never left her face. Happy is just who she is. It won't be lost in retirement.
"As everybody knows, Shanshan is a happy person," Feng said. "Life is great. I just want to enjoy life, whatever I'm doing."