Memory Lane
Laura Davies makes unique return to Muirfield for Women's British Open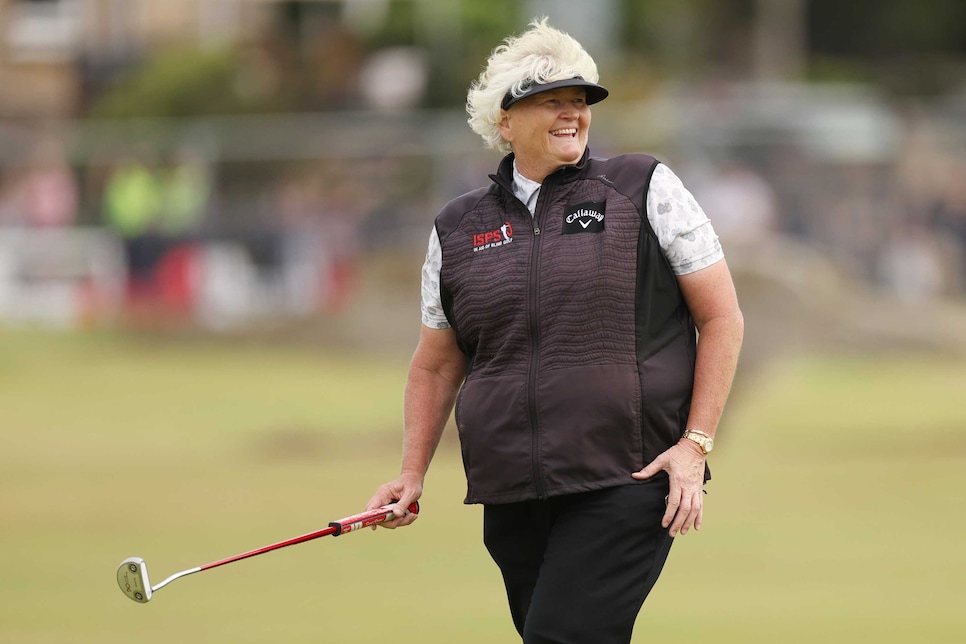 Laura Davies smiles during the Celebration of Champions prior to The 150th Open at St Andrews last month.
Oisin Keniry/R&A
GULLANE, Scotland — There are 144 players in the field for this week's AIG Women's British Open at Muirfield. But only one of those has previously played the famous East Lothian links in a competitive environment. Step forward Dame Laura Davies, a member of the 1984 Great Britain & Ireland team that lost the Curtis Cup by single point—9½-8½—to the United States.
Almost four decades on, it is not surprising to hear that Davies struggles to recall too many of the shots she or her foursomes partner, Ireland's Mary McKenna, hit in a losing cause on the first morning of that now far-off week. But, ever the competitor, the four-time major champion needed no encouragement when it came to the second-day singles match she won 1 up over Anne Sander, an eight-time participant in the biennial competition.
"That was a big deal for me at the time," says Davies, who turned pro a year later and was just three years shy from winning the U.S. Women's Open. "I was only 20, and she was a bit of a legend in the Curtis Cup. So I remember I won, but I couldn't tell you one shot I hit or she hit."
Pressed to think back, Davies surprised herself with what she could recall though. Standing by the practice putting green she was able to point out the window of the room she occupied in the Greywalls Hotel that still sits behind the 10th tee. And, this being the home of the Honourable Company of Edinburgh Golfers circa 1984, the memory of not being allowed into the clubhouse lingers.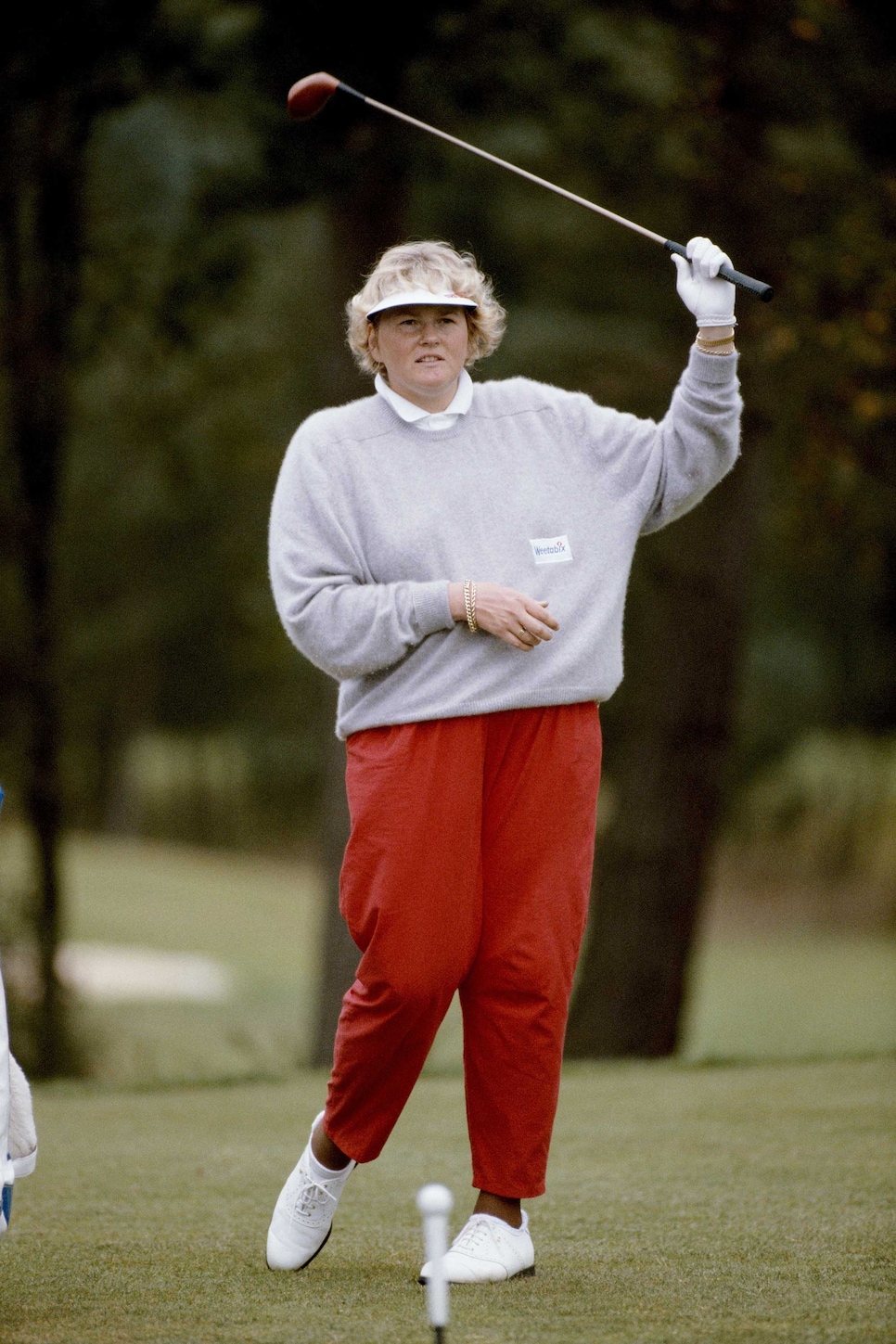 Laura Davies playing as an amateur in 1984.
Peter Dazeley
"But who cares?" says Davies, who turns 59 in October. "I didn't, and I'm certainly not making a statement about that. It was a cracking week. We lost by a point. Penny Grice-Whittaker [1991 Women's Open champion] was in the last match. If she won, we won; if she lost, we lost. And sadly she lost on the last. There were no Scots in the team, which was a surprise. And an even bigger shock was that Gillian Stewart, who was a really good player, had been left out. That was a strange decision, especially as we were playing in Scotland. We've come a long way since though. It's magnificent that we are here this week."
Davies has been back at Muirfield a couple of times since '84, but only in her role as a commentator for first the BBC and now Sky Sports. Neither of which helped her memory of the links.
"When you're on the course you cut across the holes a lot and don't stand on many tees," she explains. "So I would say I can remember no more than six holes. It is a great course though. Playing this week I'm reminded of how well the bunkers are situated. The winner will be someone who stays out of those, both greenside and fairway bunkers. Especially the fairway bunkers. They are the classic one-shot penalties. And there seems to be a lot of sand in them, whether by design or by mistake."
Still, back again as a player, Davies is in no doubt that a quality member of the field will emerge as the champion. No surprise there, of course. The Open Championship has paid 16 visits to Muirfield and has produced a Hall of Fame caliber winner virtually every time.
"I'm not surprised by how good a course this is," Davies says. "But it is even better than I remembered. Standing on the first tee yesterday I was struck by just how good it feels. It's a proper links. You can nearly always run the ball onto the greens. And if you hit the greens, you can make putts. The surfaces are close to perfect. But if you get out of position, you're in trouble."
The course set-up also meets with Davies' approval. Penal rough has forever been a feature of the Muirfield examination, but this week that has been minimized as much as possible. Which is important. The one area where, generally speaking, the leading female players cannot match their male counterparts is physical strength.
"Driving is fairly generous," says Davies, a winner of the event in 1986. "But those bunkers are in just the right spots. They've done a nice job with the rough, too. It can get really thick here, but they've avoided that and been very fair. We would have had trouble hacking out of the really thick stuff. But I had a 4-iron from the rough on the 15th yesterday and still managed to find the green."
Asked for the holes that are most likely to influence the destination of the title, Davies was quick to identify three: two par 3s in the 13th and 16th and the par-5 17th. Again, no surprise. All three have a history of destruction.
In the 1972 Open, Tony Jacklin made a triple-bogey 6 on the 13th during his third round. One day later, he lost by two shots to Lee Trevino. That same day, Jack Nicklaus missed a short putt for par on the 16th and lost the third leg of a possible Grand Slam by one shot. And two decades later, the unfortunate John Cook missed from short range on the penultimate green and came up one shot shy of Nick Faldo's winning total.
"The 17th will be really important," Davies says. "It will play downwind, so birdies are possible. But equally, it could cost someone a chance to win. And the short 13th is dangerous. Miss the green there and you could make anything. That hole will ruin someone's tournament, whether it is one of the leaders we'll have to wait and see. Then there is the 16th. It is so tough to hold the green downwind. The bank at the front makes it so tricky to know where to land the ball. Too far and you're over the back."
As for her own hopes for the days ahead, Davies is realistic. Suffering from bruised ribs, she was forced to withdraw from last week's Scottish Women's Open. And six weeks have passed since she last played a tournament. So making the cut, which she did a year ago at Carnoustie, is a realistic target.
"I'm doing the commentary for Sky this week, too," she says. "I've missed tournaments to do that this year already. But I still want to play. These days I'm a commentator who wants to play golf, rather than a golfer who does a bit of commenting. … If I can make the cut and shoot under par on the weekend that will be a great week for me. Winning is out of the question. Not this year."
Sounds familiar. Call it 1984 all over again.