CARNOUSTIE, Scotland — It hadn't been the best day of Laura Davies' career. Not by a long way. But the 57-year-old Dame of the Most Excellent Order of the British Empire, was still happy enough to chat about the third-round 78 that will see her tee-off "bloody early" in Sunday's final round of the AIG Women's Open at Carnoustie. The biggest problem had been her driving. Too many fairways had been missed, too many dodgy lies had been found and virtually nothing of consequence had been made on the greens.
Still, as ever where Davies is concerned, there were moments to savor. The 208-yard 2-iron she ripped through the wind and drizzle to 10 feet at the last drew a deserved round of applause. So did the 2-iron that found the 16th green. And the 4-iron, 2-iron strategy the four-time major champion played the formidable 17th will be bettered by only a few of the other 65 players who made it through to the weekend.
"All the nice things I saw and heard after I made the cut just shows where I am in my career," Davies said. "People think I've done well when I make the cut. I know there aren't many 57-year-olds doing that, but I have to make the cuts before I can get comfortable. I'm not going to say I can win again. That's not possible any more. I don't think I've got the bottle for it. I do think I can have top-10s on the LPGA Tour though. The way I hit the ball the first two days was really quite good. I mean, I've just hit three 2-irons only maybe four or five players in this field could hit. The rest can't hit 2-irons."
That hint at what continues to drive her already illustrious career was quickly followed by some of the self-deprecation for which Davies has long been known. She has never been one to take herself too seriously.
"I have nothing else to do," she said. "I still want to play golf at the top level. I still think I'm good enough. I'm still a decent player. But if I want to do really well, I have make cut after cut after cut and start waking up on the weekend raring to go rather than thinking 'job done.' The job isn't done when I make the cut.
"Don't get me wrong," she continued. "I was delighted last night. And I saw what people were saying. It was very nice. And I got some nice applause out there. The people have been brilliant all week. They are paying tribute in a way. When you are as old as I am you become a bit of a novelty. It's 'look at old Laura over there, she's doing well this week.' But I have higher expectations of myself than others do. Maybe I need to work on that. I turned up this morning, tried too hard and got in my own way. The brain is chasing checks the body can't keep up with."
There are other things going on, of course. Not too long before she missed that 10-footer on the 18th green, Davies took her place amongst the Sky television commentary team. It will come as no surprise to hear that she is one of the most forthright members of that generally reticent community.
And there's more, at least this week. As one of European Solheim Cup captain Catriona Mathew's senior lieutenants, Davies will tonight sit down to help fill-out the Old World side that will go to the Inverness Club in two weeks to defend the trophy won at Gleneagles two years ago. It will come as no surprise to hear that she can be relied upon to say what she thinks when it comes to even the most contentious or controversial selection matters.
"I think a couple of players have played their way in this week," she said. "And a couple have done the opposite. The ones Beany [Matthew] wanted to play their way in have done enough. And the ones that were not quite in her thinking—there's maybe seven of those—have three spots to fight over. Three of that group have separated themselves as I see it. I'm not sure it matters too much what they do this weekend. They've done enough. At the end of it all, there will be one incredibly disappointed player though. I don't know who that will be. I can think of three players who will all fancy their chances. But one of them won't get in."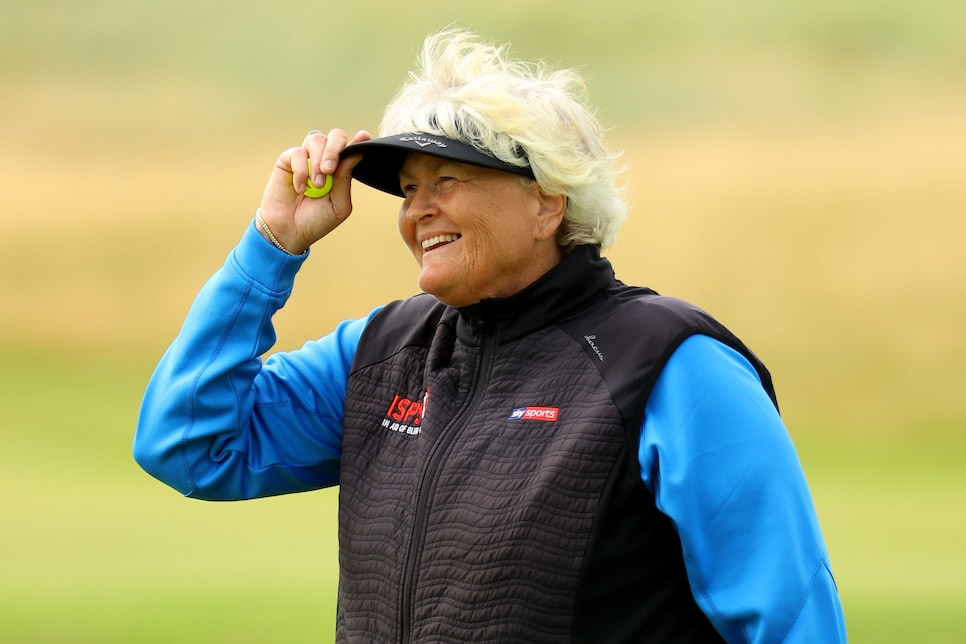 Davies' experience will also come in handy in helping Catriona Matthew make her captain's picks for the upcoming European Solheim Cup team.
Andrew Redington
On the vague possibility that Annika Sorenstam might just be the wildest of wildcards, Davies was quick to pay her old friend and rival a few compliments. But she doesn't see the Swede getting a call.
"Picking Annika would be a bit of a fiasco," Davies said. "Yes, it would be brilliant in one way. But it would be an insult to the younger players. I think if we asked Annika she'd laugh at us. She'd say it was ridiculous. It's one thing winning a seniors event with very short yardages, quite another playing Carnoustie and being asked to rifle 2-irons. It was an interesting idea though, one mentioned by more than one person.
"That said, it's up to the captain to have everything cross her mind," Davies said. "She'd be silly not to. Someone asked her the question and she did ask us what we thought. … I wasn't so sure. I honestly don't think, as good as Annika is, that she would fancy it any more."
Laura does though. All of it. A true legend.