Links Lover
Here she comes again: Georgia Hall back in contention at another Women's Open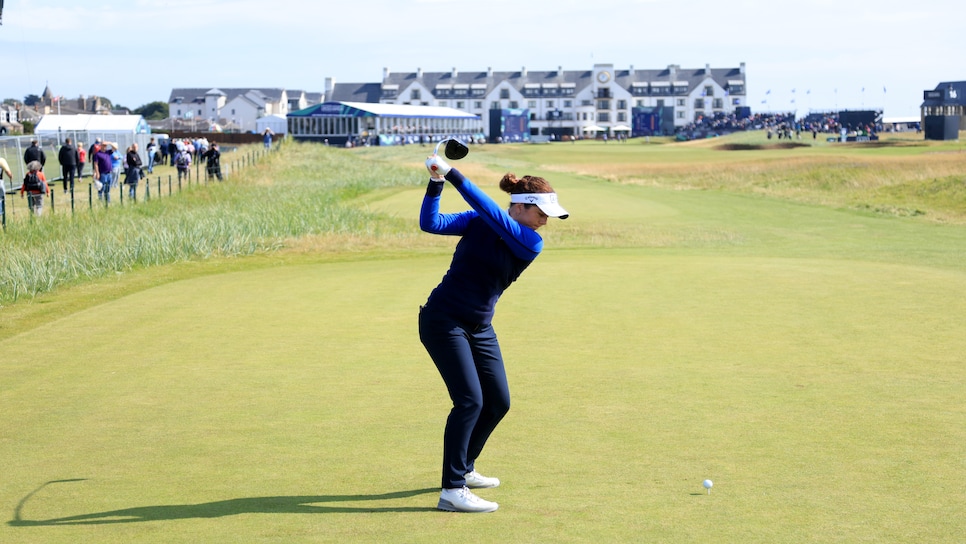 CARNOUSTIE, Scotland — Georgia Hall knows what it takes to win an AIG Women's Open. She did just that at Royal Lytham three years ago. The 25-year-old Englishwoman also knows how much it can hurt to come close and not taste victory. But she clearly learns quickly. Her T-3 finish in this event at Kingsbarns was accomplished just 12 months before her major championship breakthrough.
Here she comes again. Adding a second-round 69 to her opening 68, Hall is seven under par after two circuits of Carnoustie, tied for the lead with Mina Harigae as the afternoon wave finishes up play on Frida and well in contention for what would be her third victory on the LPGA Tour. Off at 7:14 a.m. and benefiting from the almost flat calm conditions, the two-time Solheim Cup player made four birdies in her first 10 holes, then two more in the next four. Only a bogey at the par-4 11th and a double-bogey 6 on the demanding 437-yard 15th broke her forward momentum.
"This is a fantastic golf course, one of the best in the world," she said. "There's a lot of golf to play yet but I'm happy where I am. I've got myself in a good position. There wasn't much wind at all, so I tried to take advantage of that. You have to plot your way round, as you have to do on a lot of links. I think I know how to do that. I was really happy with my last three holes; level par, which I'll take every day. It's just hitting the right shots."
Still, for all her "butter wouldn't melt" smiles and demeanor, Hall wasn't above hoping for a bit of wind in an afternoon when she could sit back and watch others struggle. But she went further than that, talking of her wish that the breeze might blow a little more over the weekend. Should that happen, she clearly fancies her chances.
"I'd like to think a bit of wind would give me an advantage," she went on. "A lot of the Americans and other [foreign] players don't play in the wind quite as much as we do in this country. But at the same time they are extremely good golfers. You've just got to control your ball flight. Judging by the weather forecast, I'm going to have to do that a bit over the weekend."
Perhaps just as relevant is Hall's contention that she is a better player today than she was back in 2018, when some good advice from former Open champion Tom Lehman (who won at Lytham in 1996, the year Hall was born) helped her on her way to victory.
"I have a bit more experience now," she continued. "There's a few shots here and there which I might have taken on back then which I don't do now. I come up short a little bit more than I did. I'm more cautious, which stems from playing more links golf. Apart from that I'm fairly similar. But I handle the pressure better. In my head, I'm more stable.
"This is my favourite event of the year. It's one I enjoy the most. It's so nice to be playing at home in front of home crowds cheering me on. It's just a lot of happiness when I'm here."
And with the prospect of more to come.