Contending at Carnoustie
Local caddie has Lexi Thompson finally feeling comfortable with links golf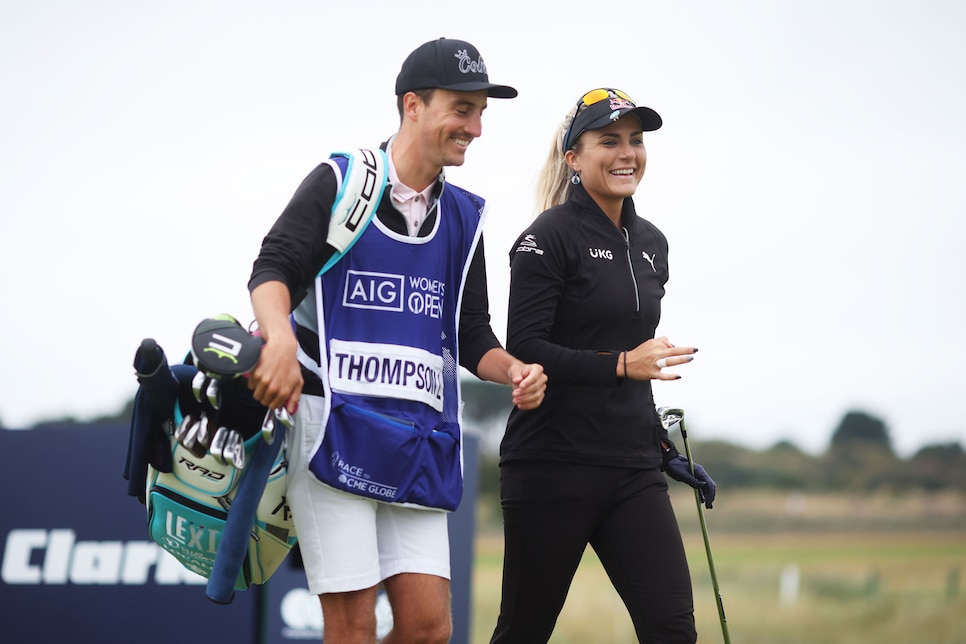 Lexi Thompson has Paul Drummond, a part-time caddie at Carnoustie, on her bag this week at the AIG Women's Open.
Charlie Crowhurst/R&A
CARNOUSTIE, Scotland — Local knowledge and Scottish links have always been closely related. They go together like fish and chips, haggis and neeps (turnips), kilts and bagpipes. So past experience of a course offers a definite advantage when the endless vagaries of golf by the seaside are to be faced.
Ask Paul Drummond, which is what Lexi Thompson has been doing over the past few days at Carnoustie. A local lad, Drummond is a car salesman and part-time caddie in the Angus town. He's also a plus-2 handicapper, and this week he's on the bag for the 26-year-old American in the AIG Women's Open.
And it's working well. Despite the usual language difficulties—"I think Paul is speaking a bit slower than normal for my benefit," Thompson joked—the pair have combined for a five-under-par total at the halfway-stage of 2021's final major championship. That's not quite good enough to lead, but it won't be far away at the conclusion of the second round.
Reading every putt—"I think that's where I've helped her most; I know the greens like the back of my hand"—and offering sage advice on just about every hole, Drummond has clearly contributed greatly to Thompson's rounds of 69 and 70. No more so than on the 18th hole on Friday. Having driven into the left rough, the 11-time LPGA champion was faced with one of those "iffy" lies every golfer knows well. A "flier" was a real possibility, as was the opposite, the dreaded "wounded bird" flight that would bring the Barry Burn in front of the green into play.
"The decision was whether it was worth taking on the burn," says Drummond, who has been kitted out head-to-toe in Puma gear by his new employer. "We thought it was, Lexi committed to the shot, and it worked out well."
Indeed, Thompson was all smiles after closing with a par on the home hole for her two-under score that included four birdies and two dropped shots, both over the notoriously difficult closing stretch. So it could have been better. And, given the possibilities on the 18th, maybe worse too.
"I didn't want to take less than a 6-iron because of the burn there," Thompson said. "I hit a good shot and it came out nicely, nice and high and stopped quickly on the green. But I'm definitely taking that shot and running."
In eight previous appearances in this event, Thompson has only one top-10 finish and twice as many missed cuts. So she has clearly struggled with all that comes with a game where the ball spends as much time on the ground as it does in the air. But Carnoustie seems to be more to her liking than, say, Royal Troon where she missed the cut in this event 12 months ago.
"I'm really looking forward to the weekend," said the Florida native. "This is just a very special place. The course is amazing. I knew that coming into the week, so I was really looking forward to it. I can't wait to get out there and have a good time like the last two days."
Dampening the mood slightly, Thompson was almost inevitably asked if she has something of a point to prove at this level in the wake of her painful loss at the U.S. Women's Open earlier this year. But even that memory was met with a smile.
"I don't feel like I have any point to prove," she insisted. "I feel like I've done that already in my career. I'm just out here trying to do my best. Things like the [U.S.] Open happen, but I played some great golf the whole week. I enjoyed every bit of it, and Yuka played amazing golf. I actually enjoyed watching her play. So I just take it one tournament at a time. Golf is such a crazy up-and-down game. You just have to take the downs and go with a positive attitude into the next one and don't let it compound. If I wasn't working so much on my mental game, it would probably put me in a pretty down spot, but I just took it as a fun week. That was big for me. Having the fans there really helped, too. Besides, I had to play the next week, so I couldn't let it affect me."
All of which sounds like good advice. And something Thompson has been getting a lot of lately.