Summer of Nelly
New major test, same Nelly Korda at the top of the AIG Women's Open leader board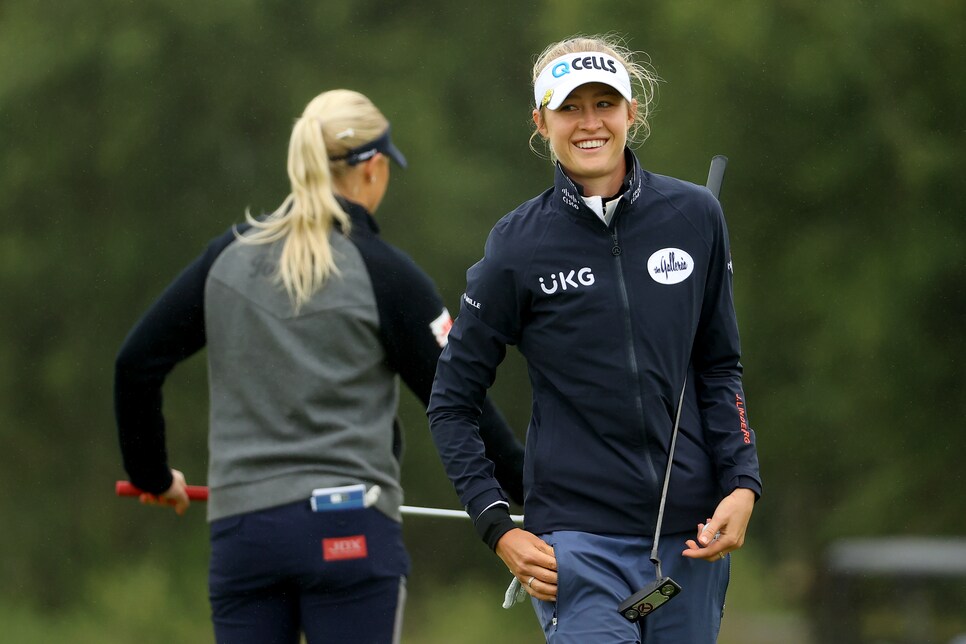 CARNOUSTIE, Scotland — The often grisly links of Carnoustie do not look anything like Atlanta Athletic Club in Georgia or the Kasumigaseki Country Club in Saitama, Japan. But no matter. It's all the same to Nelly Korda at the moment. "Imperious" might be a little strong, but the KPMG Women's PGA champion and Olympic gold medalist's opening-round five-under 67 in the AIG Women's Open, good for a share of the Day 1 lead, wasn't too far removed from that commanding description.
Eight birdies adorned the Korda card, a remarkable feat on such a difficult course, no matter that the wind barely blew.
"I was able to stay aggressive all day and took advantage of my opportunities," said Korda, who finished in the early afternoon and saw her number eventually matched by Madeline Sagstrom and Se Young Kim. "I try to take the mindset that every day is a new day, never mind what my ranking is. Everyone comes into a big tournament like this prepared and wanting to do well. I'm no different. And that's how I approach every event."
Inevitably, there were errors too; three times the World No. 1 dropped shots, the last of which came at the notoriously demanding par-3 16th. En route to victory in the 1975 Open Championship, Tom Watson made bogey five times on the 245-yarder, and Korda followed suit, taking three to get down from left of the green.
It was there, in fact, that the 24-year-old's relative inexperience of links golf showed itself most vividly. Instead of the low "bump-and-run" that was called for from such a position, she chose to play a high pitch, landing the ball on the putting surface. Predictably, it didn't come off, the ball finishing 10 feet beyond the flagstick.
"Right as I hit that chip, I thought it should have been a bump-and-run," she admitted. "I wasn't in the fairway area, so I thought there was enough grass under the ball that I could hit it soft. But I didn't. I hit it too hard. It's just difficult. I was playing for the ball to release a good bit after it flew a good bit too. That's the sort of stuff I'm still learning about links golf. Then again, maybe a bump-and-run could have turned out worse. You never know."
But sometimes you do. Especially when good advice has been imparted. On the eve of the championship, Korda's pro-am round was interrupted on the 11th hole by the arrival of former Women's Open champion Karen Stupples, a member of the Golf Channel commentary team this week. The information she passed on was nothing new, but it at least confirmed what Korda's innate intuition had already picked up on.
Basically, the message was, "do whatever you need to do to stay out of the fairway bunkers."
"On the 11th, you have to hit an iron off the tee," Korda said. "There are two bunkers on the right and two on the left. So I was hitting a 5-iron out here to stay short of them all. Karen told me that the fairway bunkers are very penalizing here. Today that wasn't so much of a factor because there wasn't much wind. But when it does get stronger, my plan is to maybe hit 4-iron off some tees, even if that means me having another 4-iron to the green. It's easier to get up-and-down from around the green than it is to drive into sand, pitch out and still have, say, 170 yards to the green. Over the years I've played links golf, I've learned that. It's just better to have a longer club in, which is a different style than I'm used to."
Speaking of style, Korda finished in some, playing the fearsome finishing five holes in two under par, a run that included a rare birdie-birdie finish notable for at least one slice of good fortune. Hitting to the eponymous "Island" fairway off the penultimate tee, Korda's ball finished no more than a yard short of the Barry Burn that snakes twice across the landing area. From there, she took advantage, her 6-iron approach finishing six feet from the cup.
"I thought I was in the water," said Korda with a big smile. "I told my caddie I thought it was in. I was very relieved that it was just in front, which is not the place to be, stress-wise. I didn't have much left, a 6-iron I actually hit really well. Then at the last I was between an 8-iron and a 7-iron. But I was hitting it so well I told myself to stay aggressive and hit a little punch shot in to eight feet."
It all added up to a share of the lead, a fact she summed up in disarming fashion.
"I'm just a little girl playing golf, enjoying myself," said Korda.