AUGUSTA, Ga. — Hidden behind the driving range at the Augusta Municipal Golf Course—aka "The Patch"—lies a little par 3 that no one ever plays. It looks pleasingly cared for and green, but the hole's architecture is so perfunctory that you wonder why anyone bothered to carve it out of the kudzu. The 12th at Augusta National, it's not.
But the rectangular tee, circular green and plain-Jane bunkers obscure the importance of this patch of The Patch, for this is no mere golf hole. It is, rather, a laboratory and an open-air classroom for military veterans who may be struggling to find their place in the world after their service. Vets in the program—called Operation Double Eagle—spend mornings wrestling with topics such as horticultural science, pesticide management and irrigation in classrooms at Augusta Technical College. Then in the afternoon, they go apply their new knowledge at the modest hole at the muny.
"It's pretty rigorous," says Alan Manley, one of the instructors. "They work hard."
After nine weeks of this, graduates of the program have a Golf Turf and Landscape Specialist certificate and, possibly, a new direction and purpose.
As you'd expect, creating one-18th of a golf course and a college curriculum required the collaboration of a network of specialists. Bill Kubly and Kurt Huseman of Landscapes Unlimited, the Amazon of the golf-course construction business, stepped up to build the hole that's never played. Troy Vincent is the Augusta-based architect who designed it. Credit, too, to Augusta Tech and its instructors Manley and Scott Smith, the City of Augusta and Clint Bryant, the popular longtime athletic director at Augusta University, who knows everyone and gets things done.
But the project would not have gotten off the ground without The Warrior Alliance, a jobs-and-networking charity based in suburban Atlanta. The Alliance was started by Scott Johnson, 61, a business executive who gave up much more lucrative pastimes to fulfill what he sees as his life's purpose.
His inspiration? While competing in Ironman events and running marathons, Johnson couldn't help but notice the single- and double-amputees he was running, swimming or biking alongside. "You're enduring the same thing with these guys for nine or 10 hours," he says. "It had quite an impact on me. Made me think about country, and honor, and what they'd sacrificed.
"My father served in the Navy in World War II and my brother was in the Air Force in Vietnam, but other than that, I have no military background. I don't do this out of any feeling of guilt. It's just my calling."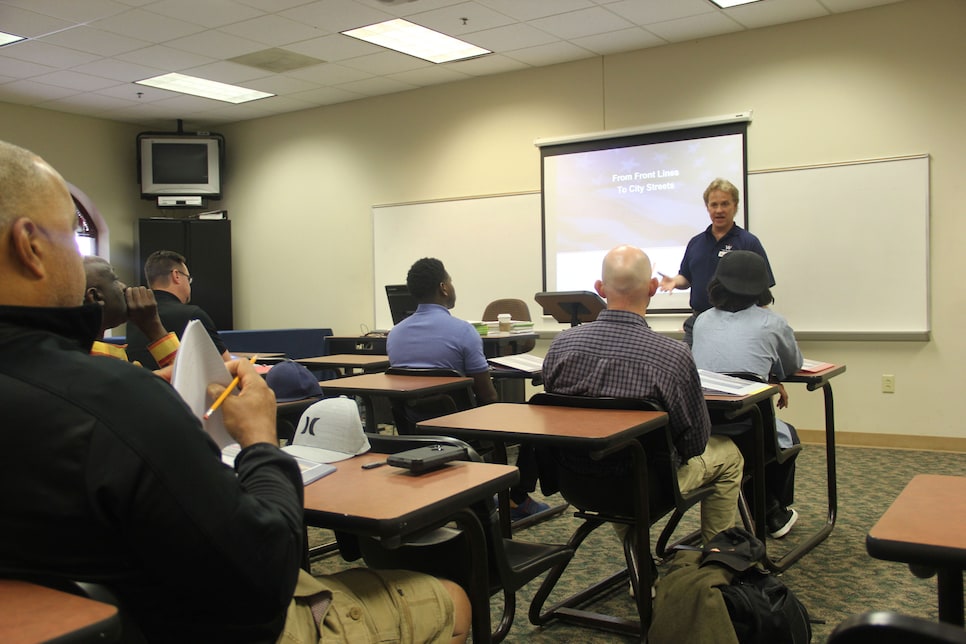 Participants take college-level classes in the morning to become familiar with horticultural science, pesticide management and general golf course maintenance. (Photo courtesy of Operation Double Eagle)
Johnson surveyed the vast array of organizations designed to help veterans—there are 43,000 of them, he says—and determined the biggest, most crucial need was jobs, with underemployment and unemployment crippling many veterans' efforts to re-integrate. "Very few MOS [military occupational specialties] translate really well to civilian life," Johnson says. With Operation Double Eagle, Johnson made golf-course employment the centerpiece of his outreach.
"It's the rehab of being outside, in the quiet," Johnson says. "All golfers know the game's healing effects, how it shuts out the noise.
"And think about how men and women in the military are trained to work in teams—or utterly alone—in any crazy weather. Our vets aren't broken people. They're warriors."
One such warrior is Shannon Bowling, who graduated with the second Operation Double Eagle class in December 2020. Sargent First Class Bowling, 48, who is originally from Carrollton in west Georgia, had a long military career: four years in the Marines, then 16 more with the Army. He deployed three times, once to Djibouti, a country in East Africa, and twice to Iraq. He returned with no PTSD, he says, but unexpected loud noises bother him. Bowling says his transition to civilian life has been "pretty easy," because he went back to school as soon as he mustered out in 2016. He works on the golf-course maintenance staff at Reynolds Lake Oconee, the resort mid-way between Atlanta and Augusta.
"Yes sir, Operation Double Eagle led directly to this job," Bowling says. "So, yes sir, I'd recommend the program to other veterans. Every day. I'm a golfer, and golf course work is very relaxing. You're hands on, outside, in the elements. … You can be who you are."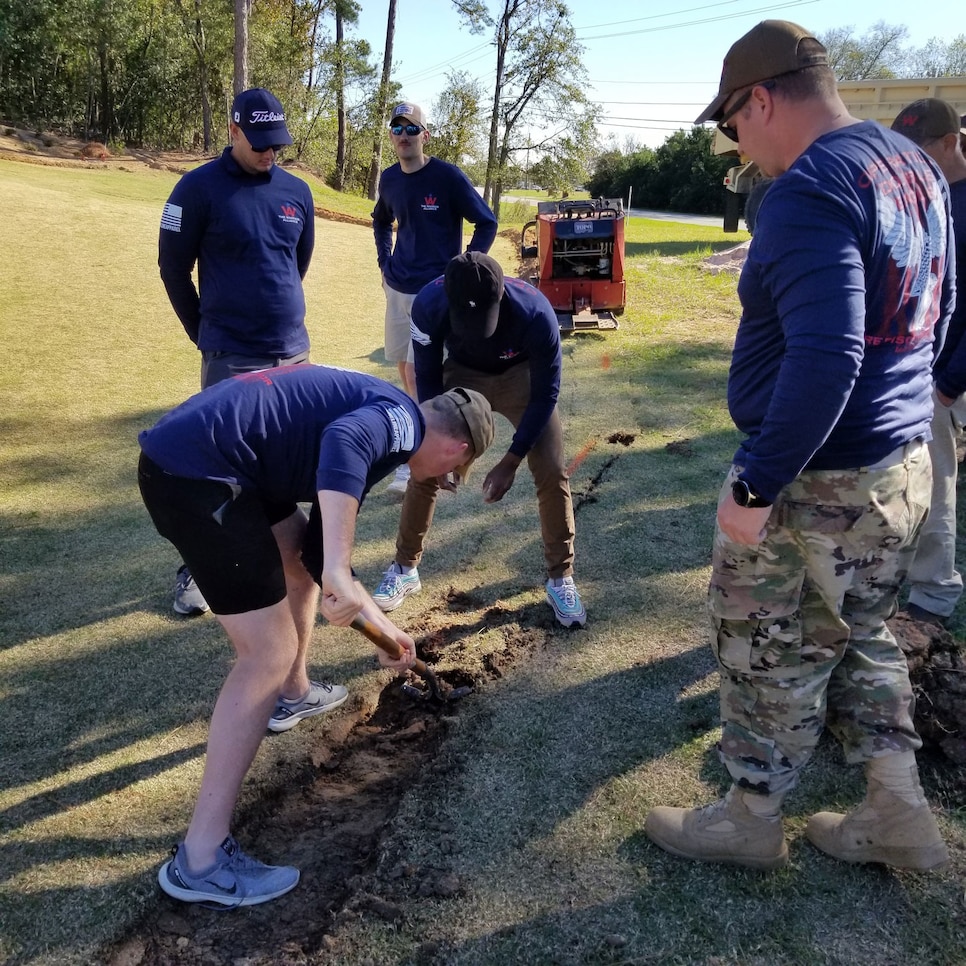 In the afternoons, military vets receive hands on training at The Patch in order to be ready to join the golf workforce after graduating from the program. (Photo courtesy of Operation Double Eagle)
There was another big reason Johnson and the Landscapes guys cooked up this initiative for veterans: the golf industry needs skilled labor, on both the maintenance and the construction sides.
"We build courses all over the world," Huseman says. "We always have to hire local people, but finding qualified workers is challenging. We always have to train them. Always. So doing the right thing—helping ex-military, getting them up to speed, with an opportunity to grow—can help us, too. Win-win."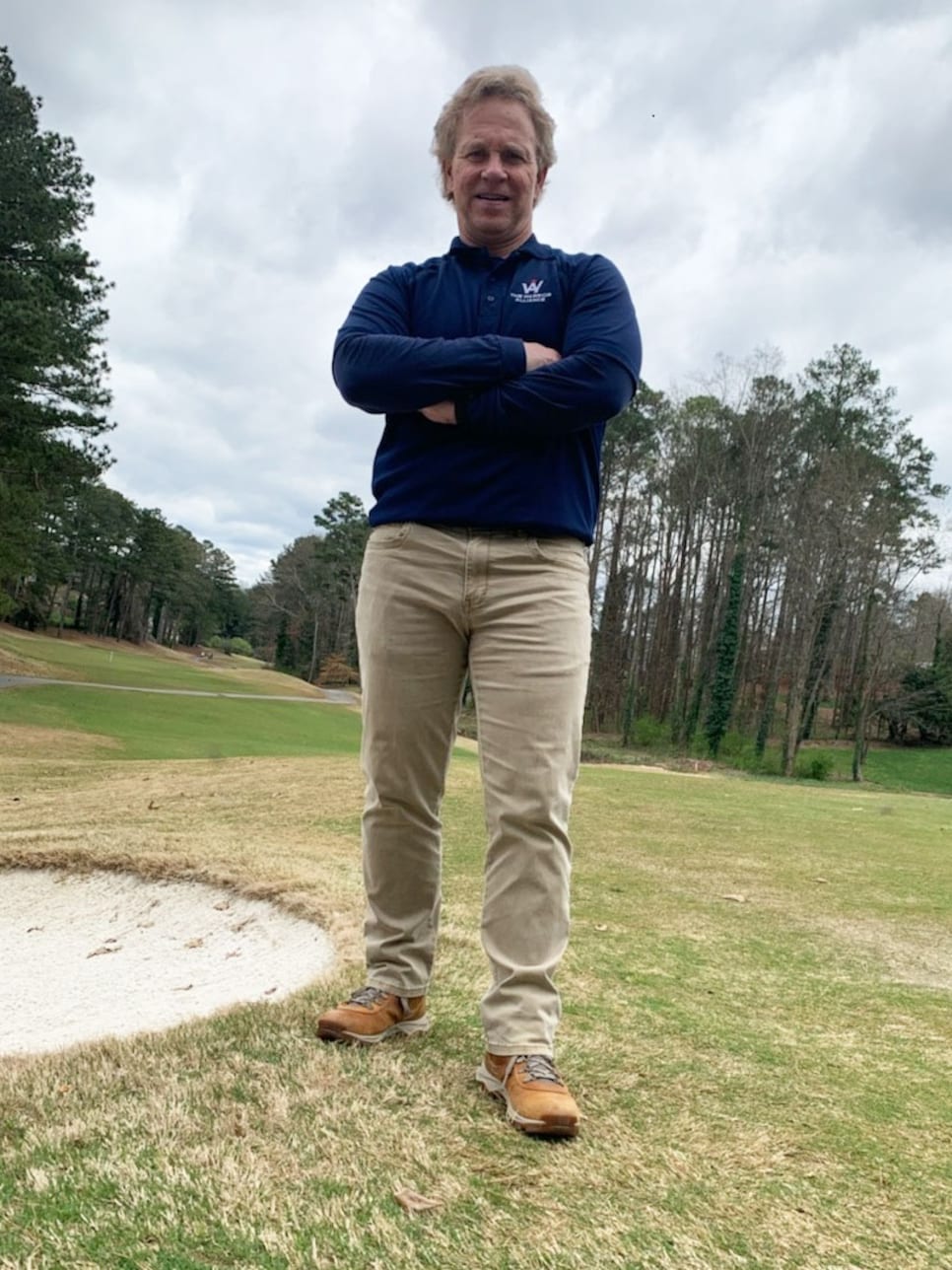 Scott Johnson, creator of The Warrior Alliance, says he feels inspired when seeing military vets come through the program. "It had quite an impact on me. Made me think about country, and honor, and what they'd sacrificed."
Next year, if all goes well, some Double Eagle grads won't have to look far from Augusta for employment, because the Warrior Alliance has a contract to re-build Augusta Municipal Golf Course, at no cost to the city. As the course architect, Vincent can't wait to get started. The 15-year alum of Nicklaus Design went to school across the street from The Patch (at Aquinas High) and learned the game there.
Meanwhile, another group of veterans is learning a new craft at the little par 3 at the Patch.
"We have men from age 25 to the early 60s in this current class," says Johnson of the Warrior Alliance. "They'll graduate in mid-May. We're contacting possible employers for them now while we recruit the next class. We're just trying to pay back these people who've given us so much."