The Grind
Akshay Bhatia's Bahamas adventure, Rafael Nadal's relatable golf quote, and Tyrrell Hatton's latest hot mic moment
Welcome to another edition year of The Grind where we owe the NFL a huge thanks. Well, the entire sport of golf does, that is. The rules of our beloved game are often mocked—and sometimes, rightly so—but it's only in football where arguably the greatest game of all time can come down to an actual coin toss. Yikes. Former PGA Tour caddie turned NBC commentator John Wood summed it up best:
Anyway, poor Josh Allen. And poor Buffalo. OK, let's talk some golf, shall we?
Akshay Bhatia: With all due respect to Hudson Swafford, we're starting with the teenager who won on the Korn Ferry Tour last week. If you don't know this name, you haven't been following golf too closely because this dude dominated the junior circuit. Since turning pro at 17 it's been a mixed bag, but his gamble to skip college just paid off big time with a win at the Great Bahamas Exuma Classic. And what a win it was with a bogey-free final-round 65 that included this approach shot from 156 yards on the final hole:
What a shot! What a quote! We could have the arrival of golf's next great player on our hands. After all, Bhatia is only the third teenager to win on the Korn Ferry Tour, joining Jason Day and Sungjae Im. So, yeah, pretty good company. Bhatia, who turns 20 at the end of the month, was obviously pumped to win, but he seemed just as excited to get a comped room at Sandals and some celebratory chocolate cake:
Hey, as someone who spent his honeymoon at a Sandals, I get it. Those places are incredible. And so is their chocolate cake.
Hudson Swafford: OK, sorry, Harris. Whoops, we mean, Hudson. You had a great week as well! Swafford won the American Express to pick up his third career PGA Tour title thanks to a Sunday 64 at PGA West's Stadium Course. Making it even sweeter was the fact he won in front of his son for the first time:
What a cute kid. Keep this up and James could become the next Dash Day.
Thomas Pieters: No snapping clubs this week from the fiery Belgian, but he did flip someone the bird:
More importantly, he won the Abu Dhabi HSBC Championship for his sixth career DP World Tour title. Pieters has been an NCAA champ, a Euro Tour stalwart, and a Ryder Cup star, all before turning 30 this week. In other words, there's still plenty of time for this talented player to become a PGA Tour winner as well.
Danielle Kang: As we saw with Hudson Swafford Harris English last year, it's possible to win a Tournament of Champions despite not being a champion the previous year. That's good news for my golf buddy who once called for a smaller "tournament of champions" poker game among our group despite having never won our weekly game. Anyway, congrats to Danielle, who was already one of our favorites before she pulled that fun trick with her Golf Digest cover issue at the airport. Clearly, the golf gods were going to be on her side after that as she began her season at the Hilton Grand Vacations TOC with a sixth career LPGA Tour title. Even if the weather gods weren't with those blustery conditions in Orlando.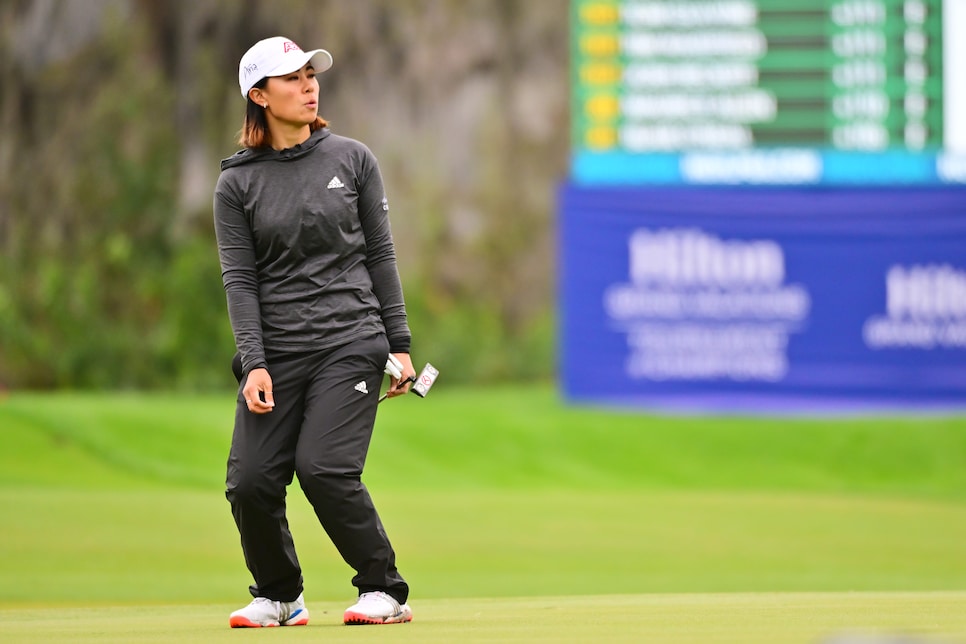 Veteran caddies: Sorry, guys, but the jig might be up. Seriously, how many players have turned to significant others to carry their bags and won? From Lee Westwood to Sergio Garcia to Steve Stricker, and now, Akshay Bhatia, the list goes on and on. Bhatia had girlfriend Presleigh Schultz, who admittedly knows NOTHING about golf, on the bag. And all he did was play a flawless final round in the biggest spot of his life.
Obviously, you have to take this on a case-by-case basis, but most golfers would probably do just as well with a significant other or buddy on the bag. And they'd probably save some money as well! OK, let's move on before all the caddies come after me . . .
Not being able to watch Akshay: What was the point of the Korn Ferry Tour's Wednesday finish if golf fans still couldn't watch it on TV? Instead, we were left with updates and the occasional highlight from the tour's Twitter page. Again, it was a Wednesday finish and it happened to involve a potential future star of the game, and we were forced to follow leader board updates. Seriously, I don't get it. But while we're on the topic of TV programming, check out our latest Local Knowledge podcast on the Golden Age of golf infomercials. Act now, and we'll give you the rest of this column for free!
Annika as celebrity golfer: I also don't get why the greatest women's golfer of all time was competing in the celebrity division of the Hilton Grand Vacations Tournament of Champions. That's not fair! To actual celebrity golfers!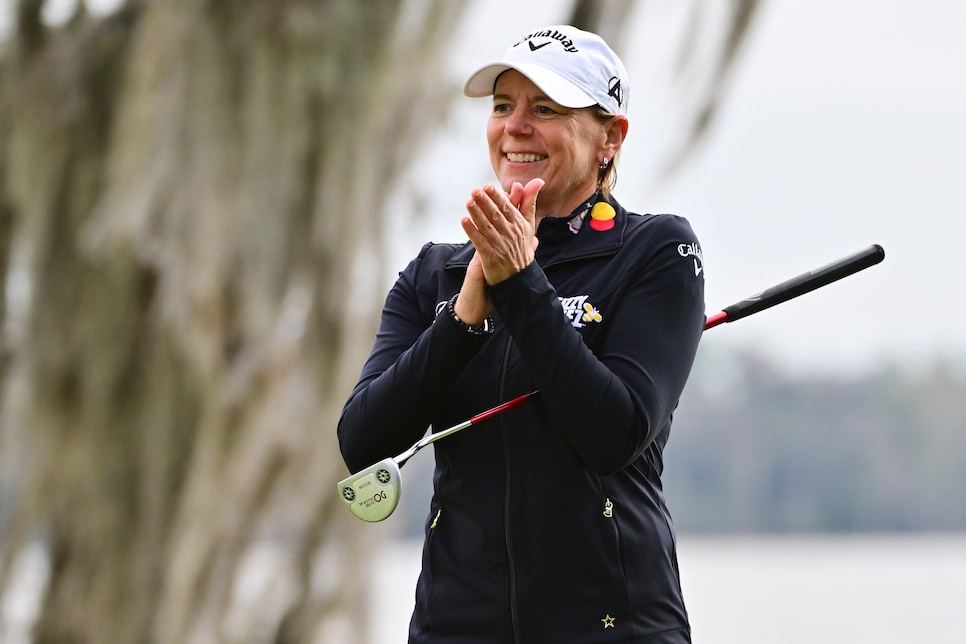 Not surprisingly, Sorenstam tied for first before losing in a playoff to former Boston Red Sox pitcher Derek Lowe. I guess it also wouldn't be fair to make her compete against the current crop of LPGAers from those tees (she was hitting lumber on her approach shots just about every time they showed her), but she's still got serious game as evidenced by her winning the U.S. Senior Women's Open by eight shots last year. In other news, my jinxing ability knows no limit. After interviewing Mardy Fish, who had won this event three times and finished no worse than third in five tries, the former tennis star fell to sixth. Sorry, Mardy.
The PGA Tour heads to Torrey Pines for the Farmers Insurance Open, AKA that one where Tiger Woods used to always start his season. Sigh. Keep getting better, Big Cat. We miss you.
Random tournament fact: To help miss him a little less, let's talk about Tiger. How much did he dominate this course? Over the four-year span from 2005-2008, Woods actually won here five times including his one-legged U.S. Open victory. What a legend.
RANDOM PROP BETS OF THE WEEK
—Mardy Fish is finished winning celebrity golf tournaments: 1 MILLION-to-1 odds
—Hudson Swafford will win again this week: 120-to-1 odds (Actual odds, no respect!)
—Hudson Swafford would still get mistaken for Harris English: LOCK
For this guy's sake, we hope "TBD" turned out to be a pretty nice payday. And that he (gulp) actually got paid.
VIRAL VIDEO OF THE WEEK (GOOD TYRRELL HATTON DIVISION)
We know these guys are (ridiculously) good, but hitting a one-yard wide fairway?! On your fifth try?!
Well done, Tyrrell Hatton.
VIRAL VIDEO OF THE WEEK (BAD TYRRELL HATTON DIVISION)
Of course, Tyrrell isn't always as accurate. Or in such a good mood. As we know, no one has a hotter mic. Take this errant approach shot last week that led to a very audible F-bomb:
And later in the week, he said he wanted an actual "bomb to drop" on the par-5 18th hole at Yas Links to "blow it up to oblivion." Hey, you gotta respect that kind of honesty. By the way, he still finished T-6. Not that we should be surprised considering he can hit a one-yard wide fairway.
THIS WEEK IN PUBLIC DISPLAYS OF AFFECTION
How could it be anything other than Akshay Bhatia and girlfriend Presleigh Schultz teaming up to win—and go beaching—in the Bahamas:
Pretty nice business trip. Actually, since he's not in college, let's call this an early spring break trip. By the way, the two met last year when Schultz slid into Akshay's DMs. Aww. Modern love.
"I play some golf. That's the truth. I've never been a gym guy." —Rafael Nadal on how he stays in shape. I feel you, Rafa. I feel you.
Congrats to Aaron Jarvis, a UNLV freshman who won the Latin America Amateur Championship to become the first golfer from the Cayman Islands to earn an invitation to the Masters. We're pretty sure this will be the most-watched Masters on that British territory in history. . . . Congrats (Condolences?) to another college golfer, Washington senior R.J. Manke, on shooting a 54—for 17 holes. Unfortunately, Manke didn't have a chance to post an official sub-60 and break Fred Couples' course record because the Broadmoor Golf Club's 10th hole was under construction. Dagger. . . . Definitely condolences to Mac Meissner, who made a pair of 10s and was 13 over on the par-5 15th hole at the Sandals Emerald Bay Golf Course during a T-59 in his first career Korn Ferry Tour start. To Meissner's credit, though, he didn't call for a bomb to blow up the hole after. . . . And finally, my treadmill stopped working—admittedly, a lack of use and maintenance didn't help—after six years: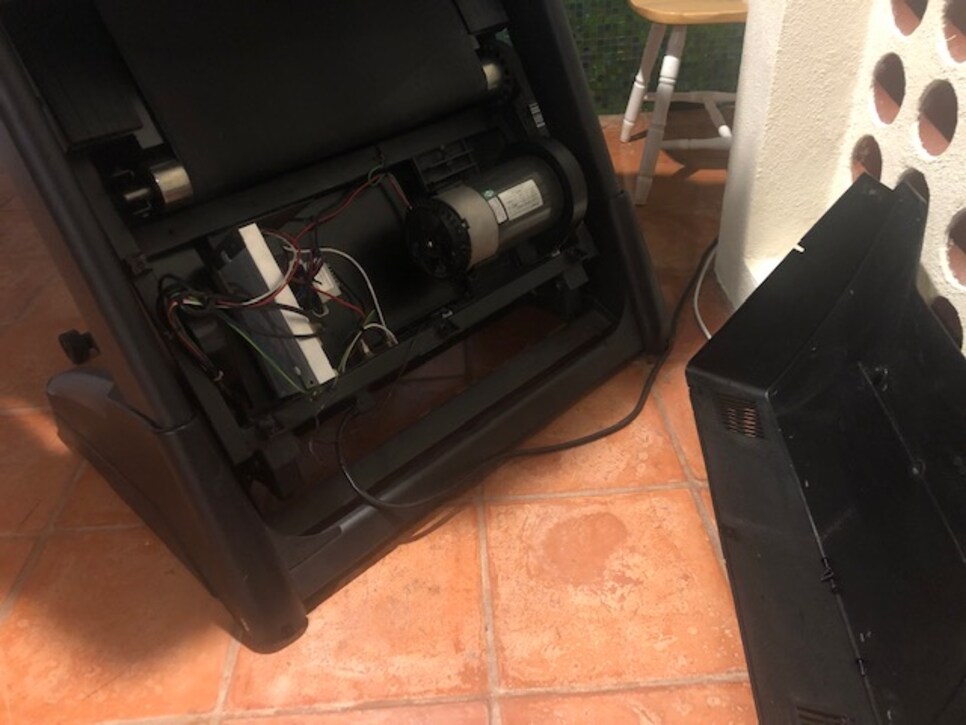 On the bright side, I have a fantastic excuse not to exercise now.
RANDOM QUESTIONS TO PONDER
How many miles have I run on that thing?
How many miles has Gary Player run on a treadmill?
How the heck did the Bills lose that game?