Going low
College senior's 54 in practice round is still pretty incredible even with major asterisk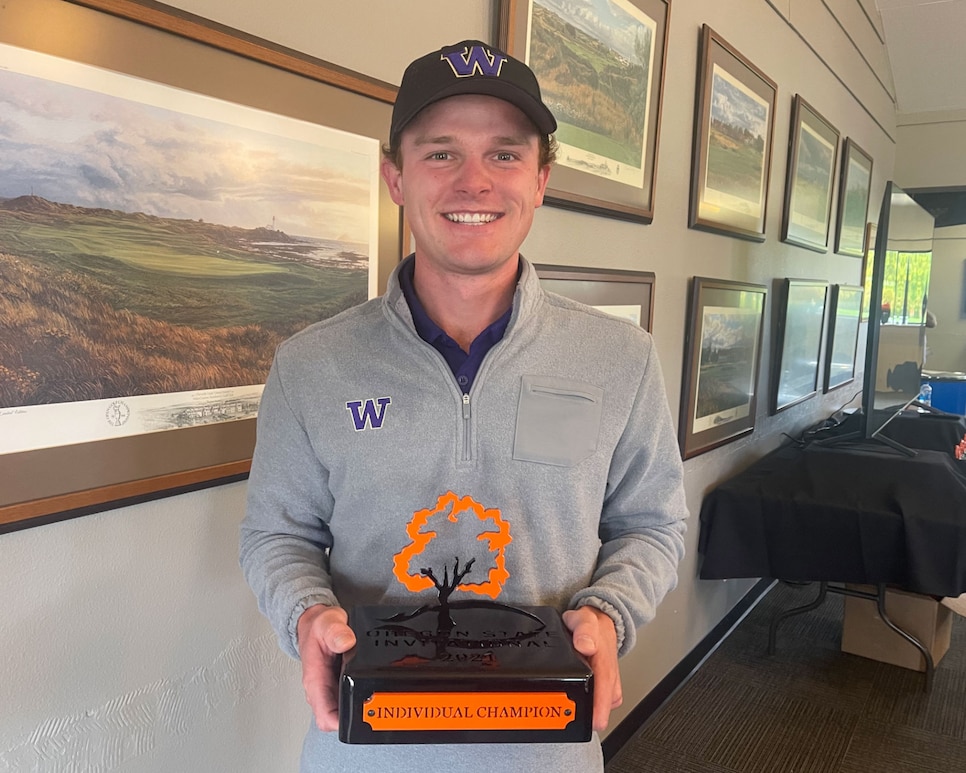 Washington's R.J. Manke holds the trophy after winning the Oregon State Invitational in the fall, his second win and fifth top-three finish in five starts for the Huskies. (Photo courtesy of UW Sports Information)
In his short time with the Washington men's golf team, R.J. Manke has displayed a propensity for going low on the golf course. In his first start with the program in the fall, the fifth-year senior who transferred to UW in the summer after playing four seasons at Pepperdine, proceeded to tie the Huskies' scoring record for low final round (63) and the lowest 54-hole score—15-under 195 (70-62-63)—at the Maui Jim Intercollegiate.
That going-low mentality, apparently, has already spilled over into 2022. During a team practice round at Broadmoor Golf Club in Seattle on Friday, Manke went out and made six birdies on the opening nine holes for a 28 on the front side. He then made five birdies and an eagle on the back nine, offset by a bogey. That's 12 under on the par-70 course.
Manke, a native of Lakewood, Wash., was proud for sure but couldn't rightfully say he broke the course record of 11-under 59 shot by Fred Couples because of an oddity about Broadmoor that day: the par-4 10th hole was closed due to construction work. Manke's 12-under score was only through 17 holes!

Of course, there's no guarantee that Manke would have made even a par on the 10th hole. You can see on the scorecard that it rates as the toughest hole on the course. Still, that 4 would have left him with a 58.
Again, we know that it's an incomplete scorecard so we're only imagining what might have been. That said, how often can you right down a 54 as your final number for the day!
The scary thing … it could have been even lower. Check out this video of Manke trying to chip-in for eagle on the par-5 18th hole.
The Huskies open their spring season this coming week at the Southwestern Invitational. Let's just say Manke should be considered among the favorites.