Groundhog Day
Korn Ferry Tour pro records pair of 10s on the same hole—and it didn't get much better the other two days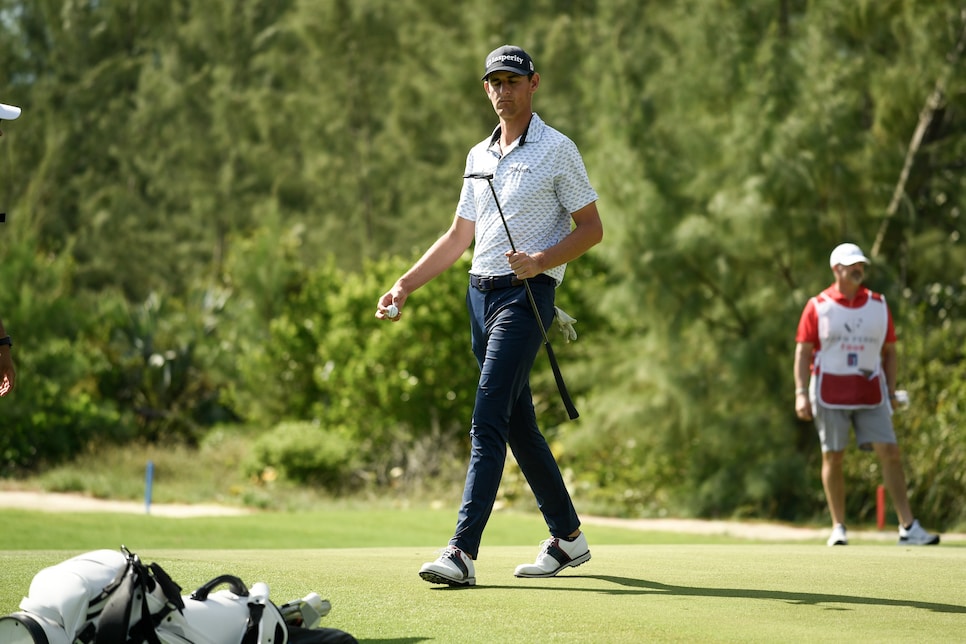 Look, big numbers happen to the best of them. Heck, even the great Phil Mickelson made a quadruple-bogey 9 back-to-back days on the same hole last year. And that was in a PGA Tour Champions event.
So a 22-year-old having some struggles in his Korn Ferry Tour debut at the shouldn't be too surprising. That doesn't mean Mac Meissner won't have nightmares about the 15th hole at Sandals Emerald Bay Golf Course from his start at The Bahamas Great Exuma Classic.
It started with a 10 on the par 5 on Sunday during the opening round (the tournament ran Sunday through Wednesday). Ouch. Meissner had been cruising along at three under to that point until his maiden KFT round was spoiled. Then on Monday, he made double bogey there. Ouch again.
Still, you have to give the young man credit for making the cut despite being seven over on one hole through two days. But it didn't get much better over the final two rounds.
Actually, Meissner managed bogey on No. 15 on Tuesday. Which had to feel like a birdie—especially after he made a second 10 on the hole on Wednesday in the final round. Yep, that's right. A book-end pair of 10s. A nice starting hand in Texas Hold 'em. Not a nice thing when you're playing golf for a paycheck.
Overall, Meissner finished T-59 to earn a little more than $3,000 for the week. But it's hard not to think how much better he would have fared had he not shot 13 over on one hole.
At nine under for the rest of the tournament, that would have placed him in the top 10. Heck, had he just bogeyed the hole all four days, he would have finished in the top 20. Meissner, though, handled the blowups well.
"What I've heard from people is that, the first two tournaments, you're going to have some crazy weather. There's just going to be some weird stuff that happens. And, obviously, that happened to me to like the 10th degree today and on Sunday," Meissner told GolfChannel.com. "Honestly, just to make the cut to get going on the right way on the Korn Ferry Tour, make a little bit of money, it feels pretty good. I'm not too bummed about it."
In other words, it happens.