Mini-tours
The Big Money Golf Classic promised the largest payday in minor-league golf. It ended with lawsuits and controversy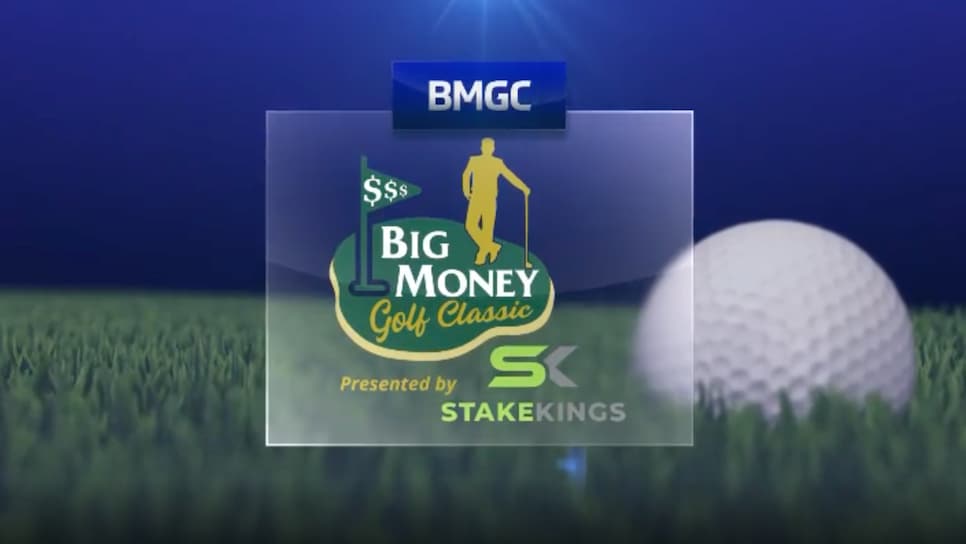 Editor's Note, March 1 4:30 p.m.: A source has confirmed to Golf Digest that the payment platform company Square has released the withheld funds in question to Dustin Manning and Big Money Events LCC. However, multiple players have told Golf Digest that Manning has yet to pay them by his stated March 1 deadline. A number of female players have relayed stories of Manning reaching out, only for Manning to ignore their responses. "I called four separate times, no answer," one player said. "Reached out to a friend, she said she had the same thing happen and it's very normal of him to do it."

Following the publication of the Golf Digest story below, Manning—through his Big Money Golf Classic Twitter handle—posted a message in late January promoting a future appearance on the "Fore the People" podcast with professional golfers J.J. Killeen and John Peterson, which Manning said was coming out on March 3 and would explain his side of the story. The tweet was eventually deleted. Killeen told Golf Digest the intent was to interview Manning after the players who competed or signed up for the Big Money events had been paid or compensated, but they have not talked to him for the podcast and are not scheduled to do so.
Manning and his lawyer have not responded to calls, texts and emails regarding comment on why the players' earnings and entrance fees continue to be withheld. As stated in the story below, multiple players are seeking legal action against Manning, with more players reaching out to Golf Digest since the story's publication promising to follow suit.
The tip arrived in early January. "Surely you all are aware of the mini-tour in Florida promising 100K payouts," a source wrote Golf Digest through email. "Great opportunity and life changing cash … if they get paid."
The event in question was the 2021 Big Money Golf Classic. It was a three-day competition held at Orange County National in Winter Garden, Fla., from Dec. 15 to 17 that boasted a $400,000 purse and $100,000 winner's check—figures that are astronomical by minor-league golf standards. Figures that may have been too good to be true.
A month later the tournament is in the news for the wrong reasons, owing hundreds of thousands of dollars to players for promised winnings.
Dustin Manning, the owner and promoter of the event, asserts the situation he finds himself in is a colossal misunderstanding. "I had no ill intentions about any of this, and I intend to make it right," Manning told Golf Digest.
But it's also clear Manning wants to divert his newfound, unwanted attention elsewhere.
"Big Money Golf Classic currently owes winnings to a portion of the field that played the December 2021 tournament. Those winnings remain owed in addition to monies owed for future events," read a statement from Manning, posted on the tournament's website and social channels on Friday morning. "Those obligations require Big Money Events LLC to pursue its damages in a court of law against StakeKings, Inc. for reneging on its agreement with the tour, leaving Big Money Events LLC without the projected funds to pay its obligations. Big Money Events LLC is pursuing in excess of $700,000 in damages."
In a note to Golf Digest, Tyler Hancock, CEO and founder of StakeKings—an entertainment platform for professional and recreational staking—wrote, "It's clear that Dustin Manning is in full desperation mode and has been for quite some time based on our conversations. We required all conversations to be in writing due to his erratic behavior, which is also why there is no signed sponsorship agreement, so this is extremely odd that this is the route he has decided to take."
While it is uncertain where that route will take Manning, StakeKings and the players who competed in the Big Money Golf Classic, this much is true: The road to here is littered with frustration, anger, disillusionment and embarrassment.
"It's ultimately my fault," Manning said. "The buck stops with me. But there are other people who did things that led to certain decisions, and we are going to hold them accountable."
Manning is a former golf pro who has big aspirations for a new golf league. His tour, the Big Money Tour, would visit towns holding Korn Ferry Tour Monday qualifying events, and rounds would be played Tuesday through Friday, giving fledgling tour players a chance at serious paydays in return for entrance fees nearing $2,000. December's event would be the second Big Money Golf Classic as the inaugural edition launched earlier in the year.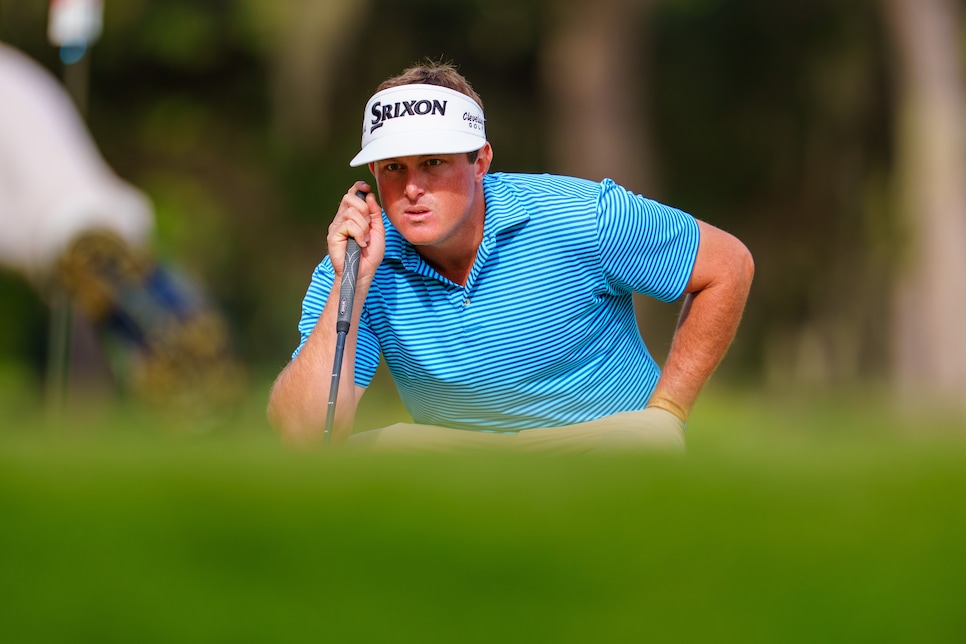 MJ Maguire was the winner of the event but he has yet to see his $100,000 prize according to a family member.
PGA TOUR
"It's hard to make a living out here," Manning says. "I want to give players an in from the other avenues that exist."
Manning's vision was not confined to the men's game; a corresponding Women's Big Money Classic (also with a $2,799 entry fee) was scheduled to begin Jan. 12 at Orange County National, with Manning advertising commitments from Hall of Famer Laura Davies and a number of LPGA players, including Pernilla Lindberg, Marina Alex, Cheyenne Knight, Maria Fassi and Gabriela Ruffels. A content team was assembled to boost Big Money's media coverage, with every video and tweet and release branded with a tournament logo that said, "Presented by StakeKings." (As of this writing, the Twitter header and icon for Big Money still features the StakeKings wording.) The BMGC events would be the springboard for the circuit and Manning's ambitions.
According to multiple players who played in the event, the Big Money Golf Classic mostly went off without issues. They said it was a tad disorganized and chaotic, although that's the reality for most minor-league tournaments. There was also an unfortunate incident involving tour pro Mark Baldwin, who was in contention after Day 1 but had to withdraw after contracting COVID-19. His illness required some officials and members of the media team to quarantine. Yet the BMGC ended in style, with MJ Maguire defeating Tom Lovelady in a playoff. The two agreed to split the winner and runner-up money ($100,000 and $50,000) before sudden death.
"For a mini-tour to have this much money, it's [still] plenty," Maguire said afterward in an interview captured by BMGC's media crew. The payout was more than half of what Maguire earned in more than 50 career starts on the Korn Ferry, LatinoAmerica and Forme Tours.
"It's life changing to me," Maguire continued. "It's a total game changer, to not have to worry about financial stress for Korn Ferry season next year. I know I have some dough to sign up for hotels, do my travel. It's a huge relief."
But nearly a month after his win, according to the source that reached out to Golf Digest, Maguire had not been paid.
One of Maguire's family members confirmed that Maguire had indeed not received his winnings. (Attempts to talk to Maguire directly were unsuccessful.) Golf Digest also confirmed that Lovelady, a former PGA Tour pro who had taken time off from the game and was in the midst of a comeback, had not been paid either. Two sources close to APGA player Willie Mack, who finished T-3, said Mack was due a significant amount (he was listed to receive $20,000), while another source confirmed Orange County National was owed money as well. Several others, requesting anonymity, relayed their issues with payment and were considering possible litigation against Manning. Conversely, a number of players said they received full payment from the event.
On Friday, Jan. 7, Golf Digest spoke to Manning on the phone. He confirmed that some players had not received their earnings yet. Manning said Square, a payment platform company, was to blame. Square was withholding his funds for an unknown reason, Manning said, but he was confident the funds would be released by late February. He also alluded to a sponsor backing out.
Manning was in touch with players, maintaining he would get them their money by March 1. "I just want to get everyone paid that is owed," Manning said. He wanted to clarify that the media team he assembled had been paid; a source confirmed to Golf Digest that is accurate. Manning added the women's event was postponed from its original Jan. 12 date.
When pressed further, Manning said that without his lawyer, Jack Oney, present, he couldn't speak on-the-record for fear of jeopardizing pending deals for future projects. After an email introduction on Jan. 7 with Oney, Golf Digest agreed to speak with Manning the following week.
But on Monday, Jan. 10, at 8:46 p.m. ET, Manning posted the following statement on Twitter:
"Big Money Events LLC's number one priority is getting any player that is owed money from December 2021 Big Money Golf Classic paid in full in addition to refunding all paid entries for future events.
"Unforeseeable events have taken place that have led to Big Money Events LLC owing money to players from the December 2021 Big Money Golf Classic. From a sponsor backing out to a large hold from our credit card processor, the company is now unable to meet its present obligations.
"Big Money Events LLC will be in direct contact with all players now owed winnings of the refund of an entry fee."
Multiple media outlets published stories on Manning and the Big Money Golf Classic in the following days. A report from the Fire Pit Collective stated that, in addition to players and Orange County National, the North Florida PGA Section was owed money for rules officials used at the event, and that players were offered the chance to take a deal in which entrance fees would be paid by private investors with the caveat any potential winnings would be split.
Following the negative attention, the Big Money Golf Classic website was drastically altered. Navigation tools to events pages, results and a future schedule on the site were removed; currently, the only thing displayed on the page is the Monday statement previously noted. Manning's LinkedIn page was erased, and a number of players who signed up for the women's event reached out to Golf Digest with screenshots of correspondence from the Big Money accounts that said the tournament had been canceled.
'I know how this looks. But I'm not trying to screw people over. I'm a pro; I would never intentionally do something to hurt these guys.'
—Dustin Manning, founder/promoter of the Big Money Golf Classic
Manning initially canceled his interview with Golf Digest. However, following the release of Big Money Events' statement against StakeKings on Friday, Manning reversed course and again agreed to talk, both through email and over the phone. He also had new representation in David Gernhauser, Jr.
Manning said he wanted to refute and clarify some of the things written about him and to give a side of the story that to this point has not been told.
"Listen, I know this is all f******. It's f*****," Manning said. "The stuff people are saying about me and my character is getting out of hand. But I need people to know I'm not a bad guy and I'm doing my best to fulfill my obligations."
On the matters of payment to players, Manning said, "The credit card processor [Square] now indicates that the monies it is holding will be released on Feb. 24, 2022. Upon release to Big Money Events, the same [funds] will be immediately paid to players owed."
In response, a spokesperson for Square told Golf Digest in an email, "This is an unfortunate situation for all involved. When sellers sign up with Square, they agree to abide by our Terms of Service, and the policies and rules set forth by Square partners such as banks and card networks. If a seller violates those Terms, we have to close their account. Additionally, we may hold the funds of deactivated accounts for 90 days when we anticipate refunds or customer chargebacks."
As of Friday afternoon, Manning said 23 male players had not received full payment, with two of those receiving partial payment. Regarding female players, he said, "Some entry fees have been refunded in full. Big Money Events remains committed to refunding all entry fees for the canceled women's event."
"I know how this looks," Manning continued. "But I'm not trying to screw people over. I'm a pro; I would never intentionally do something to hurt these guys."
Manning took exception to one report that said a previous event he ran pushed back tee times due to tournament officials partying hard the night before. He said he believes it was a personal shot intended to make him look unprofessional and that it is not true. "Final-round tee times were pushed back due to a management decision intended to maximize ticket and concession sales," he says. On accusations that the private investors offer was a way to keep half of a player's potential earnings, Manning replied, "Every entrant that played under that offer has been paid his full winnings."
The website was changed to best "directly and clearly communicate the company's priority to pay winnings," Manning says. He said the LinkedIn page was taken down because he didn't want to jeopardize any lawsuits. In its statement Friday, StakeKings begged to differ. "We recently came to find out that the Founder of the Big Money Golf Classic, Dustin Manning, included 'Advisor at StakeKings Inc.' on his personal Linkedin profile page," read a statement to Golf Digest. "Dustin Manning, at no point in time, has been an employee, advisor, nor held any type of management position at StakeKings Inc."
In response, Manning says, "It was my understanding I was an advisor based on the agreement they had sent me."
Which gets to the core of Friday's statement: Manning's allegation that this predicament is due to StakeKings backing out of a sponsorship deal. "Big Money Events' sponsorship agreement with StakeKings is supported by dozens of writings between the parties starting in August 2020 and ending in December 2021," Manning said. "It never was strictly verbal."
In a post dated Nov. 25, 2020, which as of this writing still lives on the StakeKings website, StakeKings announced its partnership with the Big Money Golf Classic. "StakeKings is excited for our partnership with the Big Money Golf Classic," reads a statement. "Together we look to bring innovation and new opportunities to golfers in 2021!"
However on Friday afternoon StakeKings followed with a blistering rebuttal. "BMGC's recent statement relating to StakeKings suggested culpability for BMGC's losses simply ignores reality and smacks of a transparent and unfounded attempt to shift blame for its management of funds related to the Big Money Golf Classic," the company said in a statement.
StakeKings said it originally discussed plans to partner with Big Money Golf Classic in 2020, with a draft agreement sent in December of that year. However, in January 2021, StakeKings received notice of a breach of contract claim between Big Money Golf Classic and BlueGolf, a website that tracks and provides scoring for many amateur and professional events around the country. Based on the notice, StakeKings opted to not move forward with an official partnership and that no agreement was ever signed.
"It seems evident that the Big Money Golf Classic wanted to use the StakeKings brand to help validate and bring attention to their event, as it was used across multiple forms of media, including both physical and digital, through posts, paid advertising, and various event materials."
Manning called the statement "the first smart response they've had in 15 months. [Hancock] has fought me. These documents are going to come out in court."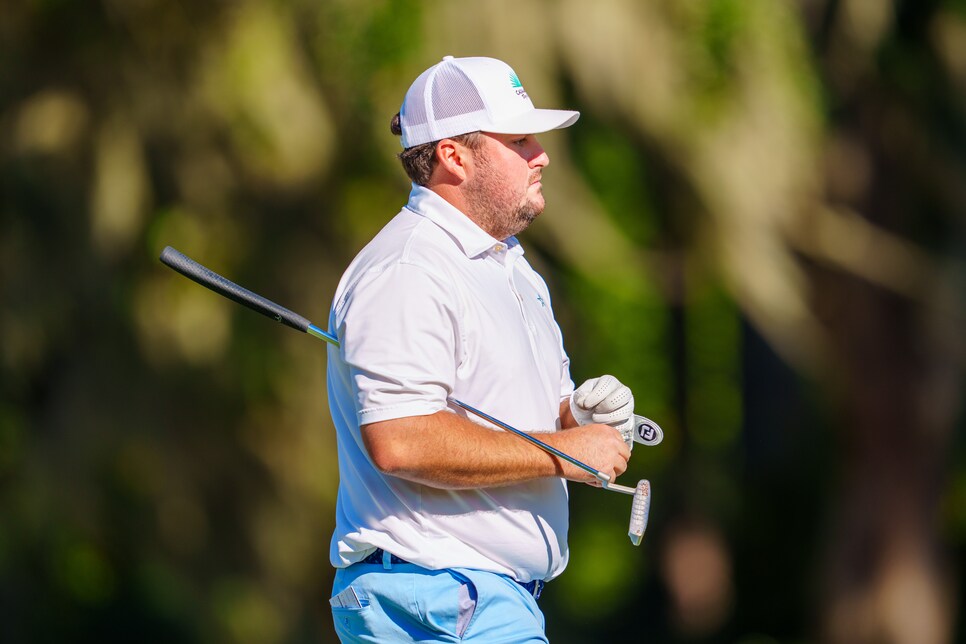 Tom Lovelady had played on the PGA Tour and was in the midst of a comeback in pro golf when he signed up to play in the BMGC.
PGA TOUR
Manning says he's getting death threats following this week's news and that the last five days have been hell. He said he understands what people think about him and his event. Though the men's tournament has now led to legal disputes—both against StakeKings and from players seeking payment—and the women's event is canceled, Manning believes he can still deliver on his promise to give mini-tour players a living they can't find on other circuits.
"Big Money Events' present priority is paying all winnings from the December 2021 event and entry fees for canceled events," Manning reiterated. "When that is achieved, I remain committed to continue giving golfers opportunities that did not exist before the Big Money Golf Classic."
There is a lingering question, one that multiple players have asked: Where's the money? Can it all be tied up by Square?
"I can't comment on the financials at this current time," Manning said. "When the time is right, in the near future, I will open all financials for Big Money events. There will be a time where I can open the books and tell everyone."
At the heart of the story are the players left in the cold. Some hold out hope for their promised paydays, though many others are seeking legal representation. The jilted are not just Maguire and Lovelady and Mack. A $2,800 entrance fee, one player told Golf Digest, was a month of his travel and lodging allotment. Another, who receives financial backing from his parents, feels ashamed to tell them what happened in fear they'll pull the plug. The bitter truth about minor league golf is that it costs a lot to compete for often little, so to go without payment for over a month does a number on both the wallet and the heart.
And though they are adults and this is their profession, it still is a game—a game that is supposed to be about honor. A sentiment best expressed, one player told Golf Digest, by Lovelady. Following the Big Money playoff, Lovelady was asked why he and Maguire decided to split the pot.
"We don't want to take advantage of each other," Lovelady said. "The last thing you want to do is be greedy."