How He Hit That
A past Masters champ's new swing focus is instructive for the rest of us
Make your early season goal hitting it better, not harder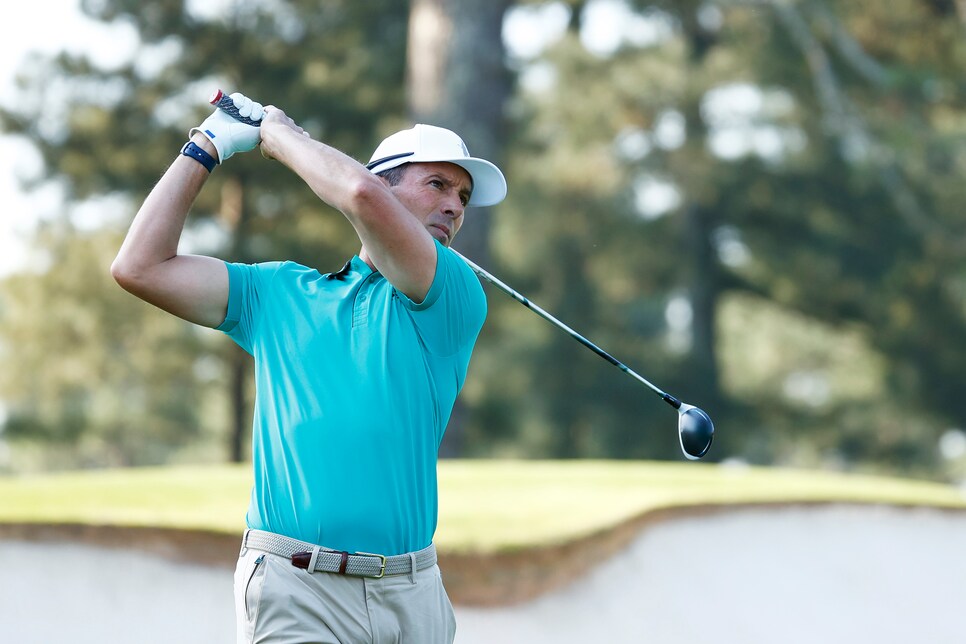 Masters week represents the unofficial beginning of golf season in places that get snow on the ground. It gets you thinking about hitting balls, setting up rounds and harnessing that early-season optimism and finally turning it into performance improvement.
The improvement part is just as true for Tour players as it is for you, and Mike Weir makes for a worthy case study. Unlike the members of the 120-mph clubhead speed crowd, the 2003 Masters champ plays the "regular" game befitting a 50-year-old who wasn't more than an average-length hitter even when he was in his 20s. But, determined to both remain competitive on the PGA Tour and thrive on the second-chance PGA Tour Champions, he enlisted the help of Golf Digest 50 Best Teacher—and new Golf Digest Teaching Professional—Mark Blackburn. "Mike's a competitor, and starting in 2018, he came to me wanting to not only make the most of some of the KornFerry starts he had to get back to playing the PGA Tour, but also get ready for senior golf," says Blackburn, who runs his academy at Greystone Golf & Country Club in Birmingham, AL. "As a 50-year-old, he's in great shape, but he's not 30. He's had elbow surgery, and he doesn't have the same range of motion he once had. His mission was like a lot of players who get into their late 40s. He wanted to both be pragmatic about what his body could do, but also get to the place where what he could do was as close as possible to what he was doing when he played his best."
Weir was an avid hockey player growing up in Ontario, Canada, and always liked to feel he was hitting a golf ball like he would hit a slapshot into the bottom left-hand corner of the net. "But we needed to make sure that his backswing didn't get so long in the quest to try to hit it far that it actually forced him to do a lot of work with his hands on the downswing to compensate," says Blackburn. "The goal was to get him loading off the ball and shifting his center of mass to the trail side by turning into his trail hip socket [instead of sliding his hips laterally away from the target or staying on his lead side]. By loading and using a shorter backswing, he could then use more rotation in the downswing as opposed to sliding toward the target, tilting and using his hands a lot."
The stronger loft presentation on full shots immediately improved both his ball-striking quality and distance—even without increasing clubhead speed. He's averaging 290 yards off the tee in 12 senior starts, and has registered top-10s in four of his last seven starts. "Mike is hitting it farther, which is great, but this week is all about short game," says Blackburn. "You have to control the face with your distance wedges, keep the center of mass of the club behind your hands and manage the club's loft. Inherently, he's always been an open-face player who flipped it, which is great for short game. We've been working on keeping that for shorter shots and moving away from it for longer ones."
Your journey isn't so different than Weir's, even if you aren't playing for a green jacket. "No matter who you are, your dynamics change as you age," says Blackburn. "And no matter how you feel, you need an objective benchmark. You need to get good information about your body and your swing, and match the right information to your physical capabilities. For example, the general advice to lengthen your swing to produce more speed is sound for some people, but if you swing long and get the club steep in transition, you can't keep the mass behind your hands and you're going to struggle. Speed is only as good as your ability to control it."
The moral of the story? "The easiest speed for you to find at the start of your season isn't going to come from swinging it faster," says Blackburn. "It'll come by hitting the ball better, and more toward the center."
MORE MASTERS 2021 STORIES FROM GOLF DIGEST: