U.S. Open
U.S. Open 2023: Padraig Harrington shared the most Padraig Harrington thoughts on his mental approach at majors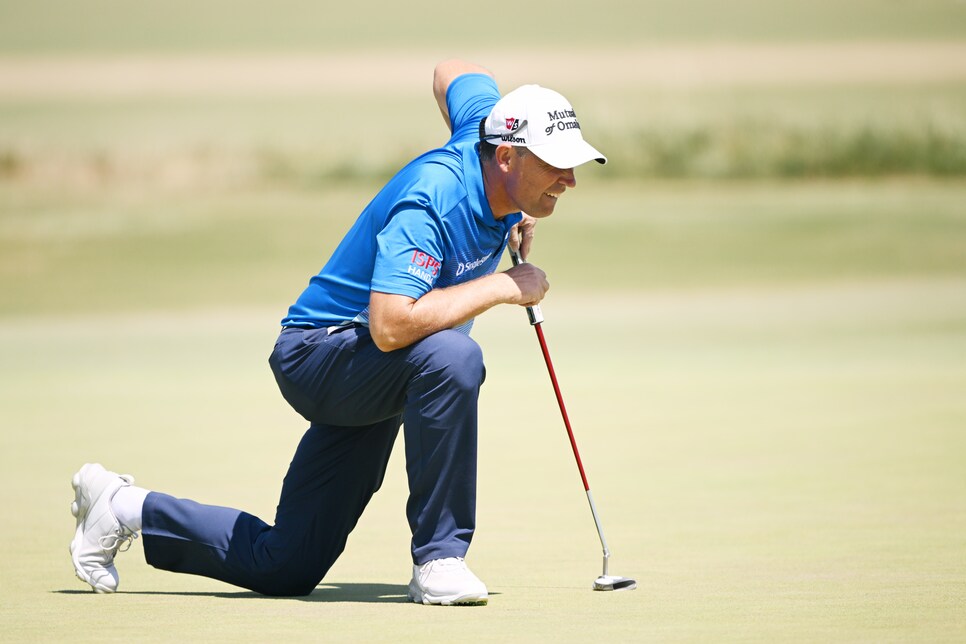 LOS ANGELES — Perhaps not surprisingly, the history of U.S. Senior Open champions competing in their own event's little brother is not one of unremitting success. In the 43 years since the USGA bequeathed the over-50s their own national championship—and before this week—only six senior champs had made the cut competing against younger and presumably fitter fields.
The best finish amongst that sextet isn't too stellar either. Jack Nicklaus in 1994 and Kenny Perry in 2014 both tied for 28th place. No one since Colin Montgomerie in 2015 has made it through to the weekend.
Records are made to be broken, though. And this week it looks like Padraig Harrington could be the man to supersede all of the above. At the conclusion of his three-under-par third round of 67 at Los Angeles Country Club, last year's Senior Open winner was sitting T-23, with the possibility of rising should conditions get more difficult for the later starters.
The amiable Dubliner made himself available to the media after holing out on the 18th green alongside Cameron Young. Harrington spoke for 17 minutes and 11 seconds, which is just about par for one of the best interviewees in the game. And, as ever, it was a varied session, one covering a variety of topics, some of which were intelligible.
"I try to stay away from expectations," said Harrington in response to what his goals were this week. "Most of my golf is about managing me. I can't worry about anyone else. So it's about trying to figure about myself, mainly mentally. The last couple of years on the Champions Tour has shown me that, when you are in contention, the benefits show up a lot.
"Equally, I've seen the error of my ways. Even this week, I haven't been as good as I could be. Physically, I'm capable. And I know what to do mentally. But sometimes I find it hard to do that good stuff mentally."
The next bit was harder to understand.
"I'm just going to hit every shot individually, which I know is a cliche," he continued. "It's really just a bit of practice to see if I can keep my head in the game. I do some terrible stuff mentally. For example, on 18, I'm aiming up the left side and trying not to hit it right. And I succeeded. I've never not succeeded on every shot I've ever hit in my life. I've never hit a golf ball where I've not wanted to hit it. Never. The ball has always gone where I've wanted to hit it. Sometimes, I change my mind though.
"Tomorrow I'll stand on the first tee, pick a line and make a swing. The aim is not to change my mind halfway down, then try not to hit it right or left. It's 18 holes of mental practice. It's as simple as that. I can't create that on the range; I have to be on the course. The less I get in my way, the better I will be in the next major."
As for what lies ahead, Harrington lapsed into realism. He might be one of the best players on the Champions Tour and certainly one of the longest, but in a U.S. Open he is surrounded by the very best players in the game. That's a sobering thought for a main his 50s, a three-time major winner.
"Doesn't matter what I think about tomorrow, It makes no difference whatsoever," Harrington claimed. "Winning will not cross my mind. If I was close to the lead, it's hard not to play 'what if?' So, I'm just trying to hit the best shot every time. Only if I got going early would I get more aggressive. I'd sacrifice shooting 67 in an effort to shoot 64.
"I arrived trying to win," he continued. "But each shot is a mental battle for me. I hit each one to see if I can keep my mind on what I want it to do. That's not easy. If you think you need your A-game, your B-game turns up. If you think you can win with your B-game, your A-game turns up. I was comfortable for a long time thinking if my A-game turned up, I'd have a chance to win. I'm trying to be there this week, but the likelihood is I need some good breaks. If you think you need to get lucky to win a major the likelihood is it's not going to happen. You have to believe you're good enough. Brooks [Koepka] plays well in majors because he assumes he will be in contention with nine holes to go."
There was just time for Harrington to turn his attention to his fellow Irishman, Rory McIlroy.
"Rory looks like he is putting well," he said. "Put that on top of everything else has going for him and he'll do well. He has momentum in his rounds, at least physically. But he still has to hole the putts. He looks to have had an easy week to be where he is. He is the man to beat. But DJ looks good too."
And with that Harrington was gone, leaving an exhausted group of journalists in his wake.
MORE FROM GOLF DIGEST @ THE U.S. OPEN