from 'Spiderman' style to 'Army man'
U.S. Open 2021: Xander Schauffele's latest putting routine worked on Day 1, but it's going to take some getting used to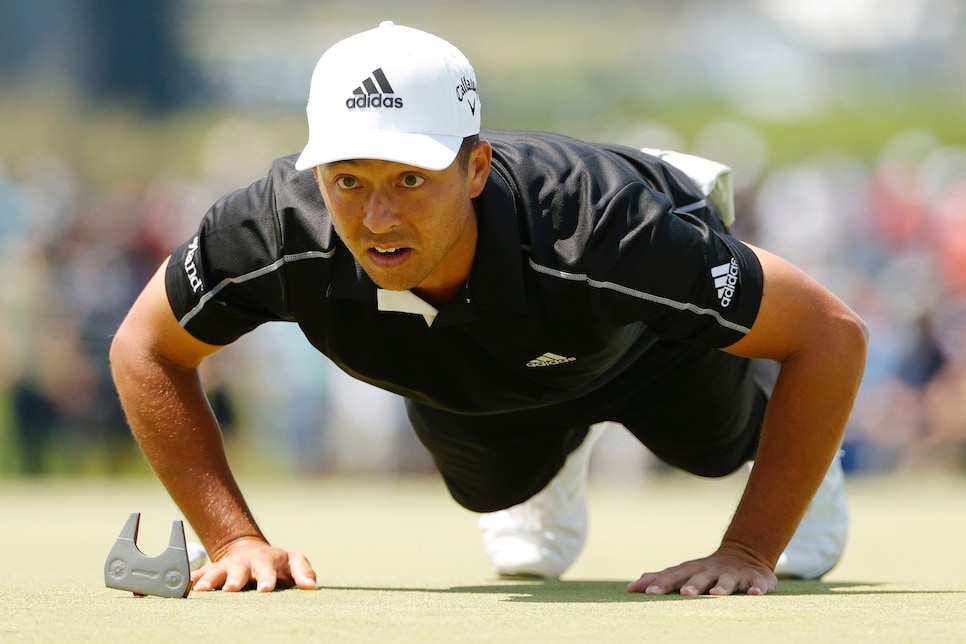 Xander Schauffele lines up a putt on the 15th green during the first round of the 2021 U.S. Open.
Ezra Shaw
SAN DIEGO — Xander Schauffele is no Spiderman. He'd be the first to admit that his newly discovered style of reading greens by doing what looks like a military pushup is more utilitarian than artistic, particularly compared to the yoga-like contortions that Camilo Villegas produced in his heyday. Call Xander's pose the Army Man.
"I figured I could just fill out my shirts a little more, so if I could throw in a few pushups on every hole, it would be good for me," Schauffele joked on Thursday after his first round in the U.S. Open at Torrey Pines.
It seems that the sixth-ranked player in the world isn't afraid to try anything these days. He's gone to a low-spin ball, made a much-publicized switch to an arm-lock putting style at the Memorial and now this worm's eye view for trying to get his line right.
You can't argue with how it's working for him. Coming off his first missed cut in a major at last month's PGA Championship, followed by a T-11 at Muirfield Village, Schauffele is right where many thought he'd been in this U.S. Open in his hometown. The 27-year-old made four birdies on his opening nine (the South Course's back side) and ended up shooting a two-under 69 that put him two shots off the lead of Russell Henley.
Schauffele said he only went to trying the pushup pose a couple of days ago after seeing other people, including Patrick Reed's caddie, Kessler Karain, do it frequently.
"I just try to make sure I don't really damage the green in any way, shape or form or I'm in anyone's line," Schauffele said. "I think I just started doing it on a few putts and then I kind of liked it and now I'm stuck doing 50 pushups every day, so it's great."
His work on the greens was just OK on Thursday, with 29 putts required, including one three-putt. Schauffele also didn't fare well out of the sand, twice failing to get up and down.
It could be debated if Schauffele made the right move going to the arm-lock style just before a major on a course he knows well. The work getting used to it is still ongoing.
"I think it's an advantage, like I've said before," Schauffele said, "but mentally, it's more so me getting comfortable with it in tournament golf."
MORE U.S. OPEN 2021 STORIES FROM GOLF DIGEST: