SAN DIEGO — It came in only a couple of sentences, but Rory McIlroy built a connection between major-championship venues that provided a glimpse into how he might fare this week in the 121st U.S. Open.
The 32-year-old was saying on Wednesday that when he first saw Congressional Country Club in 2011, he immediately believed it was a course on which he could shoot strong numbers. "It's the same as here," he said, waving his hand toward the South Course at Torrey Pines. "You hit fairways, you hit greens and you can shoot good scores. It's just a matter of getting into a little more of a positive mindset going into the tournament."
McIlroy will admit that since being a mop-haired 22-year-old who notched his heretofore only U.S. Open win in record fashion in 2011, shooting 18 under, he's become a bit guarded, maybe even jaded, going into this particular major. "Cynical" is the word he chose on Wednesday.
The results can beat you down, and though the Ulsterman has a T-8 and T-9, respectively, in his last two appearances in the national championship, he hasn't truly contended on a Sunday since '11, when it wasn't much of a competition at all, considering McIlroy prevailed by eight shots. There were also three consecutive missed U.S. Open weekends that preceded the most recent top-10s.
But—and yes, we know Rory loyalists have heard this before—it seems there are legitimate reasons to think that McIlroy can meld attitude and optimism with an improving swing to make some noise this week.
The recipe starts with confidence, and that comes from having competed well on the South Course over a rather condensed span. McIlroy didn't play in his first PGA Tour Farmers Insurance Open until 2019, mostly because of the guaranteed money he got going to the European Tour's Middle East swing. But he's played three straight years at Torrey, and the results are impressive: T-5 in first appearance, T-3 in 2020, and then a T-16 this past February—the latter not a terrible placing considering he'd begun working on significant swing changes.
In nine rounds on the South Course during the Farmers, McIlroy has a scoring average is 69.8, and he made a nice weekend charge on Sunday in 2020, shooting 67-69 to finish three shots back of Marc Leishman.
The key point being that this isn't Oakmont, Erin Hills or Shinnecock Hills—all layouts where McIlroy missed the cut in competing on them for the first time. It's the same for everyone, of course. Tiger Woods built his career on winning at the same courses over and over, including Torrey Pines.
"It's nice to come to a venue where we all know it pretty well from sort of being on the PGA Tour schedule," he said. "There's not really any secrets out there. We all know what to do and how to play it, and it's just a matter of who can execute over the four days."
It also helps that McIlroy arrived this week, played 18 holes on Tuesday and immediately deemed the setup as "great."
"The rough is playable. You can hit it in the rough and at least have a chance to get it up around the green and sort of use your short game to scramble and save par," McIlroy said. "It's not as penal as some other U.S. Opens. … It's really fair. I've heard nothing but positive praise from a lot of the players."
McIlroy was 19 and already a professional golfer when Woods won the 2008 U.S. Open at Torrey Pines. But he had played in only one major at the time, as an amateur in the 2007 Open Championship, and he was a year away from tying for 10th in his U.S. Open debut at Bethpage Black.
The conditions this time around at Torrey are very much like in '08, when Woods and his playoff mate, Rocco Mediate, were the only players to break par, at one under. The kikuyu rough, with a mix of overseeded rye, was not overly brutal that year or this, but it was still thick enough to produce concern. And there will probably be more of an element of luck—good or bad—than players would like.
"I think if you see your ball sailing into the rough, you hope you're just going to get lucky," McIlroy said. "It can settle into the kikuyu that's sticky and juicy, or there's the patches of Poa out there that are more of the yellowish, brownish color, and you hope your ball is going to land in one of those patches and you can get it out onto the green.
"There's no substitute for hitting the ball off the fairway here. It's a pure—it's fairways and greens. It's a proper U.S. Open test. The one way to keep you from injuring your wrist is by not going in it."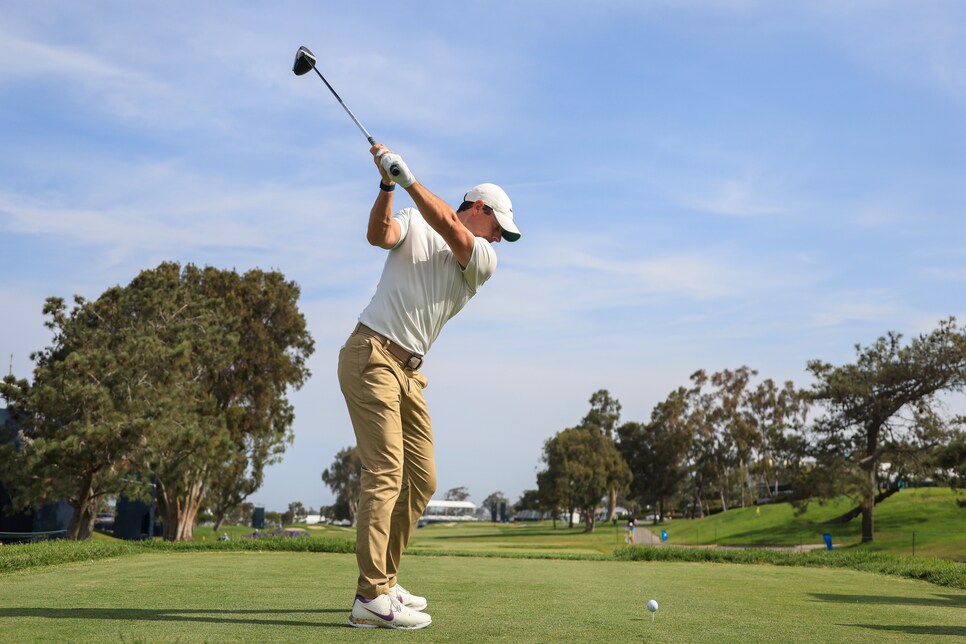 Rory McIlroy hits his drive from the 18th tee during a practice round prior to the start of the 2021 U.S. Open.
Sean M. Haffey
McIlroy ranks second in driving distance (318.6 yards) on the PGA Tour this season, countered by being 173rd in driving accuracy (55.17 percent). But missing fairways doesn't seem to hurt him much—he's ninth in strokes gained/off-the-tee. It's his short game around the green—which figures to be heavily tested this week in heavy rough around the putting surfaces—that has been an issue. He's 98th in that category.
Last week, McIlroy worked with Pete Cowen, the instructor with whom he teamed up in March after he missed the cut in the Players Championship. They've been reinforcing their previous efforts, which resulted in McIlroy capturing the Wells Fargo Championship in May, only to see him not score better than 72 in the PGA Championship.
"The technical and mechanical parts of it are all there," McIlroy said. "It's just a matter of going out in a U.S. Open setting and just trusting what I've been doing in practice, and then that gets more into the mental side of things and just being really clear and really committed in what you're trying to do and being as free on the course as I am on the range.
"That's the big challenge, but in terms of where everything's heading, it's definitely in the right direction."
MORE U.S. OPEN 2021 STORIES FROM GOLF DIGEST: