Quiet please
U.S. Open 2021: Phones and Phil not a good pairing in Mickelson's opening 75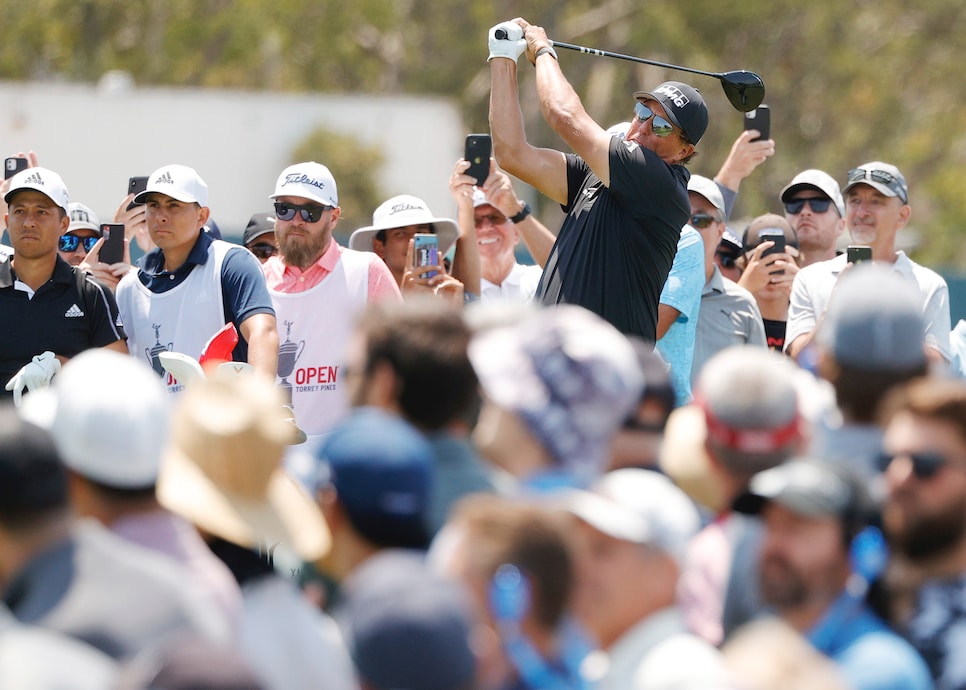 Phil Mickelson plays his shot from the 18th tee surrounded by a gallery of fans during the first round of the 2021 U.S. Open.
Ezra Shaw
SAN DIEGO — Phil Mickelson didn't get the hometown love at Torrey Pines on Thursday. On the second thought, maybe it was too much love.
Already one over and battling on his front nine after starting on the 10th hole in the opening round of the U.S. Open, Mickelson had a chance to get back to even after his drive at the 612-yard par-5 13th. He was in the first cut off the fairway and had a 2-wood in his hand with the idea of reaching the bunkers that front the green.
Mickelson addressed his ball, and then … ping! Somebody's cell phone went off.
"Put it on silent please," Mickelson said.
Second time over the ball ... ping!
"Please!" Mickelson said in a firmer plea.
Now a security guy is heading for where the noise seems to be coming from.
Lefty is beside himself. "Seriously!"
Finally, and maybe predictably, Mickelson got to strike his shot and sliced it far to the left into bushes on the edge of the canyon. He found his ball, took a drop off an unplayable lie and under a Torrey pine, and hit the flagstick square with his fourth shot. The ball kicked back into the deep rough, and Mickelson couldn't hole out his chip for what would have been an all-time par, even for him.
He had to settle for a bogey 6, which, if it was any consolation, was better than the quadruple-bogey 9 he scored on 13 in the third round of the 2008 U.S. Open. Mickelson, coming off the high of winning the PGA Championship last month, ended up shooting four-over 75 in this first round to be well off the four-under pace set by leader Russell Henley.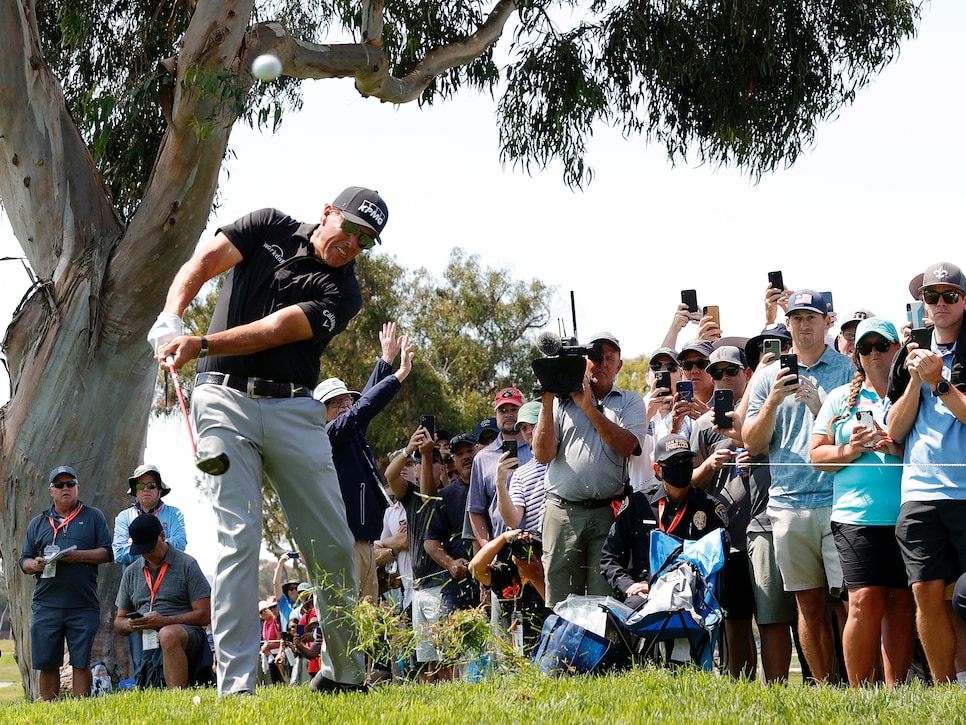 Phil Mickelson plays from the rough on the 15th hole as a gallery of fans look on during the first round of the 2021 U.S. Open.
Ezra Shaw
On the very next tee, a cell phone went off again as Mickelson prepared to hit his drive.
After the round, Mickelson admitted he was frustrated by the interruptions, but also blamed himself for letting it get to him.
"It's part of professional golf. You have to learn to deal with it," he said. "I don't understand why you just can't turn that little button on the side into silent. I probably didn't deal with it internally as well as I could have or as well as I need to. It's part of playing the game out here at this level. Certainly, I didn't do the best job of dealing with it."
Xander Schauffele, who was in the group with Mickelson, said he heard a cell phone on the 14th tee in his downswing. "Fortunately, I kind of just [refocused] and hit the shot and was laughing shortly after," he said. "If that ball was going left, I'm pretty sure I wouldn't be smiling.
"I think we'll give the fans a little break. They haven't been out in a while either, but if they could silence their phones and the photos and everything, that would be great for us."
Mickelson was actually pleased with his 6 on 13 under the circumstances, though he still doesn't like the hole. Before the '08 Open, he called building the back tee a "waste of money" and he continues to maintain that stretching it to 600 yards takes the risk-reward away. There is also the problem with laying up to the bottom of a deep hollow, 40 feet lower than the green, leaving an awkward and blind third shot.
"That layup is the worst layup," he said. "If you try to lay up down there and miss it in the rough, you have nothing, and it's an awful layup to that elevated pin with the greens this firm, so I tried to get it in the bunkers."
Mickelson made another bogey at 15 when he pushed his drive left too close to the eucalyptus trees and had to punch out with a fairway wood. He then steadied himself with his only birdie of the day at 17 and six straight pars. But hope turned to disappointment when he bogeyed the sixth and seventh coming in.
"I fought really hard, and then to let two bogeys slide on six and seven when I really shouldn't have," Mickelson said. "Like, they weren't that hard of pars—you probably saw the disappointment there. Look, it's part of this tournament, and I was able to go without any doubles, I just didn't make enough birdies to offset it."
The hometown fans cheered for Mickelson every hole and Schauffele said they wished him happy birthday often after he celebrated turning 51 on Wednesday.
"I don't know if he enjoyed that," Schauffele said with a grin, "but I'm sure he felt the love from the fans."
If only it were silent love.
MORE U.S. OPEN 2021 STORIES FROM GOLF DIGEST: