News
Masters 2020: Paul Casey's opening 65 gives Peter Kostis something to cheer from afar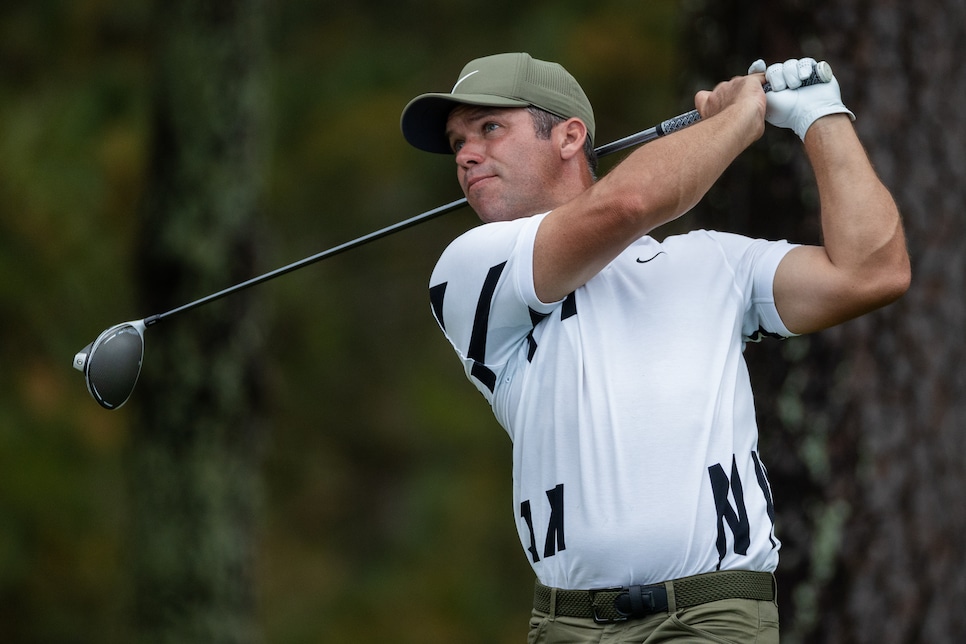 Paul Casey opened the 2020 Masters with a bogey-free 65.
Ben Walton
His broadcasting career with CBS Sports having come to an end last year, Peter Kostis is absent from Augusta National Golf Club for the first time since 1990. Funny that he received a decent share of airtime during coverage of Thursday's opening round of the 84th Masters.
The longtime swing instructor watched with great satisfaction from his home in Scottsdale, Ariz., as his top pupil, Paul Casey, carved up the rain-softened course with a bogey-free seven-under-par 65. Though Casey had struggled in recent weeks, Kostis expected him to raise his game for his 14th Masters appearance, especially considering his history at Augusta, which includes five top 10s and eight top-25 finishes.
But even he was a bit surprised by the quick start.
"I knew he had gotten a lot better and that we had gotten him on the right track, but I didn't expect this level of performance this quickly because it takes time for things to set in," Kostis said by phone. "I thought he'd play well, but sort of work his way into the tournament. But this shows you how motivated he is and how well he has prepared."
The motivation factor cannot be discounted. Since golf's restart following a three-month pause for the coronavirus pandemic, Casey has posted just one top-10 finish, that coming at the PGA Championship at Harding Park, where he tied for second behind Collin Morikawa. One of his other two top 20s came at the U.S. Open at Winged Foot, where he finished T-17.
After watching Casey finish T-35 at the Zozo Championship last month at Sherwood Country Club in California, Kostis figured Casey would take a break.
"I thought he was a little burned out, so after Sherwood I told him to take a couple of days off and let me know when he wanted to get ready for Augusta," Kostis said. "He texted me right back, which he seldom does, and he said 'Forget that. I want to get to work right away. I'm pissed.' So we got right to it because he wanted to be ready, and then he said he was taking the rest of the year off. He's putting a lot into this week.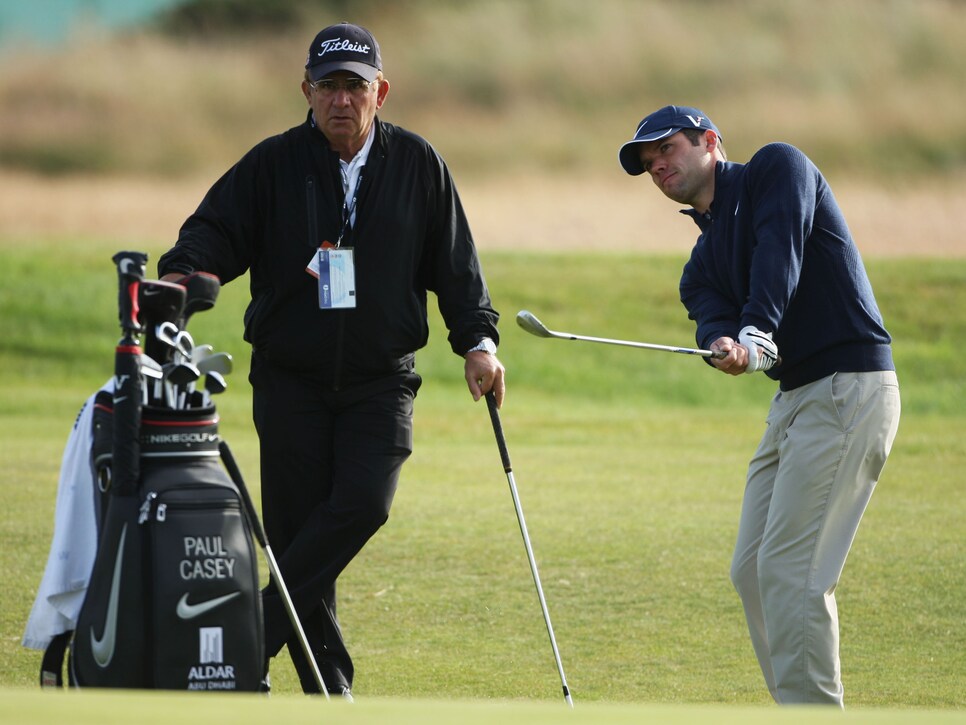 Peter Kostis, shown working with Paul Casey at the Open Championship, said his pupil hasn't enjoyed playing during the coronavirus pandemic.
Andrew Redington
"Look, if you asked him, he'd tell you he hasn't enjoyed golf as much since the restart," Kostis continued. "He can't be with his family, he can't go out to dinner with other players, he's just going back to his hotel room. That's just not his makeup. He hasn't been playing with as much energy."
The adjustments Casey has made aren't technical, Kostis said. He improved his posture and his turn and increased the tempo in his backswing to create more clubhead speed. Kostis said Casey went from averaging 117 mph on his swing speed to upwards of 125.
"His posture was slumping because of low energy, so that made a huge difference. Then we got his tempo up and he saw immediate improvement," Kostis said. "That kind of got him going. He got re-energized."
Increasing Casey's tempo in his putting stroke to match it up with his swing was one additional tweak. His backswing was too long and slow. "That's still in the works, and it's tough to take a putting change to a place like Augusta, but he's very good and just going out and trying to play comfortably and not worrying about the technical stuff," Kostis said.
Kostis, 73, began broadcasting at the Masters in 1990 with USA Network but saw his streak come to an end when CBS did not renew his contract (nor that of fellow veteran Gary McCord) at the end of last year. He said it felt "weird" not being at Augusta National, yet, still hearing his name mentioned by former colleagues on Thursday as Casey seized the lead.
"During the shutdown period for the PGA Tour, CBS aired broadcasts from previous years, so I was actually on the air quite a bit there for a while," he quipped. "That was kind of funny, too. No matter how you look at it, it's just been weird."