News
Masters 2020: Why Augusta scoring records could be obliterated this week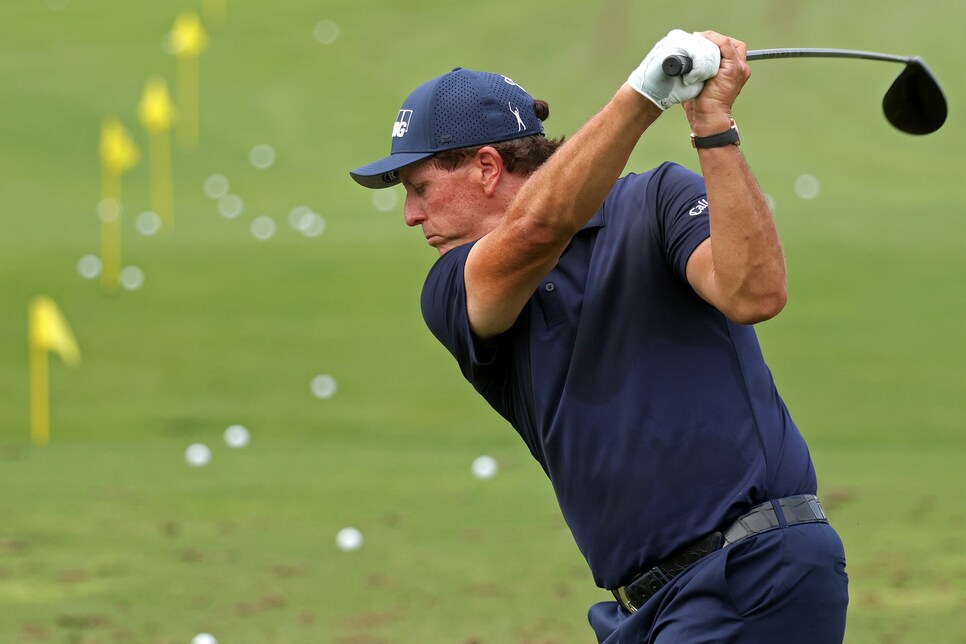 In a bid to keep up with distance gains, Phil Mickelson has said he would use a 47 1/2-inch driver this week for the Masters.
Rob Carr
Rome wasn't built in a day and it didn't fall in one either. It was a gradual decline, with tipping points along the way. The question going into this year's Masters is whether Augusta National will suffer its own crossroads in history at the hands of the Bomb-and-Gouge King, Bryson DeChambeau.
It's a topic that has been explored ad nauseam by this point, and this week will tell the story, one way or the other. But another question resonates in its wake: If records are meant to broken, as the cliche goes, will 2020 be the year that many of the Masters' scoring marks fall, be it to DeChambeau or others from the 92-man field? There is evidence to suggest so.
Already softened by the agronomic conditions that come with fall, Augusta National will be made even softer as rain—heavy at times, particularly on Thursday—is expected for much of the week. Rain is nothing new at the Masters, with 44 of the 83 tournaments experiencing varying levels of precipitation. But slower fairways, along with a slightly thicker second cut, will also keep some shots from bounding into more precarious positions in the pine straw and trees. And without throngs of spectators, there are also (theoretically, anyway) more spots for players to miss.
"The second hole, for example, the second shot into 2, for some of those pins over on the left side, if you get it out of position, like hitting it way right almost over near the third tee box, isn't actually a bad play," Rory McIlroy said. "But usually whenever there's a lot of people, they put that green sandy stuff down [to absorb water], and now you don't have that. You hit it out to the right, you have a perfect lie.
"So I think around the greens, it's a little different because you don't have the patrons walking and matting the grass down. The lies are maybe a little bit better around where the patrons would sort of sit and stand."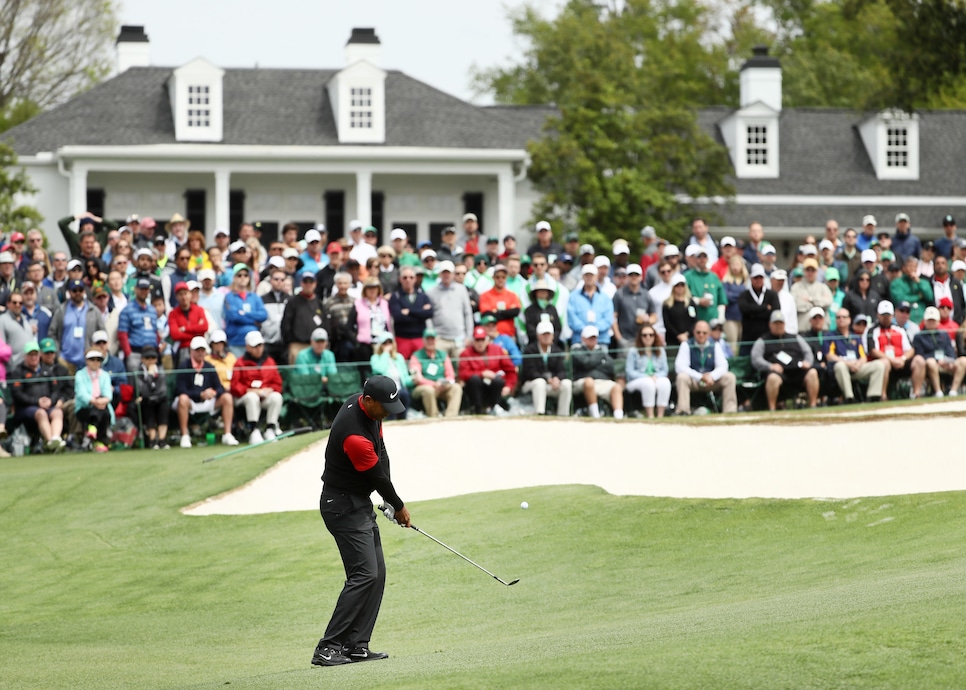 If players come up short of the ninth green, as Tiger Woods did in 2018, Jordan Spieth said their ball might not roll as far back down the hill because of softer conditions.
Jamie Squire
Another example would be the sometimes-tricky par-4 ninth.
"If the ball comes short of that green, sometimes it rolls back 20, 25 yards short of the green," noted Jordan Spieth. "Right now, it's only going to go 5 or 10, making the next shot a bit easier."
Then there are, of course, the game's ongoing distance gains. Of that pack, DeChambeau is the leader but he's hardly alone in his pursuit. While DeChambeau is considering using a 48-inch driver this week, Phil Mickelson plans to go with 47½ inches. Distance plus technology equals a more aggressive strategy. Take DeChambeau as Exhibit A.
"No. 3, I can get to the green," he said. "No. 1, if I hit it in the fairway, I can have a 70‑yard, 60‑yard shot. I guess even in wet conditions, I'm able to get it up that close to the green.
"No. 2, I think I had 7‑iron in the other day. And No. 5, I had 9‑iron in, 8‑iron. Yeah, it was in the wind, so it was 8‑iron that day. No. 7, this is a wedge shot. Nothing crazy. It was into the wind every day I played it. No. 8 [a par 5], I've had as little as 6‑iron in. No. 9, it's a 53- to 48‑degree [wedge] for me. At 10, it's a 9‑iron at worst. Eleven [Monday] with Tiger and Freddie [Couples] and [Justin Thomas] I had pitching wedge in."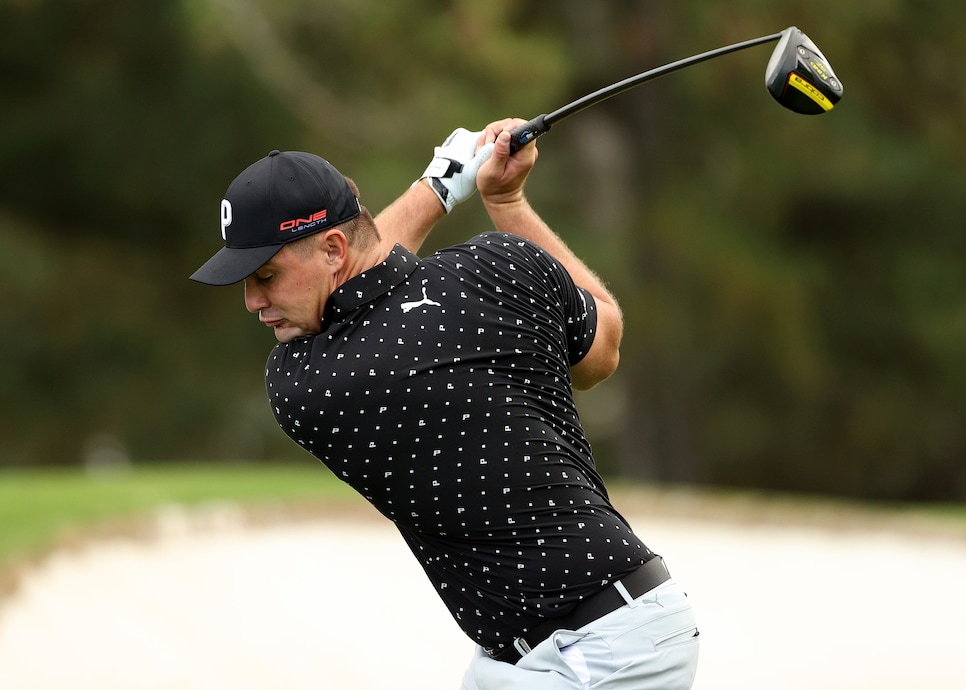 Bryson DeChambeau hits his drive from the third tee during a practice round.
Patrick Smith
It should be noted that when Tiger Woods set the Masters' 72-hole scoring record of 18-under 270 in 1997, he too had pitching wedge into the 11th and led the field in driving distance (323.1 yards), 46 yards longer than the tournament average. Length is always a factor, but not the only one. Less than two decades later, Spieth, who is not particularly long, tied Woods' record in his 2015 victory, thanks in large part to a hot putter and deft short game.
As DeChambeau noted, it still comes down to short game and putting.
So what other records might be in danger this week?
While it's preposterous to even think someone would record the first 59 in major championship history this week, the current low mark of 62—achieved by Branden Grace in the third round of the 2017 Open at Royal Birkdale—isn't out of the question. Doing so would eclipse the 63 by Nick Price in the third round of the 1986 Masters, matched by Greg Norman in the opening round of the 1996 tournament.
Some have come close, including the shooting star that was Anthony Kim, who carded a record 11 birdies en route to a 65 in the third round in 2009. If he'd made par on the ninth and 10th holes, instead of bogey and double, he would have made history. That round came on a day when conditions were breezy and scores high (the field average was 74.84 and only 17 players broke par).
Speaking of birdies, when Spieth matched Woods' tournament scoring record, among the multiple other records he set that week was for the most birdies over four days with 28. Sherwood Country Club is far from Augusta National in distance and difficulty but McIlroy is coming off a Zozo Championship in which he made a career-best 29 birdies for the week.
Another mark to keep an eye on: The eagles made for the week. In 2015, there were a record 47 recorded by the field. Given the increasing reachability of Augusta National's par 5s, even more crystal might be handed out with that another mark prime for the plundering.
And it was just last year when the most rounds in the 60s were recorded in tournament history—63 in all, along with the most rounds of par or better at 182.
Still, DeChambeau will likely get most of the attention as he has all week.
"What Bryson has done has been absolutely incredible, and we have all been amazed at what he's been able to do in such a short span of time," Woods said. "It's never been done before."
At the end of this week, however, that might be said of a lot of things.
MORE MASTERS 2020 PREVIEW CONTENT FROM GOLF DIGEST: