News
Masters 2020: Practice trips to Augusta National are the players' underrated privilege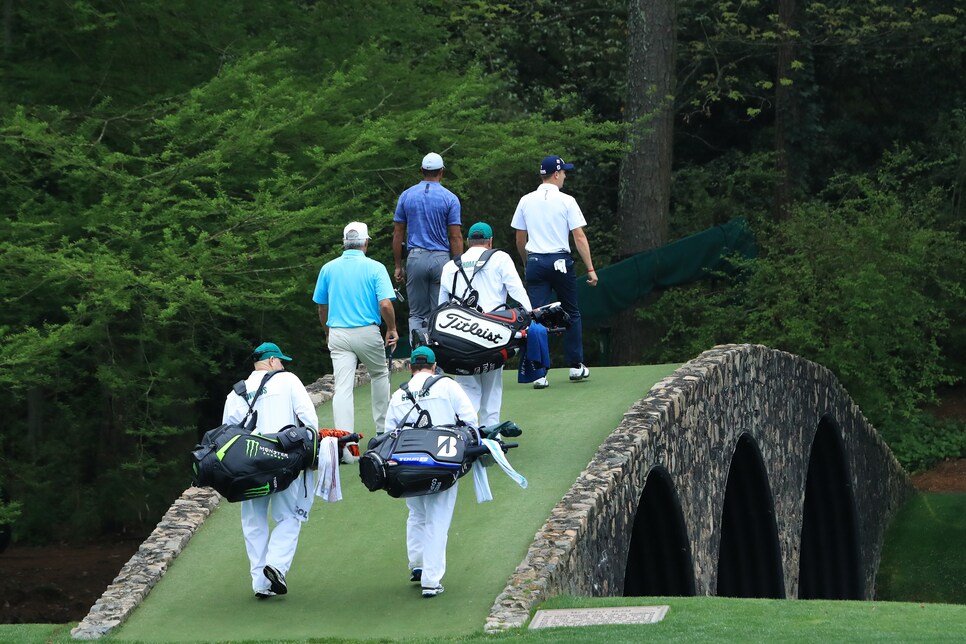 Tiger Woods, Justin Thomas and Fred Couples walk across Hogan Bridge on the 12th hole during a 2019 practice round.
AR
Winning the Masters is resplendent with perks—a lifetime exemption to play in the event, the Champions Dinner, a gold medal, a sterling replica of the clubhouse trophy, honorary membership to Augusta National and, of course, your own green jacket. But just getting an invite to play in the tournament is memorable and not without reward.
The most notable, if overlooked, among them? The ability to play the course anytime the club is open.
"They let you come as much as you want," Webb Simpson says. "But if you bring someone, you have to be with a member. They also like for you to call a few days ahead of time to tell them when you're going to arrive, but they're pretty flexible."
It really is that simple.
If a player who is already in the field for the Masters wants to play the course ahead of the tournament, he just phones the club, where there's a good chance he'll speak to Tony Sessa or J.J. Weaver, Augusta National's two longtime head golf professionals. (Yes, they have two head golf professionals, which is a fascinating story in itself.)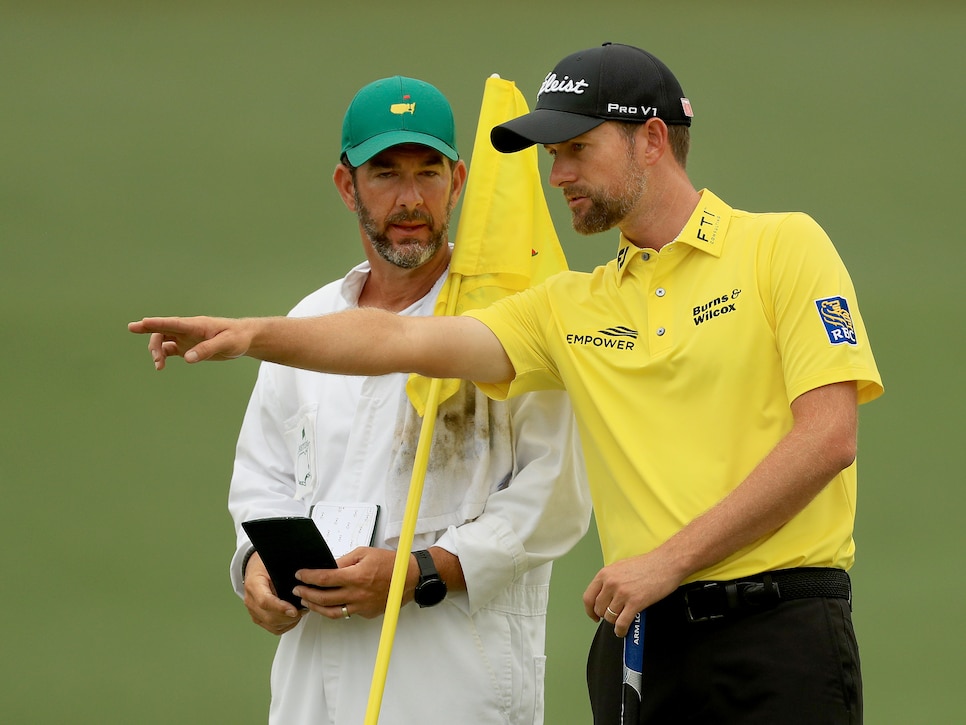 Webb Simpson and caddie Paul Tesori once played a practice round at Augusta, and the looper beat his player.
While there, the player must use one of the club's caddies, though his own is welcome to walk along with the group. Or the caddie can play if the tour pro is joined by a guest. That's what Simpson's regular looper, Paul Tesori, did on one of Simpson's visits, and in a match from the tips he birdied the 18th to beat Simpson. Members are also happy to host and many do so regularly, maintaining longtime friendships with several tour players. Past champions, meanwhile, can also bring guests on their own.
Players also can make more than just a day trip out of it by staying in one of the many cabins on the property and enjoying all the accoutrements of Augusta National, so long as they are, again, hosted by a member. Other activities on the grounds can include playing the Par-3 Course and having dinner, for which a jacket and tie is required. Not that anyone minds, and members are usually insistent on picking up the tab for all of it.
"You make a phone call to the pro shop and say 'I'm playing [in the tournament] this year and I'd love to come and play a practice round,'" Jimmy Walker says. "It's super chill. I think the public has the perception that Augusta National is a very uppity and stuffy place. It's not. The members are amazing. So is the staff."
One year, Rory McIlroy bumped into Tom Brady and Peyton Manning in the club's workout facility. Another time, Walker, prior to his first Masters appearance in 2014, got to take his father and father-in-law, and later got to see the member he'd befriended make a hole-in-one on the Par-3 Course.
Charles Howell III, who grew up in Augusta, first played the course when he was just 10 years old and has played there an estimated 50 times, remembers how different it felt when he went there to play in advance of the first time he'd qualified for the tournament in 2002.
"The members, the staff, they're so good to us. They don't wait until April to make you feel special," Howell said. "But of all the times I'd played there, the first time I was eligible for the tournament, it felt a lot more real. Oh my goodness, it was a lot more real.
"I remember how serious it all felt. The caddies are in the same uniforms you see in the tournament. You're not out there on a cart with your buddies. It's relaxed, but it feels like a very formal round."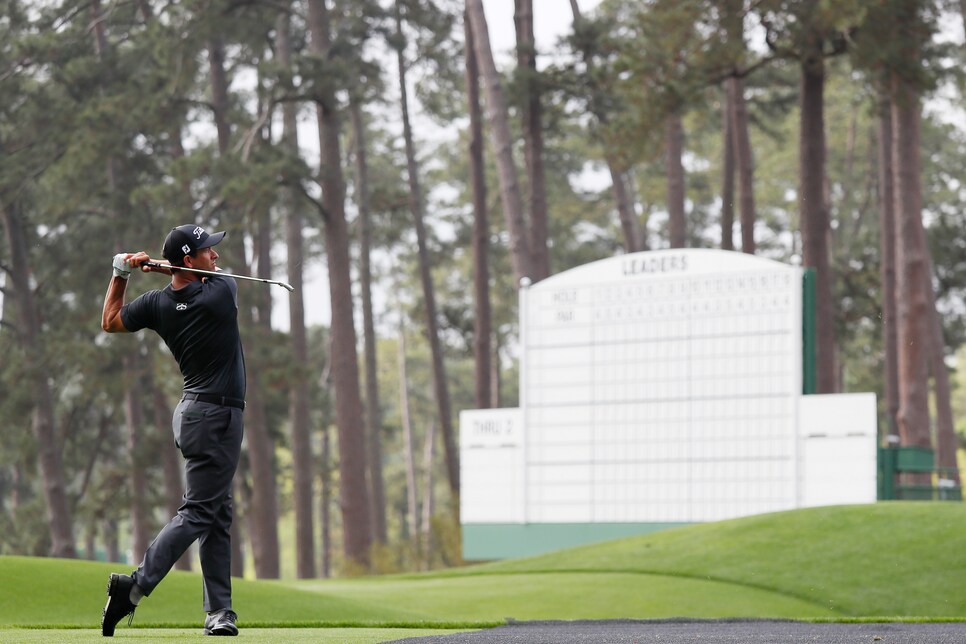 Adam Scott wasn't able to take an early practice trip to Augusta this year because he tested positive for COVID-19.
jc
But this year it's also different. The COVID-19 pandemic resulted in the Masters being postponed from April to November for what will be the first fall playing of the tournament. And with the club having been closed until Oct. 12, far fewer players were able to get there ahead of this year's tournament.
Tiger Woods made a trip last Saturday for his first visit since his memorable 2019 victory, which was good for a fifth Masters title and 15th career major. Others have been there, too, albeit in much smaller numbers than usual.
Still other haven't been as fortunate.
Adam Scott, who won the Masters in 2013, planned to visit Augusta National this fall. Then he tested positive for coronavirus ahead of last month's Zozo Championship and had to quarantine, forcing him to scrap his early visit to Georgia.
"Obviously my golf preparations have taken a bit of a setback the last few weeks," the Aussie said this week at the Houston Open, where he was making his final start before heading to the Masters. "Not getting any practice in for those 10 days either is a little setback, but I've actually come out swinging good this week and at least feel fresh."
Then again, some will argue that a trip to Augusta in advance of the Masters doesn't necessarily do much good anyway, in the fall or spring. The course plays differently—longer, softer, slower—in the weeks and even days leading up to the tournament.
That's not to say a visit isn't worth it from a preparation standpoint.
"It's really mostly for me just getting on the uneven lies in the fairways," Scott said. "I feel like it's one of the most severe set of fairways we play on and there are pivotal shots. Obviously at all tournaments there are pivotal shots, but even like the second hole, being on that downslope at the top of the hill, getting comfortable and understanding how you have to shift your weight around in the setup and the swing, we just don't do that so much."
There's another, more obvious, reason to go.
Said Simpson: "Walking around Augusta, I feel like the little kid in me comes out. It's special."
Added Howell: "It's almost the best, if not the best perk, of getting into the tournament is getting to play a practice round. But we know the real reason for going, it's to get to play Augusta National. One hundred percent that's the reason."