Masters Rewind
Masters 2021: Hideki Matsuyama's patience pays off and 17 other parting thoughts from Augusta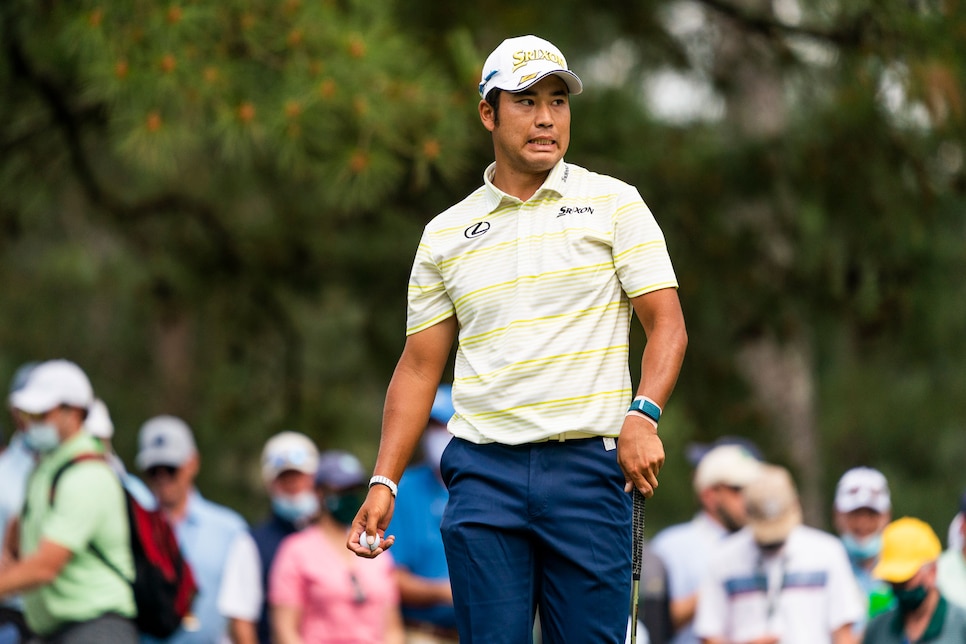 AUGUSTA, Ga. — Japan, rejoice.
Hideki Matsuyama satisfied the cravings of a golf-mad nation by winning the Masters, becoming the first man from the Land of the Rising Sun to win a major championship. That will be the enduring memory from the 2021 Masters. But, as always, a golf tournament is about so much more than the guy holding the trophy—or wearing the jacket—come Sunday evening.
Here are 18 parting thoughts from Augusta National.
1: We start, as always, with the winner. It wasn't so long ago that Hideki Matsuyama was a can't-miss kid. He and Rickie Fowler were the two players who hadn't won majors yet but were destined to win multiple. You can't be that constant of a presence on big-time leader boards without eventually finishing on top of one (or several). It was only a matter of time. Or at least, that's how the thinking went.
Matsuyama's subsequent dip in form since his last tour win at the 2017 WGC-Bridgestone Invitational wasn't anywhere close to as dramatic as Fowler's ongoing fall, but he had begun to fade from golf's consciousness. The lowest Matsuyama ever dropped was to No. 32 in the world, so it's not like it was a violent disaster. But, in a way, such a slow-but-steady decline is even more rare. Guys completely lose their games all the time; much less often does a top-five guy become just another good player, especially in his 20s and without significant injury.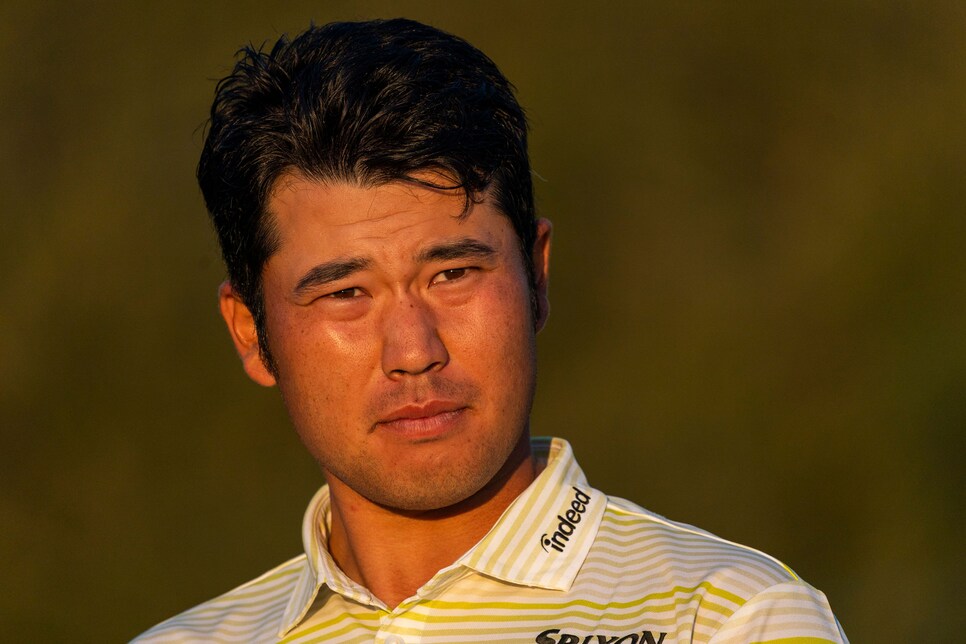 Will this victory propel Hideki to the heights he reached in 2016 and 2017, when he climbed to No. 2 in the world? Perhaps. For what it's worth, the win, his sixth on tour, came without much in the way of warning signs. His last six stroke-play finishes coming to Augusta: T-42, MC, T-15, T-18, MC, T-30. And he didn't have a top-10 in a major since the 2017 PGA. Understandably, he was hardly mentioned in the run-up to this Masters. Can't recall a single article or TV segment where someone picked him. And then, boom.
The 29-year-old's win is a reminder of just how long a golf career is, how many twists and turns it can take, and how this sport is so impossibly hard to predict.
2: For a guy who has only played PGA Tour events since last September, Will Zalatoris is hella polished. (You'll notice I used hella, NorCal slang, because he was born in San Francisco. I'm here all day, if you're wondering). We're talking about his game, but also his demeanor. After his opening-round 70, he said "if I'm stupid enough to think I can play here, then I'm stupid enough to think I can win it." Bold. On Saturday, he said after playing in the final group: "I thought I might have been a little bit more nervous than I was." On Sunday, after finishing one shot short winning of the Masters in his first try, all he could think about were the shots he left out on the par-5 13th; he three-putted for par on Sunday and played it even par for the week, a costly effort on the easiest hole on the course.
There's a confidence with the 24-year-old that borders on cocky, but in the right way. Plenty of golfers are cocky; you almost have to be in this solitary game. But Zalatoris' confidence stems from training with Jordan Spieth and playing money games with Tony Romo. He's rubbed shoulders with golf's elites since he was a kid—Ken Venturi gave him a lesson at age 6, and Lanny Wadkins was telling him how to play Augusta when he was 12—and has spent heaps of time around exceptional people. It's clearly rubbed off. Don't be surprised if he makes the Ryder Cup team this fall; he has that juice.
3: Speaking of Zalatoris … with his emergence, the 2017 U.S. Walker Cup roster continues to look more and more ridiculous. You've got Zalatoris, Collin Morikawa, Scottie Scheffler, Cameron Champ, Maverick McNealy, Doc Redman and Doug Ghim. All of those guys are already legit PGA Tour players, and the oldest among them is 25. The group is going to give the vaunted 2007 U.S. Walker Cup team a run for its money as the best of all time. That one had Dustin Johnson, Rickie Fowler, Webb Simpson, Billy Horschel, Chris Kirk, Kyle Stanley, Jamie Lovemark and Colt Knost. The advantage still lies with the '07 squad, but let's give the '17 crew a decade before we make a definitive call.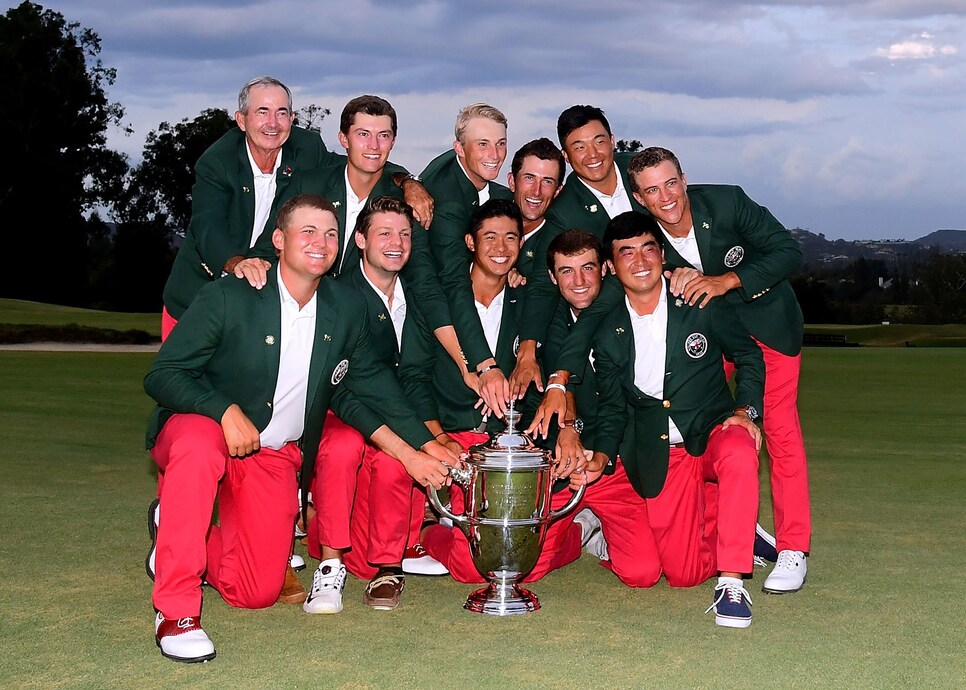 From the 2017 U.S. Walker Cup team, Maverick McNealy, Zalatoris, Cameron Champ (top row), Doc Redman, Collin Morikawa, Scottie Scheffler and Doug Ghim all are playing on the PGA Tour.
Harry How
4: It's hard not to think that Xander Schauffele wins this tournament if he hits the 16th green on Sunday. Consider the moment in context: Matsuyama has just made a mess of the 15th hole. Schauffele is red-hot; four birdies in a row and six in his last nine holes. He's just two shots back with three to play after being nine back earlier in the round, and he has the honors on the tee. If he hits that one stiff, Matsuyama slips into panic mode—hell, he bogeyed three of his last four anyway!—and the crowd reaches volumes it hasn't all week. Schauffele feeds off that energy, pours the birdie putt in …
Instead, his 8-iron landed a good 12 yards short and kicks into the drink. He claims he flushed it. He's either fibbing, or that's one of the worst yardages ever calculated given the gravity of the moment—especially considering the wind was 10 miles per hour tops. Either way, it was another disappointing finish in a huge spot for Schauffele. On the other hand, he now has eight top-10 finishes in 15 career major starts and six top-fives. You want to say it's a matter of time until he wins one, and we believe that's true. Then again, there are no guarantees in this game. See the musings on Hideki and Rickie above.
5: At the risk of blasphemy, as you walked around Augusta National, the tournament felt a bit flat, probably because of the patron situation. In November, you went in knowing this was going to be a one-off Masters with no spectators being let in, and you were prepared for the silence. This time, perhaps naively, we expected more.
Yes, there were patrons on-site again, but not very many. The unofficial calculation on attendance was 20 percent of normal, but it seemed closer to 10 percent. There were no grandstands and no real roars—when you're surrounded by just a few dozen people and not a few hundred, your sense of anonymity disappears. No one wants to be the idiot who yells "GET IN THE HOLE!" What resulted was a strange in-between. It wasn't silent like the tournaments during the height of the pandemic, nor did it feel normal as the Players did.
On Sunday, in the third-to-last group, Corey Conners had to back off his tee shot on 12 because he could hear the drone buzzing overhead. That's how quiet it was. Here's hoping we're back roaring next April.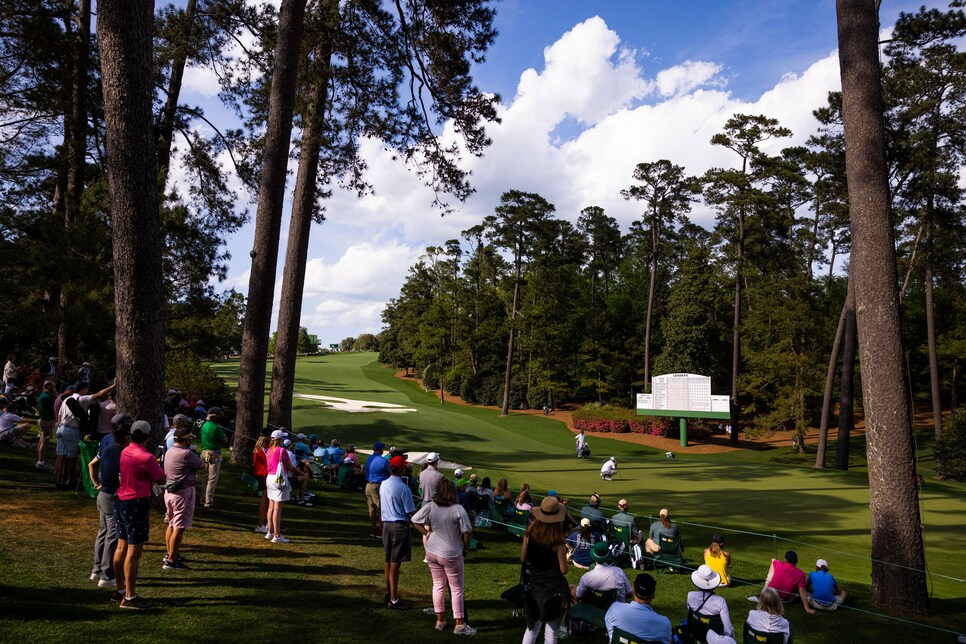 Having some patron was better than no patrons at all, but the tournament's atmosphere was still muffled.
Ben Walton
6: Reading between the lines of chairman Fred Ridley's press conference on Wednesday, a rollback on distance seems increasingly likely. The foundations for the move were laid in February, when the USGA and R&A deemed ever-increasing driving distance "detrimental to the game."
Ridley took it a step further in his first public comments since that report: "Fortunately, we do have the ability to make any number of changes to protect the integrity of the course. At the same time, we hope there will not come a day when the Masters or any golf championship will have to be played at 8,000 yards to achieve that objective. This is an important crossroads; so we will continue to urge the governing bodies and all interested parties to put forward thoughtful solutions as soon as possible."
By hosting one of the biggest golf tournament in the world, Augusta National sits at the table in any discussion about the future of the game. And its position on distance seems clear: this has to stop. The governing bodies are clearly on board, as well. But the PGA Tour and the equipment companies are not, and it's going to be a fascinating clash of competing interests. Without taking a side on the distance debate—it's a longer conversation for another time—it feels increasing from this writer's vantage point like the governing bodies and Augusta are going to get what they want. They make the rules; the others follow. People were really upset when the anchoring ban came down. Same when "U" grooves were outlawed a few years back. Change is scary and uncomfortable, but golf adjusts. It's been that way forever, and it will continue to be that way.
7: How tour pros react to having a bad hole provides a window into their mental makeup. There is no one right way, and everyone is different.
On Thursday, Jordan Spieth was one under through eight, cruising along just as you'd like in the opening round of a major. Then he made an absolute mess of the ninth, clanging a shot off a tree and three-putting from five feet for an eventual triple bogey—a crushing blow to momentum. He walked stone-faced to the 10th tee, deep in thought, impervious to a cacophony of well-wishing patrons. A few steps before he reached the tee box, his entire posture changed. His head rose, his shoulders pulled back, and it was back to business. He locked eyes with an Augusta member he recognized and asked him, "Hey, man! How are you?" And then he birdied the 10th.
Contrast that with Shane Lowry's start on Friday. After opening with 71, he started the second round with a slopy double bogey on the first hole, then made a 6 on the par-5 second, which felt like another double. As he stepped to the third tee, his caddie offered a few words of encouragement. "Just leave me alone right now, please" Lowry said firmly. Not quite rude, but not gentle, either. He then birdied the third.
There is no right way to react to things on the golf course. Every player is different, and what works for Jordan Spieth may not work for Shane Lowry. It's a beautiful aspect of this maddening game.
8: As for Spieth, he must be miffed with his T-3 finish, three shots short of Matsuyama, because his game was absolutely good enough to win this week. In hindsight, one bad strategy decision and one bad shot did him in. On Thursday, he refused to take his medicine on No. 9 and made triple. Then on Saturday, he caught a flier from the left rough on 7 and made double. There's no official strokes-gained data for the week, but most estimates had him leading the field in SG/tee to green despite those two mistakes. Stats experts also pegged him for losing ground on the greens—roughly 2.5 shots, it seems—which says a lot about the quality of his ball-striking right now.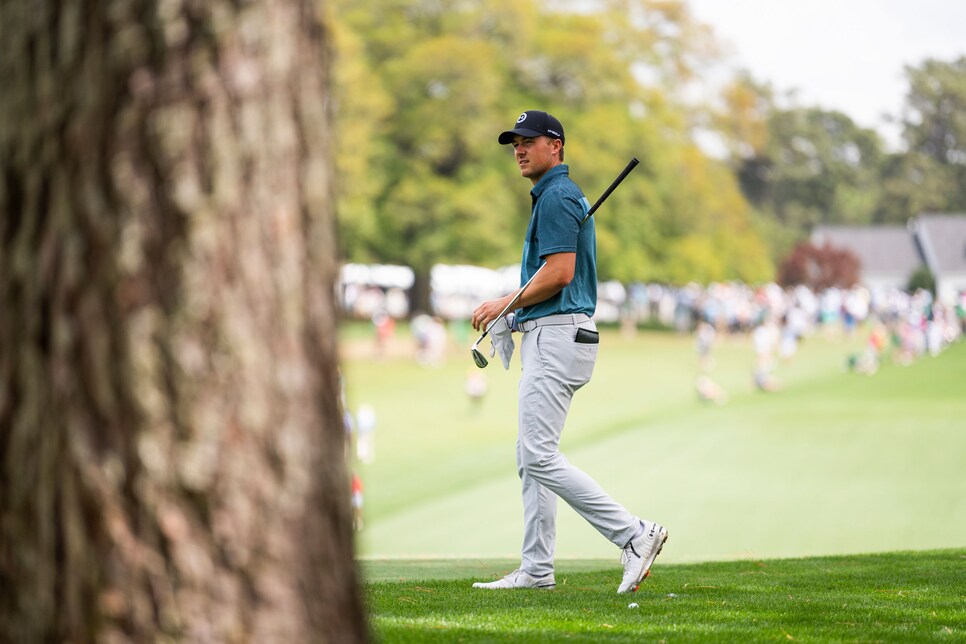 Spieth walked away from the Masters with his fourth career top-three finish.
JD Cuban
Beyond that, there's not much else to say. No need for more grand declarations announcing his return. He's top-five player in the world at the moment. His last eight finishes: T-4, T-3, T-15, T-4, T-48, T-9, WIN, T-3. 'Nuff said.
9: The no cell-phone policy provides so many fun little anecdotes every Masters week. A personal favorite is how many downright lies are told, with the liar knowing any Google fact-check ain't happening. It's amazing what a little liquid confidence and freedom from accountability can produce. Two of my favorites that I heard this week:
A young man assured his two friends that Justin Rose has won "a couple majors." He won the British Open, apparently, and "blew everybody out at Merion." For the record, Rose never won the British Open, and he won at Merion by one.
An even younger man told a woman, whom I presume was his romantic partner, that Matt Fitzpatrick is Irish, and that his uncle ran into an inebriated Fitzpatrick at a bar a couple months ago. Matt Fitzpatrick is English, hardly every drinks and most certainly was not chopping it up with some random in a pub.
Makes you wonder just how many untruths went unchecked in the pre-cell phone days.
10: Another fun byproduct of the no-phone rule, at least for journalists, is the sense of wonder that comes every time you step back into the press center. You hustle up the stairs, two at a time, to get a glimpse at the massive leader board. You ask your colleagues what you missed and hang on every word of their answer. Because you've not seen anything, you'll believe anything. It's a mad-libs of golf, so to speak. If you tell me Sergio Garcia took a nosedive into Rae's Creek, I'd believe you. If you told me Phil Mickelson climbed a tree to hit a shot righty, I'd believe you. And if you told me that Si Woo Kim snapped his putter shaft while in contention, I'd believe you. Only the last thing actually happened.
11: The celebrity-per-patron count at Augusta was off the charts this year. There are always a lot of people with their own Wikipedia pages at the Masters—including some ANGC members, of course—but this year, with normal-people attendance so limited, they seemed to be everywhere. An incomplete list of those who mingled on the grounds:
Justin Timberlake
Wayne Gretzky
Dwyane Wade
Peyton Manning
Patrick Mahomes
Macklemore
Travis Kelce
Mitch Trubisky
Ryan Fitzpatrick
Matt Hasselback
Trevor Lawrence
Dabo Swinney
Nick Saban
John Isner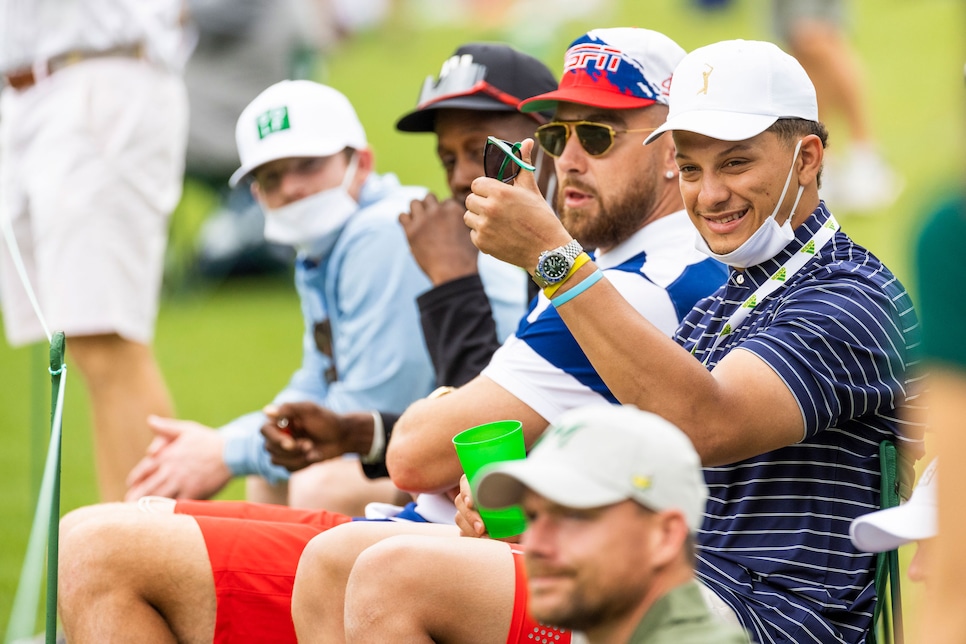 Travis Kelce and Patrick Mahomes take in some of the action at Augusta National.
Ben Walton
The cool part is, it's as close as you'll get to seeing how these people act outside the spotlight. They clearly have an expectation that the crowd at the Masters will be a classy bunch—not the type to accost them without warning. Plus, with no cell phones, they're not worried about being bombarded for selfies or photographed without their consent. They drink beer, they hold court with members and they act like normal people. It's cool to see.
12: Spend any time in post-round media scrums, and you notice a significant overlap in answers. "It's all part of the process," is en vogue right now, as is "I'm only worried about me and playing the best I can."
Another slightly less obviously banality is the reply to a question about a course getting firm and difficult. "I love it when it gets like that," said literally everybody. "I think it benefits my game when the course gets tough and you can't fake it around." It makes sense of course; you want to portray alpha energy, and being scared of the conditions flies in the face of that goal. But once—just once!—I want someone to stand up there and say, "Yeah, I hate when it gets windy and firm because my game is super fluky and unsustainable. I need the course as easy as possible in order to contend because these guys are way better than me."
13: The Tuesday press conference carousel typically finds players beaming about the state of their game and their confidence levels going into the week. Not Rory McIlroy.
The World No. 12 offered this honest (and somewhat depressing) assessment as to his game: "I'm trying to see the big picture here. I'm obviously focused on this week as this week is very important, but it's bigger than that. I'm just at the start of a journey here that I know will get me back to where I want to be."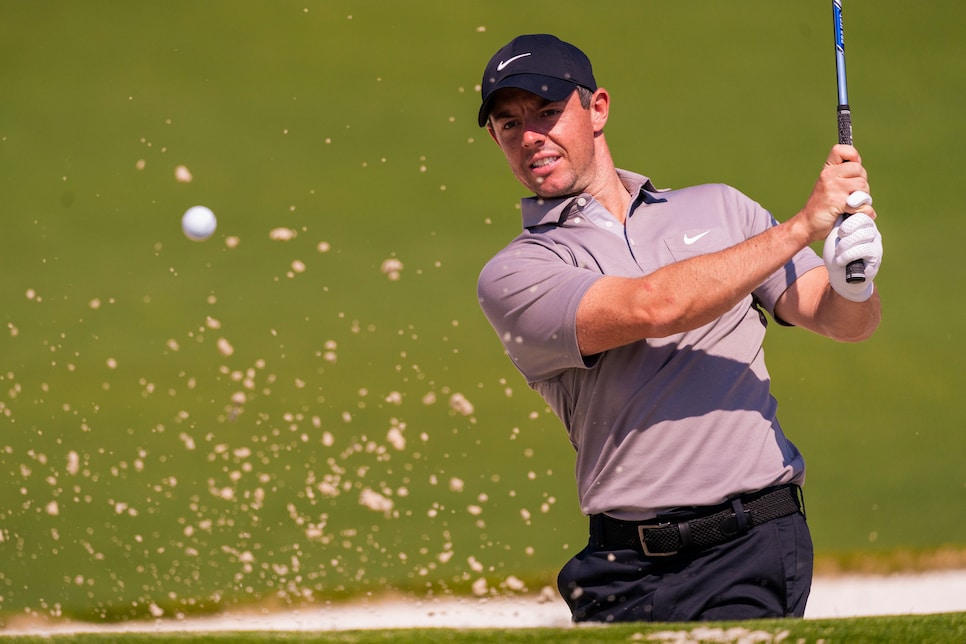 McIlroy missed the cut at the Masters for just the second time in 13 career starts.
JD Cuban
Translation: Winning ain't in the cards this week (and it wasn't as his 76-74—MC proved). He's recently started working with swing instructor Pete Cowen. And when we say working, we mean working—just 30 minutes before his tee time on Thursday, they were in full lesson mood. McIlroy hit one-handed chips right-handed, then left-handed, then Cowen would come in to show him the wrist action he wants, then McIlroy would exaggerate it, then McIlroy would hit a shot, than he and Cowen would discuss it. It cannot be easy to play a major championship on a course as difficult as Augusta with all those thoughts running through your head.
McIlroy has now missed the cut in each of his past two stroke-play starts and is a combined 16 over par in those four rounds. It can only go up from here.
14: A fun little nugget from Thursday. Matthew Wolff sprayed his tee shot OMG-right onto the pine straw on the par-4 third. Absolute jail. He found a window way up in the pines and launched a wedge that somehow found the putting surface. An awesome shot.
Sean Foley, who was walking along with the group following his student, Cameron Champ, turned to George Gankas, Wolff's coach. He smiled ear-to-ear: "Damn Geo! What do you think the launch angle was on that?!
"Had to be over 50, bro!"
It was a telling exchange—two of the game's premier young teachers, having just witnessed the type of recovery shot that makes people romantic about Augusta, and the first thing they thought of was the launch angle.
15: A less fun nugget regarding Wolff. No fun at all, really. He was disqualified after signing an incorrect scorecard on Friday—an ignominious end to another brutal week on the golf course. You can't help but feel for him; he's clearly going through something non-physical. He's a 21-year-old social butterfly who has spent the last year traveling from city to city, during a pandemic.
Yes, he's a millionaire and plays golf for a living. No, that does not make him immune to mental anguish. As Joel Dahmen so eloquently put on Twitter, "We all have our own battles no matter how big or small. Be sympathetic and compassionate to your fellow humans."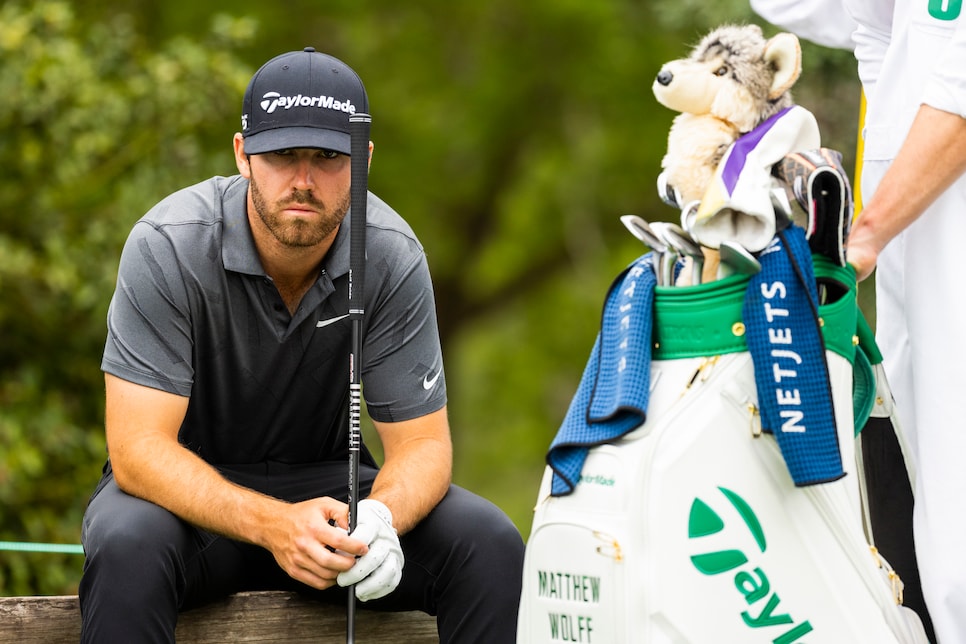 Matthew Wolff sits on a bench during the second round at Augusta.
Ben Walton
16: Augusta National is a living, breathing entity. The golf course constantly evolves, but so does the entire Masters ecosystem. For the last few years, there's been these two awful speedbumps during the shuttle ride from the press room to the course. They forced the shuttle drivers to come to a full spot, and everyone hated them. People complained, and scribes were overjoyed upon realizing they'd been removed.
It may not seem like much, but it's these facelifts that keep the tournament feeling fresh and relevant. They added a new sandwich this year, and a new beer. Masters.com and the Masters app grow more impressive each April. Hell, they posted an Instagram video with Still DRE by Dr. Dre and Snoop Dog playing in the background. Evolve or die, man.
17: The other par 5 on the back gets more attention, but for my money, No. 15 is a perfect golf hole. The fairway is wide as hell, but massive trees that jut in down the left force you to stay right of center if you want an unimpeded look at glory. If you do go for it, you're forced to send a long iron way up in the air if you want to hold the putting surface. The natural bail-out is in the right bunker, but the entire green slopes from right to left.
You're not going to lose your ball if you spray it in the right trees or pull one left, but you're laying up. Then, it's maybe the best wedge shot in the world: off a downhill lie, to a green with a devilish false front and a downslope over the back. They shaved that downslope tight this year, so multiple balls that landed over the green went into the water on 16. And the greens were so fast that at least three guys knocked it in the drink from just over the green. Just delightful.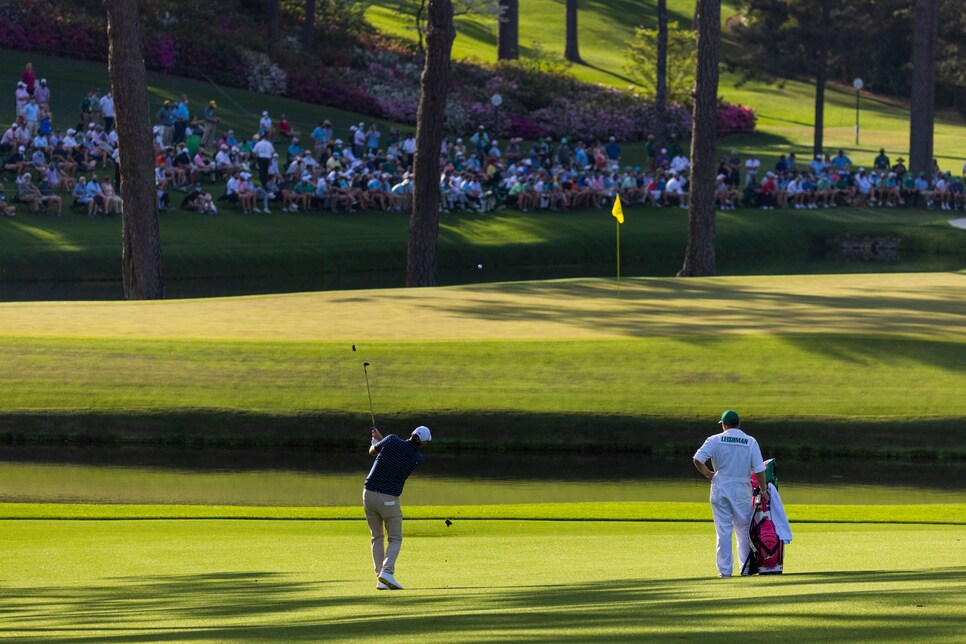 Marc Leishman hits his approach shot on the par-5 15th hole during Sunday's final round.
Ben Walton
18: The best sandwich at Augusta is the barbecue, and it's not all that close.
Until next year, friends.