Apparel
Masters 2020: Rickie Fowler's apparel is bold and everything we want to see at Augusta in November
Fowler's Puma looks at the Masters push the boundaries with striking colors and fun patterns
*All products featured on Golf Digest are independently selected by our editors. However, when you buy something through our retail links, we may earn an affiliate commission.*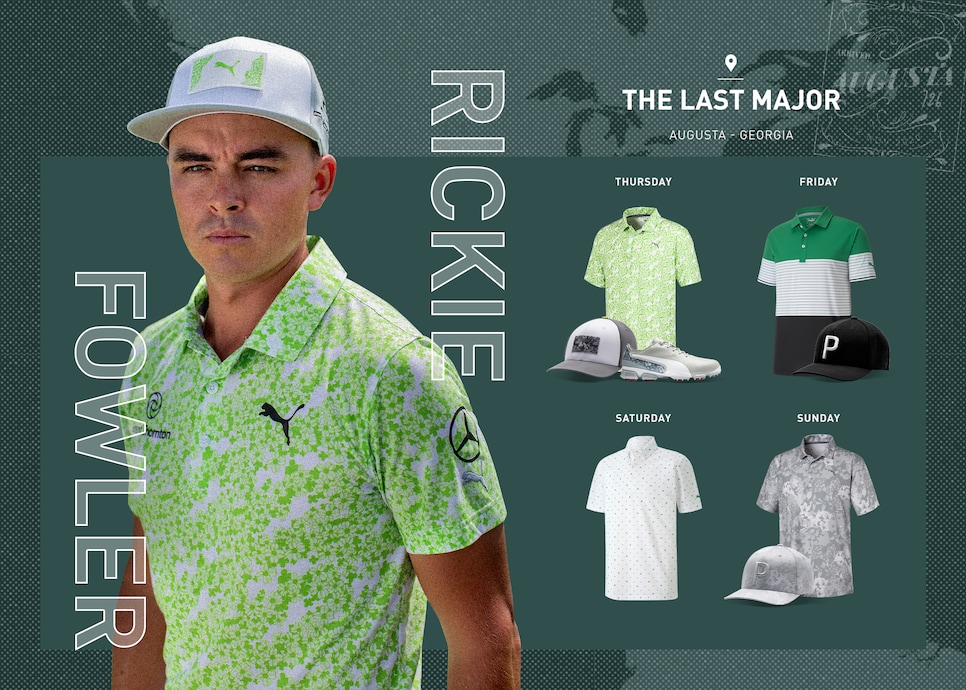 After the first round of the Masters, the on-course looks have been primarily green. That's a typical color for Augusta, but players have brought a broad range of the shade in this November Masters. As usual, Rickie Fowler is one of the players leading the charge style-wise, showing just how many ways green can be worn on the golf course. Here's a look at Fowler's Masters apparel scripting.

RELATED: Masters 2020: Our favorite gear to help celebrate the Masters—and stay warm on the course
During the first round of the Masters, Fowler wore a bold floral golf shirt designed with Augusta's dogwood flowers on No. 11 in mind. He balanced the bright green top with simple white pants and gray accessories to let the shirt shine. While this shirt has a springtime feel that would have looked great in April, Fowler pulled it off as a fall look. It would even look great paired under a navy quarter-zip or a dark bomber jacket for those playing in more temperate forecasts.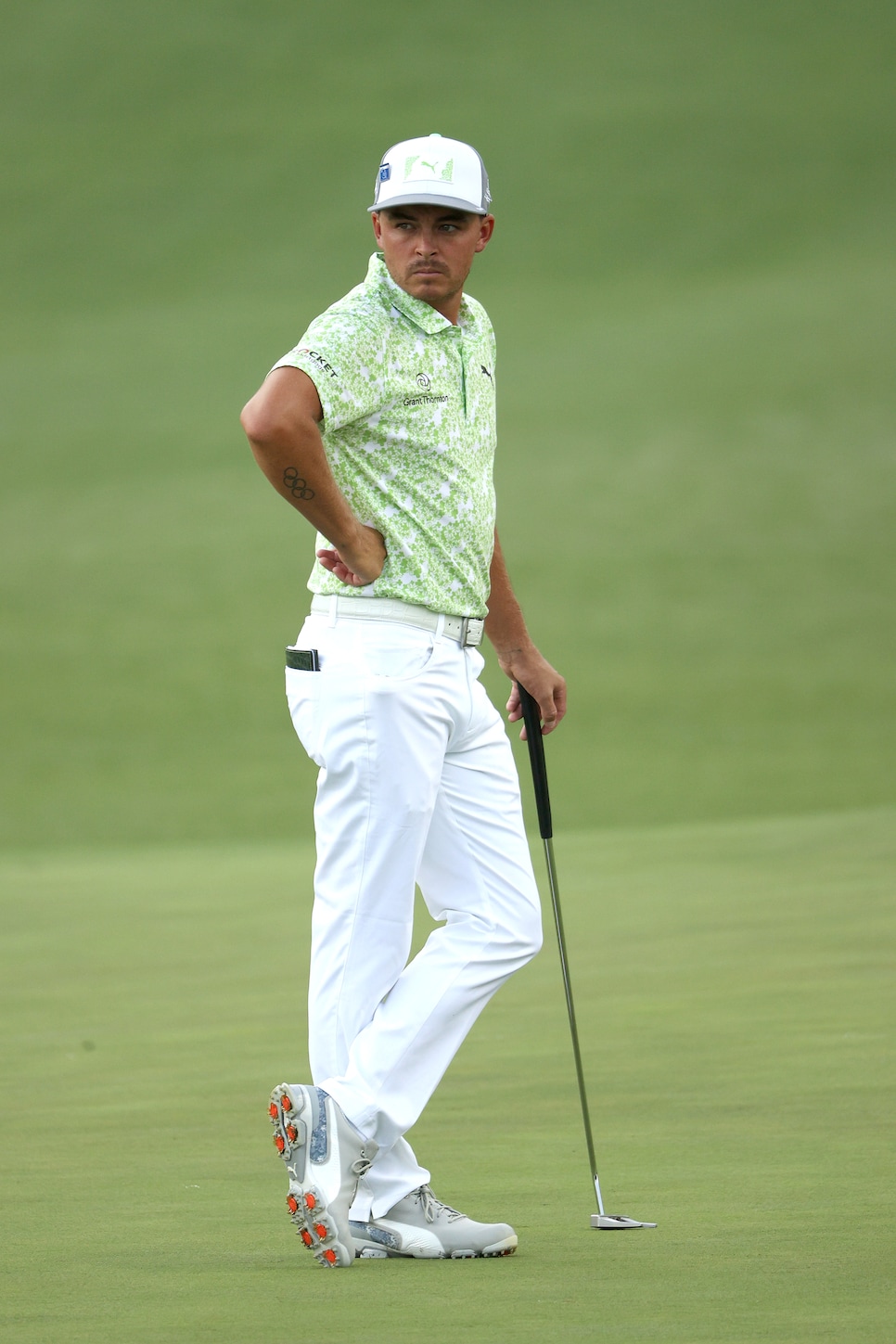 Rickie Fowler's First-Round Masters Look
On Friday, Fowler went with a slightly more polished look in the color blocked Puma Taylor Golf Polo ($70). Sectioned into three blocks, the top is a spin on traditional rugby stripes to create a modern-yet-athletic design. A regal green color coats the top of the shirt, subtle gray stripes cross the white midsection and a black base at the bottom tones down the brightness to make the look easy to match with black pants. Fowler wore this top with the Jackpot 5 Pocket Pant, but we'd love to see this paired with black joggers during a more casual round.
Rickie Fowler's Second-Round Masters Look
Fowler's moving day look is scheduled to be one you won't want to miss. He's set to wear a striking green shade of the Jackpot 5 Pocket Pant that is both stylish and fun. Typically you'll want to pair a solid top with bright pants, but not afraid to push style boundaries, Fowler will expertly pair with the micro-printed Pique P Golf Polo ($70). The primarily white top is has an allover "P" pattern in a shade of green to match his pant selection.
Rickie Fowler's Third-Round Masters Look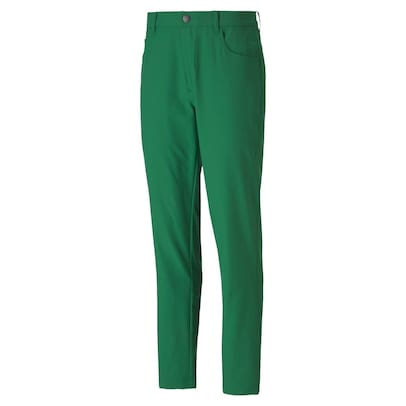 Puma Men's Jackpot 5 Pocket Golf Pants
Make a statement in these bright green pants from Puma that will have you looking like you just stepped off Magnolia Lane. The athletic material and moisture wicking design will keep you comfortable from the course to the couch. We can't promise that they'll make you play any better, but you'll definitely look like a pro in these pants.
For the final round, Fowler will return to his traditional Sunday orange look. He'll wear orange pants with the ultra-unique gray floral Tournament Golf Polo ($75). The pattern of the shirt was inspired by the flowers surrounding Amen Corner, and the gray coloring makes it perfect for pairing with bright pants. It's a great way to try the floral trend without bringing too many colors into the rota.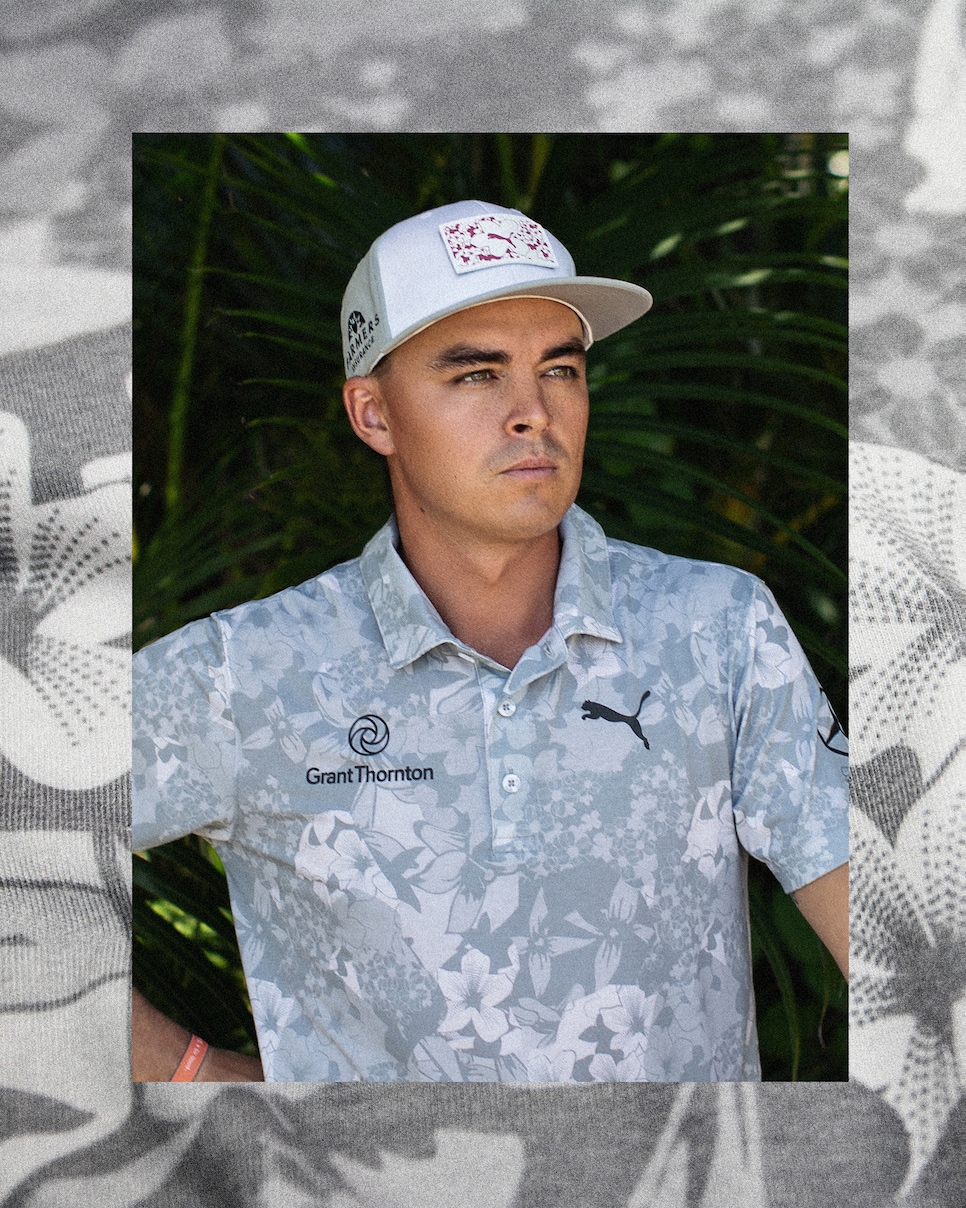 Rickie Fowler's Final-Round Masters Look