Looking ahead
A closer look at the interesting lineup of courses slated to host future PGA Championships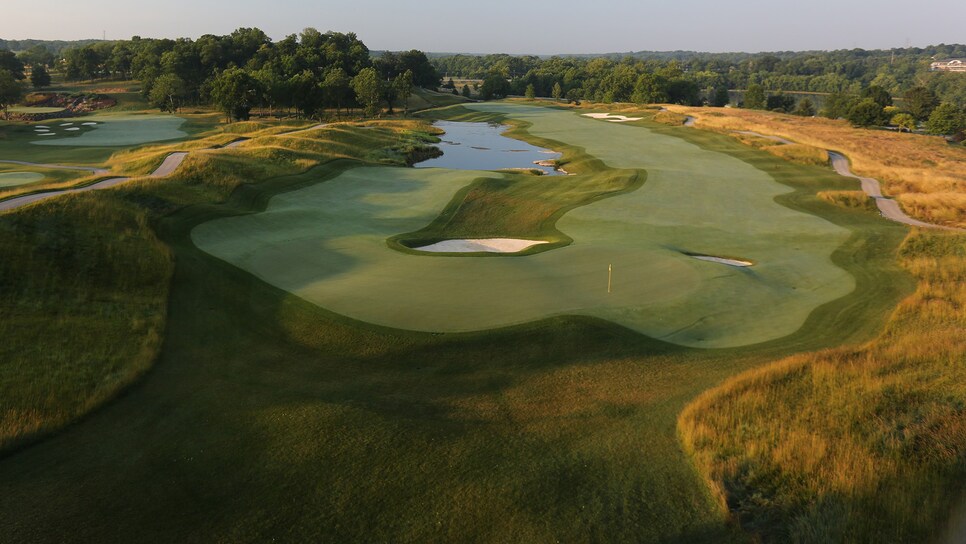 Valhalla Golf Club in Louisville, Ky., site of the 2014 PGA Championship, will return to host the 106th edition in 2024.
Over the next decade, the PGA will continue to return to familiar host sites—notably Valhalla in 2024, Quail Hollow in 2025 and Baltusrol in 2029—but will also visit courses last seen on the men's side when they hosted the U.S. Open, including San Francisco's The Olympic Club and Congressional, located just outside Washington, D.C.
Also slated to host the championship in 2027 and 2034 is the Omni PGA Frisco Resort, the new headquarters of the PGA of America that features two new courses designed by Gil Hanse and Beau Welling. The championship will be played on the Hanse-designed Fields Ranch East course, but you can play both courses at the resort as part of the National Championship for the inaugural Golf Digest Open this October—you can find out more details here.
Scroll on to see every course that is scheduled to host the PGA Championship and be sure to click on each page to learn more about each course, read experts' opinions and reviews from our panelists and readers.
2024: Valhalla Golf Club, Louisville, Ky.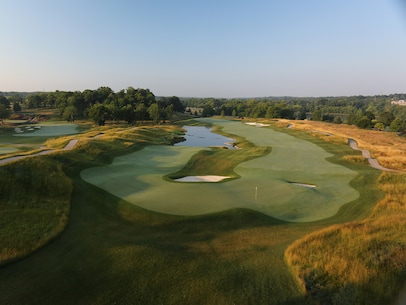 Given a difficult piece of land on which to create Valhalla (half the site was floodplain, with high-tension power poles), Jack Nicklaus drew on his training under Pete Dye and Desmond Muirhead to produce a unique design, with an alternate fairway par 5, a par 4 with an island green and an 18th green shaped like a horseshoe. Over the decades, Nicklaus returned periodically to update its challenges, and the club replaced turf and rebuilt bunkers as recently as 2022. Valhalla has proven to be a great championship site. It has hosted three thrilling PGA Championships, the latest Rory McIlroy's win in 2014, and will host a fourth in 2024.
View Course
2025: Quail Hollow Club, Charlotte, N.C.
Few golf course projects had more national attention in recent years than Quail Hollow, mainly because its front nine was redesigned just a year before it hosted the 2017 PGA Championship, won by Justin Thomas. The par-4 first and par-3 second holes were completely torn up, replaced by a new long dogleg-right par-4 opening hole. Several acres of pines to the left of the fifth tee were removed to make room for a new par-3 fourth. (With its knobby green fronted by three traps, it proved to be the most frustrating hole for pros in the 2017 PGA.) More pines were removed to the left of the par-4 11th, replaced by bunkers, and even more trees chopped down on a hill left of the par-4 18th to make room for money-making hospitality boxes. There's no question that this latest remodeling, rushed though it was, improved the course. The course was also rerouted for the 2022 Presidents Cup.
View Course
2026: Aronimink Golf Club, Newtown Square, Pa.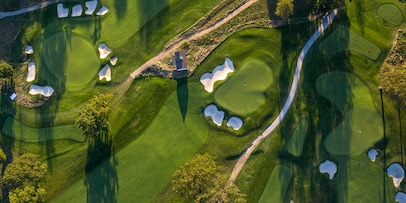 Private
Newtown Square, PA
Aronimink is an object lesson in architectural evolution. After Donald Ross completed his design in 1928, he proclaimed, "I intended to make this my masterpiece." That didn't keep club members from bringing in William Gordon in the 1950s to eliminate out-of-play fairway bunkers and move other bunkers closer to greens. The course was later revamped by Dick Wilson, George Fazio and Robert Trent Jones. In the 1990s and into the 2000s, Ron Prichard, one of the profession's original restoration specialists, began returning Aronimink back to Ross's conception based on the architect's drawings and field diagrams. But there was always a discrepancy between what Ross drew in plans and what was actually built in 1928. A more recent renovation by Gil Hanse and Jim Wagner, who live nearby, has put the course's architecture more in line with what aerial photographs depict of the early design, particularly the bunkering that might have been imagined as larger in scale but built in smaller, more scatter-shot formations.
View Course
2027: Fields Ranch East, PGA Frisco, Texas
2028: The Olympic Club (Lake), San Francisco, Calif.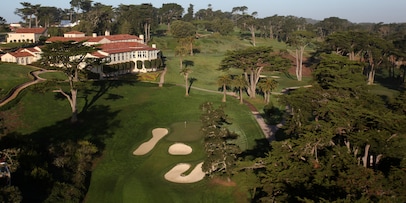 Private
San Francisco, CA
It seems fitting that, in a town where every house is a cliffhanger, every U.S. Open played at Olympic has been one, too. For decades, the Lake was a severe test of golf. Once it was a heavily forested course with canted fairways hampered by just a single fairway bunker. By 2009, the forest had been considerably cleared away, leaving only the occasional bowlegged cypress with knobby knees, the seventh and 18th greens were redesigned and a new par-3 eighth added. Despite those changes, the 2012 U.S. Open stuck to the usual script: a ball got stuck in a tree, slow-play warnings were given, a leader snap-hooked a drive on 16 in the final round, and a guy name Simpson won. If the past was prediictable, the future of the Lake Course more mysterious. The holes are being remodeled in 2023 by Gil Hanse and Jim Wagner in preparation for the 2028 PGA Championship, and it remains to be seen what version of the Lake Course will ultimately emerge.
View Course
2029: Baltusrol Golf Club (Lower), Springfield, N.J.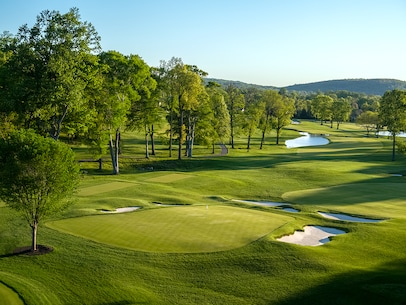 Jack Nicklaus won two U.S. Opens on Baltusrol's Lower Course, setting a tournament record each time. Phil Mickelson and Jimmy Walker won PGAs on it. But the Lower's most historic event was the ace by architect Robert Trent Jones in 1954 on the par-3 fourth, instantly squelching complaints of critical club members who felt Trent's redesign made it too hard. Trent's younger son, Rees, an avowed A.W. Tillinghast fan, lightly retouched the Lower's design for the 2016 PGA Championship. But there has been another changing of the guard at Baltusrol, as architect Gil Hanse and his team took over as the club's new consulting architects, and re-opened the restored Lower course—after carefully examining Tillie's old plans and reclaiming green size and rebuilding bunkers—in May 2021. The results, while praised, did not alter the course's standing in the 100 Greatest ranking--it remains at no. 45.
View Course
2030: Congressional Country Club, Bethesda, Md.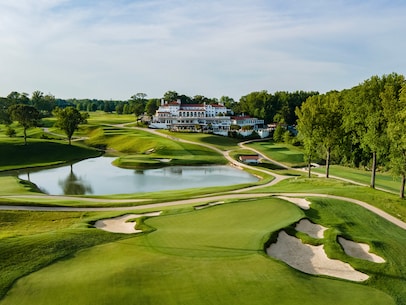 Congressional's Blue Course had been an icon of traditional American parkland golf since the 1964 U.S. Open. Prior to that event, Robert Trent Jones combined nine remodeled Devereux Emmet holes with nine new ones of his own to create the modern Blue, and those holes were remodeled and reshaped several times by son Rees Jones for the 1997 and 2011 Opens. All the while, the trees around them matured, creating dense, shadowy corridors of wood. Drainage issues and declining course conditions motivated the membership to considier a major overhaul in 2020, and that's what they received when architect Andrew Green reimagined the course as somethiing that Emmet might have originally designed, denuding the property of its forests and creating broad, rollicking fairways that tumble through meadows of long fescue punctuated by fearsome bunkers and bold, segmented greens. Parkland golf Congressional is no more, and the remodel, which included a new, drop-shot par-3 10th hole, earned the course our Best Transformation award for 2021 and a jump of 18 spots in the 100 Greatest ranking.
View Course
2034: Fields Ranch East, PGA Frisco, Texas