Kiawah Island Golf Resort: The Ocean Course
Kiawah Island, SC • Public
1 / 7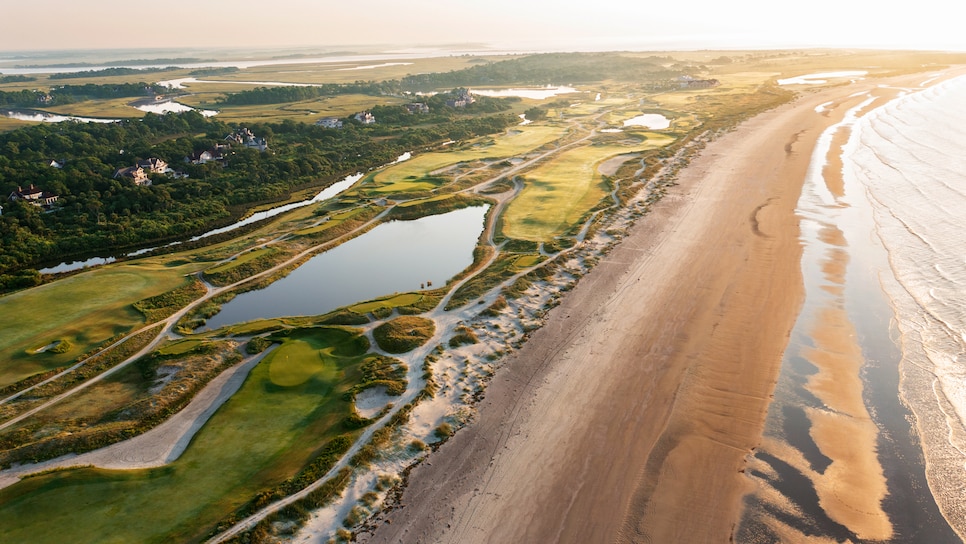 2 / 7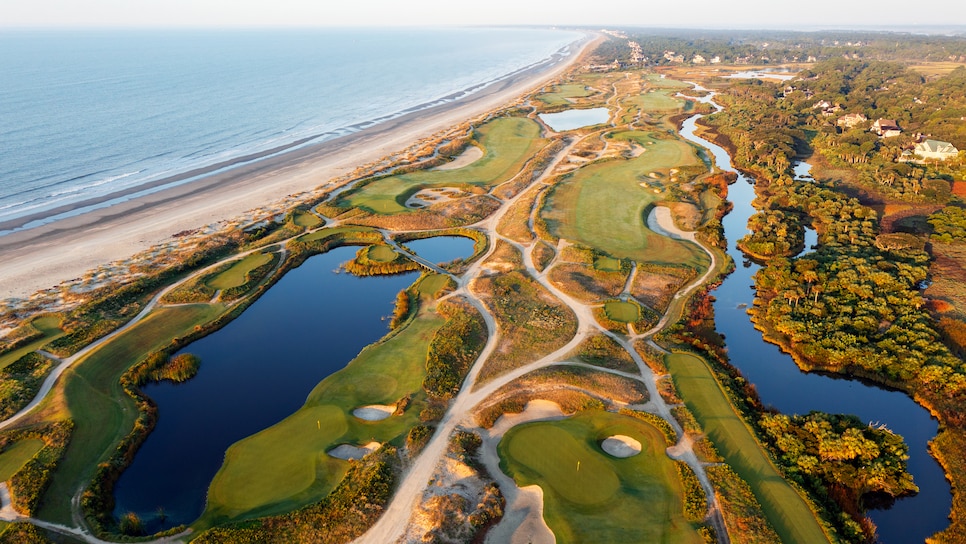 3 / 7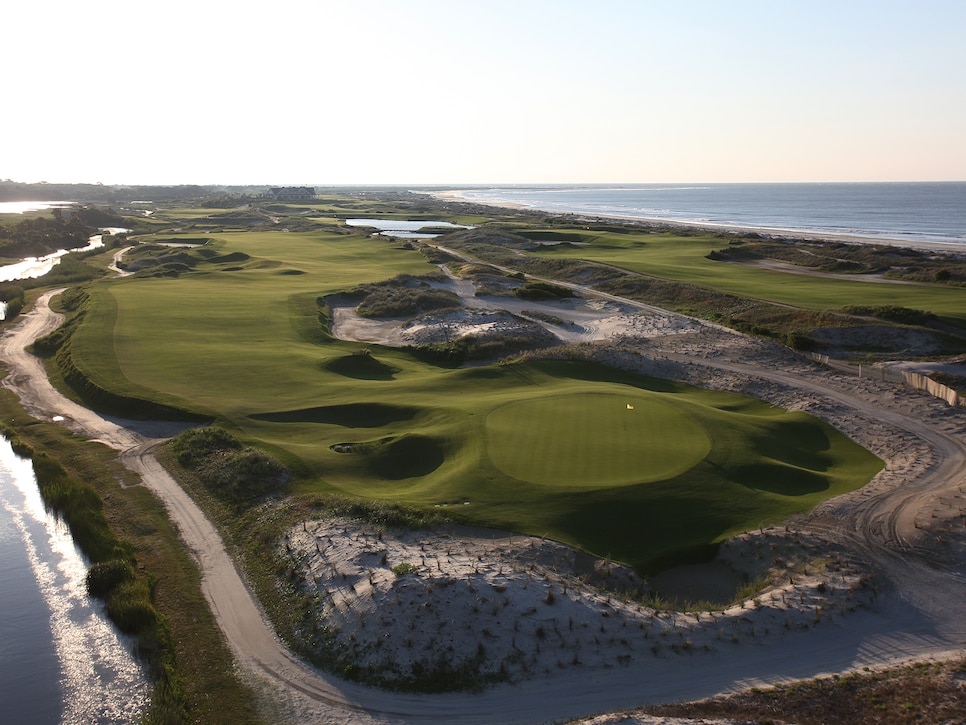 4 / 7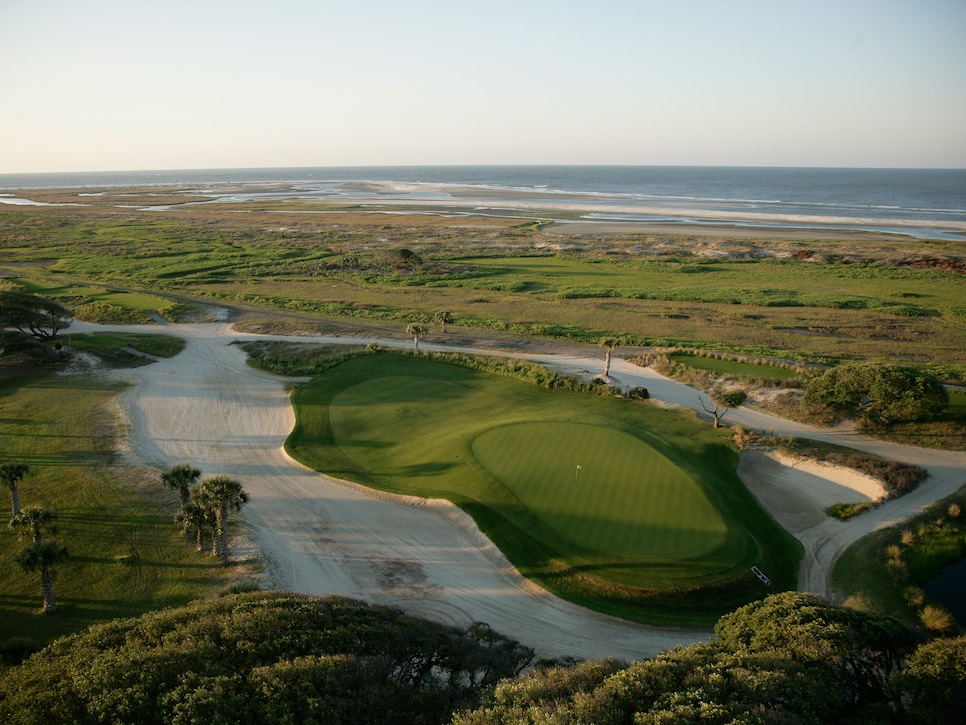 5 / 7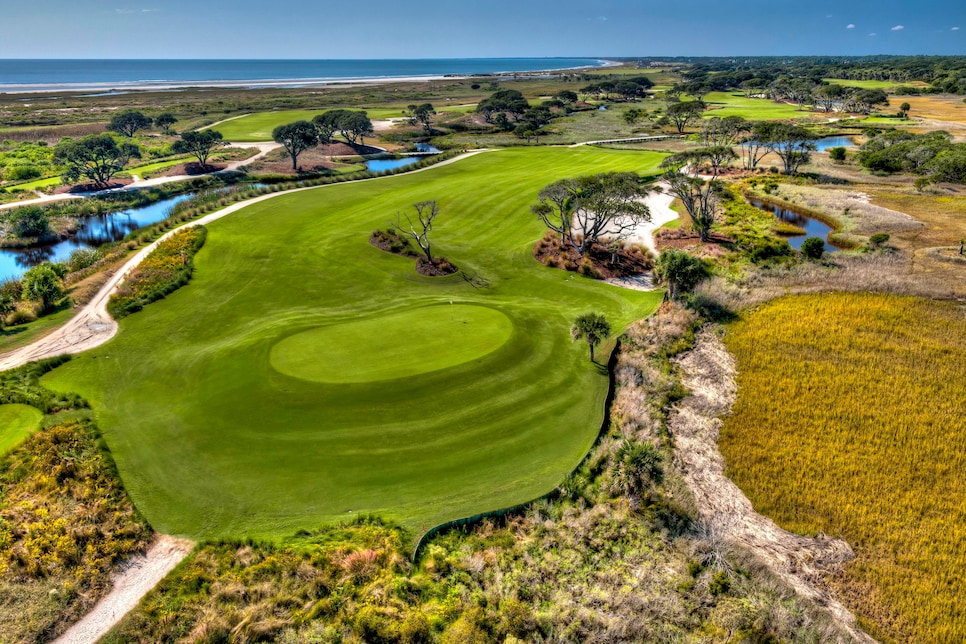 Behind the third green at the Ocean Course.
Uzzell Lambert
6 / 7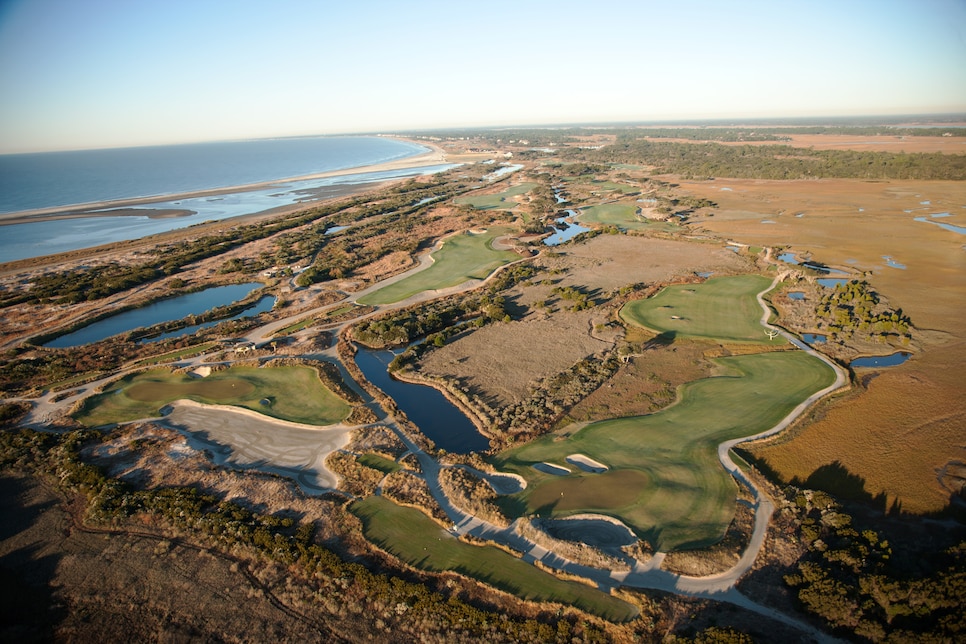 7 / 7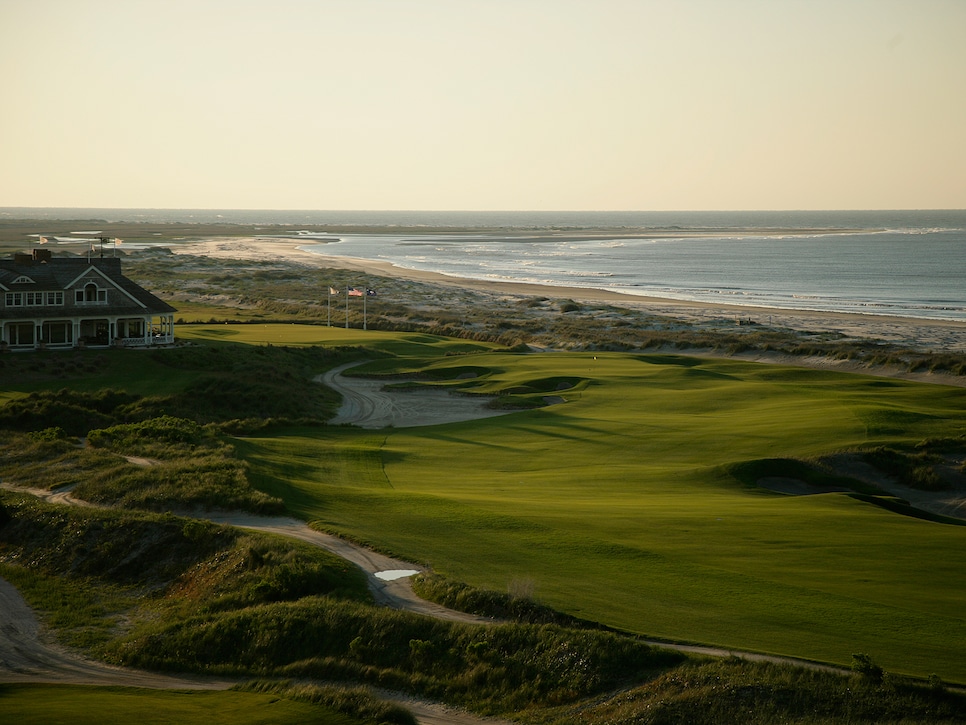 Overview
Often considered to be the first course designed for a specific event—the 1991 Ryder Cup—this manufactured linksland-meets-lagoons layout might well be Pete Dye's most diabolical creation. Every hole is edged by sawgrass, every green has tricky slopes, every bunker merges into bordering sand dunes. Strung along nearly three miles of ocean coast, Dye took his wife's advice and perched fairways and greens so golfers can actually view the Atlantic surf. That also exposes shots and putts to ever-present and sometimes fierce coastal winds. The Ocean Course will forever be linked with Phil Mickelson and his improbable victory at the 2021 PGA Championship.
About
Designer
Pete Dye & Alice Dye
Awards
100 Greatest: Ranked since 1997.
2023-'24 ranking (and previous): 24th.
Highest ranking: 20th, 2015-'16.
100 Greatest Public: Ranked since the inaugural edition in 2003.
2023-'24 ranking: 3rd.
Previous ranking: 4th.
Highest ranking: 3rd, 2015-'18 and current.
Best in State: Ranked first since 2011.
Watch our exclusive drone tour
Panelists
Ratings from our panel of 1,900 course-ranking panelists
100 GREATEST/BEST IN STATE SCORES
Reviews
1 / 22
Review
"The wind makes all the difference at the Ocean Course and and dramatically change the way it plays. Perfectly placed hazards, interesting green complexes and its very walkable. My only negative is that every hole is straight out and not many doglegs with interesting lines off the tee."
Read More
2023
2 / 22
Review
"A challenging test of golf. Unlike many golf courses around the country, the potential of disaster lurks with every shot. Generous fairways with diabolical green complexes."
Read More
2023
3 / 22
Review
"Better hope you brought all the shots in your bag, because you'll need them at Ocean. Pete Dye did a fabulous job of giving optically difficult tees that are actually forgiving landing areas. The marsh carries on the first few holes provide some exceptional aesthetics and the anxious factor of forced carries, and the finishing 5 holes stand up against the best in golf. Tough, demanding holes playing into the prevailing provide equal parts excitement and torment as you head for home. So fun, didn't want it to end. Conditions were solid, but left a little something to be desired (this could be both a seasonal component and playability for the resort golfers). The waste bunkers, however, provide a natural feel to the conditioning that was both welcomed and challenging."
Read More
2023
4 / 22
Review
"The Ocean Course offers many different shot options throughout the course. While many holes set up well for driver off of the tee, there are often line up questions with risk reward carries and angles (holes 2, 7, 13 to name a couple). But where the course excels is in the approach and short game options. Whether iron should come in high and at the pin or roll up, how much loft to put under chips -- these are the key decisions to make on all 18 holes. The course is incredibly challenging, almost to a fault. From the lengthiest tees (available to play daily) 7300 yards, it would be tough for even the best of causal golfers to reach greens in regulation and make pars. Combine the length and tough approaches with brutal wind conditions and this is a bear of a course. Doglegs are split approximately 4-4 with a par 5 in each category. Bunkers line the far side and close side about evenly (and some of those bunkers are quite daunting -- see challenge/aesthetics). The par 4 holes range from almost reachable (3, 6 13) to long (4, 9). The par 5s also have good variety, with reachable 7 to the mammoth 16. The par 3s however, are all about 200 yards (from the back tees) with the exception of 14 which is longer. Elevation changes also keep the course varying from hole to hole, along with numerous pin locations. The name says it all -- with large stretches of the course riding the coast line, it's like nothing else in golf. The way hole 14 hits from the high point on the island down toward the water is fantastic, additionally the course does a great job with the away from the water holes, highlighting trees, marsh land and the like. One item of note are the unique bunkers with high elevated lips, really are quite something. The fairways were firm and rolled well, but the greens were in abysmal shape. Pot-marked, patchy, and inconsistent roll was present both days I played the course. In seeking explanations, both caddies and starters didn't offer any reason to say this would be out of the ordinary. So, while I assume that the course does have better conditioning most of the year - I feel justified in reviewing poorly due to the lack of clear explanation. The course gets high marks in character for a few reasons: one, its uniqueness for raised land near the ocean. Many beach/shore courses are flat and do not offer the undulations that the Ocean Course does. This alone gives high marks here. Secondly, the proximity to the city of Charleston, the walking only nature of the course, add to the score."
Read More
2022
5 / 22
Review
"Difficult Pete Dye design, especially when the wind picks up."
Read More
2022
6 / 22
Review
"Scenery, History, Challenge, Conditioning, everything about the Ocean Course is something worth experiencing."
Read More
2022
7 / 22
Review
"A notoriously difficult yet breathtaking course, Pete Dye's Ocean Course has captivated golfers since hosting the Ryder Cup in 1991. The front 9 winds through marshland and is lovely but the course really picks up on the back 9 with holes playing right along the beach and offering terrific views. A wonderful championship venue, Phil Mickelson won the 2021 PGA Championship here. Although not cheap, every serious golfer should experience the Ocean Course once."
Read More
2022
8 / 22
Review
"It is hard to put into words how nice of an experience this is. I have to pinch myself sometimes being so lucky to live so close to here. Dye's masterpiece, it's very pricey to get on, but it should be on everyone's bucket list to play this course at least once. If you can, walk it either carrying your own bag, or with a caddie. It's one of the best walks you'll ever do!"
Read More
2021
9 / 22
Review
"A brute if the wind is blowing. Back 9 is really, really tough."
Read More
2021
10 / 22
Review
"Great course with plenty of challenging holes but anyone can enjoy it if they play the correct tees. Beautiful views and an awesome clubhouse."
Read More
2021
11 / 22
Review
"With a prevailing wind from the NE in the Fall and from the SE in the Spring, the 10 beachfront holes, and the course overall, can play from dramatically different perspectives. Sea level limitations in elevation change and design repetition at 10, 11 and 16 are the few and far between deficiencies that this course relinquishes."
Read More
2020
12 / 22
Review
"The Ocean Course is a great golf experience with awesome views and challenging holes. If the wind is blowing, it may not be the most "fun", but worth playing."
Read More
2019
13 / 22
Review
"Although it is oceanside, it is all about contours and playing to the target a la Pete Dye. Despite being a little contrived, the layout captures the feel of the South Carolina coastline. Plus, the quality of the resort adds tremendously to the experience of being there. And, there's a little history with a PGA Championship and Ryder Cup which always adds a neat aspect."
Read More
2018
14 / 22
Review
"One of the most difficult yet fair tests of golf. The only reason I can't give it a perfect score is that it might be a little too demanding for the higher handicapper. Views along the ocean are impeccable and sunsets from the clubhouse are unbelievable!"
Read More
2018
15 / 22
Review
"A stunning course in a spectacular setting, but WAY too difficult for all but the best. Play where a classic Ryder Cup unfolded, but expect to be frustrated."
Read More
2018
16 / 22
Review
"Very demanding but very unique course. Great scenery and lots of risk/reward choices. Very memorable place to play especially given its history."
Read More
2018
17 / 22
Review
"True links golf. My favorite course in the US—beats the heck out of Pebble but if you don't like links, you'll hate it and it's not cheap! Take a caddie! It's always cart path only—only use a cart if you have a handicap. Firm, fast, tough and wind is always a factor. Don't bring it weak! Golf as it should be in my opinion!"
Read More
2018
18 / 22
Review
"A bucket list course! A must Play."
Read More
2018
19 / 22
Review
"I'm not sure what you could do to improve the Ocean Course. It's brawny, interesting and fun from beginning to end and the place just oozes golf history. Take the plunge!"
Read More
2018
20 / 22
Review
"Great golf course and experience. It is tough, but remarkably playable for regular play."
Read More
2018
21 / 22
Review
"Hardest course in America. Not kidding. Play from a tee forward of where you think you should. It's 7400 from the back and plays a lot longer. There's lots of options so check the ego at the door otherwise you may not enjoy the round golf. It's on The Ocean, hence the name and can be pretty close to unplayable if the wind is blowing. It can blow so hard that you can't mark your ball at times. The greens are fast and firm. The waste areas are deep, and anywhere of the course is a lost ball. It is spectacular though! If it's not on your bucket list it should be. A caddie is a must unless you are on the PGA and hit every fairway in regulation. The practice green is on the beach, as well as the driving range. Definitely a place to spend the entire day. Sunset on the deck for dinner is not such a bad idea."
Read More
2018
22 / 22
Review
"Unbelievable course. One of the very best Pete Dye Master pieces. Not a place for very high handicappers. Course can play extremely hard if wind blows. Has feel of links course but not. Each hole is different. One for your book of life. Must play."
Read More
2018
Readers
Collection of reviews from our readers
There are no reader ratings yet
Reviews
There are no readers reviews yet. Be the first to write a review.