Kiawah Island Golf Resort: Osprey Point
Johns Island, SC • Public
1 / 1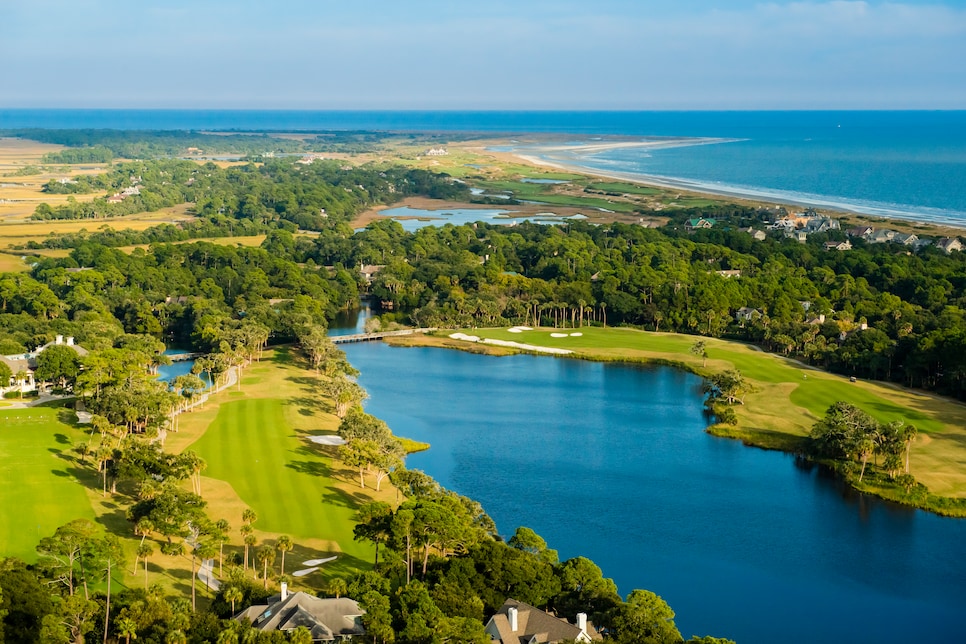 Overview
Renovated in 2014 by Tom Fazio, several holes at Osprey Point run parallel to water hazards and deep bunkers provide ample defense against greens of varying sizes. Nestled in the natural Lowcountry salt marsh, this track's stunning classic-style clubhouse also adds appeal.
Awards
Best in State: Ranked 34th, 2021-'22. Ranked 41st, 2023-'24.
2023-'24 ranking: 41st.
Panelists
Ratings from our panel of 1,900 course-ranking panelists
100 GREATEST/BEST IN STATE SCORES
Reviews
1 / 11
Review
"Osprey Point had a number of holes with decent risk reward off of tees (9 being the perfect example) but many more that really don't offer that much risk to reward balance. Around the greens there is the usual variety of choices on how to approach and chip to pin locations. One item to note is the great use of "grass bunkers" around greens to challenge wayward shots The course is very fair from the back tees and offers wide fairways, medium distance, and approachable green complexes. The Fazio design, with some additional length, could score well in this category -- but tipping out at 6750 won't challenge the best casual golfers (combined with the relatively flat terrain) The course has solid variation of lengths across the 3s, 4s, and 5s but lacks a bit in elevation change and doglegs. With only 1 "true" dogleg hole it falls short of great marks. That said, the design emphasizes the marsh carries and placement of bunkers to keep the player moving well through the course routing. More holes like the wonderful 9th would elevate this course into a higher mark, but even still the subtle touches (tree highlighted on 2, water carry on a couple par 3s, bunker on 6, etc.) are well done on this course Greens rolled true and were receptive, and had fair firmness. Faiways rolled well and were firm. A couple small drainage areas of issue around green on 10, but otherwise well conditioned"
Read More
2022
2 / 11
Review
"Generous fairways and a shortish course were protected by tough greens, well placed bunkers and water hazards. A good mix of dogleg rights and lefts and a variety of length on the 3s, 4s, and 5s. There were also some good risk/reward shots, in particular the 9th hole tee shot where the more aggressive your line, the more water you have to carry and the par 5 18th is reachable, but trouble everywhere around the small green. The aesthesis are tough to beat, and were my highest mark, with natural/native landscaping and beautiful low country views. Conditioning was also strong with the course playing firm and fast, with receptive greens."
Read More
2022
3 / 11
Review
"Tom Fazio resort course that offers wonderful playing conditions. Highlights of this course include the Par 3's and both finishing 9th holes."
Read More
2022
4 / 11
Review
"Nice Kiawah course water comes into play on 15/18 holes. Your score will really depend on what wind you get that day. I'd put Ocean and Cougar above this one, but if this is your third for the Kiawah trip that's a treat."
Read More
2021
5 / 11
Review
"My favorite course at Kiawah. Fun to play, not horribly tough, not easy."
Read More
2021
6 / 11
Review
"Enjoyable, typical resort style course. Great condition and scenic views."
Read More
2021
7 / 11
Review
"More room to play than some other courses on the island. I enjoyed it. Nice clubhouse."
Read More
2021
8 / 11
Review
"Several repetitive medium length 4 pars with water left and OB right within a beautiful housing community."
Read More
2020
9 / 11
Review
"Great track—other than the OC, this is my favorite at Kiawah. First class all the way."
Read More
2018
10 / 11
Review
"Second best course on Kiawah. Get course for walking and playing. Wide fairways with unique holes. Good course for all handicappers. Number nine a great hole. Good practice facilities. Good restaurant and southern style club house."
Read More
2018
11 / 11
Review
"If you are visiting Kiawah, Osprey Point is a great choice to warm up before you tackle Turtle or The Ocean Course. Osprey is fairly wide open, but does include marsh areas along a few of the holes. There is quite a bit of water, but it only affects the extreme wayward shot for the most part. It's a great option for a scenic player friendly hole to start off the trip"
Read More
2018
Readers
Collection of reviews from our readers
There are no reader ratings yet
Reviews
There are no readers reviews yet. Be the first to write a review.