Newtown Square, PA • Private
1 / 9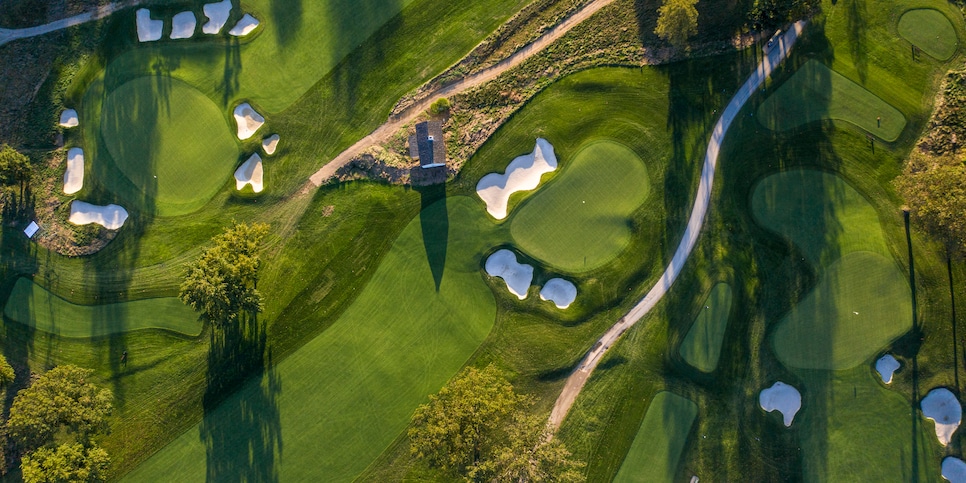 Andy Johnson/The Fried Egg
2 / 9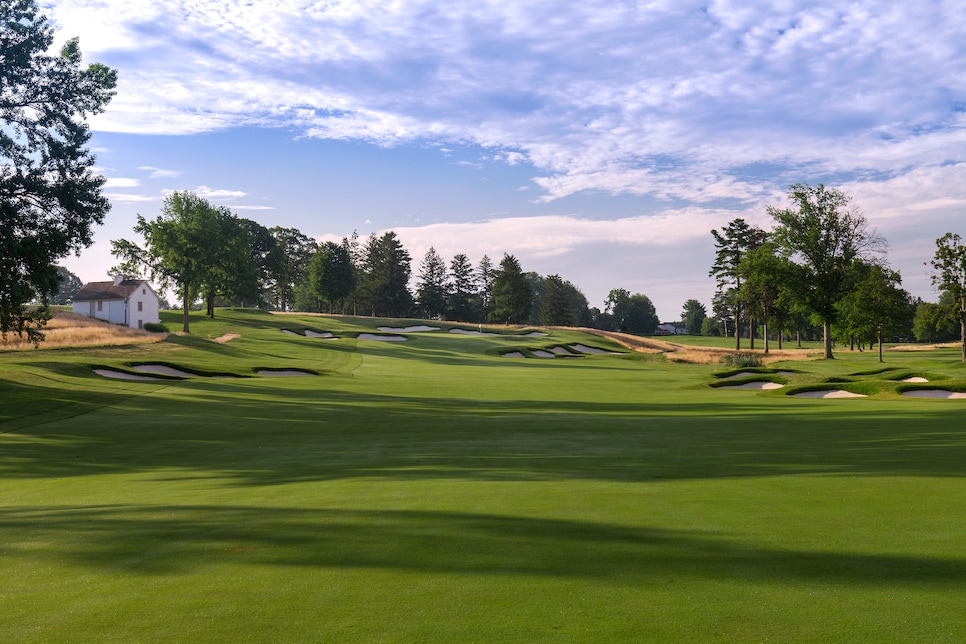 Donald Ross' creative bunkering seen at Aronimink's 11th hole.
Russell Kirk
3 / 9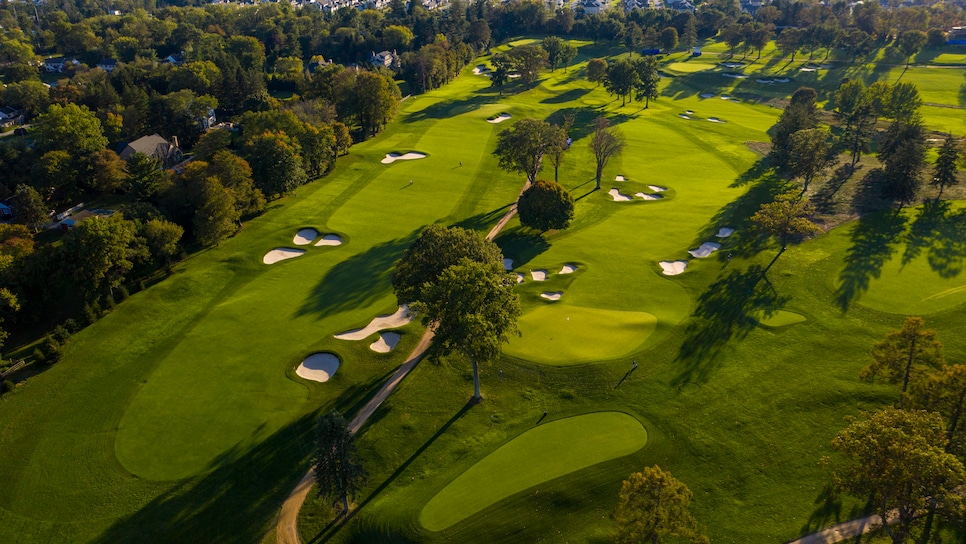 An aerial shot of the fourth through sixth holes at Aronimink.
Andy Johnson/The Fried Egg
4 / 9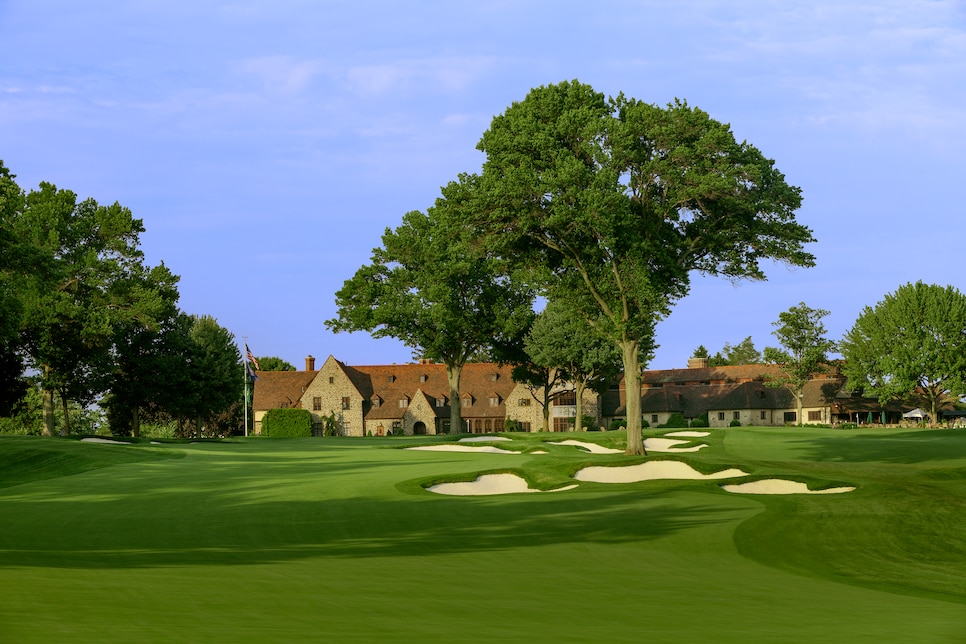 5 / 9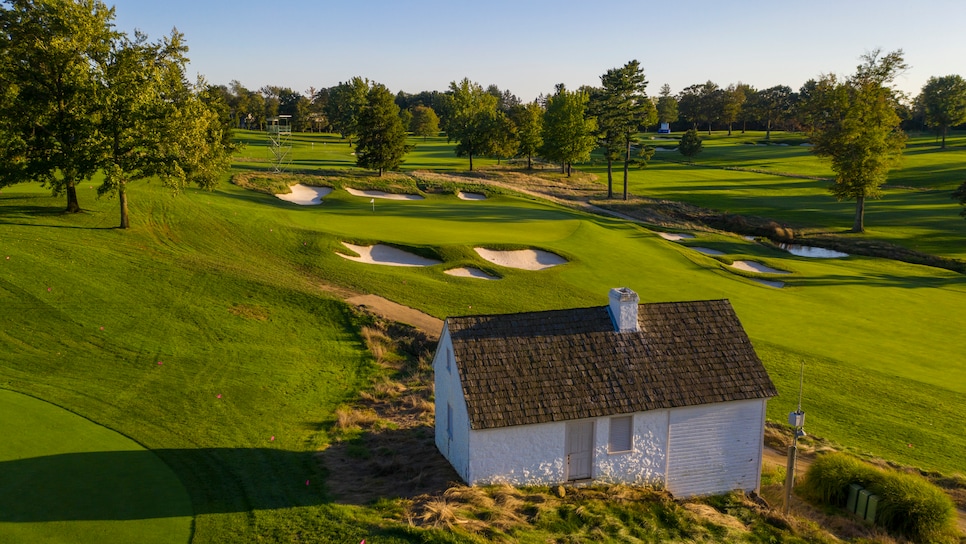 The 11th green at Aronimink.
Andy Johnson/The Fried Egg
6 / 9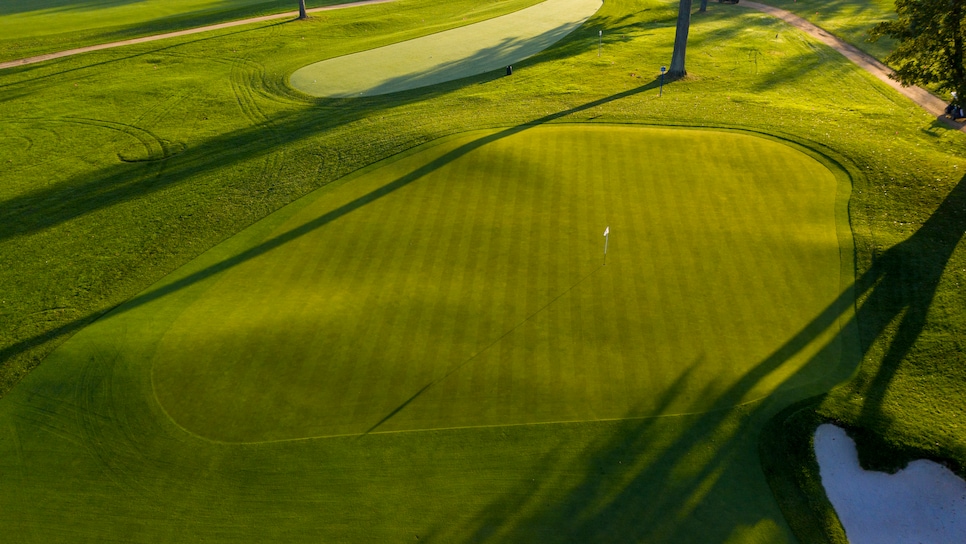 An overhead view of the sixth green at Donald Ross' Aronimink Golf Club.
Andy Johnson/The Fried Egg
7 / 9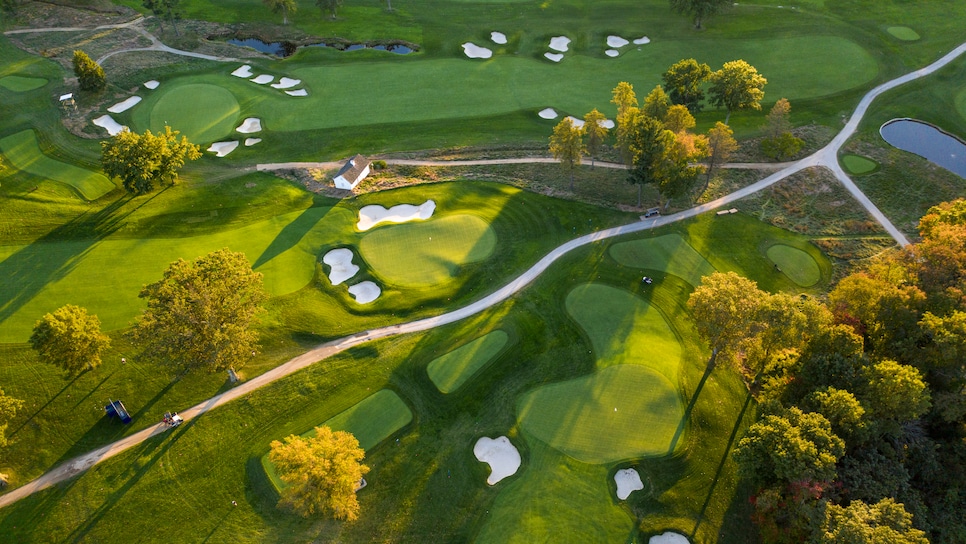 An aerial of the second, seventh and 11th holes.
Andy Johnson/The Fried Egg
8 / 9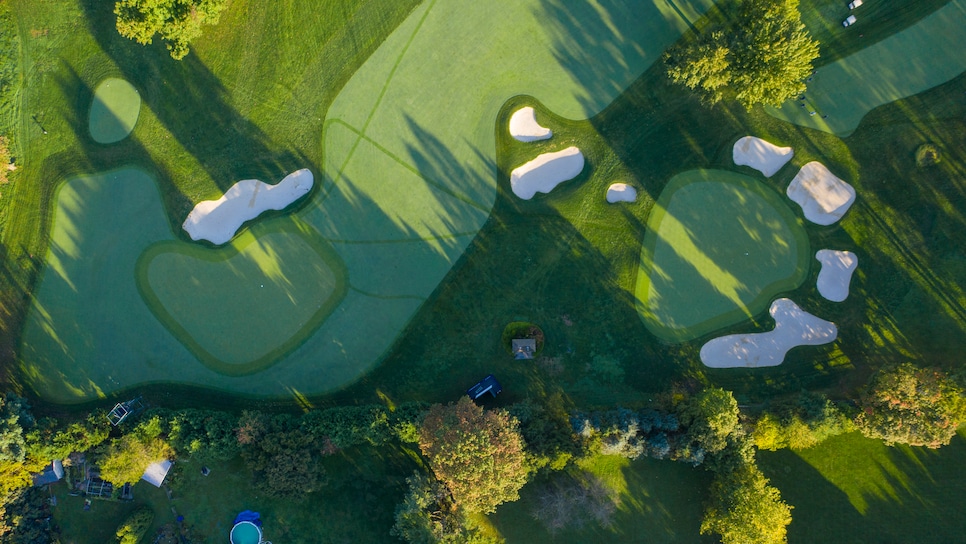 The 12th and fifth holes.
Andy Johnson/The Fried Egg
9 / 9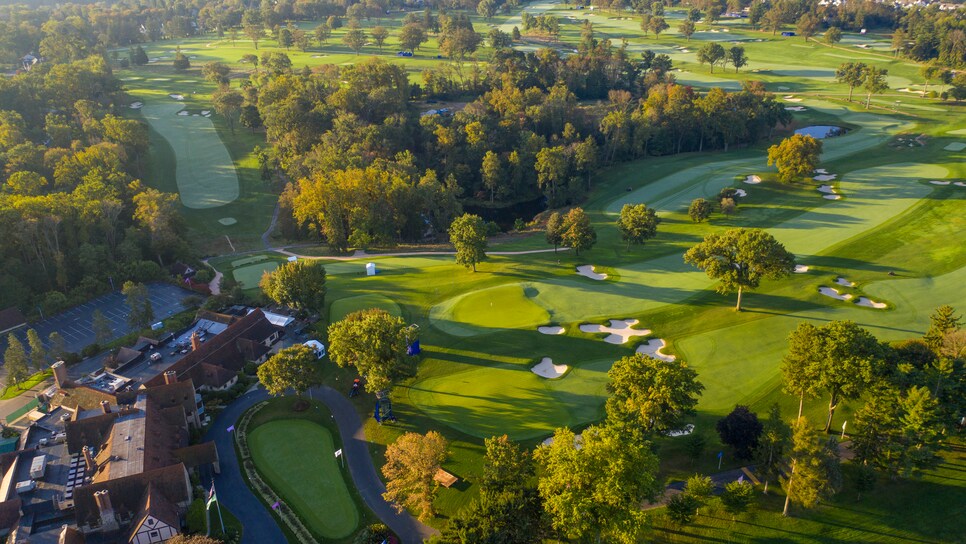 An iconic view of Aronimink's first, ninth and 18th—with the rest of the course in the background.
Andy Johnson/The Fried Egg
Overview
Aronimink is an object lesson in architectural evolution. After Donald Ross completed his design in 1928, he proclaimed, "I intended to make this my masterpiece." That didn't keep club members from bringing in William Gordon in the 1950s to eliminate out-of-play fairway bunkers and move other bunkers closer to greens. The course was later revamped by Dick Wilson, George Fazio and Robert Trent Jones. In the 1990s and into the 2000s, Ron Prichard, one of the profession's original restoration specialists, began returning Aronimink back to Ross's conception based on the architect's drawings and field diagrams. But there was always a discrepancy between what Ross drew in plans and what was actually built in 1928. A more recent renovation by Gil Hanse and Jim Wagner, who live nearby, has put the course's architecture more in line with what aerial photographs depict of the early design, particularly the bunkering that might have been imagined as larger in scale but built in smaller, more scatter-shot formations.
About
Designer
Donald J. Ross, ASGCA/(R) Gil Hanse
Awards
100 Greatest: Ranked 1966-1998, 2001-2006, 2009-2024.
2023-'24 Ranking: 95th.
Previous ranking: 94th.
Highest Ranking: 49th, 1987-1988.
Best in State: Ranked Top 5 in Pennsylvania since 1985.
Current Ranking: 3rd.
Panelists
Ratings from our panel of 1,900 course-ranking panelists
100 GREATEST/BEST IN STATE SCORES
Reviews
1 / 17
Review
"Classic Donald Ross. Challange for players of all levels. Good course conditions. Steeped in history."
Read More
2022
2 / 17
Review
"Very playable course since the removal of 1000 trees alongside the fairway lines. spectacular layout and conditionwise a treat to play."
Read More
2022
3 / 17
Review
"It is easy to see why Aronimink is a championship golf course. Stretching out to almost 7300 yards and par 70, it requires a golfer to use all the clubs in the bag, especially the long ones. There are some very distinct characteristics of this Donald Ross design, although the greens are not nearly as penalizing as Pinehurst #2. I thought the par 3s were very impressive and challenging, and the conditioning of the course excellent. Even though I played it in the afternoon on a busy weekend day, the greens still were true, firm, and fast. "
Read More
2022
4 / 17
Review
"Great design with lots of variety….the back 9 is much more interesting than the front nine. Usually in great condition"
Read More
2021
5 / 17
Review
"Great golf course, just play the appropriate tees."
Read More
2021
6 / 17
Review
"Absolutely pristine conditioning, every hole is a delight."
Read More
2018
7 / 17
Review
"Wonderful Donald Ross design. Course has hosted a number of USGA and PGA events. Not a weak hole on the course. Great variety in holes and shot value. Some amazing green complexes."
Read More
2018
8 / 17
Review
"Excellent course, beautiful older clubhouse, well treated. This is a must-do if you get an invite."
Read More
2018
9 / 17
Review
"Fantastic experience. Service was outstanding. Course is a traditional Donald Ross design offering strategy options on most every shot. Conditions we very good."
Read More
2018
10 / 17
Review
"This exclusive club has hosted many PGA TOUR events for a reason: it is and excdeptional course with some of Ross' best greens."
Read More
2018
11 / 17
Review
"Hard Donald Ross course where the holes are not very distinctive. The 17th hole does not fit the course."
Read More
2018
12 / 17
Review
"One of the best. Natural, lay of the land, Ross course. Conditioning second to none. Worth playing if you can get there."
Read More
2018
13 / 17
Review
"Top of the line across the board. Some of the most beautiful bunkering in the country. Amazing restoration - feels like you are playing in a different era."
Read More
2018
14 / 17
Review
"Solid test of championship golf but a bit dull compared to some of the other nearby private courses."
Read More
2018
15 / 17
Review
"A great classic course and clubhouse. The course is highly treed and can play very long. The routing is traditional with few unique design features. A first class place from the time you set foot on the property."
Read More
2018
16 / 17
Review
"Conditions are always superb, and the redesign of the course is masterfully done. The club staff is friendly and accommodating. There are no tee times, so at peak times there can be long waits to tee off."
Read More
2018
17 / 17
Review
"Pure golf experience."
Read More
2018
Readers
Collection of reviews from our readers
There are no reader ratings yet
Reviews
There are no readers reviews yet. Be the first to write a review.