EQUIPMENT ON TOUR
What's In My Bag: Nick Taylor
All the clubs played by Nick Taylor, winner of the 2020 AT&T Pebble Beach Pro-Am.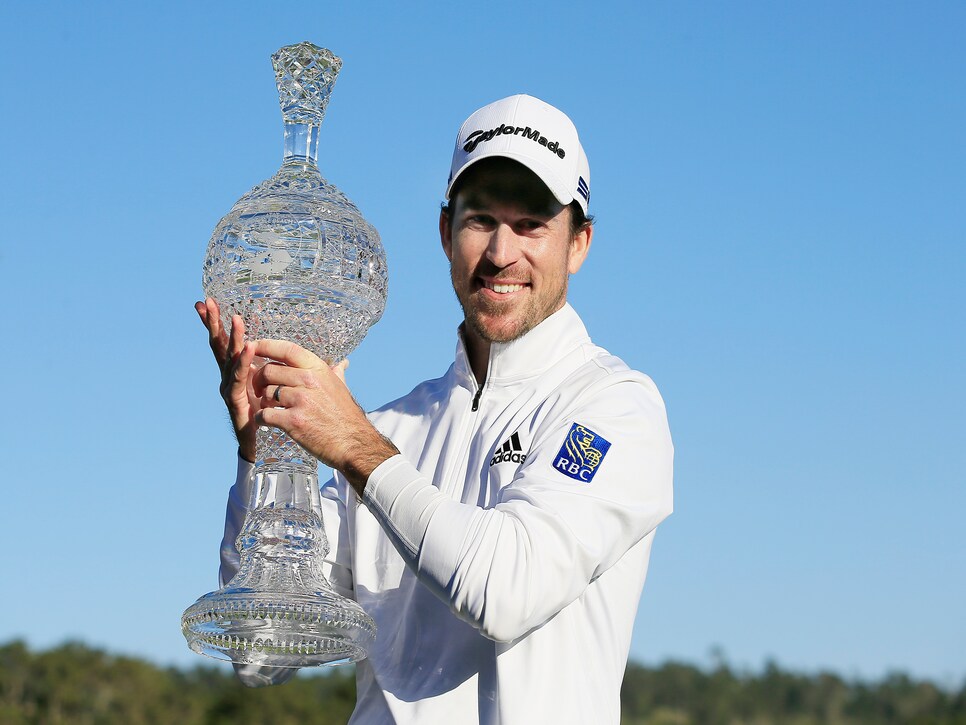 AGE 31LIVES Abbotsford, British ColumbiaSTORY Two-time winner on the PGA Tour, including the 2020 AT&T Pebble Beach Pro-Am.MARIO MANIA My Twitter bio reads: "Top 5 Mario Kart N64 player in the world." I'm kidding. Sort of. I played way too often at the University of Washington and got pretty good. In Seattle, golf practice was pretty minimal once November hit, so we had free time. And my good friend Kevin and I were obsessed. I haven't played much since. —WITH E. MICHAEL JOHNSON
Photo By: Chris Trotman
DRIVERSPECS TaylorMade M2 2017 (10.5°), Fujikura Atmos Blue Tour Spec 6X shaft, 45.75 inches.I've had the M2 for about three years. I'm low-spin off the tee, and this gives me what I need without the ball falling out of the sky. I'm also accurate with it. I've tested the new SIM and think I'll play it soon. I just need to practice with it in the wind some more.
FAIRWAY WOODSPECS TaylorMade SIM, 15°, Fujikura Ventus Black 8x shaft, 43.5 inches.I tried this 3-wood at the Waste Management this year, hit a few good shots and put it in the bag immediately. I like the adjustability, too. I added lof at that event because I needed height into the par 5s but changed it back the next week.
IRONSSPECS TaylorMade SIM Max (4-iron); TaylorMade P770 (4-, 5-iron); TaylorMade P750 (6-iron through PW), True Temper X100 shafts, Golf Pride Tour Velvet Cord 58R grips.I play a split set of irons, including two 4-irons. One of them is this game-improvement SIM Max. I added a couple degrees of loft to get the height I want, but I still get 3-iron-like distance.
WEDGESSPECS TaylorMade Milled Grind Hi-Toe, 52°, 56° and 60°; True Temper Dynamic Gold S400 shafts.I have the Hi-Toe in all my wedges. The name is appropriate because I'm a toe chipper, and when I hit it on the high toe area, I get good results. I used the 60-degree for both my hole-outs during the final round at the AT&T Pebble Beach Pro-Am.
PUTTERSPECS TaylorMade Spider Tour Red, 35 inches, 2.5°, TaylorMade stock rubber grip.I used this model about three years ago, then went away from it. I struggled on the greens and went back to the Spider at the 2018 Wyndham and shot 63 in the final round to keep my PGA Tour card. The T-shape alignment aid along with the lines on my ball make it seem like I'm looking at a grid.
$2 FOR THE MONEYI'm Canadian, so instead of an American quarter or dime, I use a Toonie—a $2 Canadian coin—to mark my ball. It's a special Toonie that glows in the dark.
FEELIN' THE BURNI got to carry the Olympic torch when it was on its way to Vancouver for the 2010 Winter Games. I don't think I grasped the magnitude of doing that until later.
Photo By: Abelimages
ALL INKED UPMy TaylorMade TP5 gives me about 400 revolutions per minute more spin than the TP5x. That's useful around the greens. I used to put thin alignment lines on the ball, but I made them thicker and started putting extremely well.