Golf Style
The Week In Style: 07.08.15
What worked – and what didn't – this week at the Greenbrier Classic and Alstom Open de France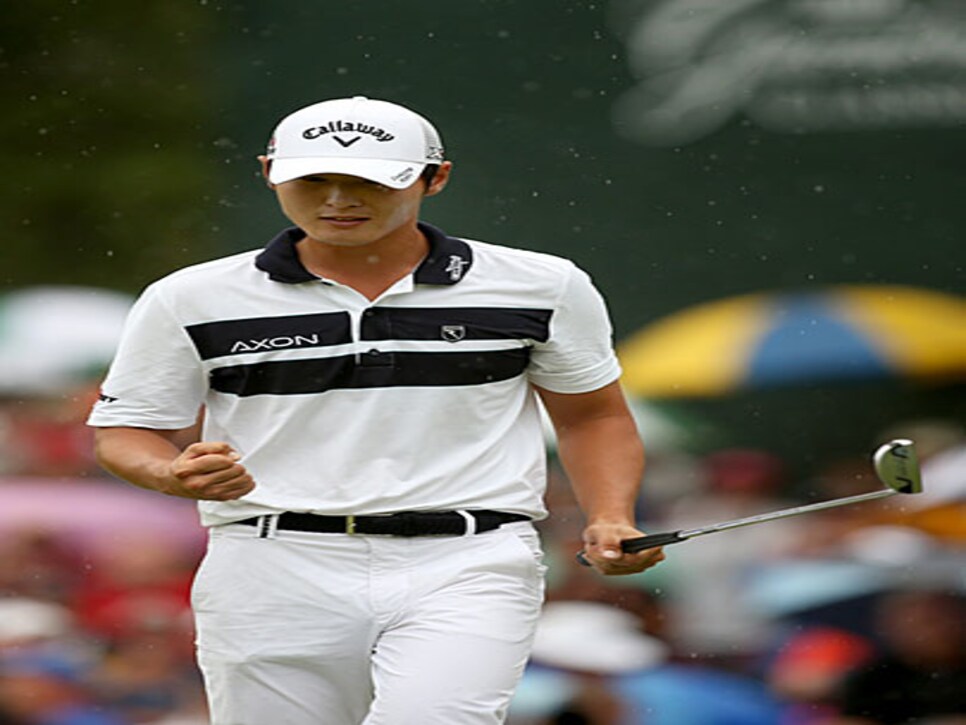 Danny Lee
Congrats to the new first-time PGA Tour winner on his stylish playoff victory at last week's Greenbrier Classic. This kid has a very cool, clean and modern aesthetic that relies on a disciplined color pallet. Lee makes plenty of style statements with only two tones. If you want to know how to wear black and white, here's how it's done.
iliac Golf
Morgan Hoffmann/Bryce Molder/Sean O'Hair
Speaking of disciplined looks, I saw more fresh Fourth of July setups at The Greenbrier than at any tournament over this holiday weekend in several years. Normally, we get a bunch of over the top stars-and-stripes shirts and pants that have plenty of
theme
but very little
taste
. That wasn't the case this year as Hoffmann, Molder and O'Hair each put together well-balanced statements as stylish as they were patriotic. Well done, gents.
Greyson Clothing
,
FootJoy
,
Hollas
,
Ashworth Golf
,
adidas golf
Darren Clarke
I ordinarily love Clarke's look, but his Saturday outfit at the Alstom Open de France looked a
little tight
. The color, pattern and detail are all spot on. It's just my man seemed as if he was vacuum-sealed into his trousers.
Dunlop Clothing
Marcel Siem/Joel Stalter
Neon continues to trend on the pro tour, and I'm still not sure why. Shirts and trousers just have too much real estate for this kind of color. The best place for a high-intensity hit of neon is as a small accent or detail pop in a less-conspicuous place.
Nike Golf
Scott Langley/Justin Thomas
Pop-color pants have trended strongly over the first half of the season, and we saw more of them last weekend at The Greenbrier. Both Langley and Thomas executed these bold bottoms perfectly by pairing them with simple, solid polos. Follow their leads on and off the course when wearing color below the waist.
Polo Golf-Ralph Lauren
,
Hugo Boss
,
FootJoy
Ryo Ishikawa
Ryo continues to dominate the Week in Style leader board with perfectly coordinated, interesting prints that look like nothing else we've ever seen on tour. As we've noted before, this gear is for window-shopping only as its all part of a custom capsule, merchandised specifically for Ryo.
Callaway Apparel
Kevin Na
We kid Kevin, but the hits keep on coming with this guy as he teed up yet another whacky look Sunday at The Greenbrier. These look like floating block letters to me, but your guess is as good as mine as I continue to struggle with what South Korean clothing company Elord is getting at here. Who knows what we'll see next week?