Style
What worked – and what didn't – last week in Doral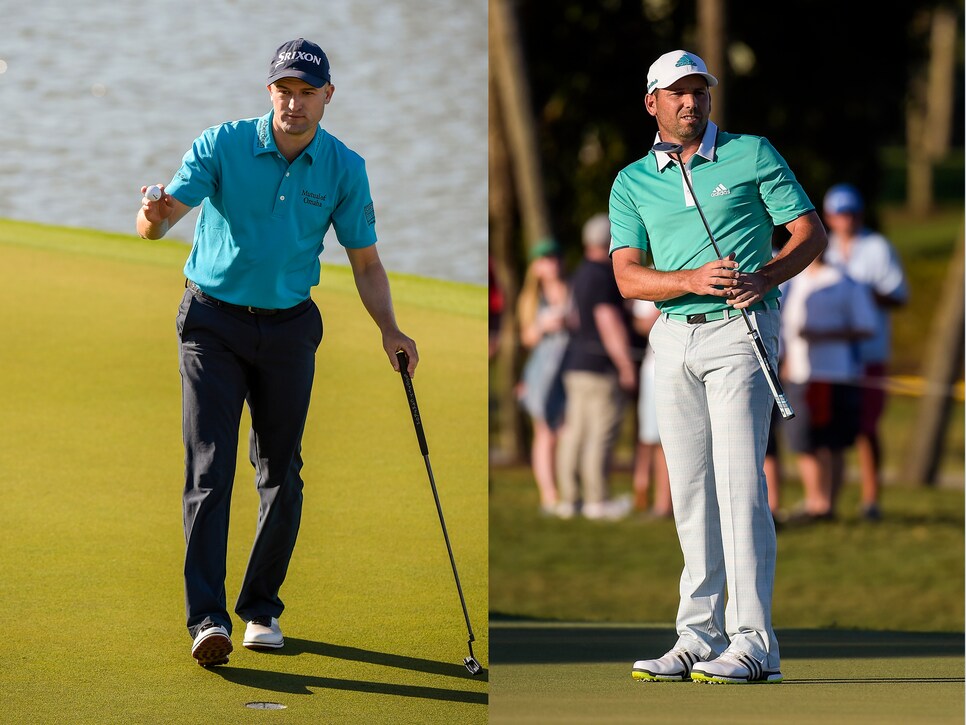 Photo By: Stan Badz/PGA TOUR/Getty Images
Photo By: Mike Ehrmann/Getty Images
Photo By: Stan Badz/PGA TOUR/Getty Images
Photo By: Drew Hallowell/Getty Images, Stan Badz/PGA TOUR/Getty Images
Photo By: David Cannon/Getty Images
Photo By: Mike Ehrmann/Getty Images
Photo By: Mike Ehrmann/Getty Images
Photo By: David Cannon/Getty Images
Photo By: Andrew Redington/Getty Images
Russell Knox / Sergio Garcia
Teal is trending on tour, so expect to see more of this shade as we get into spring. For a bold look, combine this color with a pair of white trousers, a la Sergio last Sunday. If you prefer subtler style, follow Knox's lead and soften the contrast by pairing your polo with a navy pant.
Dunning Golf
Skechers
Adidas
Photo By: Stan Badz/PGA TOUR/Getty Images
Dustin Johnson
In its original state, polyester doesn't breathe terribly well, which could be an issue given 99 percent of polos worn on the PGA Tour and sold in golf shops are made from some type of polyester fiber. With breathability being a key component of sweat wicking, however, companies have developed all sorts of workarounds. Adidas, for instance, has started knitting mesh panels into their polos. DJ wore one at Doral and looked pretty cool to me.
Adidas
Photo By: Mike Ehrmann/Getty Images
Phil MIckelson
Pinstripe trousers are tough to wear in general, and you've got no chance to pull them off if they're this baggy. Trim doesn't need to mean tight, but a little taper below your knee line can go a long way to giving you a clean, lean look.
Callaway Apparel
House of Fleming
Photo By: Stan Badz/PGA TOUR/Getty Images
Danny Willett / Billy Horschel
A crisp pair of white trousers can make the simplest looks feel fresh. Assuming you've got your navys, grays and khakis covered, a white pant should be the next addition to your wardrobe. Some say it's best to wait until Memorial Day to pull them out, but if the course is dry and the temps are high, I say go for it.
Callaway Apparel
FootJoy
Polo Golf
Photo By: Drew Hallowell/Getty Images, Stan Badz/PGA TOUR/Getty Images
Jordan Spieth
#Shotsfired – Rickie Fowler dropped this alarmingly accurate side-by-side on Instagram after Spieth wore a green rugby-stripe polo Saturday at Doral. No wonder Jordan only wears navy and gray.
UnderArmour
Photo By: @rickiefowler
Scott Hend
Camo continues to trend on (and off) the tour. Ironically, it seems to blend in less and less each season.
Fenix
Photo By: David Cannon/Getty Images
Smylie Kaufman
Mélange designs are a cool way to add interest to your look without stepping out with too much color or pattern. These micro-polos wear just like single color but pack a lot more punch than your standard solids.
Polo Golf
FootJoy
Photo By: Mike Ehrmann/Getty Images
Rickie Fowler
Having said this several times before, I still think Fowler's simplest looks are his most stylish. This graphic color-block polo in soft, slate tones is a mature, modern setup. Check out the
April cover of the magazine
if you need any more proof.
Puma
Photo By: Mike Ehrmann/Getty Images
Bubba Watson
Another week in a G/Fore glove and another strong tournament for the big man. This seems like a perfect pair.
G/Fore
Oakley
Photo By: David Cannon/Getty Images
Thomas (Motion) Frank
Frank rocked his Caddie of The Year bib this week at the HSBC Women's Champions in Singapore. That, and a teal necktie…Good on you, Mr. Motion. Way to keep things classy.
Photo By: Andrew Redington/Getty Images