Style
The Week In Style: 01.20.16
What worked – and what didn't – last week in Honolulu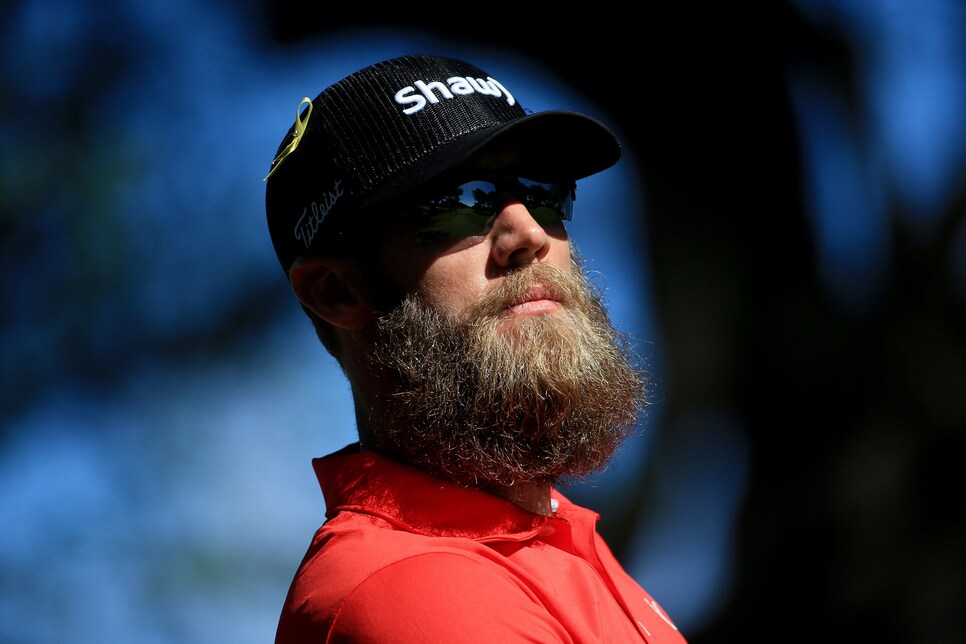 Photo By: Tom Pennington/Getty Images
Photo By: Sam Greenwood/Getty Images
Photo By: Sam Greenwood/Getty Images
Photo By: Sam Greenwood/Getty Images
Photo By: Stan Badz/PGA TOUR/Getty Images
Photo By: Chris Condon/PGA TOUR/Getty Images
Photo By: Chris Condon/PGA TOUR/Getty Images
Photo By: Masterpress/Getty Images
Graham DeLaet
Not sure if this was intended to be an NFL playoff beard or what, but DeLaet had some serious growth going at the Sony Open. We can't imagine this was particularly comfortable in the Hawaiian heat. Still, DeLaet kept his mane in check from Thursday to Sunday.
Puma Golf
Photo By: Tom Pennington/Getty Images
Webb Simpson
While Simpson has always had a classic Americana look, his style lately has come with a more modern attitude. It's not easy to wear red, white and blue without looking overly patriotic, but grounding it in light gray adds strong balance to Webb's traditional color details.
Izod
Photo By: Sam Greenwood/Getty Images
Luke Donald / Scott Piercy
We talk a lot about ditching your white belt, and here are two styles that work well as replacements. A matte strap in the same shade as your trouser is a great way to smooth the transition from head to toe. Alternatively, a braided belt with a pop of color makes a statement without being too loud.
RLX-Ralph Lauren
J. Lindeberg
Photo By: Getty Images
Zac Blair
A five-pocket colored chino is one of the easiest additions you can make to your on-course (or off-course) wardrobe. These cotton trousers work well with everything from a short-sleeve polo to a navy blazer.
Photo By: Sam Greenwood/Getty Images
Yusaku Miyazato
A navy nautical stripe is a simple, sharp look that's quickly becoming a menswear mainstay. Don't be surprised if you start to see variations on this theme from more brands in the golf market.
Lyle and Scott
Photo By: Sam Greenwood/Getty Images
Morgan Hoffmann
Consistently bringing a sharp look and a modern attitude to the course, Hoffmann wore these killer teal trousers and navy shadow-stripe polo during his first round of the Sony Open. Greyson's new lifestyle line debuts at next week's PGA Merchandise Show and hits stores this spring.
Greyson
Photo By: Stan Badz/PGA TOUR/Getty Images
Justin Thomas
This micro-marble polo and white trouser is a really cool departure for Thomas, who we usually see in simple, sartorial setups.
RLX-Ralph Lauren
Photo By: Chris Condon/PGA TOUR/Getty Images
Keegan Bradley
Mr. Style and I go back and forth on Bradley's MJ spikes. One thing, though, we know for sure is that pairing the black patent leathers with a monochromatic wardrobe is the best way to pull this all together. The Air Jordan is just too bulky to look smooth with much else.
Travis Mathew
Nike Golf
Photo By: Chris Condon/PGA TOUR/Getty Images
Ryo Ishikawa
I wonder if Ryo burns his clothes after he wears them because I've never see him in the same look twice. Always one for out-of-the-box prints, Ishikawa wore this hot-air-balloon polo from his custom Callaway collection Thursday at Sony and filed yet another shirt in the "he makes everything look good" category.
Callaway Apparel
Photo By: Masterpress/Getty Images