Tiger Woods
While Tiger Woods has spent a career lacking a true rival, he's used an assortment of adversaries to his advantage. Golf Digest Contributing Editor Tom Callahan touched on this in his book, In Search of Tiger: A Journey Through Golf with Tiger Woods, in a passage about Woods and his mother, Kultida: "If you cross them, you are dead. They are like Joe DiMaggio that way...Tida never forgives, Tiger seldom does; neither of them ever forgets. They revel in paybacks for the rest of their enemies' lives." Any slight -- even those imagined or innocuous -- does not go unnoticed. Hence the Nixon-like enemies list Woods has developed through the years. Here is a partial list: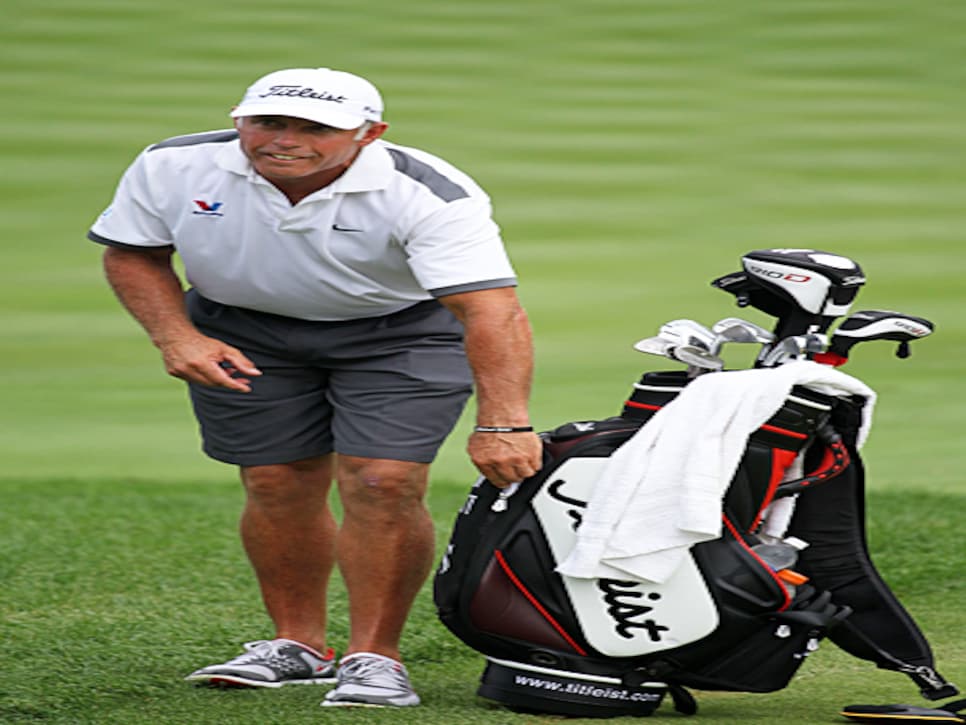 Steve Williams
Williams, Woods' former caddie, has come out with a book in which
he says Woods' occasional mistreatment made him feel "like a slave."
This was after Williams taunted Woods by saying a win with Adam Scott was "the best win of my life" -- an obvious shot at the former employer who made him wealthy. Williams compounded his bad form at a caddie awards dinner during the WGC-HSBC Champions when he explained his Bridgestone celebration this way: "My aim was to shove it right up that black [expletive]."
Brandel Chamblee
The tour player-turned-Golf Channel analyst has been a consistent and outspoken critic of Woods, often citing flaws in Woods' game in recent years. It was a column in Golf.com, however, in which
Chamblee took on Woods' character
, saying that Woods was "a little cavalier with the rules" in 2013, that was particularly pointed. Chamblee never used the word "cheater" when talking about Woods, but he strongly implied it, likening Woods' season to a test he took in fourth grade in which he received an 'F' for cheating. Chamblee went on to apologize for the column..
Hank Haney
The celebrated instructor, who helped shepherd Woods to six major titles between 2005-'08 fell out of favor with his star pupil when he abruptly resigned as Woods' coach in 2010, then wrote -- with Golf World's Jaime Diaz -- a tell-all book,
The Big Miss
, about their time working together. The book steered clear of the tawdry details that accompanied Woods' sex scandal, but still
portrayed the golfer as self-centered
, immature and easily distracted.
David Eger
True,
Eger's call to the Masters rules committee
about Woods' improper drop during the second round of the 2013 tournament may have actually saved Woods from disqualification -- because of his call, the committee initially reviewed and dismissed the infraction, providing Woods a loophole to only receive a two-shot penalty. Nonetheless, Eger is the face of a swelling population of television viewers who can alter tournaments with a mere phone call. The 2013 season was a bad one for Woods in that regard (see item on Brandel Chamblee), with his appearances at Abu Dhabi, the Masters, the Players and the BMW Championship all featuring rules incidents that prompted phone calls from viewers.
Sergio Garcia
"The reason Tiger dislikes him is that in the clubhouse once he saw Sergio looking up at a television monitor and rooting somebody's golf ball out of the hole," said Earl (Woods). "That's why he has no use of Sergio." -- from Tom Callahan's book, His Father's Son: Earl and Tiger Woods. The spring of 2013 didn't help, either. Woods and Garcia had a spat while playing together at the Players, and their feud intensified when Garcia made a racially insensitive joke about Woods at an awards dinner weeks later.
Vijay Singh
At the Presidents Cup in 2000, when Woods was matched with Singh, the latter's caddy, Paul Tesori, wore a cap on which "Tiger Who?" was stitched on the back. Singh's response: "I don't know where he got that hat, but I said, 'Why not?'" Tiger's response: He won the match, 2 and 1.
President Clinton
Shortly after Woods won the Masters by a record 12 shots in 1997, he received an invitation from then President Bill Clinton to a Shea Stadium ceremony to commemorate the 50th anniversary of Jackie Robinson having integrated Major League Baseball. The invitation also included a round of golf. Woods declined both. "Why didn't Mr. Clinton invite me before the Masters?" he said. "That didn't happen. As soon as I won, he invited me. If he wanted me there, I think it would have been best if he would have asked me before the Masters with all the other athletes that were involved."
John Feinstein
A Golf Digest and Golf World contributor, Feinstein has been a vocal and frequent critic of Woods from the beginning of his professional career, even writing a short book, The First Coming about him in 1998. From page two of the book: "He signed endorsement contracts for staggering amounts of money. He blew off the president of the United States and Rachel Robinson, the widow of the century's most important athlete -- and made no apologies for it. He didn't have to. He was Tiger. They weren't." Feinstein has offered another unsparing looking of Woods in his newest book, One on One: Behind The Scenes with the Greatest in the Game.
Bob Hope Chrysler Classic
The tournament ran afoul of Woods in 1997 when its executive director, Michael Milthorpe, said that Hope phoned Woods personally to invite him to play in the tournament and was rebuffed (Woods denied speaking with Hope). "Mr. Hope isn't going to be with us much longer, and if you get a phone call from him, that would seem to mean something," Milthorpe told the Los Angeles Times. "I guess not. That's short-sighted." Woods has never played in the tournament that is now called the Humana Challenge.
Stephen Ames
At the 2006 WGC-Accenture Match Play Championship, Ames had the audacity to speak the truth regarding his first-round match with Woods, whose errant driving was a popular topic in golf then. "Anything can happen," Ames said, "especially where he's hitting the ball." Woods took note and stoically won the first nine holes, seven with birdies. Afterward, he was asked his reaction to Ames' comments. "Nine-and-eight," he said simply, noting the outcome.
Charles Pierce
Woods is renowned for his ability to reveal virtually nothing of himself, even in interviews lasting 30 minutes or longer. One time that he did let his guard down was with writer Charles Pierce, who was working on a story on Woods for GQ early in 1997. They were in a limousine together, when Woods told a couple of off-color jokes that made it into Pierce's article. When the story ran, Woods released this statement: "It's no secret that I'm 21-years-old and that I'm naive about the motives of certain ambitious writers. The article proves that, and I don't see any reason for anyone to pay $3 to find that out."
Shoal Creek
It's unlikely that the Jack Nicklaus-designed course that hosted the PGA Championship in 1990 will ever be included on Tiger's own 100 Greatest. It was founded by Hall Thompson, who launched a resounding controversy by explaining why his club had no black members. "Because that's just not done in Birmingham," he said. In the fall of Woods' freshman year at Stanford, he played a college tournament there despite the protestations of a group of African-Americans from Birmingham, who felt he should have boycotted the tournament. Woods won the tournament. The following spring, when Woods was playing in his first Masters, Thompson, an Augusta National member, approached Tiger's father, Earl, in the gallery, and introduced himself. Earl did not acknowledge the introduction. Later, Earl said, "Shoal Creek will forever be tarnished."
Hughes Norton
Barely two years after turning pro, Woods' fired Norton (left), his first agent, who for several years before Tiger had turned pro had cultivated a relationship with Woods and his father, Earl. "According to sources, Woods felt he had become overcommitted in business deals, and had lost faith in the direction Norton wanted to take him," Jaime Diaz, then working for Sports Illustrated, wrote. Norton reportedly received a substantial severance package from IMG that required him to remain mum on dealings with Woods. Norton has not been heard from since.
Greg Norman
They were reasonably tight initially, and when Woods turned pro in August 1996, he listed Norman's Shark Shootout among the tournaments he would play through the end of the year. Representatives of Norman, meanwhile, said no such invitation had yet been tendered. Woods opted instead to accept an appearance fee to play in the Australian Open the week after the Shark Shootout. Finally, Norman's group invited Woods to play in the Shark Shootout. Woods declined. Fast forward to the fall of 2011. First, Norman said that Woods would never win another major championship. Then he said he would not have picked Woods to play on the U.S. Presidents Cup team.
Rory Sabbatini
"I want Tiger," Sabbatini said at the Players Championship in 2007. "Everyone wants Tiger. I want him to pick it up this week and we'll be there late Sunday. The funny thing is, after watching him play last Sunday, I think he's more beatable than ever." Tiger's response: "I figure I've won nine of [his past] 12 tournaments, and I've won three times this year, the same amount he's won in his career." Later that year, Sabbatini left town before the fourth round of Woods' tournament, the Chevron Challenge, to the host's chagrin.
The Scandal Roster
The scandal that rocked Woods' world and his legacy produced a series of wounds that were self-inflicted, but no doubt still left him harboring a host of grudges. Choose one. We chose Jamiee Grubbs, who released a phone message from Woods asking that she remove her name from her voice mail, that his wife, Elin, might be calling her. Grubbs later provided to US magazine details of her relationship with Woods.