Hot List
How hot are adjustable drivers? Eleven of the 12 drivers on the Hot List are adjustable, and more than 60 percent of the winners on the PGA Tour last year used one.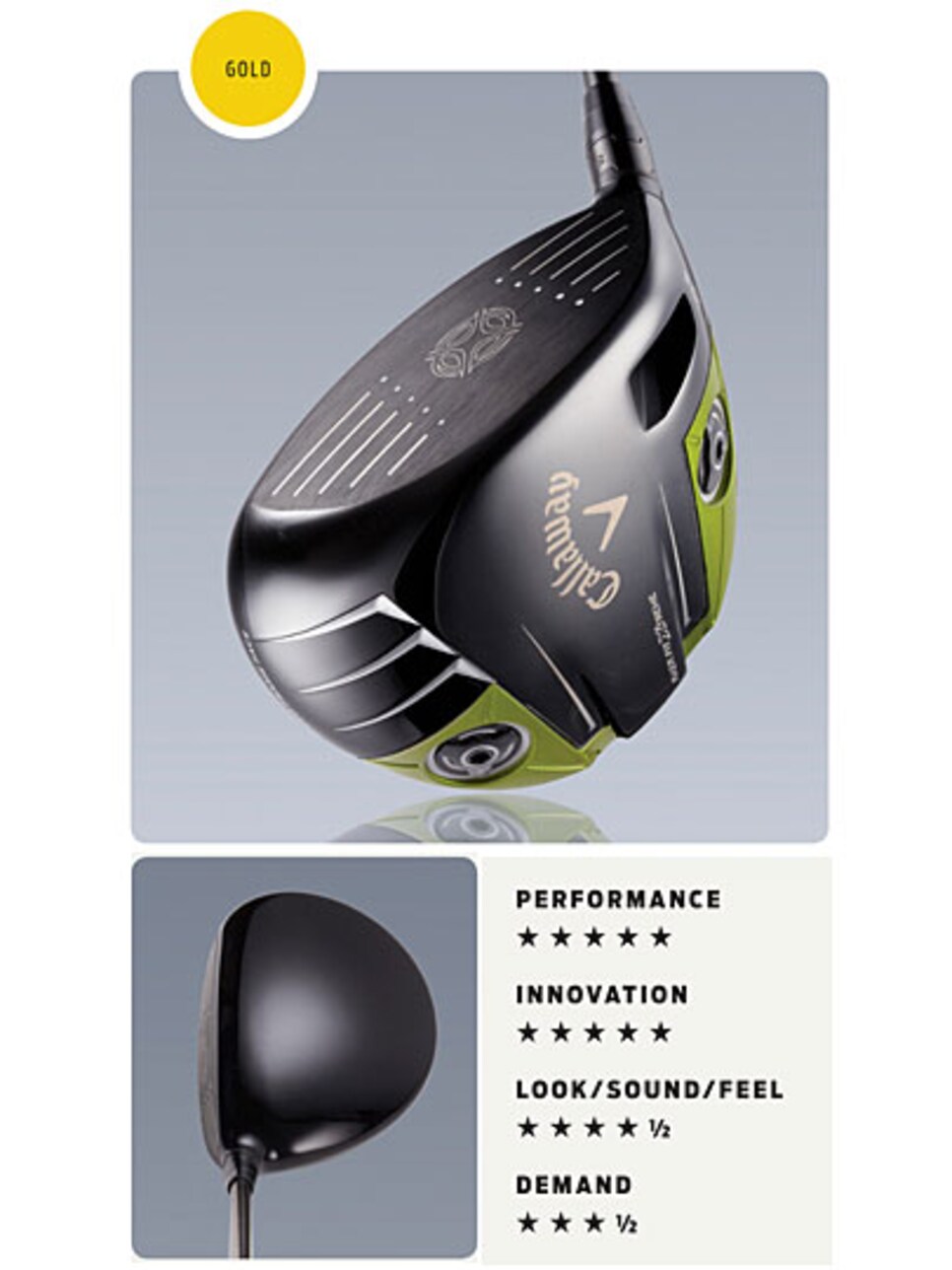 • CATEGORY LEADER | (L) LOW-HANDICAPPER | (M) MIDDLE-HANDICAPPER | (H) HIGH-HANDICAPPER LISTED ALPHABETICALLYCALLAWAY RAZR Fit Xtreme
STREET PRICE:
$400
LOFTS:
8.5, 9.5, 10.5, 11.5, 13ht (all adjustable)
TECH TALK:
Callaway's second-generation adjustable driver offers different playing characteristics with each loft. The purpose is to better address the performance needs of players who typically use those lofts. For example, the higher the loft, the larger the head and the more draw bias the clubhead has. Each driver loft also features two movable weights and a hosel with three face-angle settings.
PLAYER COMMENTS:L:
"Throughout the entire swing it never feels out of kilter. It delivers one of the most powerful blows of the drivers I've tested."
M:
"The head is solid-feeling, like it's carved out of granite."
HOT:
The sophisticated cupface adds horsepower to this unique loft-specific design theory.
NOT:
More face-angle settings would help more golfers.
INFO:
callawaygolf.com
Callaway X Hot/X Hot Pro
STREET PRICE:
$300
LOFTS:
9.5, 10.5, 11.5, 13ht for X Hot; 8.5, 9.5, 10.5 for X Hot Pro (all adjustable)
TECH TALK:
Callaway's X Hot line features a three-way adjustable hosel. Like the RAZR Fit Xtreme, every loft is designed to accommodate specific players. For instance, each one has a different bulge radius and draw bias based on the impact pattern of golfers most likely to play that version.
PLAYER COMMENTS:L:
"Looks a little bland at address, but that was the only thing lacking. I could be aggressive, and it would make up for any mis-hits."
M:
"The feel at impact is that the face is actually flexing. That was sweet."
HOT:
Adjustable and lightweight with a draw bias: X Hot is the adjustable driver for the masses. The X Hot Pro's open face angles are what better players want.
NOT:
Limited models for left-handers.
INFO:
callawaygolf.com
Cobra AMP Cell
STREET PRICE:
$300 (AMP Cell), $400 (Pro), $250 (Offset)
LOFTS:
one adjustable head for AMP Cell (8.5-11.5 degrees) and Pro (7.5-10.5); 10.5, 11.5 for Offset
TECH TALK:
The AMP Cell adjusts to six lofts (neutral to draw bias in the standard model and neutral to fade bias in the Pro version). There are also four color choices: blue, orange, red and silver. A reduced contact area on the sole keeps the face angle square on every adjustable setting.
PLAYER COMMENTS:L:
"The face is hard enough to feel like the ball is ripping off it but not so hard you lose feel."
M:
"It's not all looks. It performs, too."
HOT:
Beyond the pretty colors, this driver family has the widest range we've seen, and the technology is sound. We especially like how hits low on the face are easier to launch.
NOT:
Four color choices, but it's lacking a basic black.
INFO:
cobragolf.com
Nike VR_S Covert/VR_S Covert Tour
STREET PRICE:
$300 (VR_S Covert), $400 (Tour)
LOFTS:
one adjustable head (8.5-12.5 degrees)
TECH TALK:
The dual-axis hosel allows the loft and face angle to be adjusted independently. Each loft setting features three face-angle positions. To preserve the club's compact size, designers took weight from the sole (creating a wide cavity) and moved it to the heel and toe to increase the moment of inertia (MOI), which means more stability on off-center hits.
PLAYER COMMENTS:L:
"The muted sound didn't match the way the ball jumped off the face."
M:
"When I adjusted the settings, the driver performed accordingly."
HOT:
The ability to adjust the loft and face angle independently is real innovation.
NOT:
The face angle can be adjusted to 1.5 degrees closed, but real slicers are going to want more.
INFO:
nikegolf.com
Ping Anser
STREET PRICE:
$400
LOFTS:
8.5, 9.5, 10.5, 12 (all adjustable)
TECH TALK:
Each loft features a slim adjustable hosel that alters the loft by plus or minus half a degree, and the company offers four shaft options as standard to accommodate four types of feel and four ball-flight effects.
PLAYER COMMENTS:L:
"The look is stealth-like, and the sound is powerful without being overwhelming." ... "This thing really launches the ball, not just up but out."
M:
"There was a powerful metallic thump at impact. This driver is black-ops cool."
HOT:
The look, feel and performance exude "workhorse," and four stock shafts is an idea that makes a lot of sense in the age of launch-monitor fitting.
NOT:
The difference between 9.5 in the plus setting and 10.5 in the minus setting might be confusing.
INFO:
ping.com
Ping G25
STREET PRICE:
$350
LOFTS:
8.5, 9.5, 10.5, 12 (all adjustable)
TECH TALK:
The sixth generation in Ping's G series of drivers is the first to go adjustable. Each loft can be tweaked half a degree up or down. The G25 also features a larger face and thinner crown than last year's G20, and it has the highest MOI and lowest center of gravity (CG) of any current Ping driver. The G25 comes with Ping's high-balance-point shaft, designed to help golfers swing this slightly heavier clubhead faster.
PLAYER COMMENTS:L:
"It gets up in the air fast. Better players might not like that, but for anyone with a problem launching it, this will be a savior."
M:
"I love how it frames the ball. The solid feel oozes confidence."
HOT:
The large head has forgiveness, and the adjustability with every loft makes it easy to find anyone's proper launch.
NOT:
There is no specific setting to fight a slice.
INFO:
ping.com
TaylorMade R1
STREET PRICE:
$400
LOFTS:
one adjustable head (8-12 degrees)
TECH TALK:
There are three ways to adjust this driver: The hosel has 12 settings for altering loft, the rotating soleplate features seven face-angle positions, and the movable sole weights allow you to change ball flight by 20 yards side to side. The crown's graphics are designed to aid alignment.
PLAYER COMMENTS:L:
"The sound is toward the loud end, but if you can't get dialed in with this club, you're not trying."
M:
"It's very forgiving; even shots high on the face go a long way, and my slices stayed in play."
HOT:
A force of substance and subtlety, the equipment industry's innovation leader has outdone itself again. With 168 possible settings, there's probably one that fits even your dog.
NOT:
Franz Klammer called. He wants his 1976 Winter Olympics sweater back.
INFO:
taylormadegolf.com
TaylorMade RocketBallz Stage 2
STREET PRICE:
$300
LOFTS:
9.5, 10.5, hl (all adjustable)
TECH TALK:
To help increase ball speed, last year's Rocket-Ballz has been re-engineered: The driver uses a very thin crown to help push the CG low and forward, and the shaft weighs just 50 grams. The hosel has 12 adjustable settings that can alter the loft angle by 1.5 degrees.
PLAYER COMMENTS:L:
"The high, penetrating ball flight is consistent and repeatable."
M:
"It feels soft at impact, but the ball still jumps off the face. This driver controls spin really well; even on mis-hits, the ball really goes."
HOT:
The top seller of 2012 gets a bigger face, a lighter shaft and more adjustability. The slight CG repositioning (one millimeter toward the heel) is a bonus to average golfers.
NOT:
The perceived overlap between different head lofts and loft adjustments might cause some confusion.
INFO:
taylormadegolf.com
TITLEIST 913D2/D3
STREET PRICE:
$400
LOFTS:
7.5, 8.5, 9.5, 10.5, 12 for D2; 7.5, 8.5, 9.5, 10.5 for D3 (all adjustable)
TECH TALK:
Titleist's second-generation, 16-way adjustable driver gets an upgrade with a thinner, lighter forged face insert to increase ball speed. The D2 is larger than the D3 and produces less spin than the previous 910D2. The more compact D3 features a slightly forward CG for easier workability.
PLAYER COMMENTS:L:
"Simple and clean everywhere you look." ... "The ball flight had a controlled curve back to the center."
M:
"The sound has a nice home-run/crack-of-the-bat quality."
HOT:
Every element seems engineered in precisely the right proportions. Don't overlook the fact that most golfers will find a 45-inch shaft easier to swing consistently.
NOT:
The differences among some settings are too subtle.
INFO:
titleist.com
adams Super S
STREET PRICE:
$300
LOFTS:
one adjustable head (9.5-11.5 degrees)
TECH TALK:
The sole's heel-to-toe slot is designed to improve the flexibility of the lower part of the face. The eight settings adjust from open face angles on the 9.5 to closed face angles on the 11.5, as well as flatter lie angles on most lofts. The crown curvature enhances aerodynamics, and a reduced rear skirt helps lower the CG.
PLAYER COMMENTS:L:
"The forgiveness stands out, plus I can work it both ways." ... "I really like the swingweight and balance, and the ball just stays up in the air. But why the graphics?"
M:
"Crisp impact; just a nice, solid crack."
HOT:
The adjustability and aerodynamics are cool, but it's the way the face's bulge and roll are shifted diagonally that might do more to improve the average golfer's mis-hits.
NOT:
With this technology, a 46-inch shaft isn't necessary.
INFO:
adamsgolf.com
Cleveland Classic XL Custom
STREET PRICE:
$330
LOFTS:
7.5, 9, 10.5 degrees (all adjustable)
TECH TALK:
The hosel on Cleveland's first adjustable driver rotates to one of 12 settings that change the face angle by as much as 2.25 degrees closed or open and alter loft by 1.5 degrees up or down. The large face features a new variable-thickness design to improve off-center hits. Four shaft options are intended to change the launch angle.
PLAYER COMMENTS:L:
"The way the middle of the face comes over the crown helps with alignment.''
M:
"The deep face has all the meat exactly where you want it. You hear a
thump
instead of a
clink
."
HOT:
Retro meets high-tech: The adjustability produces real directional effects, and the large face is full of forgiveness.
NOT:
You can adjust the model shown to 12 degrees of loft, but only if you also want a 2.25-degree closed face.
INFO:
clevelandgolf.com
Wilson D-100 SuperLight
STREET PRICE:
$300
LOFTS:
9, 10.5, 12
TECH TALK:
The D-100 weighs 269 grams, or approximately an ounce lighter than any other driver on our Hot List. The cupface design is larger than the face on last year's model to help increase ball speed across the face, and the variable-thickness crown was created through a weight-saving chemical-etching process that allowed an 18-gram internal chip to be placed in the sole to lower the CG.
PLAYER COMMENTS:L:
"It's lightweight, but it still has plenty of pop. It provides power for smoother swings."
M:
"For a lighter driver I thought it was easy to control."
HOT:
Good work. By repositioning the balance point, Wilson offers a lightweight driver that doesn't feel too light.
NOT:
Ultralight might be an answer for some, but the D-100 doesn't really offer shaft options for stronger players.
INFO:
wilson.com