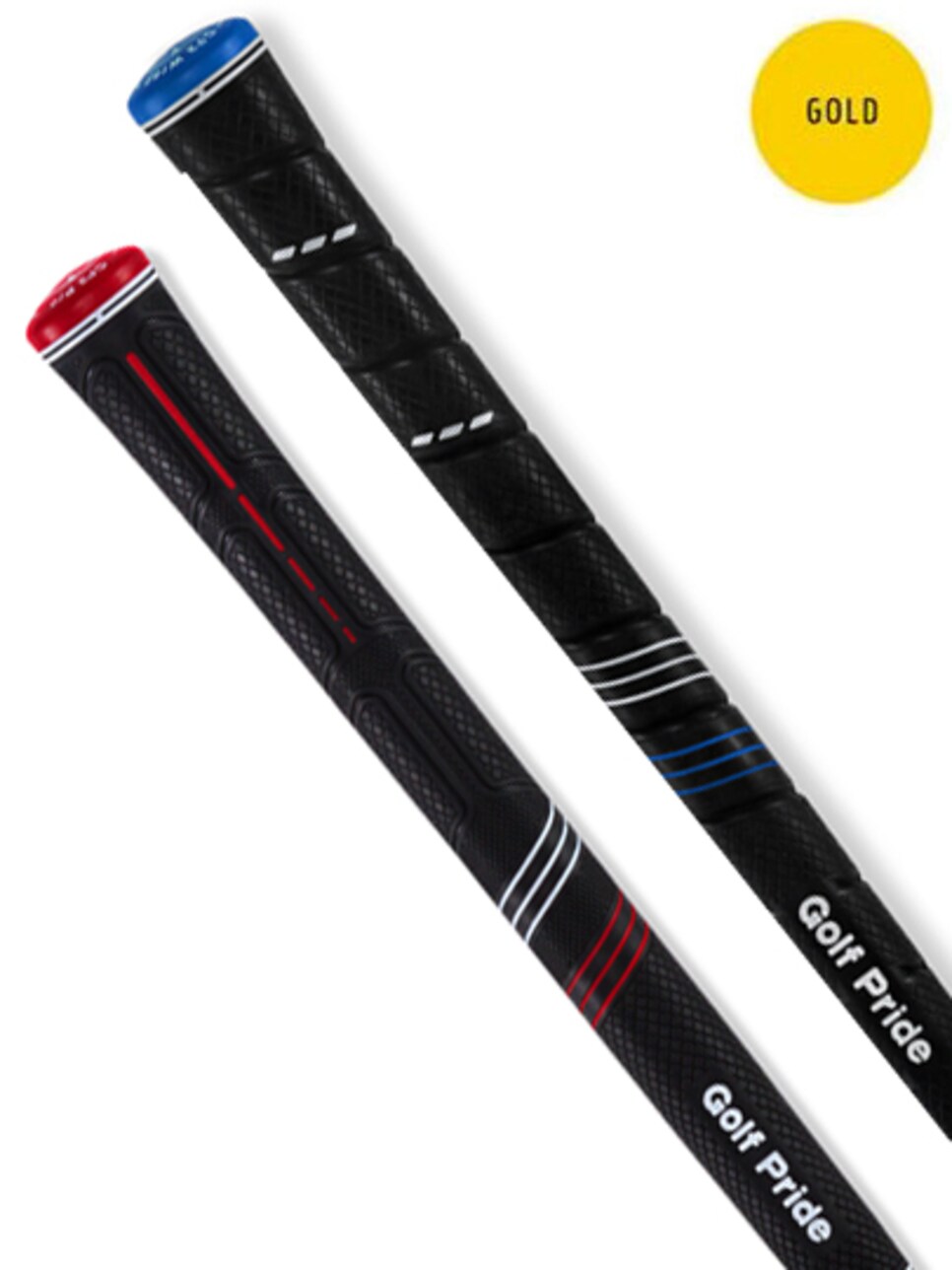 GOLF PRIDE CP2 WRAP/CP2 PRO
Overall, they're softer and less tapered than most, but there's extra stability at the top, thanks to a firm base layer.
Price:
$7
golfpride.com
GOLF PRIDE NEW DECADE MULTICOMPOUND PLATINUM
The lower part of the grip is rubber to promote feel. The upper part uses cord to help with traction.
Price:
$10
golfpride.com
IOMIC BLACK ARMOR STICKY EVOLUTION 2.3
This is two Iomic grips in one. It combines the traction features of the "Evolution" for your top hand and the soft feel of the "Sticky" for your lower hand.
Price:
$9
iomicusa.com
LAMKIN R.E.L. ACE 3GEN
The material dampens vibration, and it's also dirt-resistant so it stays tacky. That traction lets you keep your grip pressure light.
Price:
$6
lamkingrips.com
LAMKIN UTX
A soft synthetic rubber foundation absorbs shock, a middle layer wicks moisture, and the firm final layer resists twisting.
Price:
$9
lamkingrips.com
WINN DRI-TAC
The focus is on cushioning, but the varied-texture pattern offers traction where you need it.
Price:
$6
winngrips.com
WINN DURATECH COMPETITION HYBRID
The top part is rubber for maximum stability. Soft polymer on the underside makes it so you don't have to hold on too tight.
Price:
$7
winngrips.com
AVON EVOLUTION EV1
The least expensive grip on the list—but performance isn't sacrificed. There are two different patterns on the grip, to create a combination of traction and stickiness.
Price:
$4
avongrips.com
BOCCIERI SECRET GRIP
This grip is heavy: 92 grams. (Most grips weigh around 50 grams.) The weight creates a counterbalanced effect, shifting the balance point of the club further towards the grip. With more weight in your hands, theoretically you'll have more control, too.
Price:
$13
boccierigolf.com
CHAMP C8
Two different traction shapes (U's and hash marks) alternate throughout the grip. The overall wrapping shape makes for better shock absorption.
Price:
$16
champspikes.com
GOLF PRIDE TOUR VELVET SUPER TACK
The plus sign-shaped traction marks on the lower part of the grip are bigger and positioned closer together than in previous models of this grip.
Price:
$6
golfpride.com
IOMIC NEW STICKY 2.3
Iomic took its best-selling grip and made it 30% more durable, while still maintaining feel.
Price:
$12
iomicusa.com
LAMKIN I-LINE
The classic Lamkin Cross-Line pattern is in play on this grip, but the grip itself is made of a softer material than has been typical of Lamkin, to make sure it's not too abrasive.
Price:
$8
lamkingrips.com
NO1 ICHI
The name derives from the Japanese word that means 'one'. Fitting, because this grip is a mix of two different grips, put into one: The top is firm and the lower is tacky.
Price:
$18
no1grip.com
WINN DRI-TAC WRAP LITE
Weighing just 22 grams, this grip is extremely light (the next lightest grip Winn submitted is 45 grams). This puts the weight in the head of the club, to improve clubhead feel.
Price:
$6
winngrips.com