Hot List
2014 Hot List: Game-Improvement Irons
Serious changes are evident across the board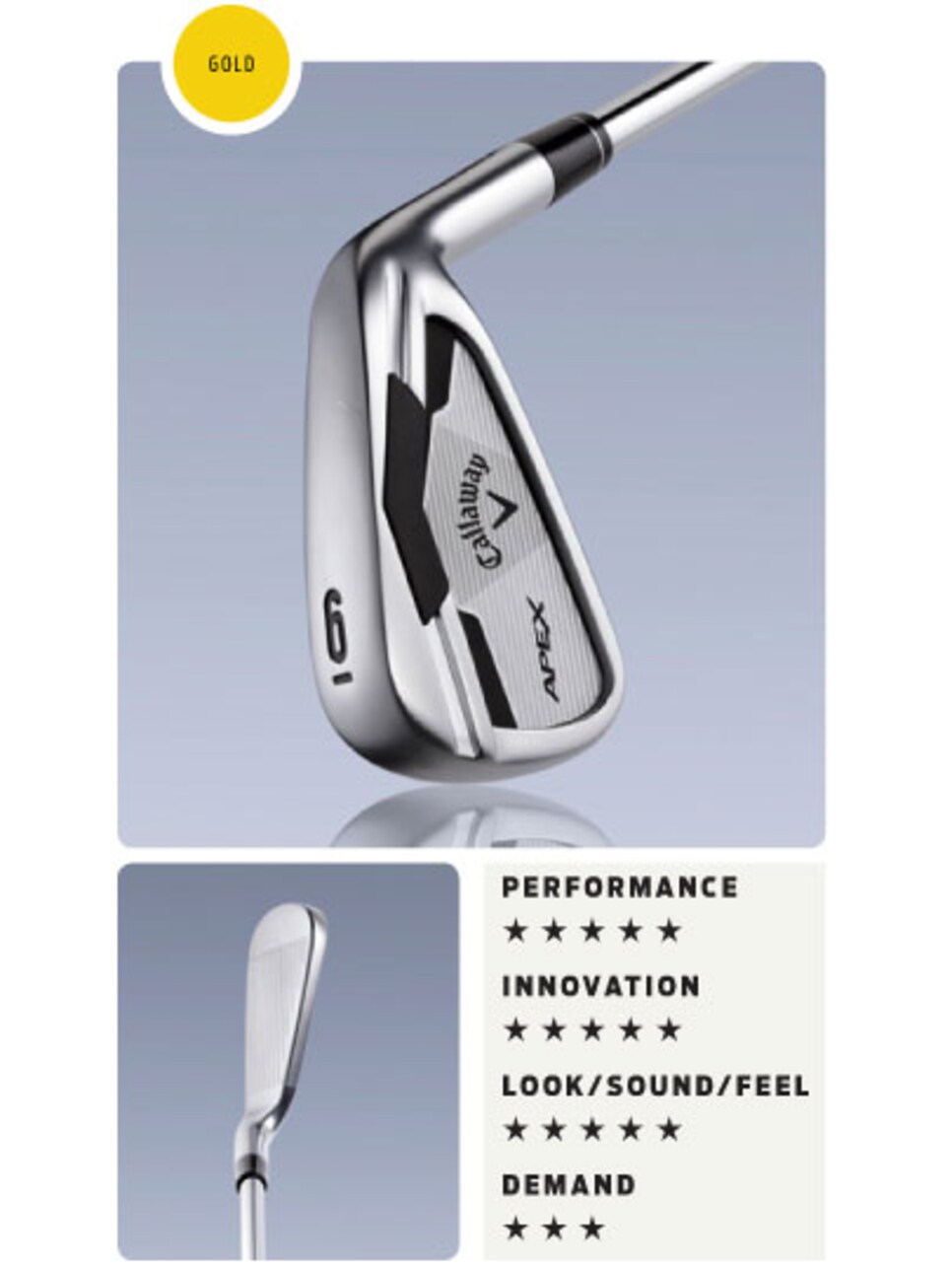 CALLAWAY APEX
STREET PRICE:
$1,100 (set of eight, steel)
LOFTS:
6-iron: 27 degrees, PW: 45 degrees
TECH TALK:
The head is a two-piece forged construction that features a Carpenter 455 face plate, an undercut cavity and a 1020 carbon-steel body that produces a large unsupported face area for enhanced ball speed.
PLAYER COMMENTS:L:
"For a mid-width sole, these cut through the turf very effectively."
M:
"Not a one-trick iron: You can manufacture a lot of shots with these."
HOT:
When you dare to put the Apex name on an iron, you better bring your A-game. Callaway does this with touches like tungsten plugs in the sole of the long irons that produce a low center of gravity (CG) and a lightweight steel shaft. This is an iron with plenty of game-improvement for those who need it.
NOT:
A 5-degree gap in the short irons is too much.
INFO:
callawaygolf.com
CALLAWAY X2 HOT
STREET PRICE:
$800
LOFTS:
6-iron: 26, PW: 44
TECH TALK:
A large undercut channel allows the face and sole to be thinner than the previous X Hot, boosting ball speed. A "stabilizing arch" moves the hot spot on the face lower, in line with the impact location on most iron shots.
PLAYER COMMENTS:L:
"The turf interaction is like a tractor plowing through a field."
M:
"The short irons launch the ball so high you won't need spin to stop it."
HOT:
This is more than a mere follow-up to the X Hot. This is a fresh approach to iron design for Callaway where the game-improvement features are hidden in a more pleasing shape. Subtle improvements, such as 2 to 4 degrees more bounce for better turf interaction, weren't lost on our panelists.
NOT:
If you purchase the 54-degree sand wedge, it makes getting the 59-degree lob wedge almost a must.
INFO:
callawaygolf.com
MIZUNO JPX-EZ FORGED
STREET PRICE:
$900
LOFTS:
6-iron: 28, PW: 45
TECH TALK:
A deep undercut cavity on the 4-iron through 7-iron increases face forgiveness. The reinforced topline and frame around the perimeter of the cavity, selectively thickened and shaped based on Mizuno's use of modal analysis, are designed to control vibrations and enhance feel.
PLAYER COMMENTS:L:
"The gray finish hides the size of the head nicely."
M:
"Not the longest club, but the consistency, even on mis-hits, is worth giving up a few yards."
HOT:
Leave it to Mizuno to produce an iron for mid-handicappers that offers the sensation of a scratch-players club at impact. The research the company does in the area of sound and feel is a bonus that golfers of all ability levels can appreciate.
NOT:
Mizuno's irons are usually classic works of art, making the jack-o'-lantern look on this one an adjustment for some.
INFO:
mizunousa.com/golf
MIZUNO MP-H4
STREET PRICE:
$1,100
LOFTS:
6-iron: 30, PW: 46
TECH TALK:
There are three types of irons in one set: hybrid-like long irons, hollow middle irons and short irons with a middle cavity. A trailing-edge bevel allows for a wider sole that produces a lower CG without sacrificing turf interaction.
PLAYER COMMENTS:L:
"This iron has a comfortable feel that lets you know where you hit it on the face. That's useful feedback."
M:
"The trajectory is practically identical on every hit. That's the mark of a good club."
HOT:
When we say "advancing the category," this is what we mean. This set is smartly devised to provide golfers with the right amount of help with each individual iron. Few clubs receive a gold medal two years in a row. This one is well-earned.
NOT:
The hybrid-like irons don't offer all the assistance (or distance) one receives from a traditional hybrid.
INFO:
mizunousa.com/golf
NIKE VRS COVERT FORGED
STREET PRICE:
$1,100
LOFTS:
6-iron: 28, PW: 45
TECH TALK:
A 1020 carbon-steel body is married to a face made from a strong SAE 8655 steel, allowing for the top and bottom of the face to be made thin. A new X3X 27 groove pattern provides more volume than the previous X3X.
PLAYER COMMENTS:L:
"The topline and toe flow together nicely."
M:
"The feel is absolutely amazing, which surprised me for a club that produces so much distance."
HOT:
Little things matter. Such as a CG position to assist shots hit on the toe (which happens more frequently as handicaps go up). Or a sole design where you can't see any of it at address (previously an issue with some Nike irons). This attention to detail makes these clubs worth a serious look.
NOT:
The difference in loft between the 3- and 5-irons is just 5 degrees. We're not kidding.
INFO:
nikegolf.com
PING G25
STREET PRICE:
$700
LOFTS:
6-iron: 29, PW: 45
TECH TALK:
The 17-4 stainless-steel clubhead features progressive sole widths that help optimize the CG location for better distance-gapping between irons. The custom tuning port has been positioned directly in line with the impact area to save weight and increase the MOI.
PLAYER COMMENTS:L:
"The design is still a little bulky, but with that comes a forgiveness that's unmatched by any other iron."
M:
"The long irons are so easy to hit you don't really need hybrids."
HOT:
The G25 is the epitome of Ping equipment, where the horsepower is mostly under the hood. It's an iron that produces reliable results for a wide variety of ability levels.
NOT:
This is the sixth-generation G-series iron. The same club might be more appealing under a fresh moniker.
INFO:
ping.com
TAYLORMADE SPEEDBLADE
STREET PRICE:
$800
LOFTS:
6-iron: 26.5, PW: 45
TECH TALK:
The thin, variable-thickness face (as thin as 1.5 millimeters) has slots in the 3- through 7-irons that are longer from heel to toe than last year's RocketBladez. There also are openings in the slot's internal front shelf (three on the 3- through 5-irons and two on the 6- and 7-irons).
PLAYER COMMENTS:L:
"The middle and long irons deliver a nice smack to where you can almost feel the slot working."
M:
"I was stunned at how forgiving and workable these irons are. I thought you had to give up distance to get that."
HOT:
It takes some technological know-how to engineer a distance iron that delivers on the promise of extra yards without compromising feel or trajectory. This iron has it.
NOT:
The feel and forgiveness in the long irons fall short of the rest of the set.
INFO:
taylormadegolf.com
TITLEIST AP1 714
STREET PRICE:
$800
LOFTS:
6-iron: 29, PW: 44
TECH TALK:
The 3-, 4- and 5-irons have a deep undercut dual cavity (much larger than the AP1 712s) and tungsten weight in the toe area to counterbalance the hosel weight. The lofts are 1 degree stronger in the short irons (7-iron through PW), and the tungsten has been removed to help raise the CG for a more penetrating flight.
PLAYER COMMENTS:L:
"The contact with the ground is smooth: Almost impossible to hit one fat."
M:
"The generous but not obnoxious topline says, 'I'm here to help.' "
HOT:
The changes from its predecessor are subtle yet noticeable, particularly in the areas of forgiveness, flight (narrowing the sole in the short irons to raise the CG) and turf interaction. The aesthetics are pretty classy, too.
NOT:
The middle-iron blade length could use some trimming.
INFO:
titleist.com
COBRA BIO CELL
STREET PRICE:
$700
LOFTS:
6-iron: 26.5, PW: 45
TECH TALK:
There are four pockets or "cells" in the back cavity. The long irons use tungsten in the heel and toe pockets for better results on mis-hits. The 8-iron through pitching wedge use it in the center pockets for better feel and control.
PLAYER COMMENTS:(L)
"The feel wasn't up there with some others, but the ball came off the club clean."__ (M)__ "The forgiveness factor is off the charts."
HOT:
Although clubmakers have used tungsten weights to lower the CG and increase stability for years, Cobra's use of 20 grams of weight to affect ball flight is clever thinking. Thinning out the topline (compared to last year's AMP Cell) appeals to the eye as well.
NOT:
The name Bio Cell sounds like a science project. You could argue the back of this iron looks too much like one.
INFO:
cobragolf.com
MIZUNO JPX-825
STREET PRICE:
$700
LOFTS:
6-iron: 28, PW: 45
TECH TALK:
The variable-thickness face helps produce a high ball speed, and the "triple-cut" sole design provides assistance from a wide variety of lies.
PLAYER COMMENTS:(L)
"There's little punishment for mis-hits, which is surprising given its better-player looks."
(M)
"The solid sound at impact--missing in some others in this group--was there."
HOT:
Mizuno has an ability to create game-improvement irons that make you feel like you're a better player than you are. That extends beyond mere looks. The pocket cavity in the 4- through 7-irons is designed to create a large sweet spot that every game-improvement consumer can use.
NOT:
Mizuno has so many offerings in its iron line that this one could easily get overlooked.
INFO:
mizunousa.com/golf
NIKE VRS COVERT 2.0
STREET PRICE:
$700
LOFTS:
6-iron: 27, PW: 44
TECH TALK:
A high-strength 450 stainless steel is used in the 4- through 7-irons to thin the face and improve ball speed (the 8-iron through wedges are 17-4 stainless steel).
PLAYER COMMENTS:(L)
"Almost feels like a forged muscle-back. Plus, it compresses the daylights out of the ball."
(M)
"The sound was a bit muffled, but I could shape shots, which you don't always find in a game-improvement iron."
HOT:
Technology, like weight in the toe to match the CG with the center of the face, is a plus. The option to add hybrids (for an additional cost) instead of long irons will help bogey golfers. But the biggest change is in looks. Often Nike goes over the top or stays too plain. This iron strikes the right balance.
NOT:
The shaft length of the 4-iron is 39¾ inches. That's 1½ inches longer than some others in the category.
INFO:
nikegolf.com
SEARCH & COMPARE
Search and compare prices, ratings, and more on these clubs.