Style
The Week In Style: 06.29.16
What worked – and what didn't – last week at Congressional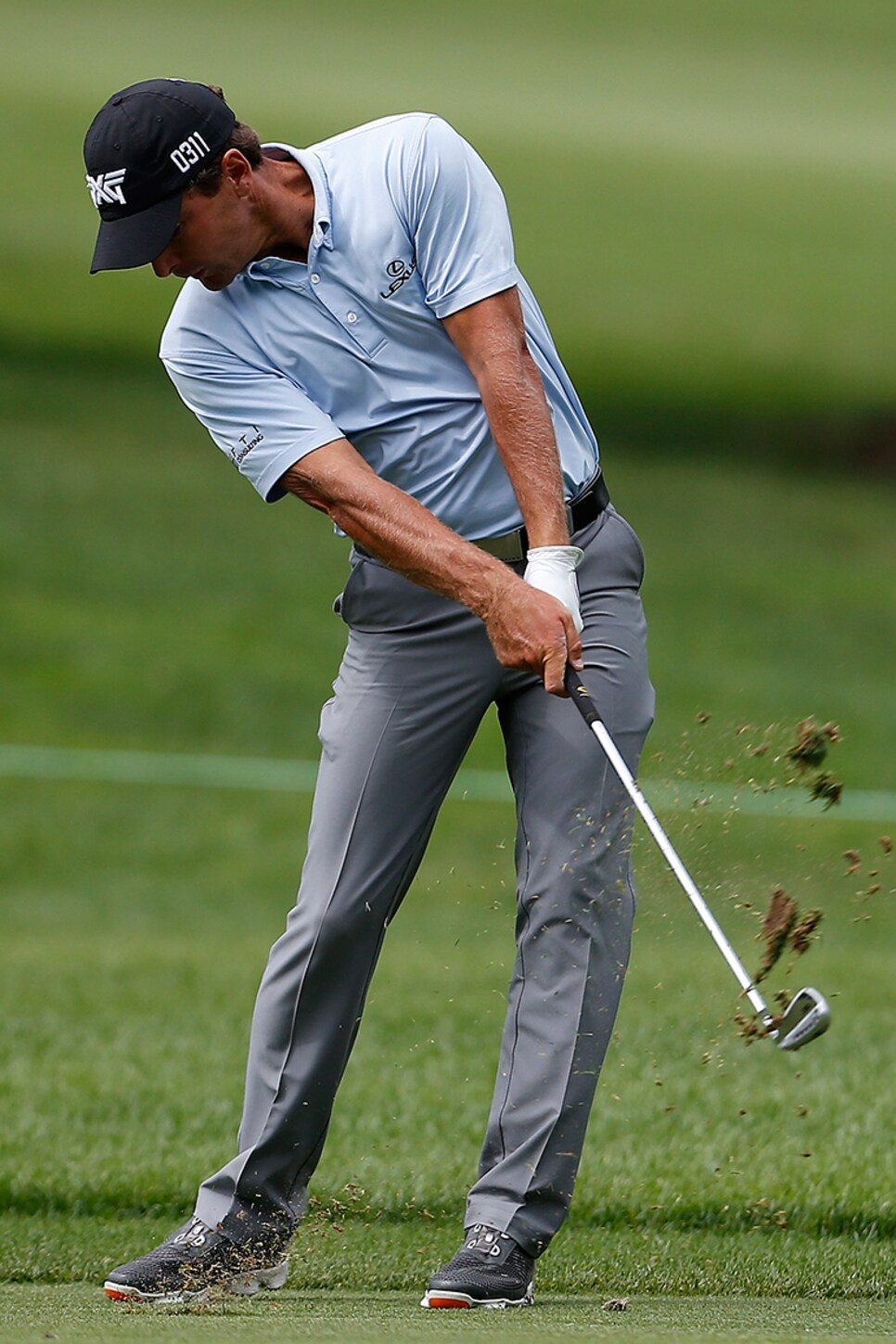 Photo By: Matt Hazlett/Getty Images
Photo By: Rob Carr/Getty Images
Photo By: Patrick Smith/Getty Images
Photo By: Patrick Smith/Getty Images
Photo By: Rob Carr/Getty Images
Photo By: Stan Badz/PGA TOUR/Getty Images
Photo By: Matt Hazlett/Getty Images
Photo By: Patrick Smith/Getty Images
Photo By: Keyur Khamar/PGA TOUR/Getty Images
Charles Howell III
It's a staple of The Week In Style, talking about players who know how to blend their belts with their shirts and pant—or, more often, guys who don't do it all that well. CHIII, however, takes this move to the next level by working his gray trousers back to his gray FootJoy Hyper Flex spikes. Tonal pairings like this do two things: 1) Create a super smooth transition between two pieces and 2) Allow the smallest details to really pop! Check out those orange accented Hyper Flex soles!
FootJoy
Dunning Golf
Photo By: Matt Hazlett/Getty Images
Zac Blair
Regular readers of TWIS also know that good style is all about great balance. Now, balance can be literally defined by proportion and scale, but it can also be addressed through attitude. For example, normally needlepoint belts such as the one Blair wore last Thursday at the Quicken Loans National look like the standard issue frat-boy accessory. Paired with a matte-colored five-pocket pant and dark polo, however, Zac's strap added an interesting edge to his old-school look and gave his outfit a more modern vibe.
FootJoy
Photo By: Rob Carr/Getty Images
Bryson DeChambeau
Bryson is in the big leagues now, and while his Hogan cap is cool he'll need more than that to become a serious-style standout. Here he does that by playing that cap off of cool white accents on his polo collar. It doesn't take a lot, but smart details like this will continue to elevate this guy's look.
Puma
Photo By: Patrick Smith/Getty Images
Tiger Woods
I think it's kind of funny when guys in the gallery dress as if they're playing in the tournament they're watching. Do we include Tiger among that bunch? After all, we haven't seen him inside the ropes for a while, yet that didn't stop him from sporting his red-and-black Sunday best this weekend.
Nike
Photo By: Patrick Smith/Getty Images
Jon Rahm
The energetic Spaniard teed it up in his first event as a professional last week at the Quicken Loans and looked like an established veteran from his first shot all the way through his T-3 finish. This kid's got a clean-cut, modern look that features bold color and solid styling. That slightly curved hat bill is a nice touch, too, as it strikes a nice balance between the standard style and a lot of the fitted flat brims we've seen lately.
Adidas
Photo By: Rob Carr/Getty Images
Vijay Singh
A lot of guys say, "I'm old school" when talking about their out-of-date styles and poorly fitting clothes. The problem is pleated khakis and silver-tipped belt buckles didn't look cool in the 1990s, and they sure haven't gotten any better with age. Vijay's outfit is just bad. If his clothes went to school in any decade they'd sit at the front of the bus and get shoved into lockers.
Photo By: Stan Badz/PGA TOUR/Getty Images
Rickie Fowler
Rickie gets all the hype for his high tops and joggers, but I continue to believe he looks his best when he creates interest through subtle texture as opposed to super-striking pieces. Sure, this may turn a few less heads, but in the long run something like this asymmetrical stripe polo is more sophisticated and has more staying power through the seasons.
Puma
Photo By: Matt Hazlett/Getty Images
Andres Gonzales
A big mustache is as a much a style statement as a bold shirt or wildly patterned pant. This handlebar has become Gonzales' signature, and he does a great job of keeping the rest of his outfit in check so that the stache can speak for itself.
Travis Mathew
Photo By: Patrick Smith/Getty Images
Wesley Bryan
There have been a number of guys who've broken out bold bottoms on tour this year, but Bryan's hot-pink pants may be some of the strongest trousers we've seen. Most guys would do well to wear this shade with a polo, but darker, more saturated tones like the tonal blue stripe work well to soften the entire outfit as well.
Southern Tide
Photo By: Keyur Khamar/PGA TOUR/Getty Images