Style
The Week In Style: 02.17.16
What worked – and what didn't – last week in Pebble Beach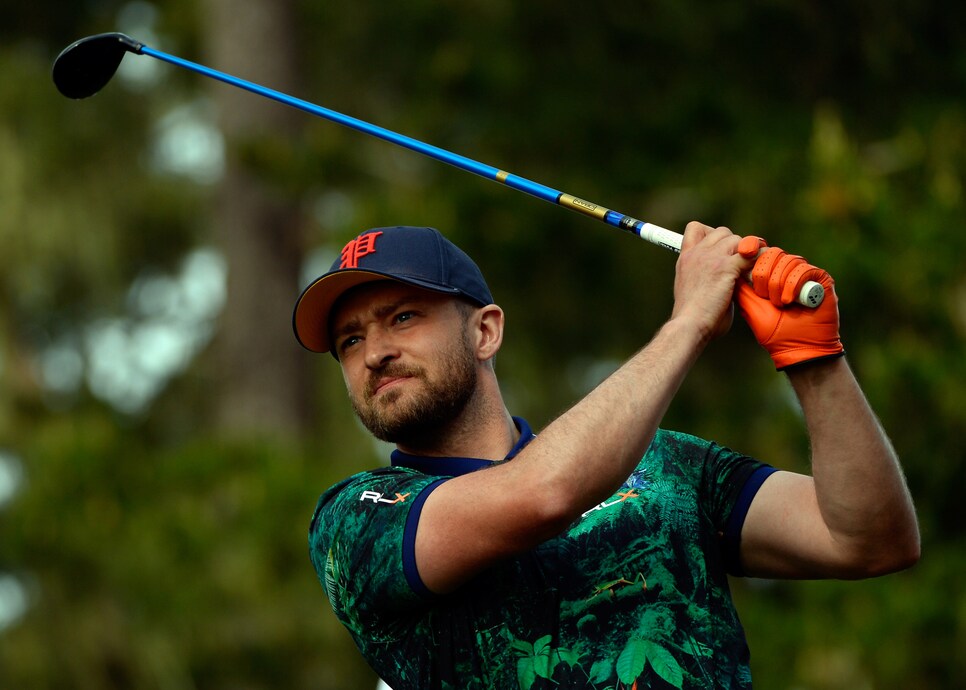 Photo By: Robert Laberge/Getty Images
Photo By: C Flanigan/Getty Images
Photo By: Robert Laberge/Getty Images
Photo By: Josh Hedges/Getty Images
Photo By: Robert Laberge/Getty Images
Photo By: Sean M. Haffey/Getty Images
Photo By: Sean M. Haffey/Getty Images
Photo By: Todd Warshaw/Getty Images
Photo By: Robert Laberge/Getty Images
Photo By: Todd Warshaw/Getty Images
Photo By: Robert Laberge/Getty Images
Justin Timberlake
Timberlake may be an amateur golfer but his style at last week's AT&T Pebble Beach Pro-Am was all pro. His RLX Hawaiian print polo was one of the coolest pieces we saw, and he got extra points for nailing the orange accents. Mind you, JT can pull off whatever he likes, wherever he likes. For us mere mortals, keeping prints in darker, tonal settings makes them much easier to wear.
RLX Ralph Lauren
G/Fore
Photo By: Robert Laberge/Getty Images
Josh Duhamel
Layering different shades of the same color the way Duhamel did here with this green-on-green look is a very subtle, sophisticated move. That graphic G/Fore lid is awesome, too, and shows how easily a strong accessory can elevate a simple look.
G/Fore
Photo By: C Flanigan/Getty Images
Ian Poulter
Poulter's most notable looks often feature pop colors, but this navy-and-green tartan setup with some fresh white FJ Classics is a cool look at a classic rig.
IJP Design
FootJoy
Photo By: Robert Laberge/Getty Images
Chris Berman
Unfortunately for Boomer, he looked like he was swimming in his trousers at Pebble Beach. Even for a dude Berman's size, pleats make you look bigger below the belt. Less fabric equals more range of motion and smoother silhouettes.
Photo By: Josh Hedges/Getty Images
Tim Herron / Larry the Cable Guy
The proper sleeve length is somewhere in between these two extremes…
Callaway Apparel
Photo By: Robert Laberge/Getty Images
Justin Timberlake / Justin Rose
The AT&T's most stylish twosome by far! The only one missing from this Dab tutorial was Cam Newton. Sure these two looked great all week. More importantly I don't think there was a single photo taken when these guys weren't cracking up! Great fun all week!
RLX Ralph Lauren
G/Fore
Ashworth
Adidas
Photo By: Sean M. Haffey/Getty Images
Luke Donald
This RLX mixed-material sweater jacket is one of the coolest things in Donald's wardrobe. The warmth of a jacket and the mobility of a sweater make this any guys' next must-have piece.
RLX Ralph Lauren
Photo By: Sean M. Haffey/Getty Images
Kevin Na
It's not even two months into the year and Na has already thrown his retro visor in the ring for Most Improved Style in 2016. Last season, his polo shirts looked like they were inspired by Magic Eye prints. This year, he's worn nothing but simple setups in super tasteful color ways.
Elord
FootJoy
Photo By: Todd Warshaw/Getty Images
Hiroshi Iwata
We talk a lot about the need for more style consistency in PGA Tour scripts. In that sense, I love the idea of this recurring plaid motif in Iwata's looks last week (his clothes are made by Japanese apparel brand Bloodsport and aren't available in the U.S.). That said, the idea could have been executed in a more subtle and stylish way; this felt over designed.
Photo By: Getty Images
Hunter Mahan
It's hard to make the sweater vest look cool, but Mahan made a pretty good case. Anytime you layer your gear in shades of the same color you're able to create texture without a lot of contrast. I don't abide by too many "style rules," but smooth generally equals stylish.
Under Armour
Photo By: Robert Laberge/Getty Images
Roberto Castro
Roberto rocked these teal-blue, fine-wale corduroy trousers on Saturday and looked awesome. Fine refers to the width of the ridges in the pant, and in a sharp shade like this, it can be a super cool way to wear corduroy without going full Paddington Bear. Hopefully some other guys took note and we see more of this look this year.
Dunning
Photo By: Todd Warshaw/Getty Images
Bill Murray
Murray's hardly a Cinderella story anymore, and he always brings the party to the Pebble Pro-Am. Love the Cubs pant!
Loudmouth Golf
G/Fore
Photo By: Robert Laberge/Getty Images
Davis Love III
The Ryder Cup captain in patterned trousers! Yes, plaid indeed. Would like to see the pants be a bit shorter, but it's still a very good look. Davis worried about the Navy cap (rather than Black), but we think it's OK.
Polo Golf
Adidas
FootJoy
Photo By: Getty Images
Kunal Nayyar
Nayyar, aka Raj from "The Big Bang Theory," makes an elegant statement. His sweater and pants are modern and cool. You cannot see the navy J Lindeberg shirt, but that too is a great piece, as are his Nike Lunar Control 4 shoes. Kunal, who is a member of Lakeside Golf Club in Burbank, also is playing the Parsons Extreme Golf's new clubs.
J Lindeberg
Nike
G/Fore
Photo By: Marty Hackel
Blake Mycoskie
Mycoskie, founder of shoemaker Toms, is in great vintage slacks. Yes, you can have fun with your wardrobe even as an amateur at Pebble. The lesson here: Make a statement with one item only. As you can see, everything else (sweater, shirt, shoes and hat) are all understated.
Toms Hat
Travis Matthew
Ecco
Photo By: Marty Hackel
Larry Fitzgerald
The Arizona Cardinals wide receiver (and Golf Digest Hot List intern) is sporting the new Nike Collar (Blade). This collar harkens back to those great basketball jackets of the 1970's and looks fresh and neat in this lightweight jacket. The boys at Whisper Rock will be jealous.
Nike
Photo By: Marty Hackel
Jim Harbaugh
It's the rare citing to see the University of Michigan football coach wearing something other than khakis. Pretty cool.
Adidas
Photo By: Marty Hackel
AT&T Pebble Beach Pro-Am volunteer
This volunteer sported a 55-year-old Pendleton marshal's jacket loaned to him for the event by a collector from Carmel. Looks as good today as it did in 1961.
Photo By: Marty Hackel