Style
The Week In Style: 01.26.16
What worked – and what didn't – last week in Abu Dhabi and La Quinta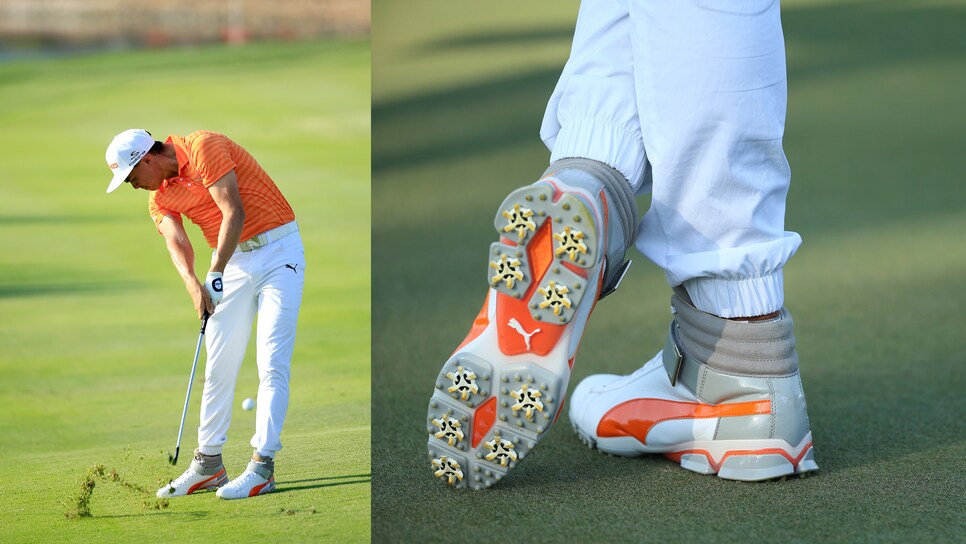 Photo By: Harry How/Getty Images
Photo By: Jeff Gross/Getty Images
Photo By: Jeff Gross/Getty Images
Photo By: Jeff Gross/Getty Images
Photo By: Harry How/Getty Images
Photo By: David Cannon/Getty Images
Photo By: Andrew Redington/Getty Images
Photo By: Ross Kinnaird/Getty Images
Photo By: Andrew Redington/Getty Images
Rickie Fowler
Fowler is all about bridging the gap between his street and course style, and it didn't take him long to win with this new setup. Say what you will about Rickie's high-top-and-jogger look, it's pretty clear this gear isn't getting in the way of his game.
Puma
Photo By: Getty Images
Kevin Na
We've given Na our share of criticism the past couple of seasons, but man did he nail his look at the CareerBuilder Challenge. We still had no idea what that Elord print was. The design, however, was clean and simple, and the shirt fit perfectly. Combine it with Na's retro looking visor and shades, and you have one of the coolest looks we saw all week.
Elord
,
FootJoy
Photo By: Harry How/Getty Images
Whee Kim
Kim teed it up in Palm Springs in this blacked-out Descente setup. It's the first Descente golf apparel I've seen on the tour recently. Having long been a big fan of their ski stuff, I hope this means there's more where this came from.
Descente
Photo By: Jeff Gross/Getty Images
Troy Merritt
This is a good job by Merritt to keep his belt color the same shade as his trousers to minimize the contrast from top to bottom. Whether you like this look or not, his styling is on point.
Sligo
Photo By: Jeff Gross/Getty Images
Jamie Lovemark
I love the idea of setting Lovemark's outfit in several shades of blue. Still, the abstract print on his polo feels a little awkward. A light-blue printed chest panel with dark contrast sleeves sounds sharp, yet adding random blotches over the print seems excessive.
Nike
Photo By: Jeff Gross/Getty Images
Phil Mickelson
Trousers with side-tab synchs (as opposed to belt loops) are a seriously sartorial move we wholeheartedly endorse. Tons of guys in the 1950s and 1960s rocked this look, and we're not entirely sure why it fell out of style. Phil's textured black wool pants are a little slick for my taste, but we're applauding the effort nonetheless.
House of Fleming
Photo By: Harry How/Getty Images
Ian Poulter
After the European Tour "legalized" shorts for practice and pro-am rounds, Poulter celebrated ... and showed some serious hops.
IJP Designs
,
FootJoy
Photo By: David Cannon/Getty Images
Henrik Stenson
Stenson is no stranger to single color setups, and coordinating this look in soft matte shades elevates it to another level. This is classic style with a modern attitude.
Hugo Boss
Photo By: Andrew Redington/Getty Images
Bryson DeChambeau
This guys is an amateur in name only on the style front, having already nailed his signature look with this sharp white Hogan cap. We're looking forward to seeing more out of DeChambeau in the near future.
Photo By: Ross Kinnaird/Getty Images
Rickie Fowler / Rory McIlroy / Jordan Spieth
Style is about personal expression, and these guys rock distinctive looks that compliment their personality and game. Rickie, Rory and Jordan consistently look comfortable and confident in their gear, and that is a very powerful place to play from.
Puma
,
Nike
,
Under Armour
Photo By: Andrew Redington/Getty Images